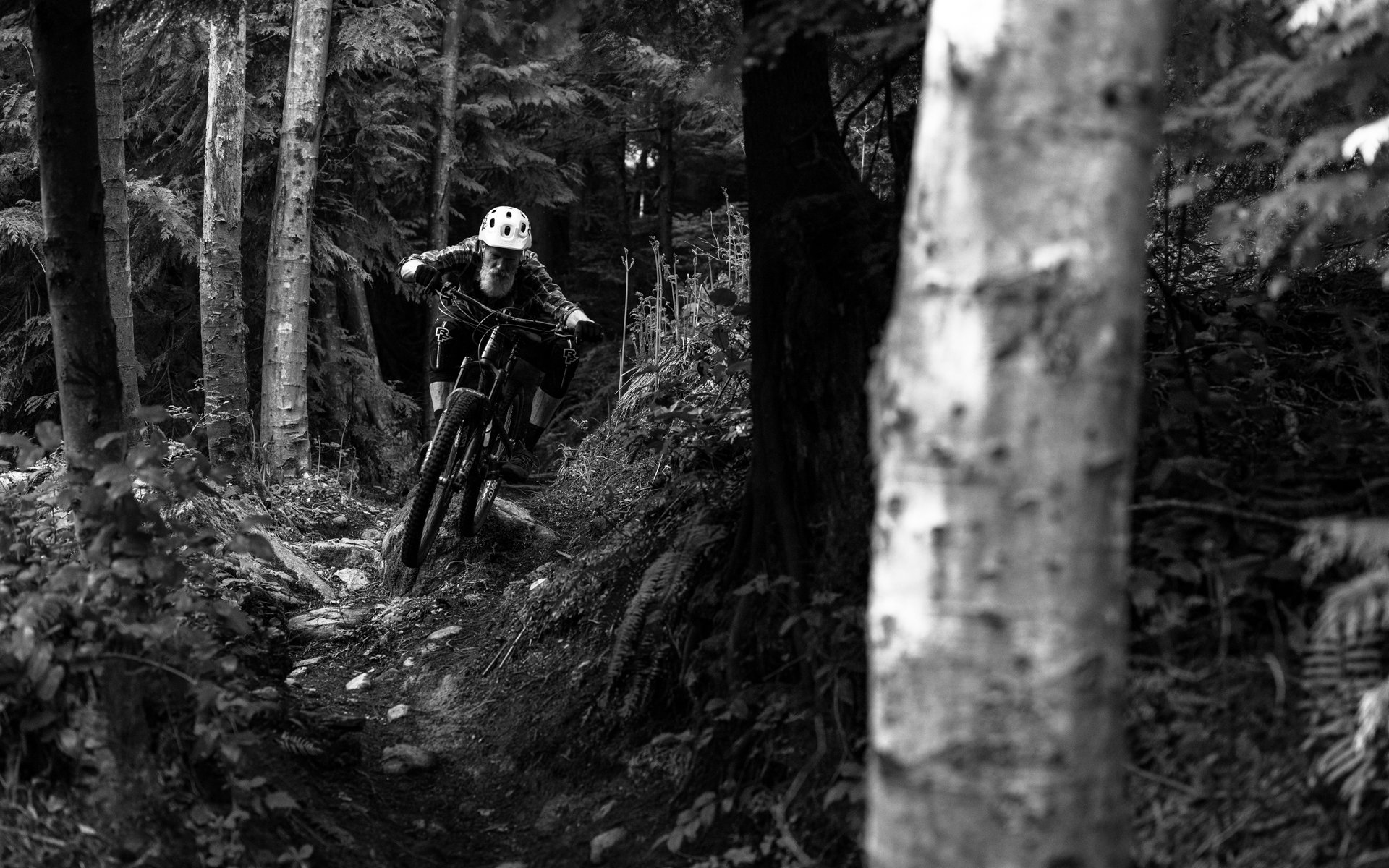 Long Term Review
2018 Zerode Taniwha - w/Pinion Gearbox
I've now had a couple months to properly flog the Zerode Taniwha. It's been an interesting ride, causing me to scratch my head a bit about my feelings about this rig. The bike certainly has its quirks - some may consider them to be flaws. As I've previously mentioned, it tends to elicit mixed first impressions. Nevertheless, I've developed an affinity for this unique bike; it does things a bit differently, but does the important things very well. Lets take a look at how the carbon Kiwi gearbox bike fared. Check out our First Impressions article for a bit more technical detail, as well as copious (clean) bike pics. 
Component rundown - This build is appropriately skewed towards the robust end of the spectrum. While this contributes to the bike's not insubstantial 35.5lb mass (with pedals), it does (in my eyes) follow the Zerode's design ethos - ie, a bomber, low maintenance ride. 
Wheelset - The hoops, comprised of 35mm carbon Derby rims hung off Project 321 hubs - felt solid, unfazed by several hard rock pings. No need to baby these through the chunk. The 321 rear hub is stuffed full of teeth and pawls (216 points of engagement), which helps offset the quite low (~14-22 points depending on gear) engagement Pinion. The WTB tires are properly substantial (around 1100g rear / 1240g front). I was reasonably impressed by the tread pattern and compound of the front 2.5 Convict, but less so with the rear 2.3 Vigilante, whose diminutive shoulder knobs made for poor cornering traction. If you're not a total hulk smasher, and can get away with something like EXO Minions, you could free around 1lb of rotating weight, which would perk up acceleration a bit. Given the choice, I'd probably opt for a slightly narrower rim spec (say 30mm) and shave a few more grams. That said, the current spec was great for worry free, line-be-damned smashing, which befits the nature of this bike.
Brakes - Perhaps the previously well-used Magura MT Trails were in need of a bleed, and maybe some fresh pads - they weren't bad in the dry, but lacked aggressive bite. Wet stopping power was not great in particular. The plastic-bodied, brake levers flexed a bit, and lack of tool free reach adjustment (and no free throw adjustment) were put offs after being accustomed to more feature-laden alternatives. Though these stoppers worked reasonably, they didn't blow me away as received.

Cockpit - I'd jettison the Syntace grips post haste. I'm not a fan of the grip shape; the  increased thickness at the bar ends makes my hands sore, and I prefer something with a bit of knurl. And they look like they belong on a comfort bike. The supplied 60mm Syntace stem was on the long side - especially given I up-sized to the XL frame (I'm 6'-0", and tend to prefer a bit more reach than the 445mm large frame offers); I soon swapped to a 35mm unit. While decently comfy for sitting, I found the SQLab Ergowave saddle* a bit too wide at the rear for moving over the back without inner thigh interference. 
*SQLab Ergowave Saddles come in four widths - Ed.
Geometry
| Frame Size | M | L | XL |
| --- | --- | --- | --- |
| Seat tube length | 420mm | 460mm | 500mm |
| Seat tube angle | 74.5° | 74.5° | 74.5° |
| Head tube length | 110mm | 120mm | 130mm |
| Headtube angle | 65° | 65° | 65° |
| Chainstay length | 431mm | 431mm | 431mm |
| Wheel base | 1170mm | 1202mm | 1236mm |
| Stack | 588mm | 596mm | 605mm |
| Reach | 420mm | 445mm | 475mm |
| Top tube length | 575mm | 604mm | 637mm |
| BB Drop | 1mm | 1mm | 1mm |
| BB Height | 352mm | 352mm | 352mm |
The Numbers - Fairly typical geometry for the species, perhaps a bit conservative in the reach department, and a bit high in the BB. A bit shorter seat tube (and perhaps the addition of an XXL size) would help to appease the new school kids.  
Frame bits and bobs - This frame has a decidedly stout build. The layup *sounds* quite thick (scientific tap test), and judging by the battle wounds, has decent impact durability. Of all the carbon bikes I've fondled, this is the one I'd least be worried about tossing into the weeds. Laterally, the rear end is one of the stiffest I've felt, and the pivots all stayed tight & problem free for the duration of the review - despite this bike having been well flogged prior to me laying hands upon it. Cable routing is clean, with no abrasion areas of note (if one cares about such things). The chainstay has a padded chain protector, so chain noise is near non-existent. The coil spring loaded chain tensioner did start creaking after a couple soggy rides, but a couple drops of Triflow rectified the problem, and it's been silent since.
Dampers - the Cane Creek DBair CS shock offers a phalanx of effective adjustment options. If I were to not pick, it'd be nice if said interfaces were a bit more user-friendly; all require a small 3mm allen key, and the high-speed adjusters are aluminum (low speed are steel), which are more susceptible to rounding out. In addition, said high speed adjusters don't have detents (clicks), so you have to count rotations from closed. The shock does work great, but why not make it easier for we monkeys to tweak? The rear suspension / shock tune is on the linear side of things - though it didn't bottom harshly, it did use full travel a bit too frequently (I was running 30% sag). Adding air volume reduction spacers for a more ramp would be in order if I were keeping this bike. Damping was on the aggressive side, offering great control and grip at speed, at the expense of being a bit dead on slower trails. Given I'm probably at the lower end of the typical weight range (165lbs) for an XL frame, the stock tune isn't out of order. The climb switch was used on a regular basis, firming up the active suspension and conserving a bit of precious energy. 
The Cane Creek 160mm Helm fork is also a nice bit of kit, offering a stout, well-supported chassis with chunder munching capability on par with the other big guns. A couple neat features include separate positive and negative air spring adjustability, and air volume adjustment that requires no additional spacers (though you still have to unthread the top cap to access). The factory damper tune was also on the aggressive end of the spectrum, a bit stiff at lower velocities, but really coming into it's own as speed increased and the hits got harder. Quite a good pairing for the character of this bike. 
Living with a gearbox - There's no question that the Pinion requires an acclimatization period to come to grips with its idiosyncrasies and realize all of its potential benefits. Those who jump on board for a parking lot test are quick to criticize the bike's weight, and reluctance to shift under load - and, to a lesser extent the additional drivetrain drag in higher gears. I certainly had mixed feelings based on my first couple rides. After more time on board, which entailed remapping some well imprinted shifting behaviors, my perspective began to change; the reduction in pedal pressure required to shift became second nature, and much more subtle, and I quickly became accustomed to the additional mass. I never did find drivetrain efficiency losses to be particularly detrimental. 
It didn't take long to come to grips (ha) with the oft-maligned shifter. It's a fairly unobtrusive thing, though I did find in some gnarbar scenarios, you really don't want to be rotating your grip position forward (ie, to drop into a taller gear), so your shifting is sometimes delayed. Similarly, in some tech climbing scenarios, you don't have the opportunity to indulge in just in time shifting into a lower gear, so have to pre-plan a gear drop which isn't always optimal. The ability to grab a handful of gears any time (without pedaling), or preshifting, is certainly a selling feature, however.
Because the shift indexing occurs within the gearbox, not in the shifter, the transmission always shifts perfectly, regardless of shift cable condition or slack. This bike has not had an easy life - having been previously reviewed prior to arriving in my hands. Its been ridden hard through a couple months of classic Vancouver slop with no required tweaking apart from the occasional chain oiling. Perfect shifting always, with nary a turn of screw or twist of barrel adjuster required. This I like. 
Pinion Maintenance and Service - Regular maintenance consists of an annual oil change which can be easily done by the owner, and is required for warranty (instructions and kits are provided by Pinion). External wear items - ie, rear cog, and front chainring, are available from Zerode and Pinion, respectively. Any internal service has to be done by a Pinion service center (located in Germany, Switzerland, and the US). Though the Pinion has proven to be a robust box of widgets, the thought of having the bike out of commission for a long period of time while the box is being serviced in some far away shop was a concerning prospect. So I contacted the North American service center in Denver, CO for the scoop. I was impressed. To minimize downtime they have loaner Pinions which they will courier to you (I was told usually with a couple days of contact), with which comes a return shipping tag for your sick gearbox. The process is repeated when your repaired box returns. All of the above would be covered under the standard warranty (the C-line model Pinion that the Zerode sports comes with a standard 2 year warranty, which is extendable to 5 years for a 59€ fee). Not too shabby.   
Going up - The necessary evil. The first time I hefted this bike, I was worried. This was the heaviest non-Dh bike I'd ridden since the bad old freeride tank bike days. Despite a liberal sprinkling of carbon, it's porky. That said, riding the thing was a bit of an eye opener - with the additional mass positioned low and centralized, it didn't feel *that* heavy. Certainly not the climbing pig that I anticipated. In fact, with the help of an uber low rock crawling gear (lower than a 32x50T Eagle bottom end), and supple suspension providing gobs of traction, this turned out to be one of the best steep tech climbing longer travel bikes I've ridden. I'd prefer a slightly steeper seat tube angle to better get on top of the slack-ish front end, but I was able to get in a reasonable position with the seat pushed forward. That said, if you're into chasing KOM's on the climbs, this bike is probably not for you. It climbs well, but by no means does so speedily. 
Going down - The good stuff. Unsurprisingly, this is where this bike shines. Despite it's bulk and reasonably slack and stretched (at least with the upsize) geometry, it was still decently nimble, handling the slower steep technical jank of the Shore with aplomb. But it was particularly happy pushing hard in faster chunk. This is one of the stiffer frames I've ridden, paired with the centralized low-slung gearbox mass gave it a nice feeling of solidity and stability. I'd wager there might actually be something to the WCDH teams experimenting with taping weights low on frames. A bike like this certainly makes you question the merits of weight weenie-ism with gravity oriented bikes. 
I can't say definitively if the reduced unsprung weight (due to lack of derailleur and cassette) is the primary contributor to it's character, but the suspension is one of the most supple and glued to the ground I've ridden. While the lower pivot configuration doesn't suck up big square-edged hits as adeptly as some designs with more rearward wheel path trajectories, it balances lively handling characteristics (especially cornering - it's a carving machine) with bump eating well. The bike loves to charge the chunk, and given the robustness of the frame build and drivetrain, I'd have no qualms rallying this bike in the park on a regular basis. 
Bonus feature - the ability to squeeze through some tight rocky troughs without doing smashing derailleurs is a novel thing, but having the ability to do so makes the idea of a dangly expensive drivetrain components seem fairly absurd. Intuitively, this seems how aggressive mountain bikes should be designed. 
Final thoughts - I've been a rabid fan of gearbox transmissions since the first embryonic designs emerged nearly 20 years ago. It's been a long time. If you'd asked me then where I thought we'd be now in terms of drivetrain technology, I would have said with a fair bit of confidence that gearboxes will be standard fare on high end aggressive mountain bikes. Alas, progress has been relatively slow, and gearboxes have yet to be adopted by any of the major players. So it's been up to courageous small companies - the likes of Pinion and Zerode - to drive the evolution of the species. While the Taniwha isn't perfect, it offers some significant benefits in the realms of durability and suspension performance, wrapped up in a great handling platform, that I found really compelling. 
Our review bike was provided by Cyclemonkey, the US distributor, which offers direct sales options. This top tier build retails at $9,500 USD; the frame only /drivetrain kit goes for $5,000 USD.