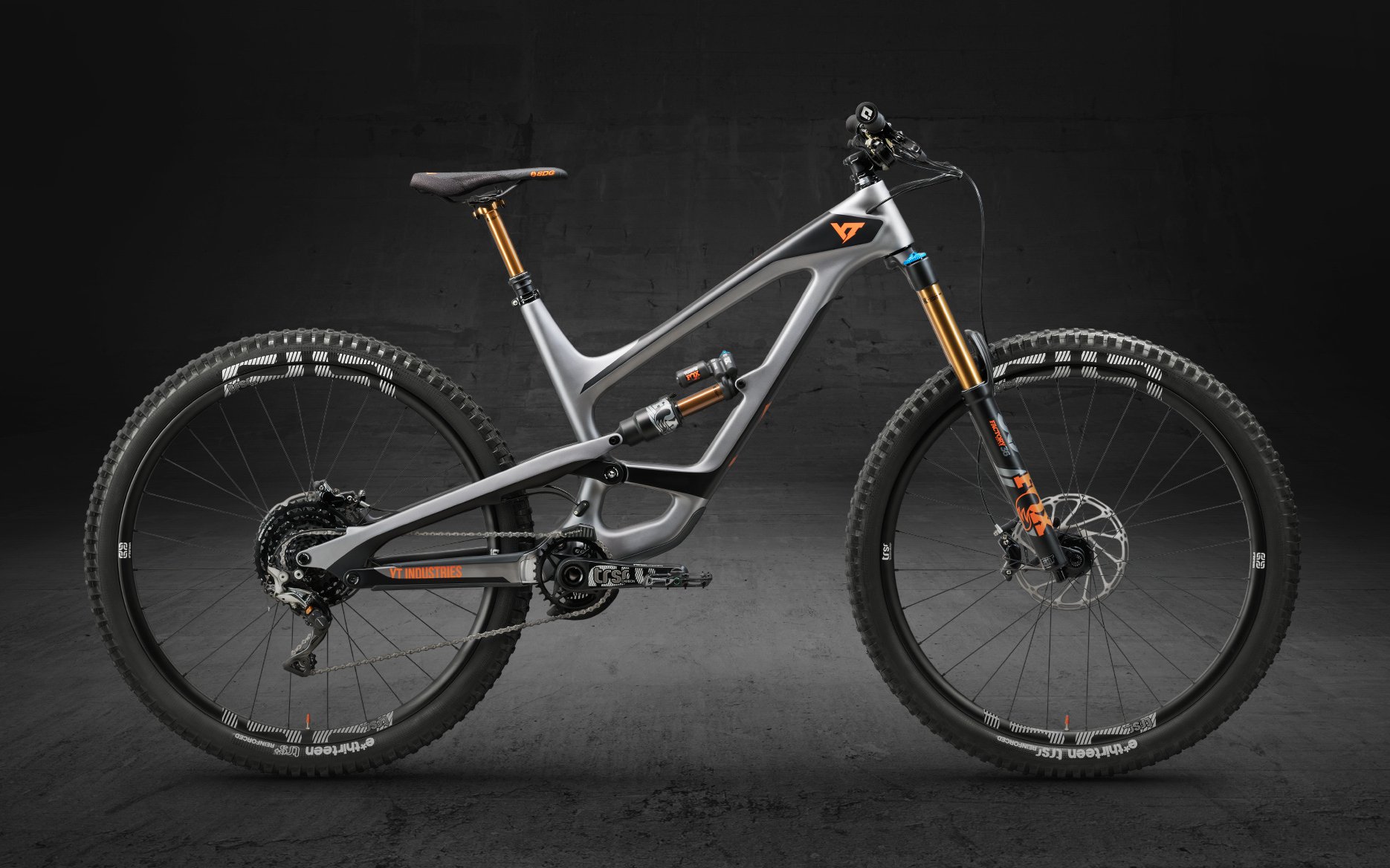 PRESS RELEASE – The Return of the Goat
The New 2018 YT Capra 27 & 29
Rumors have flown about for the better part of the last year of YT releasing a new version of their popular all-mountain bike, the Capra. The Capra – which means goat in latin – shares a lot of aesthetics with the previous version of the bike but for 2018 it has been made more capable with a claimed 10% stiffer frame that is also 15% lighter. The frame also had to pass the same tests that their Tues bike passes, which Aaron Gwin has proven to be a very capable sled on the World Cup. Options of either a 27.5-inch wheel with 180mm of rear wheel travel or 29-inch with 170mm of travel are also now available with a series of options for alloy or carbon frames. 

YT say that the suspension has been fine-tuned to provide more a more linear curve that provides ample mid-stroke support and enough end stroke support to balance the bike out. They're still utilizing their Virtual 4-Link suspension system, which is based on a Horst-Link design. 
What is perhaps the most interesting attribute of the new Capra is the sizing. YT have called their new philosophy "YT Tailor Made" and it's essentially resulted in the bikes becoming longer but the brand has been more aggressive with seat tube lengths, making it possible for riders to choose between two to three frame sizes to suit their needs. Build kits for the bikes also feature appropriately lengthed dropper-posts for the sizes. The larger sized frames – XL and XXL – feature chainstays that are 5mm longer than the smaller sizes, going from 427mm to 432mm on the 27.5 and 435mm to 440mm on the 29.
Aside from sizing the geometry is similar to others, with the 27.5 featuring a 65-degree head angle and a 75-degree seat tube angle – 68-degree actual. The 29-inch wheel option adds some adjustability, with riders able to select a high or low position by way of a flip-chip at the rear eyelet of the shock, adjusting the BB height within a 10mm range. Flipping the chip changes the head and seat tube angles as well, with a 65–65.5-degree head angle and 75.5–76-degree effective seat tube angle. Add in 170mm of travel and the 29-inch version is one aggressive bike.
2018 YT Capra 27 Geometry
Frame size:
S
M
L
XL
XXL
Reach:
415mm
435mm
455mm
475mm
495mm
Top Tube:
572mm
594mm
617mm
639mm
661mm
Stack:
597mm
607mm
617mm
626mm
631mm
Seat Tube Length:
400mm
420mm
450mm
470mm
490mm
Chainstay Length (Effective):
427mm
432mm
Head Angle:
65º
Seat Tube Angle:
75º
Seat Tube Angle (Actual):
68º
BB Drop:
-8mm
BB Height:
350mm
Wheelbase:
1,169mm
1,194mm
1,219mm
1,248mm
1,271mm
Head Tube Length:
97mm
109mm
120mm
130mm
135mm
Standover Height:
678mm
690mm
703mm
719mm
725mm
2018 YT Capra 29 Geometry
Frame size:
M
L
XL
XXL
Reach:
440mm
460mm
480mm
500mm
Top Tube:
584mm
621mm
645mm
667mm
Stack:
621mm
630mm
639mm
644mm
Seat Tube Length:
420mm
445mm
465mm
490mm
Chainstay Length (Effective):
435mm
440mm
Head Angle:
65º/65.5º
Seat Tube Angle:
75.5º/76º
Seat Tube Angle (Actual):
66º/66.5º
BB Drop (Low/High):
-25mm/-15mm
BB Height (Low/High):
351mm/361mm
Wheelbase:
1,203mm
1,227mm
1,256mm
1,279mm
Head Tube Length:
95mm
105mm
115mm
120mm
Standover Height:
699mm
723mm
735mm
745mm
YT has always been known for their competitive pricing and the new range continues on that trend, with the starting point for an alloy 2018 Capra being 2,499 USD (2,299 GBP / 3,349 CAD) and the entry level for a carbon Capra starting at 3,699 USD (3,399 GBP / 4,999 CAD). The top of the line CF Pro will set back riders 5,199 USD (4,699 GBP / 6,899 CAD).
To view the full range and more details head to YT Industries.