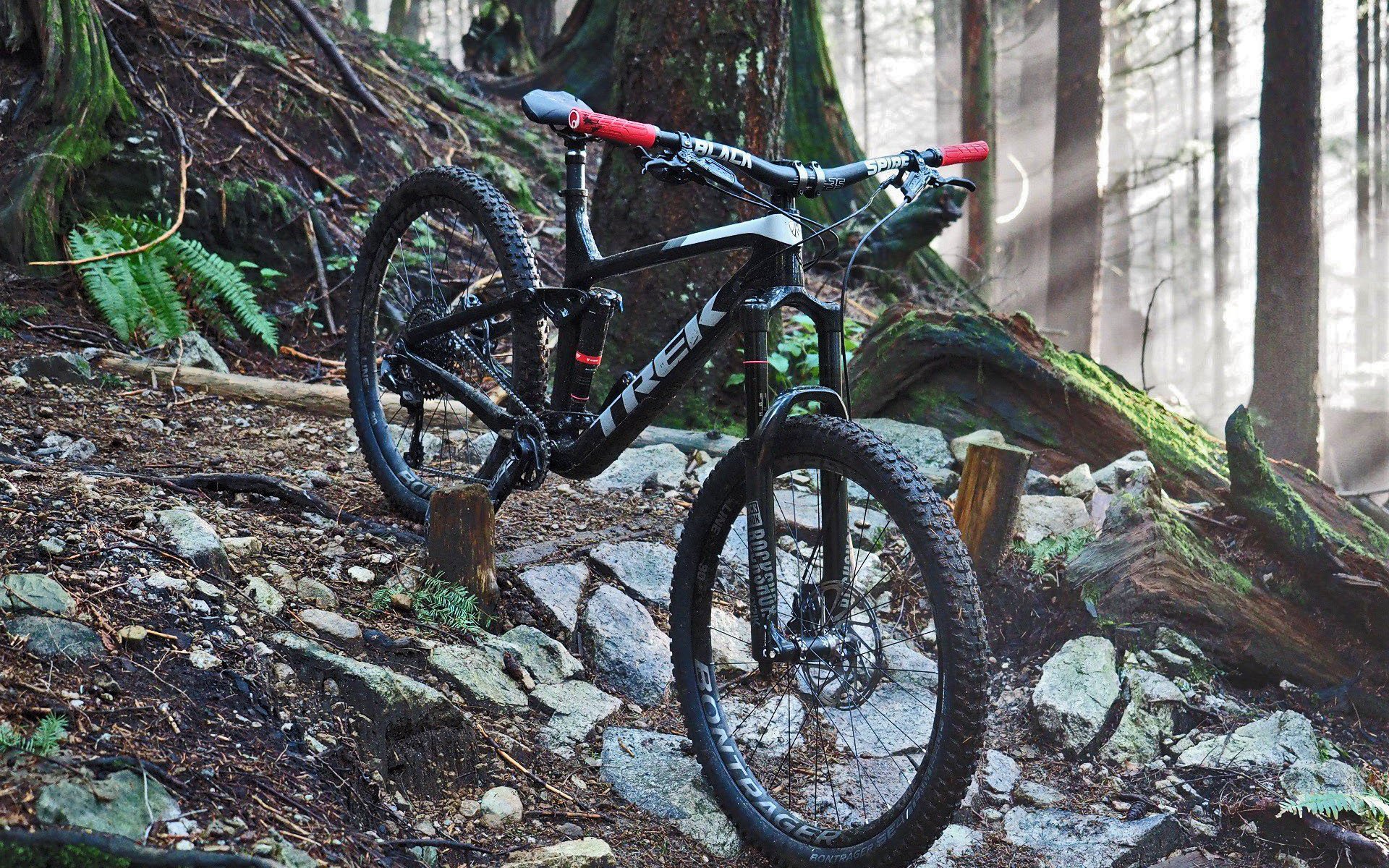 Teardown |Review
2018 Trek RE:aktiv Thru Shaft Shock
2018 Trek Remedy
2018 is the 10th anniversary of Trek's ABP Remedy model. It has marginally larger hoops and updated geometry but when I throw a leg over this 2018 9.8 I can't help but thinking about my first ride on a 2008 Remedy 8. Awesome bike. Awesome memories. A decade is a big deal but there's no sweet brown-and-orange remake of one of my favorite paint schemes of all time on a bike that still, as Pete says, hits "the heart of the do-it-all well spectrum".
My cynical side says it doesn't matter how great a product is; the market simply grows tired of steady improvements. Blow it up. Change it up. Make it 100% stiffer in ways that are either indiscernible or negative for most riders. Definitely, don't draw attention to the fact that the 2018 model looks a lot like it did when many were worried about Sarah Palin being a heartbeat from the presidency. 
This isn't a review of the Remedy per se. Pete tested a 2017 model with the same frame and you can read about the ins-and-outs of the bike here. I'm specifically looking at the big change in Trek's full suspension line for 2018; the new Thru Shaft shocks from Fox and RockShox, with some help from my friend Jeff at Bikeroom and Trek's top suspension guru Jose Gonzalez.
Why Thru Shaft?
No dynamic internal floating piston (IFP) means no nitrogen charge. No nitrogen charge means the new Thru Shaft shocks are fully serviceable at your preferred local mountain bike shop or by any rider with the time, confidence, and tools. 
With low internal pressures, reduced friction and the shaft exiting its aluminum sauna during compression, the Thru Shaft shock runs much cooler and damper oil degradation is colossally reduced. I know how that sounds but RockShox is recommending a full service on the shocks every 200hrs of riding which is an impressive interval for an air shock. 
It's still highly recommended that the air can be cleaned and serviced every 50 hours. That's an easy job involving a strap wrench and some Slickoleum and possibly fresh seals. But the big news is the average rider is on this shock for a couple years between damper services and when the time comes it's a teardown that can happen locally from Whitehorse to Warsaw. 
My question for Jose was what the shock feels like at 200hrs. Ridden hard, most dampers aren't performing properly when they hit their service interval but Trek is seeing no degradation of oil at the 200hr mark from any of their testers. I can't think of an air shock that comes close. 
Thru Shaft Issues
I have little doubt about Trek's performance claims. The shock's directional transitions are going to be faster and smoother with reduced friction and the low charge. The ease of service and longevity impress me enough that even if there was no performance gain I'd say this is a welcome innovation for riders. Or at least riders of Trek bikes. 
The challenge with talking about Thru Shaft performance is related to the Remedy itself and specifically Trek's Full Floater suspension design. The fact is Full Floater Remedy bikes perform pretty damn well with every shock I've ridden in them from pre-Boost Valve Fox Floats, through the Trek-Fox DRCV shocks and including last years Deluxe RT3.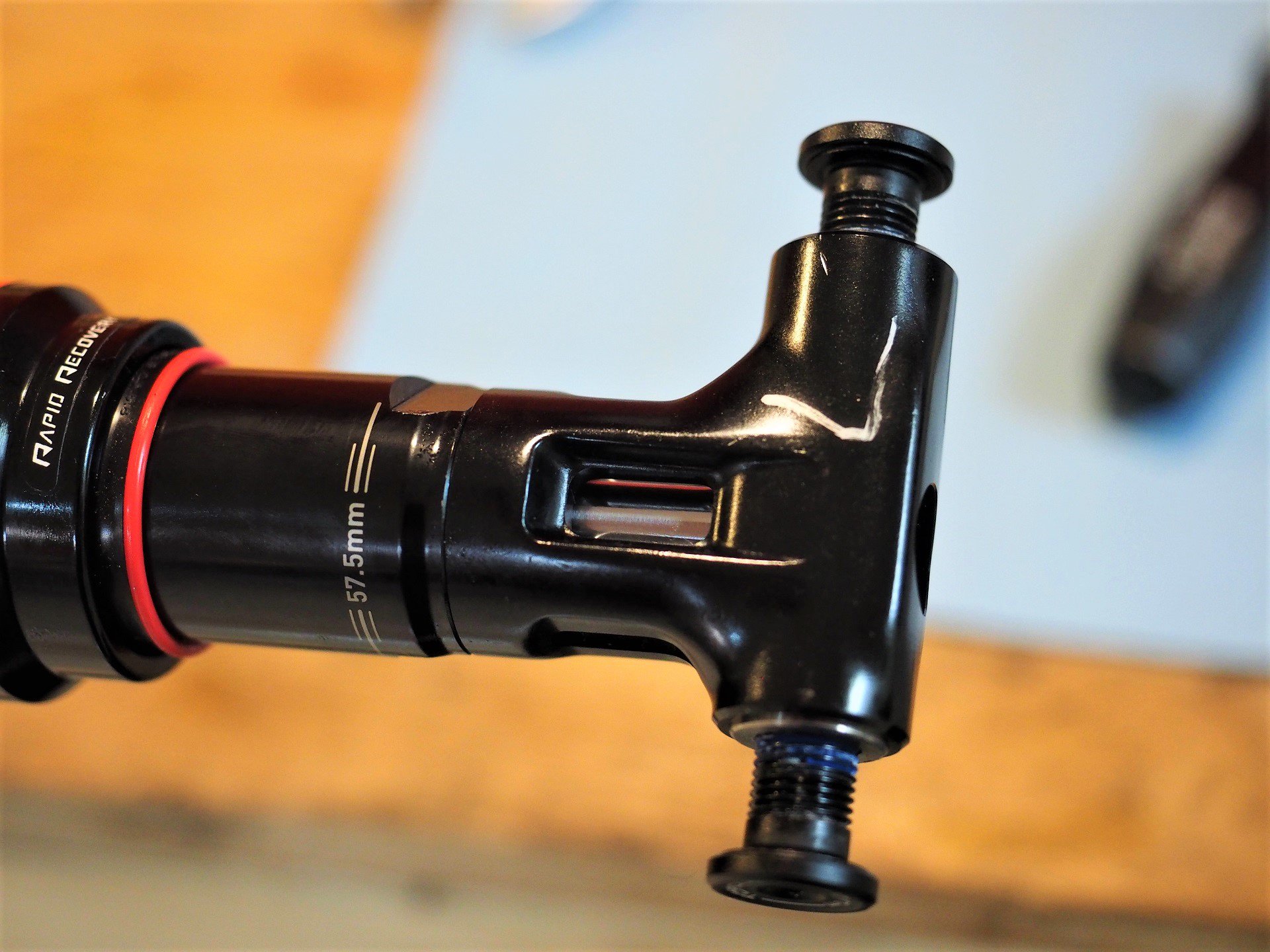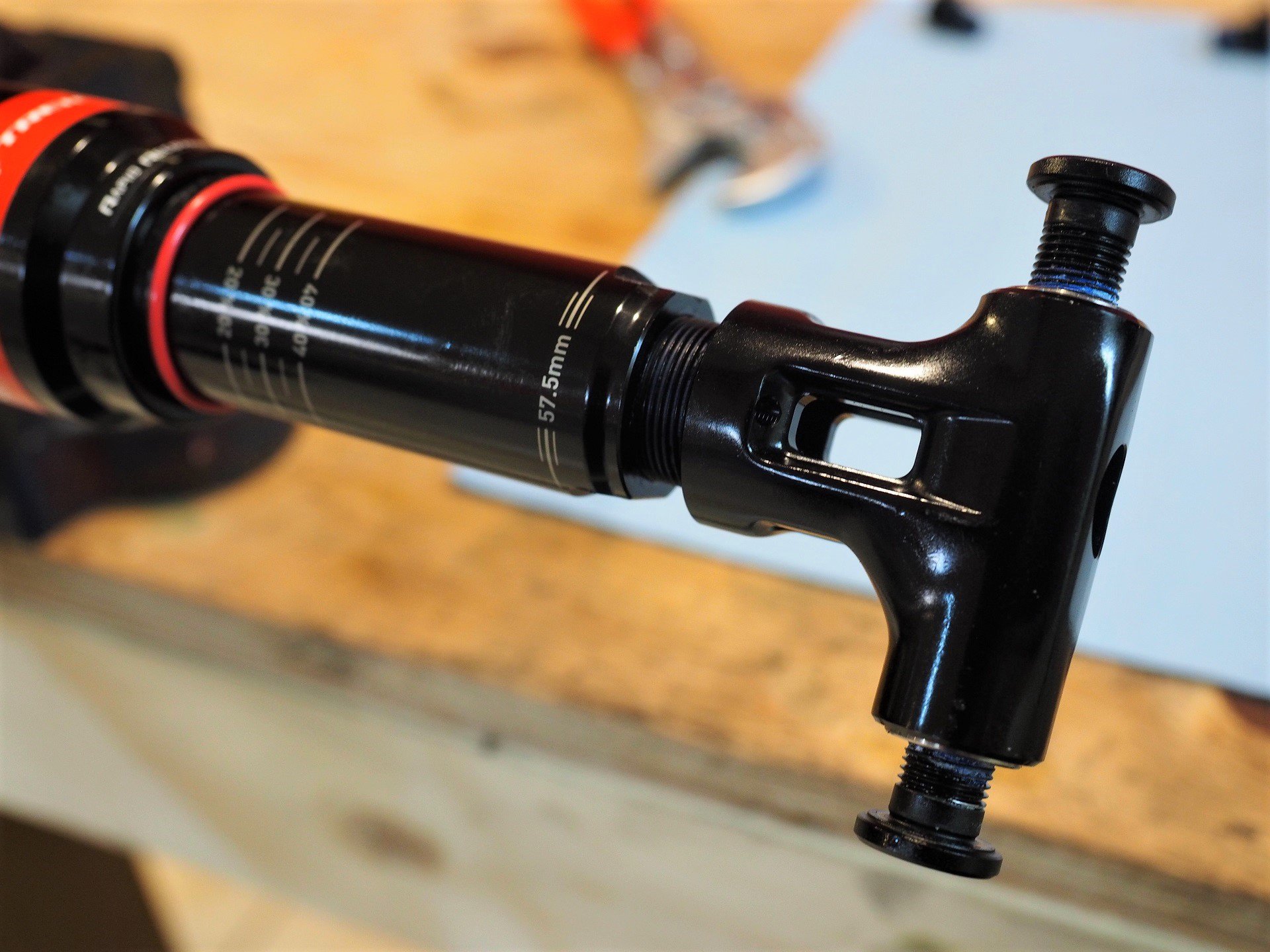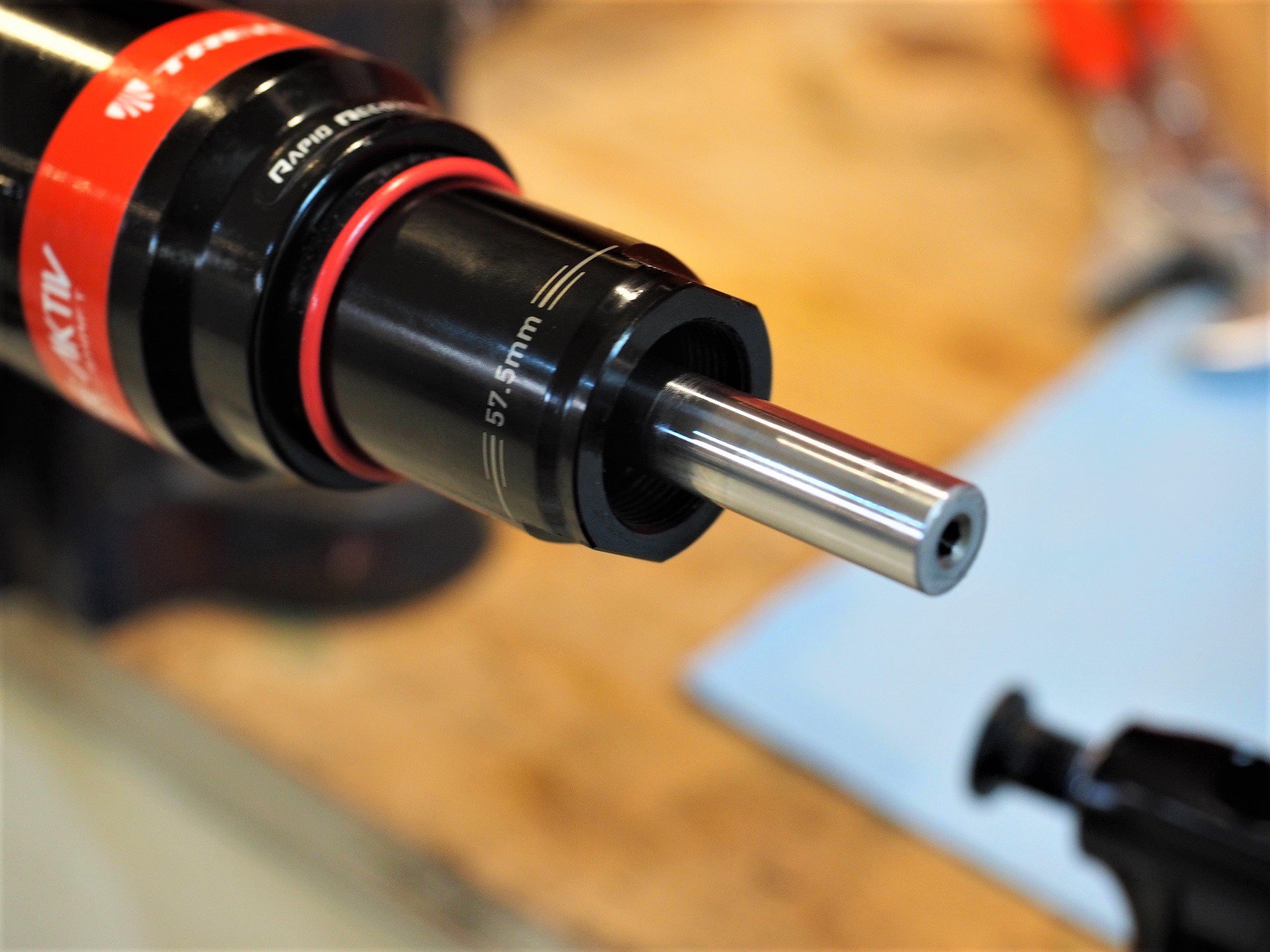 Jose points out that Full Floater was developed specifically to address the shortcomings of the air shocks available when the first Remedy arrived and air sprung longer travel bikes were still a relatively new concept. It's a very easy suspension design to tune around between valving and air volume. 
I can think of a handful of bikes that would be excellent candidates for testing the performance advantages of either the Fox or RockShox version of the Thru Shaft shock. Given the mounting system relies on bearings in the linkages, instead of the more common DU bushings, the best candidate would have been a Trek Slash like the one Perry tested last year. 
It also took some reflection to get over the fact that technically the Thru Shaft shock does have an IFP. It's housed in the tiny reservoir and is backed by a 250psi charge via a discrete Schrader valve. Jose explained that the reservoir has no influence on dynamic shock performance.
When the Remedy is sitting static in my shop, the air pressure acts on the IFP in the reservoir to keep the system pressurized maintaining the solid column of oil in the damper. When the system is dynamic this reservoir is closed off from the shock and oil is pushed against the seal heads. 
Remedy Ruminations
This isn't a bike review but I can't write about riding the Remedy without briefly discussing the Knock Block frame defence system. Boost fork crowns come with an increased stance. The greater width between stanchions means the crowns and adjusters are passing under frames much further along the down tube. Designing frames in every size to clear every fork on the market currently has resulted in some interesting looking bikes.
With the disclosure that I've never done an X-Up on purpose, I like the idea of restricting turning radius to keep the crowns, and my brake levers, from smoking my frame in a crash. I find that Knock Block delivers ample turning radius and reminds me a lot of my last Freeride bike with a Fox 40 up front where I could find the limit of turning radius and lean into it in steep and tight corners. 
I prefer the idea of a simple bolt-on rubber bump stop under the downtube, providing the same benefit without a special headset and interlocking stem. I know of a couple of cases of riders putting Boost forks on older frames only to find the fork controls contact their downtubes. Future proofing is good.

Riding Thru-Shaft
When Trek released the first RE:activ shocks, issues with noise in the first generation Fox DRCV models aside, the improvement was immediately noticeable in how much faster the Remedy moved across rough terrain. Climbing and descending performance were also improved. Then, factory air systems evolved and new air cans like EVOL and DebonAir replaced the complex DRCV system in delivering the performance Trek desired. 
Last year RockShox replaced the parka-esque DebonAir with a simple air can they combined with their Countermeasure lattice spring. Combined with RE:activ and Trek's tune the shock delivered better small bump performance and better mid-stroke support. That action carries across to the new Thru Shaft shock but the question, given how well the 2017 Remedy suspension performed, is where I would hope to notice the difference in performance on the trail. Jose's answer was two-fold: repetitive hits and improved traction. Off to the jankiest sh*t trails I can find.  
Performance over repetitive hits is subtly improved running a similar setup between the shocks. Pounding through rock gardens or down eroded chunder chutes the Thru Shaft shock recovers better after multiple hits. I noticed it especially on trails with wheel-eating roots and rocks where I would always choose to ride a 29'er but wasn't grumpy on the 27" Remedy. 

I'm a big fan of Bontrager's SE4, and lighter XR4, tires for all around Shore riding and it's rubber I'm well acquainted with. Personally, the only situation I noticed a difference in traction riding the Thru Shaft shock or last year's RE:activ Deluxe was also on these mangled sections. Transitioning the Remedy down through flat rocky corners the same SE4 tires bite harder. 

There is one mammoth performance improvement from Thru Shaft and I equate it to my recent experience running a coil shock on my own bike. Because Thru Shaft is so smooth off the top and in changing directions the shock can be run with reduced sag compared to any past Remedy setup. That means more support in the rough, fewer pedal strikes, and more travel in reserve for unplanned compressions. As a result I started with the Trek base settings for my weight and then ended up running the air pressure settings of a rider over 30lbs heavier. 
Thru Shaft For All
Based on personal preference the Remedy wouldn't be on my purchase list because of the 27" wheels but both the 29'er Slash and 29'er Fuel EX are available with Fox or RockShox Thru Shaft shocks. If I had a 2017 Trek I would surely be looking into replacing my stock shock with a Thru Shaft model. 
I wish the Fox or RockShox Thru Shaft shock was available for other companies' suspension platforms. It's the one air system I would consider running over a coil on my personal bike. It would also be a winning option for more linear suspension designs where the air spring, and ability to tune with tokens, is a performance key but the silky breakaway means a more supple feeling off the top. 
Performance aside, the longevity and serviceability of the product put most other options to shame for the DIY or remote rider without ready access to performance shock service. 
For more information on the RockShox Thru Shaft shock please click here. For more information the 2018 Remedy lineup please click here.