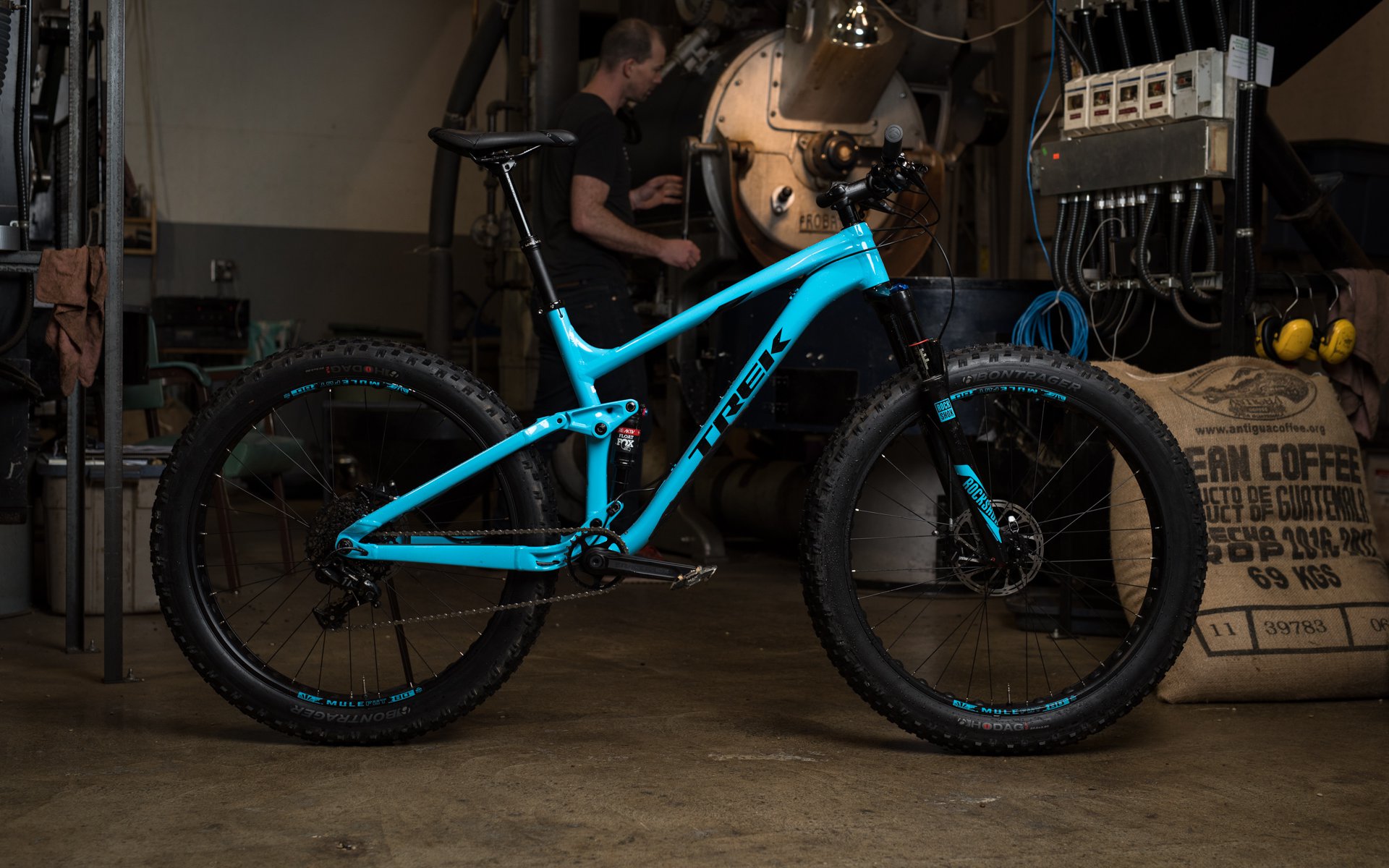 First Impressions
2018 Trek Farley EX 8
If you have been paying attention you may recall that in my Xmas list I went big and hoped to get my hands on a dual suspension fat bikes. At that point I was hopeful we'd get a tester but in the end we decided two was better - because who wants to fatbike alone? And a reference point, considering the Salsa was the first fully suspended I'd ridden. 
To begin with I had little interest in fat, although I assumed they made sense for sand or snow. We'd see the full rigid monstrosities tractoring around at Interbike and they just looked silly. Kind of fun, but silly as well. And they sure as hell didn't look fast. But then Rock Shox made the Bluto, a 100mm fatbike fork that looks like a widened Pike, and the world of fat changed. These bikes always had suspension, thanks to the massive low pressure rubber, but now it was damped. This also allowed riders to run a little higher pressure up front and avoid the auto steer that can come with pressures below 10psi. This was a turning point; now you could get genuinely rowdy on tougher terrain. This also encouraged the close-minded among us (me for instance) to consider fatbikes for the wonders of dirt. 
The Farley is quite long looking and relatively low and somehow the 27.5 x 3.8 tires look well proportioned. Up close it's obvious the huge rims are clad with monstrous rubber, but to my eyes the shape looks very nicely balanced. I never thought I'd say a fatbike looks good. 
Classic Trek lines. Full Floater seems to be disappearing (It was omitted on the Slash) but it's in full force here along with the ABP pivot that spins concentric to the rear axle. The Farley EX even has the RE:aktiv rear shock developed by Trek, Fox and Penske racing controlling the 100mm of rear travel. 

Gone for a Ride. Back @ 5 - The Cowboys
The riding position of the Farley feels quite modern. The 625 mm top tube is only a centimetre shy of the long and low Slash. The overwhelming feeling I get riding this bike either up a fire road or on a sedate section of trail is that I'm riding a mountain bike. That all changes when things get hairy however and it becomes something more. 
I can't remember the last time I rode a bike with a 69º head angle on purpose, but it hasn't been an issue at all thus far. The 19.5" frame fits me very well, from reach to seat tube angle - I don't even mind the wide Q-factor produced by the fat bike BB spindle.
The Farley EX hasn't yet seen snow but, while there may be some on the way, that's just fine. This thing loves dirt and rocks and loam and I've been riding it like a regular trail bike. 
Aside from the dropper I've had nothing to complain about spec-wise. The 1x11 drivetrain works just fine, with the 28t chainring helping me spin the big tires up hill. The SRAM Level T brakes don't have much work to do thanks to the massive grip the tires provide, but function has been more than adequate. 
I haven't weighed the Farley since I did the tubeless conversion but it was 35lbs before that, without pedals. It doesn't feel heavy at all on the trail - at least not going down. I ramp the pressure some for climbing which keeps things rolling a little faster. 
I imagined riding these fully suspended behemoths would be fun, but I sold them short. They make any day on dirt a powder day. I pedal into rocky ugly sections with abandon, carve steeps and find myself in the air where I normally wouldn't. All with a big grin on my face. Stay tuned for our full review of both the Trek Farley EX 8 and the Salsa Bucksaw Carbon. 
The Farley EX 8 will set you back 3499 USD. More details here...