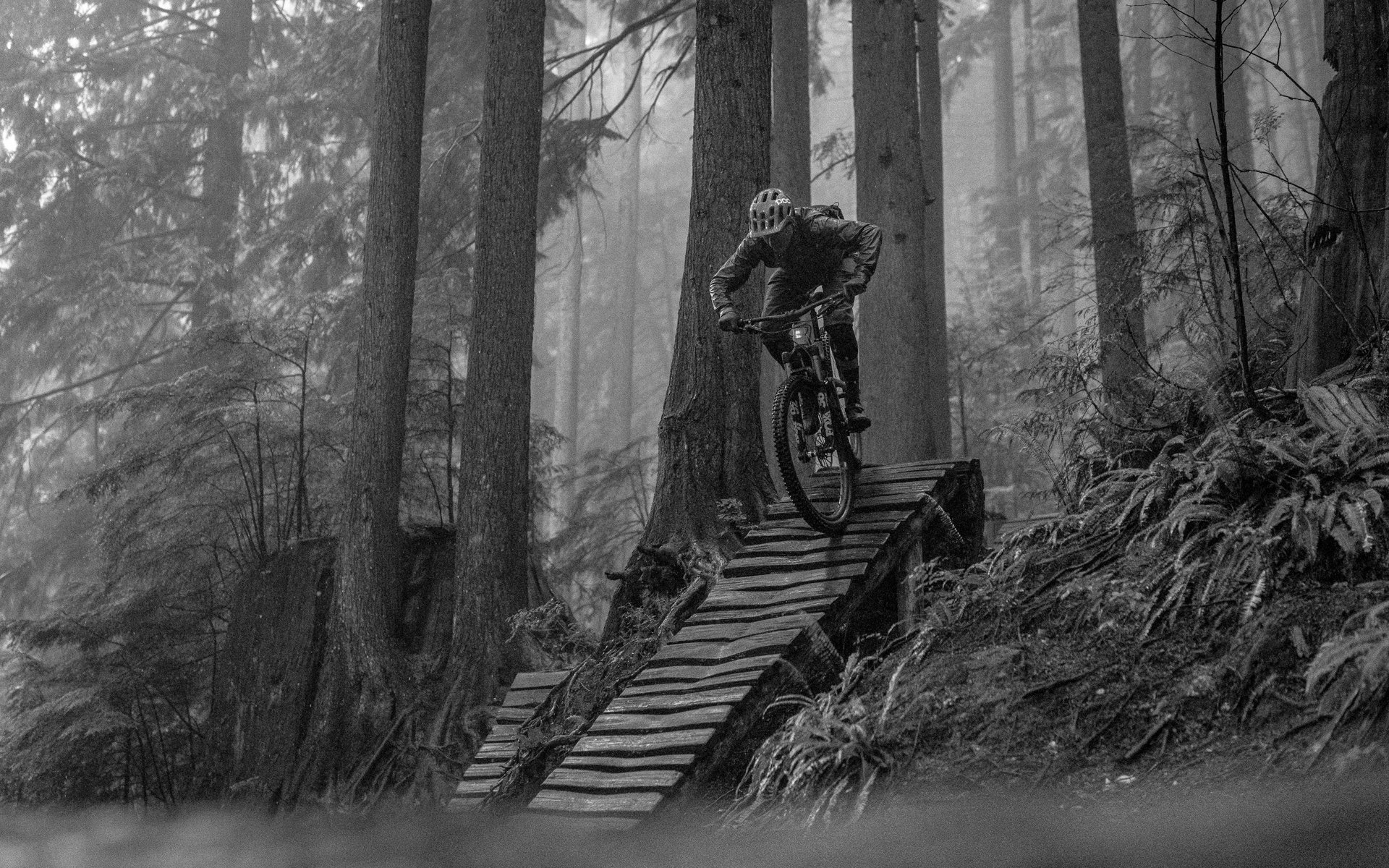 Long Term Review
2018 Santa Cruz Hightower LT
Some bike tests follow a simple arc. The bike gets deciphered in linear fashion and I learn its foibles and superpowers incrementally. Other times it's more of a rough ride, and after a solid start my relationship with the HTLT encountered some troubles.
My early rides on the bike showed real promise, as reflected in my first impressions piece. In retrospect these trails were relatively one-dimensional. I rode some steep and dusty interior B.C. sliders and some steep technical North Shore lines, but little else. Everything looked peachy at that point but varied terrain revealed what seemed to be tuning issues. Despite being systematic and careful with the set up, going over sag multiple times and methodically tweaking the damping, I couldn't get the rear end to feel right.
Finding a balance of proper ride height, bottom out resistance/big hit performance and small bump compliance was like getting Donald to praise CNN. I settled on middle ground that made cornering a challenge because the mid stroke wasn't cutting it, while high speed rough sections felt chattery and unstable. When I upped the pressure to prevent bottom out, most suppleness disappeared. The bright lights among you are probably realizing one possible remedy (it seems obvious in retrospect), but I kept thinking that it was me and that I hadn't found the right settings.
When SRAM sent us a Shockwiz turning device, I thought deliverance was at hand. Unfortunately my initial readings told me I was almost dead on and after a couple of clicks I was getting perfect readings from the device without any improvement in the performance of the Fox DPX2. I was flummoxed.
Fortunately shortly after this I ran into Arthur Gaillot of SuspensionTherapy. Arthur had set up several riders on the HTLT and he felt that the factory tune wasn't ideal for our combination of continuous impacts of both high and low intensity. Luckily his solution was a simple one; a single 0.2 inch volume spacer (the smallest) added to the rear shock.
Arthur also suggested the damper in my DPX2 Evol needed a bleed. I had noticed an unusually loud squelch but I assumed this was normal having spent very little time on this particular shock. Arthur told me that having a bad damper bleed is like having air in your brake lines; everything is negatively affected. The damper adjustments become less effective and traction, support and compliance are all compromised. Arthur's tune, which put me at 165 psi, was based on the squelchy damper.
Things were a little better after the tune and then I took the rear shock to James Downing of Suspensionwerx for the bleed. When I got it back the shock sucked much less… er loudly, on return and compression and it allowed me to increase the pressure to 192 psi, which is where I started out. And finally the bike began to sing. Cornering became far more predictable and natural with better mid stroke support and big hit performance was wicked but without any compromise to small bump compliance. Game on.
Downhill Performance
After the dust settled I began to get rowdy (for me) on the HTLT. Now that it's predictable I find myself going into corners a little too fast, throwing the bike onto the side knobs to explore the limits of traction. The bike is now eager to get off the ground and swap lines in exuberant fashion. Can I say lively? How about playful?
Traction on rough cornering ruts is decent but not as compliant as some other bikes I've ridden like the Norco Range 9.2 or the Yeti SB 5.5, which both carry speed very well in those situations. The HTLT however transitions between consecutive tight corners as well as any 29er I've ridden and on smoother curves or loose ground it's excellent.

Confidence on steep lines continues to be extremely high and only limited by the SRAM Guide brakes. The set on this bike has performed adequately but now that I've experienced the joy of new SRAM Codes it's clear they belong on this bike.
This LT's happy place is rough high speed straights. Once up to speed it seems to float over heavy impacts and remain confidently planted. Fromme was once traversed by horse-logging era corduroy roads, built by placing logs perpendicular to the direction of travel as a rough but supportive base. A few sections have been incorporated in current trails and I've never travelled them faster than on the born again HTLT.*
*these were the worst sections before I received help from Arthur and James
Climbing
If you read my first impressions piece on the HTLT you will know that this is a bit of a Frankenbike. Santa Cruz wanted to turn this around quickly because the company's enduro racers wanted it and because the market was hungry for a big wheeler that devours big bumps. Instead of starting from scratch, the front triangle from the original Hightower was used along with a new linkage, swingarm and a longer stroke shock. Clearly you are going to have some compromises with a design like this and one was the seat tube angle, which tips back to 73.7º from 74.3º. Even the more dh focussed Nomad is steeper at 74.1º. Moving the saddle forward on the rails (thanks Arthur) put me in a more comfortable climbing position and helped me dig in but this might make things cramped for some longer limbed types.*
*I am 6' tall but proportionally longer of leg
The HTLT is a solid fire road climber. It provides a stable platform when seated even without any extra support but for out of the saddle efforts it was more efficient in firm mode. On rougher singletrack ascents the bike is capable but less active than other bikes in this category, the Yeti SB 5.5 being an example. Where the Yeti seems to move upward with ease or even give you a boost when obstacles bar your way, the HTLT is more likely to let you know, slowing your progress some. Even so the bike winched me up some very challenging sections of trail making this is a relatively minor complaint.
Wheels
The bike came adorned with Santa Cruz's new Reserve wheels and they have been passed around a little. Summer is a busy time for me and I knew I wouldn't be able to adequately abuse the Reserves so I passed them to my buddy Trevor who rides harder and more frequently and outweighs me by two stone. They came back to me well worn but true and round. Shortly after I put them back on the Hightower I caught a spoke on a branch and it shot through the rim strip breaking the seal. After repairing the flat, I rode the wheels for 5 or 6 rides without replacing the broken spoke to see how it would fare and it never veered from true.
Trevor felt that traction improved while riding the Specialized Enduro with the Reserve wheels, likely thanks to their good compliance. We couldn't find anything to complain about and they remain as true as when the bike first arrived.
Summing up
Despite being an amalgam of old and new frame components, the finished HTLT lacks very little. While it has strengths and weaknesses, there is nothing it does poorly and it's as good as they come in a few categories. In the end you're left with a Swiss Army bike; a downhill beast that'll easily conquer a four hour climb and a nimble singletrack sprite that obliterates rough straightaways. I rode this on some of the nastiest North Shore descents and also pedalled up to Lord Of The Squirrels in Whistler, and the HTLT was never out of place.
For more on the spec and my early impressions of the Hightower LT click here...
For info from the Santa Cruz website click here...