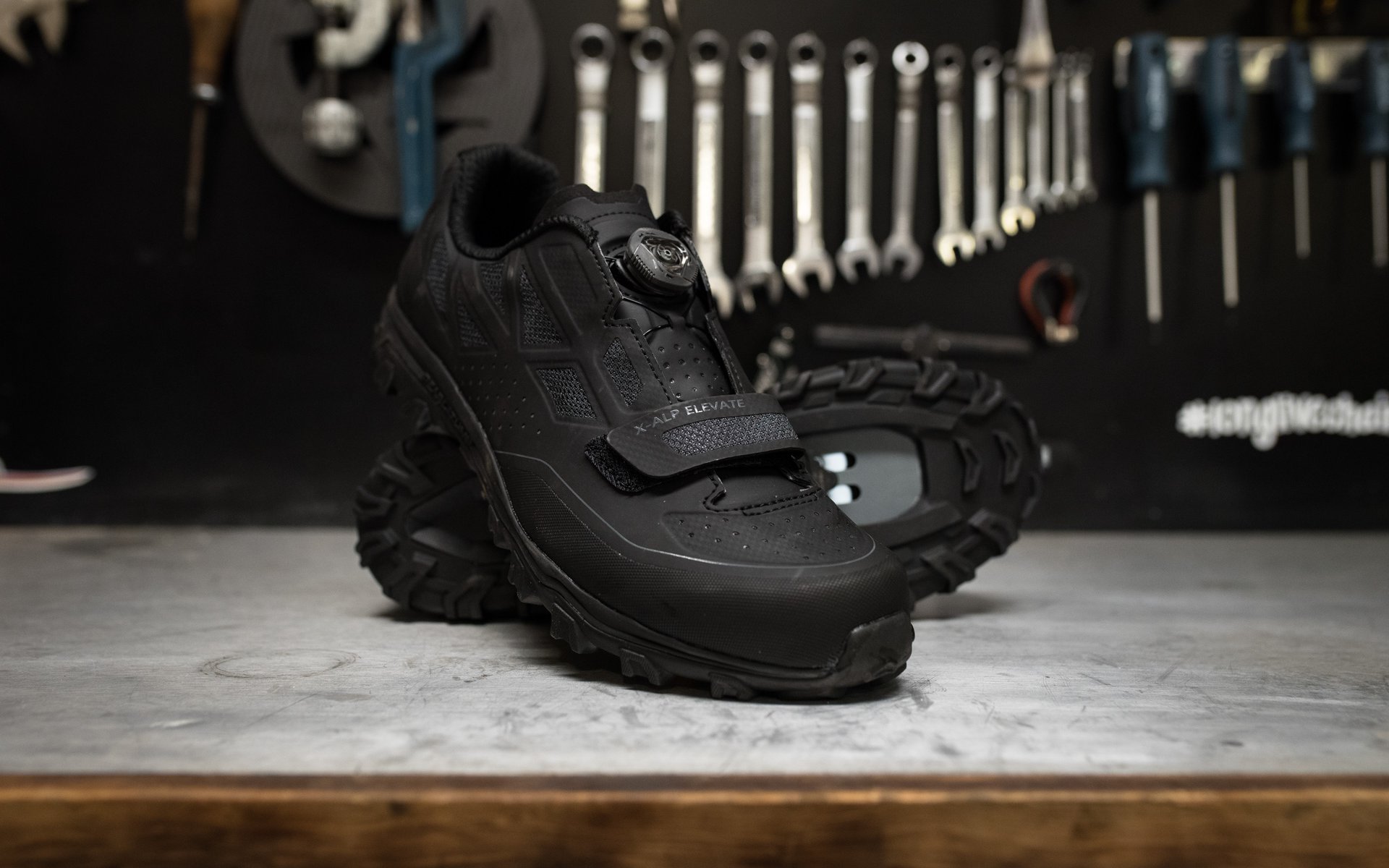 REVIEW
2018 Pearl Izumi X-Alp Elevate Shoes
The breadth of shoe choice isn't the worst reason to ride clipped in and the options grow every year. SPD shoes used to be road shoes with lugs. You could choose between XC race shoes and more expensive XC race shoes. They were excessively stiff for most riders and you were forced to walk like a duck... err, roadie that is. Now you can get everything from carbon-soled space slippers to SPD-compatible sandals.
My favourite relatively recent category are clip-in shoes that are indistinguishable from flat shoes. They are stiff enough, you can wear them anywhere and they are as comfortable as sneakers. I assumed that, barring any folly involving stage racing or a move to the flatlands, I'd ride off into the sunset using a variation of casual-styled SPD shoes. But then I tried the X-Alp Elevate from PI which bridges the gap between an unabashed race shoe and a sneaker style clip-in shoe.
Pearl Izumi has been making cycling apparel since 1950 and I've been a customer for half of those 68 years. I don't recall ever being disappointed by the function or quality of a PI product but styling has occasionally let me down. The company has always understood the XC and road sensibilities but for those who don't fit into those categories, styling has remained elusive until recently.
The Fit
I have no complaints about the look of the X-Alp Elevates, but the feel is even better. From the beginning, they have fit better than I can remember any shoe fitting. And I'm not just talking about mountain biking footwear. The sizing is so perfect I can't imagine a custom fit improving anything. The foot-hugging feel is aided by the single 1P1 Boa closure. The 1P1 clicks down to engage and turning the dial tightens (clockwise on the right and counter on the left) or loosens so you can easily adjust on the fly. To remove or loosen your shoes you simply pop the dial out.* I've had some Boa shoes without enough cord to easily slip in and out but Pearl Izumi nailed it. Boa Closures have a lifetime warranty. Just go to the Boa website to order if you have an issue and a replacement will be shipped to you directly. A velcro strap adds a little support to the forefoot and some protection but I haven't adjusted these since the shoes were new. In terms of sizing a 45 is occasionally a little large for me but these are perfect, so they might run slightly on the small side.
*Some Boa models turn to loosen, others pull to release
The Upper
The construction of the upper is something of a marvel. Advanced synthetic materials and superior bonding procedures make for a shoe that appears to have only one seam; at the heel. Rather than having multiple materials sewn together, it's as though there is an outer skin that is a single piece of material that is perforated in some places for ventilation and armoured in others for protection. This allows for even pressure and it contributes to the world-class fit. It also seems to boost durability because I've worn these shoes a lot in the past three months in every kind of weather and it's tough to see any sign of significant wear. PI calls this a "three layer seamless upper." There is adequate impact protection in the toe and heel zones but I can't say much about warm weather performance. I can say that despite perforations for venting these do a surprisingly good job of keeping the water out.
The Sole
Walking on hard, slippery surfaces wearing even the grippiest cleated shoes sucks balls, but the X-Alp Elevates suck fewer than most. The Vibram sole bites well and the tunnel under the heel applies more pressure to the area that is in contact with the ground. The cleat channel is perfect for me in that I can slam my cleats to the back and it feels just about dialed. The shoe is guided onto the pedal well but other shoes I've ridden, like the Specialized 2FO Cliplite are a little better in that regard. When I switch to other shoes I notice that I need to raise my saddle some, meaning these have a lower profile sole than most. The EVA midsole provides a little cushion and there is apparently a carbon composite 3/4 shank in there. Stiffness is right in the sweet spot for me with good rigidity from the cleat rearward and a little flex in the toe. These are shoes I could walk in all day.
Performance
When fit, stiffness, and cleat placement all find the pocket, performance is all but guaranteed. I can easily tighten things down for times when precision is required and loosen them off for a long climb. The excellent fit means I don't have to over-tighten to instantly transmit subtle or more forceful inputs through the pedals, and the sole rigidity is more than adequate for transmitting power efficiently for steady efforts and even when the throttle is opened up. These shoes are equally at home banging off shuttle laps or a long XC loop.
To Sum Things Up
The Elevate sits south of the middle of PI's footwear line at 180 US (200 CDN so better than the exchange rate). You can spend 350 US on the X-Project P.R.O. or 110 US on the X-Alp Canyon, but I for one wouldn't budge from this spot. There's nothing I would add to or subtract from this do-it-all shoe. For the riding I do, which often involves some hiking and lots of standing around, occasionally punctuated by pedaling and descending, the X-Alp Elevate is as perfect as any SPD compatible shoe I've worn.
The X-Alp Elevate weighs a smudge over 400g before you add cleats. For more on the X-Alp Elevate click here for women's and here for men's...