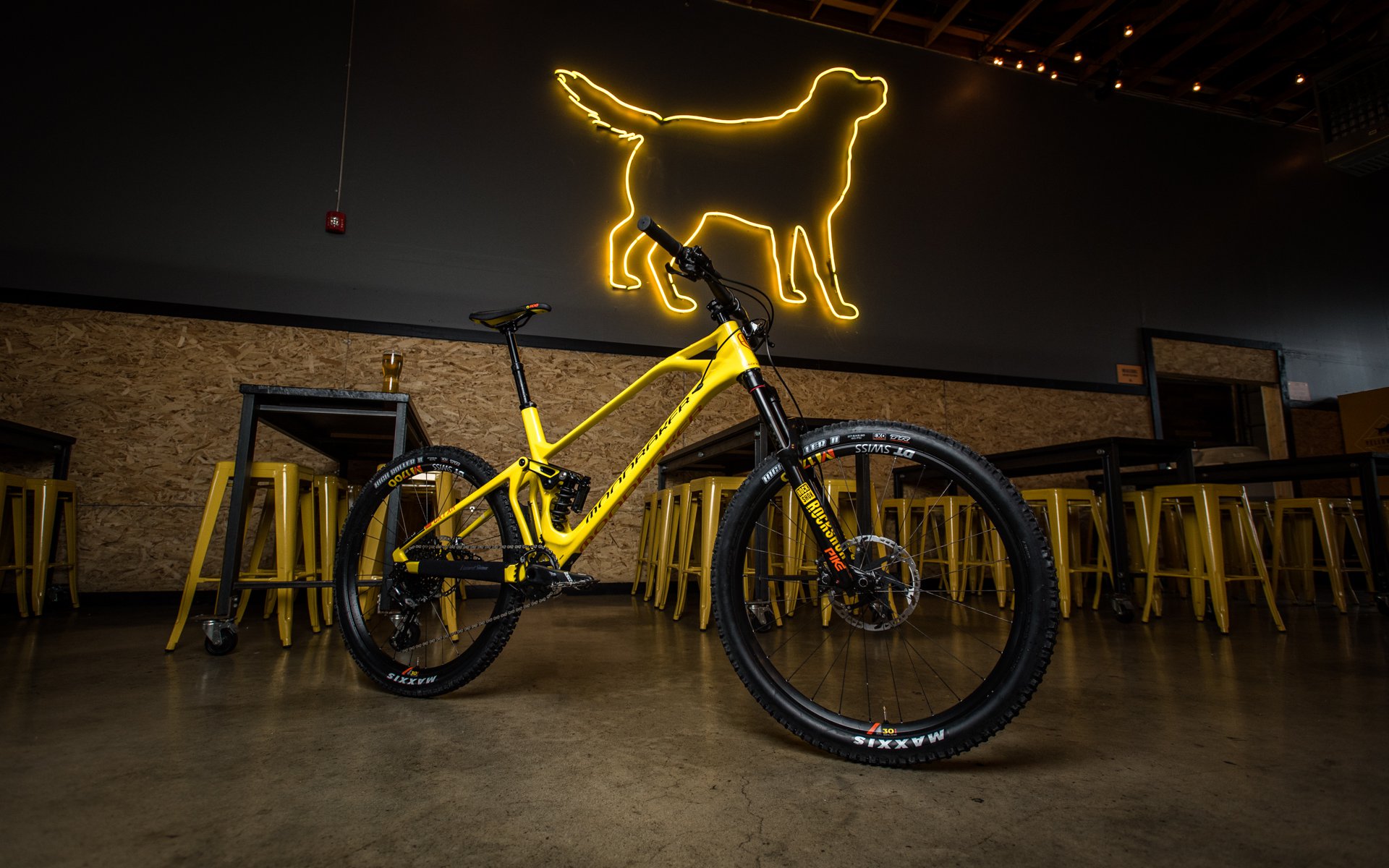 First Impressions
2018 Mondraker Foxy XR
After Dave's launch of Mondraker to the US release last year, I was recently given the nod to test Mondraker's new Foxy XR, yippee! We don't often see Mondrakers around this part of the world, so I had almost no preconceived notions about the Foxy. That all changed the moment the garage door opened, revealing the beaming yellow Mondraker inside. I was immediately struck by how pretty the Foxy XR is in the flesh. I believe that mountain bikes are toys, and toys should be fun and bright and pretty. Maybe it's just me, but I think the Foxy is gorgeous and love the bright paint. I'd gone from ho-hum to giddy in a matter of seconds. As if this bike needed any more help, we got some eye candy for you all to enjoy at one of my favourite breweries, Yellow Dog in Port Moody.

Frame Details:

So what is the Mondraker Foxy XR? Mondraker is a bike manufacturer from Spain, the Foxy is their 150 mm travel all mountain bike, and the XR is their aggro version. In addition to the already aggressive geometry of the Foxy, the XR sports a coil shock, and slightly over forked 160mm Pike. Coming in at sub-30 pounds is impressive, and can be yours for 6,300 USD, or roughly 7,900 CDN. Some frame specific highlights:
150mm travel carbon frame with aluminum upper link
Trunnion Metric shock mounting
Forward Geometry (more on that later)
Boost hub spacing
Threaded 73mm bottom bracket
1x drivetrain only
Internal cable routing
Enduro Max sealed bearings
Mudguard for shock and custom chainstay protector
ISCG 05 chain guide mounts
Optional Geometry Kit to adjust the chainstay length +10 mm and or headtube +/- 1-degree
Frame Geometry:
The Foxy frame uses Mondraker's Forward Geometry. Foward Geometry intends to place the rider further forward in the bike. The key points here are; long front center, short stem and steep seat tube angle. The idea is to allow for a more aggressive geometry, but positions riders to better weight the front tire when descending. When climbing the steep seat tube angle and long front center work together to keep the front tire down, making steep technical climbs easier. Sizing wise the new Foxy is long. I took Mondraker's sizing recommendation of the size Large... gasp. It's possible this review might be free of me whinging about wanting a longer frame. 
2018 Mondraker Foxy XR Geometry (160mm)
Frame size:
S
M
L
XL
Reach:
454mm
474mm
494mm
514mm
Top Tube (Effective):
618mm
640mm
665mm
688mm
Stack:
588mm
597mm
616mm
652mm
Seat Tube Length:
380mm
420mm
470mm
510mm
Chainstay Length (Actual):
425–435mm
Head Angle:
65.5º
Seat Tube Angle:
74.5º
Seat Tube Angle (Actual):
70º
BB Drop:
-5mm
BB Height:
349mm
Wheelbase:
1,194mm
1,217mm
1,246mm
1,270mm
Head Tube Length:
110mm
120mm
140mm
150mm


Suspension Design:
The Foxy XR uses Mondraker's Zero Suspension system. Zero is a dual link design with the shock floating between the two suspension links and compressed from both ends. Mondraker claims this makes the rear suspension extremely sensitive on small bumps and big hit capable. Mondraker designs in minimal chain growth throughout the suspension travel to minimize pedal kickback and minimize pedalling power loss. The Zero technology is also designed to isolate braking forces from the suspension to minimize brake jack/squat.
Build Highlights:
Fork; RockShox Pike RCT3 160mm
Shock; RockShox Super Deluxe Coil RCT
Drivetrain; SRAM Eagle GX
Wheels; DT Swiss M1700 Spline
Tires; Maxxis High Roller II, 27.5 x 2.3, EXO Casing, Dual Compound
Brakes; Shimano XT M8000, 203 mm front rotor, 180 mm rear rotor
Cranks; Truvativ Descendant Eagle Carbon
Seat Post; Onoff Pija Dropper
Bar/stem; Onoff Stoic carbon bar with 35 mm stem
I haven't heard of Onoff before, but it's Mondrakers house brand of components. Normally I'd balk at house brand components on a bike of this price, but all the Onoff components look and feel as nice as comparable third-party products. The colour and form matched decals of the Onoff components ties in well with the overall scheme of the Foxy XR and makes for a very cohesive looking bike. There isn't a website for Onoff components as yet, so I don't have many more details, but I'll be reporting back on how these house components perform. 
I'm not going to waffle here, I'm rather excited to spend some quality time on the Foxy XR over the next couple months. On paper, this Spanish chiquita checks a lot of boxes for me. I particularly love the way it looks, the aggressive geometry, and coil shock spec. The build looks spot on, although some might say it's a bit expensive for a GX drivetrain bike with house brand parts. I'd counter that I've heard nothing but good things regarding the GX drivetrain, the Onoff parts look decent, and the rest of the build looks dialled. I should be better equipped to judge the value after I've put some meaningful miles in. I'm going to start testing the bike in the as-shipped shortest setting, and then slowly try the other geometry options, finishing with the longest chainstays and slackest head angle. Keep your eyes peeled here for updates in the coming months, this one is going to be interesting!