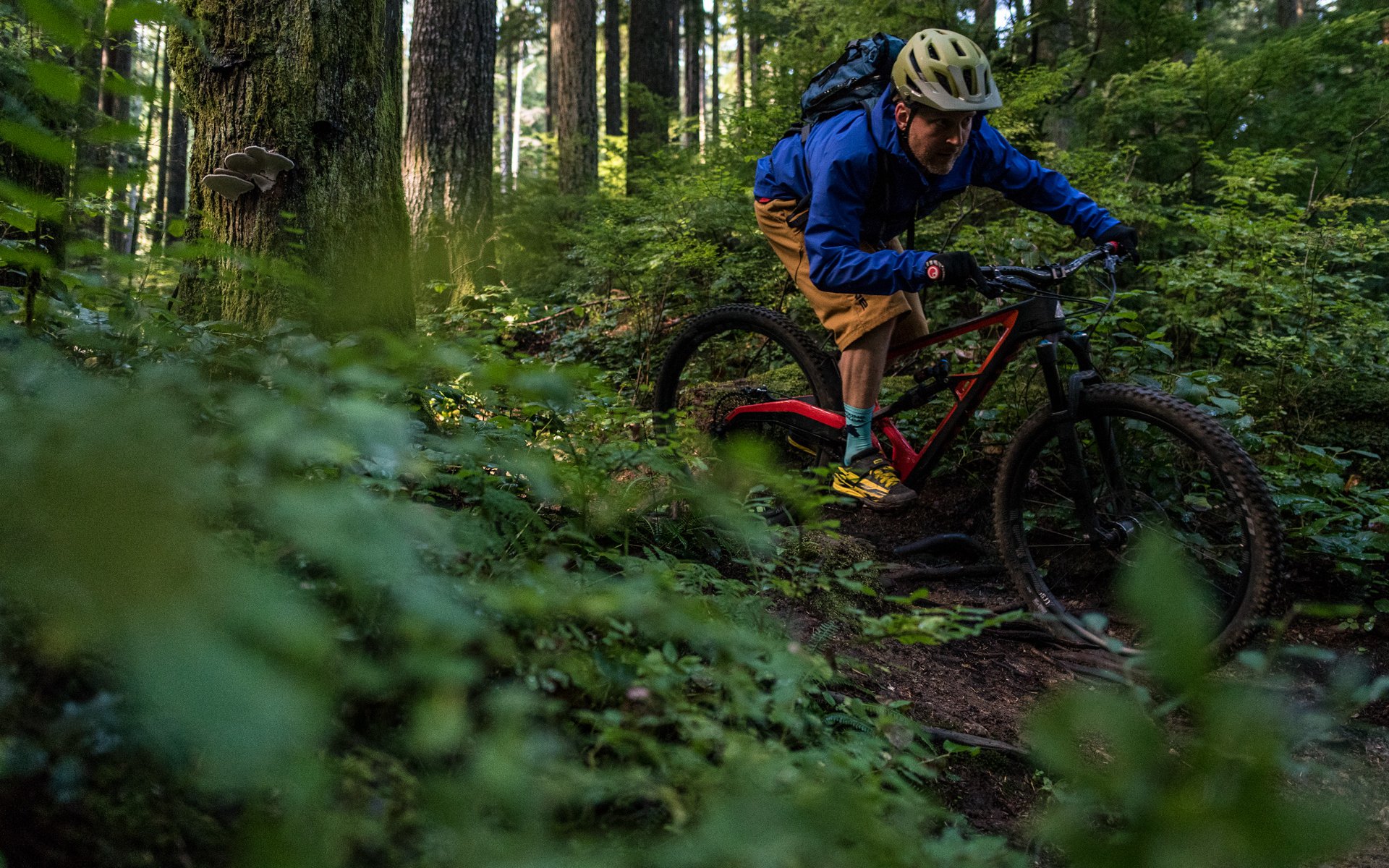 FULL REVIEW
2018 Marin Wolf Ridge Pro
As I mentioned in my first look, the 2018 Marin Wolf Ridge is the most interesting mountain bike the market has seen in years. Interesting is a neutral term but in this case my experiences have been largely positive. The bike shares the R3ACT gliding four bar platform with the Polygon XQUARONE EX series (Polygon and Marin also share a parent company) designed by mad scientist/surfer hippie Darrel Voss and it's unlike anything on the market. Ever. The finished product elicits an extreme reaction. On the internet and in real life. It does however make a much better impression in person. Needless to say I was keen to do a long term test on this imaginative interpretation of the long travel 29er.
Good Rides
Force me to choose one word to describe Marin's Wolf Ridge and I'll throw down traction. That's both up the trail and down. One characteristic that sets it apart from the competition? The Wolf Ridge can be hammered out of the saddle. It's not just a great climbing long travel 29'er. It's a great climbing mountain bike.
But the most impressive takeaway from my Wolf Ridge Pro test experience has been that every ride I've had on this bike has been fun. That's not saying the Marin doesn't have some personality quirks to match its unique appearance. But from long XC rides with a pile of to-the-trail asphalt thrown in to rocky DH tracks it's a really enjoyable machine that's easy to ride.
The 'all fun all the time' award does come with two caveats. 1. Hydration is going to have to be worn. 2. The Wolf Ridge is a hard bike to get off the ground, the flip side to the amazing traction coin. Even in the long travel 29'er category there are significantly more 'playful' bikes.
Not big into boosting? Strap on your pack - fanny or back - and prepare for some awesome rides.

Wow, that bike actually looks cool in person. I'm not throwing up in my mouth at all..." - Things Said To Me While Wolf Ridge'ing.
'T' Is For Traction
Traction Monster would have been a great name for this bike. Simply put, the R3ACT suspension creates traction where there should be none. The secret, both climbing and descending is to keep my weight centered. As obvious as that sounds it's even more obvious when riding this bike. Moving my weight too rearward results in a significant decrease in front and rear wheel grip.
The rear suspension is supple (lightly damped by design) with enough ramp-up that I never bottomed harshly. Yet the rear wheel feels like it is forced back into the ground pushing the rear tire to grip when it absolutely should break loose. That's with the stock rubber (see below).
I regularly found myself taking bold chances on greasy technical climbs. Descending the Wolf Ridge, I would guess it's the most predictable bike on the market. That's also thanks to the traction situation.
Tire spec on 6" travel bikes is a no-win situation because riders either complain that the bikes are too heavy or the tires are too light. The stock light casing/fast rolling' 2.3" Vigilante/Breakout combo would never be my first choice for a long travel 29'er in my neighbourhood. On the Wolf Ridge the tires punched way above my expectations.
This will never happen but pontificating on the same theme, instead of shipping with one set of carbon hoops I'd love to see Marin go bold and ship the Wolf Ridge with two sets of high-end alloy wheelsets, one light and one tough, fitted with the appropriate tires. This is a strong candidate as a two wheelset bike, why not recognize it right out of the box? #nevergonnahappen

NOT COOL BRO! Not Cool... ...it's against The Law to ride an E-Bike on Seymour" - Things Said To Me While Wolf Ridge'ing.
Planted Performance
Climbing and descending the Wolf Ridge absolutely hugs the ground. The low bottom bracket and lightly damped shock contributed to a solid, but predictable, beating on my Crankbrothers Mallet DH pedals. Anyone planning to run flat pedals should be looking carefully at pedal height.
Climbing, the bike likes to be cranked in one gear harder than I'm running. The slacker than trendy seat angle actually makes sense pushing a bigger gear combo rather than spinning. The seat position and pedaling force engages the Naild strut such that the bike firms up considerably while still maintaining great traction.
I love to climb out of the saddle, particularly on hard technical sections and steep pitches, and these efforts are rewarded with almost-pure, hype-reinforcing, forward momentum.
Usually waxing poetic about the climbing efficiency of a long travel bike comes with a lackluster review of its capabilities once pointed downhill. That's not the case here.
Descending the Wolf Ridge reminds me of riding a DH bike. The combination of supple 160mm of quality suspension, 29" hoops, a low bottom bracket, a fairly slack head tube angle and long wheelbase push the wheels down into the ground. Even with the rebound set fast preloading the bike doesn't deliver any lift at normal North Shore trail speed. It is easy enough to pull the front end up and float off ledges with a bit of momentum. I just want to reinforce that the bike is planted not playful.

I'm desperate to try that bike! I love the design! Will anyone local be demo'ing them!?!?... ...yes, I am an engineer - why do you ask?" - Things Said To Me While Wolf Ridge'ing.
Inverted Parallel & The Big Quirk
Grab the rear wheel of the Wolf Ridge and give it a good twist; Shiver my Dorado that's flexy! It's not really surprising since the linkage and yoke are understated and the strut is free to float and swivel but the amout of flex in the R3ACT chassis runs contrary to many riders' image of carbon frames.
On the trail the Marin tracks beautifully and feels plenty stiff hammering out of the saddle. At 185lbs I didn't notice it to be abnormally flexy driving into corners. I equate the ride to an inverted fork. Back in the day I knew a handful of riders who slammed the Marzocchi Shiver and Manitou Dorado based on the test of having clamped the front wheel between their legs and twisting the handlebars, despite their solid on trail performance.
In my experience the Wolf Ridge is plenty stiff on the trail but I'd be surprised if the next generation frame doesn't feature beefed up linkages with larger hardware and possibly a key-way on the strut to further amplify lateral stiffness. I wouldn't think of either as an 'upgrade' but lots of riders won't buy a component because they perceive it as 'flexy' and very few are concerned about things being 'too stiff' so it is a logical sales decision.

There's A Lot going on in the bottom bracket area of the Wolf Ridge. As I suspected the R3ACT strut, with its moto seal and bushing and abundance of oil, is showing no wear. I am also pleasantly surprised with how well the ports shed detritus, although I do check regularly to make sure there is no material build up around the strut.
The one Shore-specific concern I have with the Marin's nether regions is the big quirk, as I call the area of the frame that extends forward of the bottom bracket shell. I contacted the frame regularly when slowly rolling dropoffs and had the occasional 'f*** me sideways' moment where dropoffs were overhanging steeper chutes. This was especially terrifying on night rides.
This wouldn't be a concern most places I've ridden but on trails that gave birth to the bashring* and where 14" used to be an acceptable bottom bracket height for hardtails, the Marin's low (13.2") bottom bracket and the frame extending forward of the BB shell is unwelcome. And in Moab, where you are hitting rock instead or roots, this could be an issue for some riders.
*and apparently one of the few places where folks still run bash guards/tacos on non-DH bikes?

How do you like that bike? I love that it's different from everything else. It's actually interesting" - Things Said To Me While Wolf Ridge'ing.
Not A 'Weapon'
I love the Marin Wolf Ridge. It's the best climbing long travel 29'er I've ridden and frankly, allowing for discrepancies in tires/rims, one of the best climbing full suspension bikes I've ridden. There's a lot of hype surrounding this platform for a reason. It descends quickly and confidently and I like the planted all-traction feel it delivers.
I can't help but contrast it with another climbable long travel 29'er I've ridden in 2017; the Intense Carbine 29. It's scary how fast the Carbine goes down to the point that when I heard Jack Moir was racing an Intense 29'er on the World Cup circuit I assumed they just bolted a Boxxer/Lyrik hybrid onto the front of a Carbine.
I bring up the contrast as both bikes tap the same amount of travel and yet I personally feel that the Wolf Ridge is an amazing every rider bike where in the right hands the new Carbine is a weapon.
A truly fast rider, someone who is familiar with the podium, is going to be happy with how the Carbine climbs and then shreds ridiculously close to DH bike speeds on the way down while also being a more playful package. For most of us the Wolf Ridge is a great climbing bike that will greatly enhance our confidence descending.
You'll have to decide which rider you are.
R3ACTions
After finishing a series of reviews of budget components I packed Marin's Hawk Hill into the same box that this Wolf Ridge came out of. Such a strange juxtaposition of Marin's cheapest and most expensive full suspension bikes in the same place at the same time.
A year ago Marin wasn't even on my radar. Their new suspension platforms, whether the Naild R3ACT or the MultiTrac design shared by their aluminum bikes, have changed that. They pedal well without any extra assistance from their shocks, have dialed geometry and are fun, predictable, bikes to rip down hill.
I don't think it will be possible for Marin to manufacture a Naild R3ACT frame in aluminum and that's unfortunate because even the GX Eagle equipped Wolf Ridge 8 at $5200 (USD) puts the suspension design out of the hands of a lot of riders who would really love it. This XX1 equipped Wolf Ridge Pro at $8600 (USD) isn't obscenely priced for an Eagle XX1 level bike with carbon wheels - especially considering the unique frame engineering.
I hope that lots of dealers are stocking demo bikes because this is a bike that needs to be ridden to be loved. Reactions to its appearance are most certainly mixed but an overwhelming number of my conversations on the trail were very positive. I suspect once more riders get a chance to experience this platform the bikes will start to show up regularly on the trail.
For more information check Marin's complete Wolf Ridge lineup here.