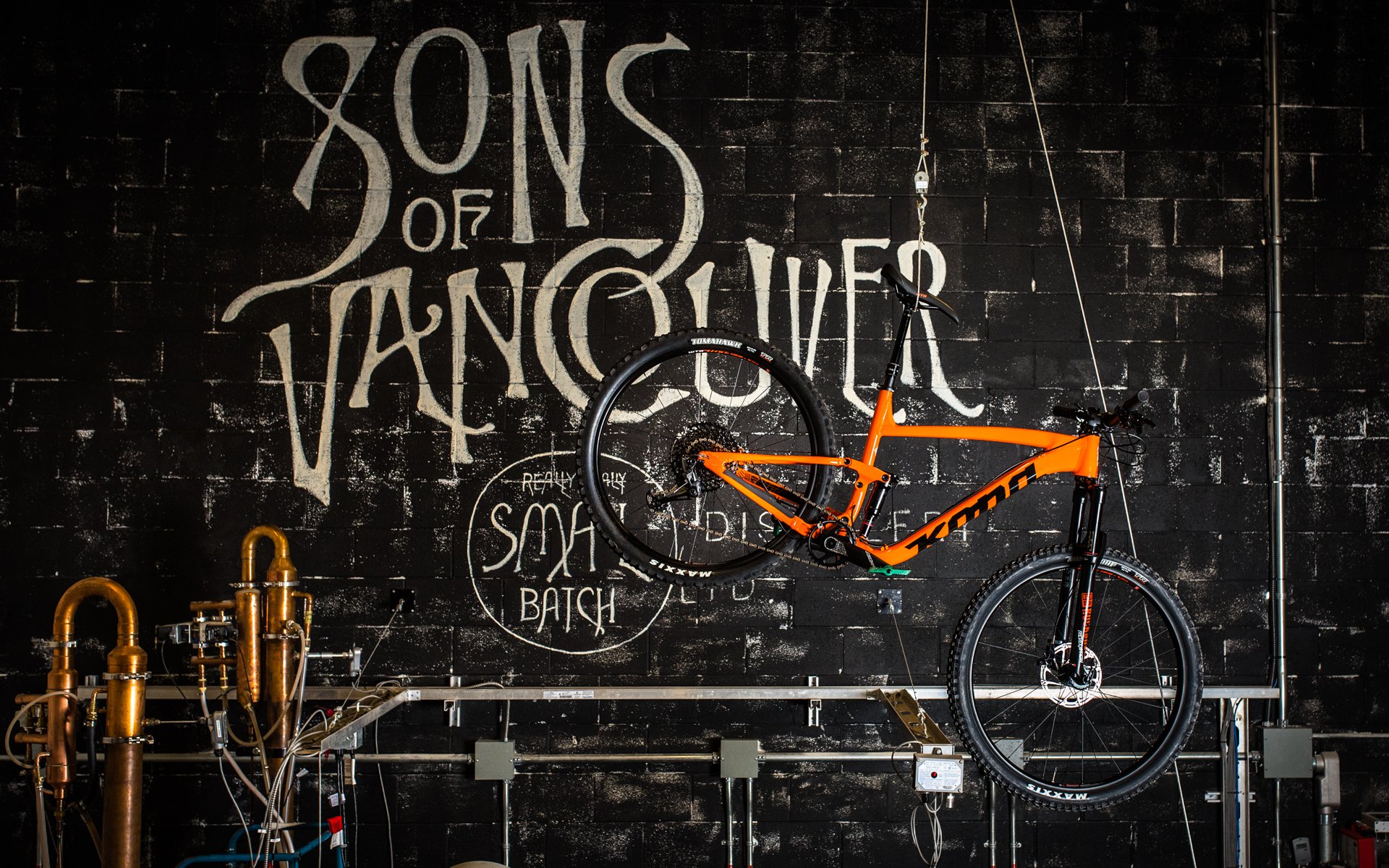 First Impressions
2018 Kona Satori DL
Kona Bicycles
I have alternatively heard Kona called 'The World's Largest Small Bike Company' and 'The World's Smallest Large Bike Company'. Either way, the distinction is easily explained. They're big enough to deliver good value and support, but they still deliver interesting, original, and often prophetic bicycles.  
A great example is the Process 111 29'er, introduced in 2014, with its short stays, how-low-can-you-go bottom bracket height, relatively long reach, and 1x specific design. Other favorites of mine are the various generations of Kona Unit, the 2012 steel Honzo, and the simple old-school steel Honky Tonk road bike.
Today I'm writing about Kona's newest full suspension bike, the Satori. It's distilled from the Hei Hei trail bike lineup, the Process 111, and the ahead-of-its-time 130mm travel 2012 Kona bike of the same name. That sounds spicy like Chili infused Vodka so Dave headed to Sons Of Vancouver Distillery for some suitable ambiance. 
VS. 2012 Satori
I owned a 2012.5 Satori. It had the awesome and more durable textured-finish grey paint and superior cable routing of the 2013 model along with the threaded bottom bracket of 2012. If I'd purchased a 19" instead of an 18" I'd still have the bike. Much like most the Process 111 bikes I see around, I ran it with a 140mm fork. That's how the 2018 model comes out of the box. 
It also has the distinction of being the last mountain bike I owned with a front derailleur, in my this case, actuated by a friction thumb shifter.  
On paper, the only geometry carry over from six years ago is the 68-degree head tube angle but a large 2018 Satori and 19" 2012 actually have similar seated riding positions as well. 
The 2018 model has a 25mm longer reach dimension but during seated climbing that distance is easily swallowed up by the on-trend 78.3-degree seat tube angle, compared to the 74-degree angle in 2012. Likewise, the body position over the wheel during seated climbing feels very similar despite the longer stays on the 2012 model. 
The out of the saddle fit is also quite similar although I ran a 70mm stem for the 2012 model and I'm happy with the 45mm Kona XC/BC stem that's stock on the new model. As an aside, the forged 35mm bar clamp stem is a really nice piece of house brand kit that can often be found, brand new, for cheap as folks upgrade to Gucci options. 
VS. Process 111
I know a lot of folks, especially current 111 owners, who were bewildered when Kona released their 2018 Process bikes and the 1x-specific shorter-travel rocket that changed so many opinions about 29'ers was absent. 
I only have two short rides on the new Satori and it's obvious that Kona moved to capture the joy, and fit, of their infamous full-suspension Honzo while at the same time resolving two complaints. The first being the lack of a water bottle mount inside the main triangle and the second being an uncommon (7.25" x 1.75") shock size. 
I'm very familiar with the size large Process 111 and standing on the bike this large Satori felt right at home. Seated climbing is a slightly different matter, where the Satori's much steeper seat tube angle makes for a shorter cockpit. The fit is perfect for me, at 5'9", but anyone who was on the cusp of an XL Process 111 is going to definitely want to go that way with the replacement. 
Kona has a great long-term reputation for supporting taller riders with bikes that fit and I think they'd be well rewarded to support their customers with an XXL version of this bike. 
Whether it's the vertical shock orientation, the lack of a seat stay pivot, or possibly increased anti-squat the Satori gives up a modicum of initial rear suspension plushness compared to the 111. I think that makes it, even more, the every-person 29'er. I can envision it with Ikons racing participant class in XC races and also being ridden downhill in anger with DH rubber at local Enduro race events. 

Spec
This Satori DL is an all SRAM affair except for the well-appointed wheels, which are a Formula meets WTB affair. I don't really understand all the hype around the GX Eagle 12-speed drivetrain. It's not that I don't think it's a great package it's just that I don't see any improvement in performance over GX 11-speed aside from an increased gear range. 
On that note, with a 10–50t cassette, I find Kona's decision to spec a 34t chainring bizarre. I get it, these bikes are sold worldwide but I've ridden enough places to think that more Satori customers would prefer a 30t up front so on the balance of chainring swaps why not spec a 30t and let flatlanders who want a 140mm 29'er pay for the swap. 
Sure, there's a 50t out back mumble-mumble-mumble get fitter etc. Regular folks that live somewhere with big climbs and descents that require aggressive tires know what I'm talking about. 
The all-SRAM program continues and I've never been more joyful to see a set of their Guide brakes. The Code is still the SRAM brake I'd put on everything, but many companies – including Kona – are guilty of entering the Karate Kid in a heavyweight UFC fight by putting Level brakes on bikes where they don't belong. Like the 6" travel Process 153 29'er enduro bike. 
If it was my personal rig I'd be running a 200mm rotor up front and swapping the 180mm to the rear. Still, I find the Satori very capable with the stock 180mm front and 160mm rear rotor combo. 
I'm also very happy to see all the models of Guide brake are now equipped with their Bleeding Edge quick connect bleed fitting which is best in class. 
Tires are always a tough call on a mid-travel bike being sold globally. At the 3,500 USD / 4,500 CAD price point it's hard to fault the OE-level tubeless ready Minion DHF and Tomahawk combo although I would guess no one buys the Tomahawk tire aftermarket, or at least is happy about the purchase. For riding on Vancouver's North Shore or similar, I'd swap the stock Minion to the back and buy a 3C version* for the front. 
The tires are tubeless ready as are the rims but the Satori does arrive with a couple of spare tubes installed. I recommend getting the tires setup tubeless before the bike leaves your local shop. 
*I actually don't care if my tires match so I'd buy an e13 TRS Race tire

The surprise hit of the package is the 140mm RockShox Revelation RC fork which is essentially a cheaper Pike. As a believer in 29+, I love the fact it can swallow a 29 x 2.8" tire with room to spare. My 29 x 3" Bontrager SE4 measures out to 29 x 2.843" on a 40mm rim so rounded down I'll definitely need to try that at some point! 
I set up the air spring to the recommended pressure for one weight class heavier than I sit, left the compression adjustment on the Motion Control damper in the open setting, and set up the rebound adjustment as fast as I can comfortably ride the fork. Very happy. 
If it's my wallet and I'm choosing between a Pike and a Revelation I'll happily take the Revelation and change.  
I know that lots of riders, including Cam, are gravitating back to narrower bars and on a large frame that's really more of a medium-large, a 760mm bar is probably acceptable to the majority of riders. I'd still like to see an 800mm bar stock and the Kona dealer cutting it down for a given customer's preference. 
I swapped the bar out for my personal preference, which is 780mm, with a bar I had in my shop but for a rider who doesn't have a 35mm bar, or appropriate 31.8 bar and stem kicking around, that would be an extra expense at the time of purchase. 
Frame Notes
The Satori shares the silhouette and signature frame details of Kona's racier Hei Hei 29'er. A short top linkage actuates a vertically mounted shock and there is a notable lack of a seat stay pivot. 
Kona is relying on a small amount of flex in the rear triangle as the suspension cycles while theoretically saving weight, gaining lateral stiffness, and reducing maintenance. Based on other manufacturers I've talked to (for example, Marin's bikes with a similar layout, like the Hawk Hill I tested, have such a tiny amount of movement at this seat stay pivot junction that they've found bushings to be significantly more durable than bearings for the application) I'm totally on board with Kona's design here. 
The Hei Hei platform has proven to be very durable and for anyone concerned, Kona is a company that still offers a lifetime warranty on their aluminum frames. 
I prefer external cable routing so I'm biased in this case, but I think Kona has done a slick job getting housing from the back of this bike to the cockpit. I like the top-of-the-down-tube routing for the rear brake, dropper post, and derailleur which should satisfy critics of below the down tube housing exposure while keeping movement as the suspension cycles to a minimum.
I understand that with carbon bikes it's easier, and cheaper, to drill holes in frames than to reliably attach cable guides but I'll take the Satori routing on any bike, any day, over anything else on the market. 
It's a given that new bikes are moving to Metric sized shocks and the obvious advantage is more fluid in the damper for a given stroke for most manufacturers. The challenge in picking a new bike comes down to a choice between a trunnion mounted shock, like on the new Satori, which has additional oil and bearings in the linkage instead of a standard eyelet and DU bushing. 
Personally, I'm a fan of DU bushings. They make it very obvious when a new one, or fresh mounting hardware, is required. That said, Trek, Giant, and others have been leading the Trunnion mount charge and I have heard very, very few examples of seized bearings causing any issues with shock wear or frames cracking. 
Bike Review
It's always a mixed blessing when I jump on a bike and I'm immediately comfortable. There's no material to be mined from intricate setup rituals or sourcing exotic upgrades. Setting up the suspension was a matter of starting up one weight class from the recommended air pressure in the Revelation and approximately riding weight in the Deluxe shock and then some minor tweaking from there. 
I'm looking forward to putting a ton of hours on the bike because it fits awesome. Potential tweaks include trying a slightly longer travel fork and possibly throwing my CCDB Coil shock on if I can find or make hardware, something I've seen done on a couple of trunnion mount Treks. I have some different tires I'm going to ride on the bike as well. 
All in, my first impression is that anyone looking for a 130mm/140mm trail bike 29'er in the 3,500 USD | 4,500 CAD price range should definitely have the Satori DL on their short list. There will also be a more basic Deore spec Satori model with a Recon Gold fork up front that will list at 2,700 USD | 3,500 CAD.   
For more information, both Satori models are now live on Konaworld.com