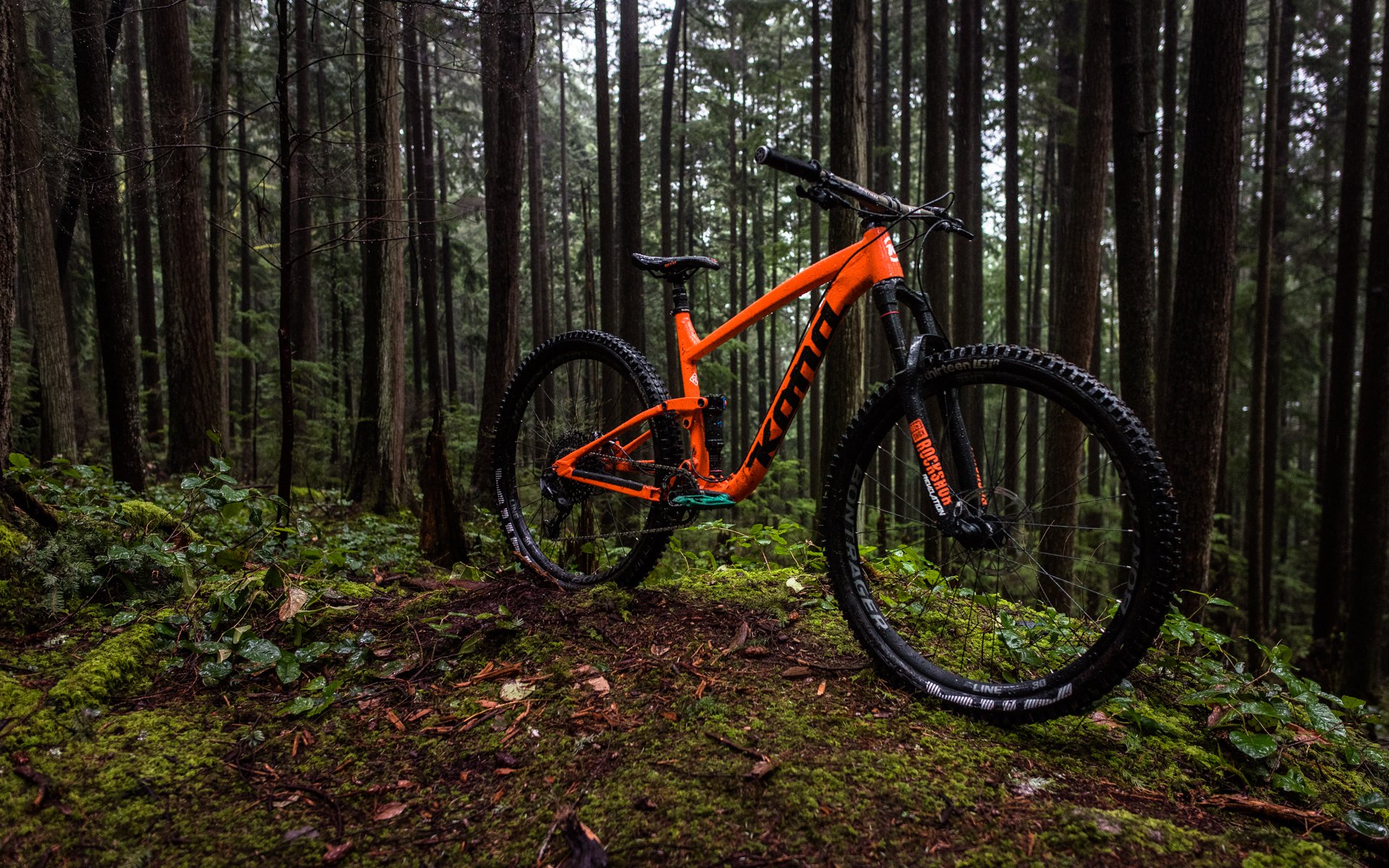 Long-Term Review
2018 Kona Satori 29'er
Satori
I stand the bright orange 2018 Satori DL against a wall and take five steps back. The machine blends the familiar profile and all-business aura of Kona's Hei Hei XC bikes with a utilitarian all SRAM build kit and a seat tube angle (STA) so bleeding edge steep that even incurious riders notice it. 
The internet can't get over the 68° head angle but my stimulating experiences with the Kona Process 111 and Process 134 tell me that mountain bikes are more than any single static number on a piece of paper. When asked I'm not shy, I want the Satori to be a Process 111 with a 140mm fork and a water bottle cage. Capable of category-blurring riding and racing shenanigans, ridiculously fun, and with that 'Kona feel'.  
The first bike I tested for NSMB.com was a size large Process 134 - with the same travel numbers as this Satori. It isn't the perfect bike for anything, and I much prefer to ride big hoops on technical terrain, but the 27" wheel 134 remains the single most fun bike I've reviewed. 

I also have a fair number of hours on some sweet custom-spec. Process 111 bikes. When it comes to truly capable mid-travel rigs that are also sh*t-eating-grin-inducing I'll put the 2014 Process 29'er with a 140mm fork up against anything on the market today. 
The Satori's XC-bred pivotless FUSE rear suspension design has very big shoes to fill. 
The Numbers
After my first seated ride around the block I ran inside to grab a tape measure. I was drafting a quick e-mail in my head thinking that Kona had sent me a medium, accidentally stickered as a large. Nope. That astounding seat tube angle swallows up 475mm of Reach damn quick when I sit down.
For comparison's sake, the 2014 Process 134 with the same, 40mm, stem length and a 15mm shorter reach is significantly longer seated thanks to a 74° STA. 
I generally prefer the way a 60mm stem /780mm bar combo puts me a bit more over the front wheel on trail bikes and that's an easy swap so normally this would be a non-issue. This is, unfortunately, where my T-Rex ape-index and 5'9" height come into the equation as a 475mm Reach combined with a longer stem is a bit awkward when I stand up to wrestle the bike up or down technical trails.  

I ended up moving my seat back as far as possible on the rails, running the stock 40mm stem and swapping the 760mm bar for a 780mm. The fit is great descending and liveable everywhere else.
I'm not willing to write this off to some adage about personal preference or a maxim about test riding a bike before buying it because the standover height and effective top tube limit the upsizing options here. I have a decently long inseam for my height and limited room to lower the Satori's 150mm dropper post meaning there isn't much room for a shorter rider to upsize into the next size of Satori. With longer arms or a narrower bar, I would choose an XL frame but I would have to run a 125mm dropper. 
Leaving aside opinions on ideal seat tube angles, I'd need a dropper post with 25-35mm of rearward offset to make the large Satori fit me ideally. For those blessed with longer limbs, Kona could easily sort things out for 2019 by adding 25-35mm of effective top tube length (ETT) for a given size while keeping the 78.3° STA. 
Climbing
Kona is on point in comparing the climbing performance of the Satori to their Hei Hei lineup. The steeper the better. I had my easiest clean of the "relentless" local R&R climb and my fastest ever time up the challenging local No Quarter climb on the bright Orange rig. That's despite some fitness setbacks this year. 
Riders who love the Hei Hei Trail but wish it came with 29'er hoops will be pleased. This bike could have just as easily been called the Hei Hei Trail 29'er. The fairly short, 1201mm, wheelbase combined with an upright seated body position right over the 68° HTA mean the Satori flips through steep switchback corners easily. The relatively short 430mm chainstays and 40mm stem, position my weight perfectly for uphill traction. The FUSE suspension design is efficient uphill with the shock wide open and traction is faultless at the same time. 
The Satori sits just north of 30lbs but decently light wheels and single ply Maxxis tires combined with the geometry make it a pleasant bike to climb. Even running DH rubber to boost the descending prowess in typical North Shore winter conditions the pivot-less FUSE suspension system is impressively efficient. 
I'm murdering the poor GX Eagle drivetrain though. It's simple bike fit that an upright seated position works better with higher cadence vs. the sit-back-and-push fit of a position further behind the bottom bracket. I've spent more time in the 50t cog on the Eagle cassette than on any bike I've ridden thanks to the 34t ring up front. 
As I mentioned in my first look, I believe the Satori should come equipped with a 30t chainring. This would make more of the cassette usable spinning up medium grades. 
Descending
The rear suspension on the Satori is all business. Where those who ride the Process 111 often exclaim that it feels like it has much more travel that Satori only feels like a 130mm bike when smoking a square hit deep in the travel. 
That's not to say that the Satori isn't a capable descender, it is simply more at home munching up long miles of green/blue level descents then it is chasing friends down anything steep or nasty. Like riding any bike that sits more towards the XC-edge of the trail category, the Satori needs to be ridden in anger any time I'm trying to hit an aggressive downhill trail or I'm off the back in survival mode. 
In this sense, the much-discussed HTA is a non-issue. A 68° HTA on a capable trail 29'er is perfectly on spec. I still wouldn't be surprised to see Kona slack this out to 67° for 2019, hopefully in addition to a longer top tube, as it will help sell bikes to riders laser-focused on that one column on the geo chart.

An issue with the surprisingly steep STA is that when I stand up the seat doesn't disappear behind me like it would on a bike with a slacker STA. I've never ridden a bike where the dropper post is such a key component and straight legging a short technical section with the seat up can be a terrifying endeavor. With the dropper post out of the way, the Satori is predictable until trails get nasty. 
I'd be primed to try Satori with a DVO Topaz rear shock, the recently announced lower friction 2019 RockShox Deluxe, or even a coil shock to help the FUSE pivotless suspension system initialize more smoothly. My experience with the Topaz on Intense's older double-ring-friendly JS-Tuned suspension leads me to believe it would help re-balance the business-to-fun ratio.   
Spec - Winning
I wish I could to try the Satori with a 160mm fork as I think it would sweeten the geometry in every situation with a longer ETT, slacker HTA, slacker STA, and better rear suspension initialization thanks to more rider weight over the rear shock. Travel aside, the RockShox Revelation is a surprisingly capable fork. 
At 650 USD the Revelation RC is a candidate for the best budget fork on the market. It's easy to set up, smooth out of the box, and stiff enough to elicit no complaints in a 140mm 29'er format. As much as I'd like to see a 140mm Yari on the Satori, for a cheap and easy travel upgrade to 150mm or 160mm, the Revelation is a great choice for the Satori DL's budget. I ran the Revelation with the rebound fast and the low-speed compression wide open. I used the higher end of the air pressure setting for a rider one weight class heavier than myself. 
The SRAM GX Eagle drivetrain was excellent as expected. GX drivetrains have been spec'ed on higher priced bikes where you'd expect to see XO1 this year but the Satori hits the mid-price for performance bikes and I think it's well appointed. 
The Satori came equipped with the best set of SRAM Guide brakes I've ridden. Even with a 160mm rotor rear and 180mm rotor front the power and modulation were consistent with good bite even on wet and steep trails. If this was my bike in addition to a Yari I'd like to see a bigger rear rotor, but I can't argue with the brake spec for the universal market for this bike. 

Spec - Losing
There's only one failure when it comes to the spec on the Satori DL. Unfortunately, it's the worst spec choice screw up on any bike I've tested for NSMB and, with the steep seat angle, was a constant drag on performance on any trails that featured rolling technical terrain. The RockShox Reverb dropper post comes with an above-the-bar plunger style remote that is impossible to reach without moving my hand off the grip/brake which renders the dropper post unusable on technical terrain. This remote is a compromise meant to work with a front shifter but a front derailleur can't even be mounted on this bike.
I see two key advantages of 1x drivetrains. Firstly, it's much easier to design excellent suspension bikes with a single ring up front meaning better suspension performance from cheaper and simpler platforms. The second key feature is excellent, front shifter-esque, dropper post ergonomics. 
There are lots of excellent remote options for cable actuated posts with bad stock triggers, but for this Reverb, it's either an investment in a pricey SRAM remote upgrade or a conversion like Wolf Tooth's ReMote Sustain. At the Satori price point, it's acceptable to see what was previously known as a right-side Plunger remote. When mounted underneath the left side of the bar it's usable on the fly. With the Satori's steep STA an intuitively operated on-the-fly dropper post is absolutely mandatory. What's most depressing about this spec choice is that I highly doubt anyone working at Kona would accept this remote orientation on their own bikes. For example, check out the remote setup in this cool Satori video featuring Jake Hood. 
I also have to mention that I simply can't comprehend the use of a trunnion mounted shock on this bike. A shock with standard hardware gives customers significantly more options for future shock upgrades with none of the potentially expensive issues a trunnion shock brings to the table - like striping out the shock's expensive-to-replace eyelet assembly when mounting it. Some companies can justify using trunnion mount shocks because of space constraints, especially trying to generate standover by lowering the top tube, but the Satori has tons of clearance. 
Target Rider
Even taking the 30-lb weight into consideration, the Satori pedals better than a lot of XC bikes I've ridden without ever having to reach for a shock lockout. It rails steep uphill switchbacks in or out of the saddle and with XC rubber, and some super light hoops I'd race it XC in the participant class. 
In my mind, the target audience for this bike is anyone who's been hoping for a 29'er version of the Hei Hei Trail or a more forgiving Hei Hei 29'er race bike. I definitely wouldn't concur that it's the "ultimate all-around machine" and don't note the "Process derived heritage". Assuming the 78.3° STA, and general bike fit works physiologically then with the addition of a new dropper remote the Satori is an awesome bike within that box. 
On that note, anyone hoping that seat tube angles will continue getting steeper should try and throw a leg over a Satori. 
With the 150mm dropper post bottomed the Satori is good on smoother descents and capable of being ridden down more technical trails but it lacks the fun factor of Process models with similar geometry like the 111 and 134. Two of the most fun bikes I've ever ridden. Riding the Satori makes me that much more morose about the Process 111 retirement from this category.
Put another way, the only advantages the Satori has over a 140mm-forked Process 111 are an in-frame water bottle mount, a lighter frame, and firmer pedaling with the rear shock open. It's hard to believe that Kona couldn't have split the standover difference with the Satori and mated an in-triangle bottle with the unique layout of the 111. I can always reach for a climb switch on the road.  
For my 3,500 USD | 4,500 CAD I'd be hunting down a clearout Process 111 or throwing a leg over the new Process 153 29'er see how it performs on tight trails and all day epics. 
Anyone looking for the steepest in class STA and a longer travel XC bike can grab all the information on the Satori here.