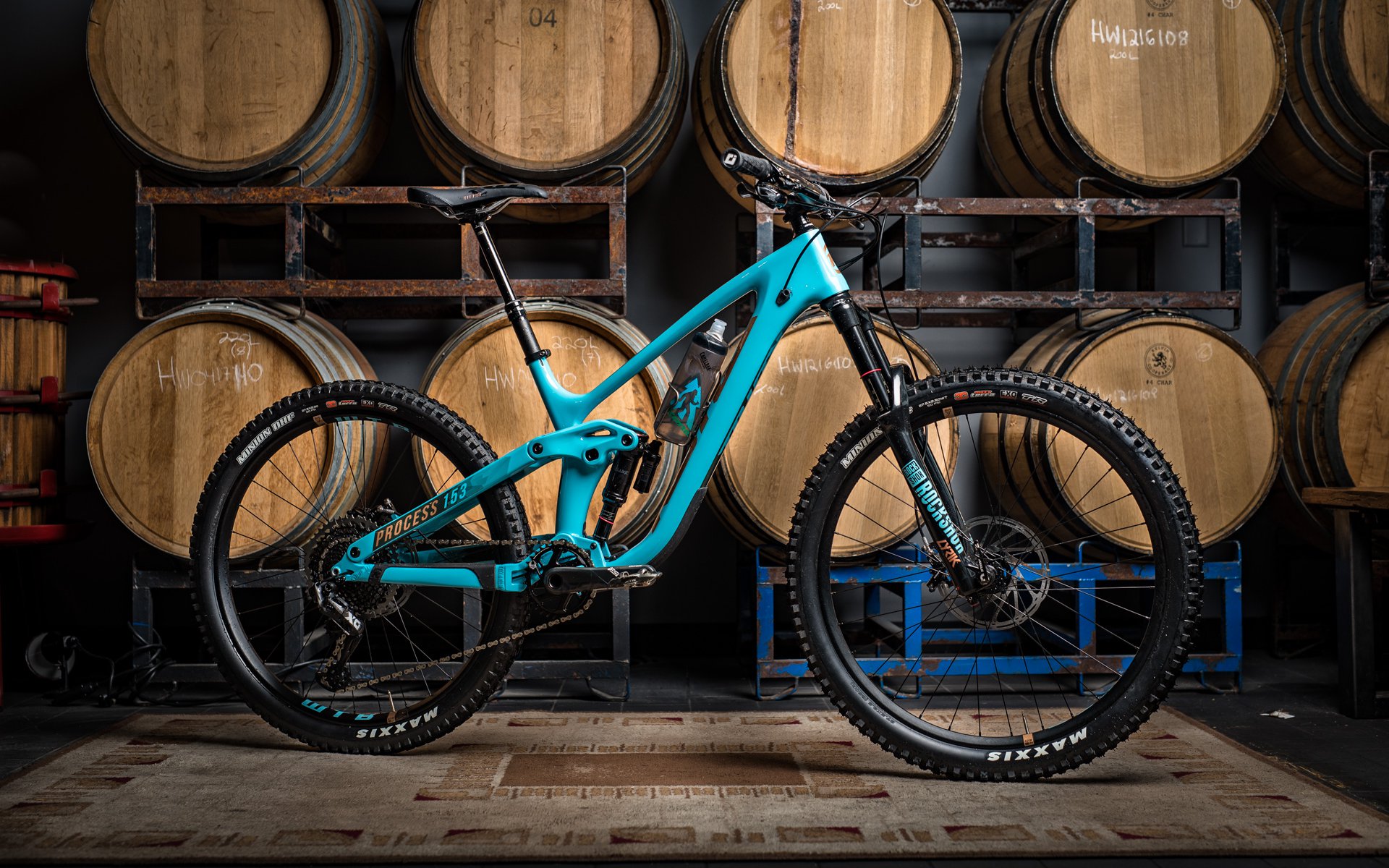 FIRST IMPRESSIONS
2018 Kona Process Carbon
Patience. It seems to be in short supply these days. But if you're a Kona dealer or a carbon-loving fan of Kona's Process bikes, you've had lots of practice.
The release of the first line of Process bikes in 2014 reminded us all that Kona hadn't lost the magic - they just needed to leave it out of their suspension platforms. Replacing the Magic Link and ushering in all an all new trail bike collection in various wheel sizes was a huge breath of fresh air for the beleaguered brand. Kona's MTB program was back - and most assumed the carbon Process would be released soon after. However, for one reason and then another, Kona wasn't quite able to get the carbon Process out of the barn, although they came close more than once.
If you've been waiting patiently, it's about to pay off. Kona's revised Process lineup is here, and it includes a Process 153 in Carbon (dubbed CR) in 27.5" wheels. You'll have to be patient once again to get your hands on a Process Carbon 29er because it's not ready yet.
They didn't just take the 153 and turn it into plastic, however. Here are the main points from the design brief:
Revised spring curve: a more progressive leverage curve makes the new Process coil-shock friendly.
Raised pivot to provide more anti-squat.
Maintain good standover.
Fit a water bottle into the main triangle.
Tweaks to the geometry (more on that below).
New Spring Curve
Coil-shock friendliness was only one thing Kona was chasing with the new Process 153. They also wanted to improve on its pedaling capability, so increased anti-squat was on the list, too. As a result, they changed to a vertically-oriented trunnion-mount shock, which had the added benefit of making a water bottle feel right at home in the main triangle. Those that don't think that's a big deal need only discuss it with the sales manager at any brand - if a customer automatically disqualifies your bike from their shopping list because of something so simple, you can either tolerate those lost sales or fix the problem. Easy choice, says Kona.
So the new curve, then. Kona tells us that the top of the leverage curve is nearly regressive. The reason for that is that when you're sagged on the bike, they want you to be at the least progressive part of the curve so that you get good small bump feel when sitting on the bike. After that first 30% of travel, it is close to the leverage curve of the old Process. Eureka moment - tune the curve for small bumps at the sag point, not the point you feel when you push down on the seat on the showroom floor. Good one, Kona.
Geometry & Design
The Process' seat tube is steeper, with a new effective STA of 76 - close to 75 at max extension. And in case you're wondering, that's when measured from the top of the head tube, not lower down as is often the case. Head tube comes in at 66 degrees with a 160 mm fork (same for both wheelsizes). BB height is the same across the size range, at 346 mm (or BB drop of 29 mm).
The reach of the size Large is 475 mm, and the chainstays are a compact 425 mm.
On a size Medium, a 150 mm dropper can be used, and there is enough clearance to slam it down to the collar. A size Large can handle 170 mm at least, perhaps even 200 (will depend on the post).
The new carbon frame's only aluminum piece is the chainstay*. Despite the assumption that this would save money, it's actually more expensive than if they had chosen carbon, but the reason for it was the added durability. The Process 153 is intended to be ridden hard, shuttled, ridden in the bike park, etc. and the chainstay takes the most abuse and represents the smallest opportunity to save weight. Oh, by the way, weight wasn't a huge concern with this bike. A size medium carbon frame with no shock weighs 3 kgs, whereas the alloy version comes in at 3.8 kgs. Beefy, right? Apparently, the new Process meets testing standards used on DH bikes for other brands from their factory. We didn't get into methods and detail, but I don't think you'll hear anyone say "that's not the intended use for that bike" with this bruiser.
*the alloy 153 Process models (27.5 AL and 29 AL) use an aluminum rocker
Sizing: the 27.5" Process comes in 4 sizes, S-XL. No XS due to tire/seat conflict. The 29er comes in M, L, and XL.
One editor asked if they had any thoughts or comments about women's specific bikes?
Simple answer: "Bikes should fit human beings. Including women". -Kona Product Manager Ian Schmitt
More Design Notes
Kona nailed a lot of details with the new Process frame. All pivots except for the trunnion bolt use three-piece locking pivot hardware, and they decided against locking collets, opting instead for different thread pitches to prevent them from unscrewing from each other. You're left with a mechanical solution with no threads in the carbon fiber - keepin' it simple.
Want to run your brakes moto-style? You can still use the internal cable ports and get nice routing lines - the Process was designed with that in mind. A spare derailleur hanger holds the rear brake line in place. And speaking of brakes, the rear post mount is intended for a direct-mounted caliper to accommodate a 180mm rotor. XC rotor sizes need not apply.
You're going to ask, and one of the editors at the launch did, too: fork offsets are 51 and 46 mm for the 29" and 27.5" Process 153, respectively. Do with that what you will, but just remember that no number lives in a vacuum - it's all inter-related, cosmic, and planetary.
Models and Spec
Wide rims - 35mm internal - and tires are used throughout (Minion 2.5 front & 2.3s rear, but not WT). The top spec Process CR DL 27.5 gets 200mm rotors front and back - all others come with a 180 on the back.
No front derailleurs accounted for, but you do get ISCG 05 mounts for a chainguide. PF92 BBs hold the cranks on. Reverb droppers are spec'd almost throughout the whole line, but with the old plunger lever in order to get a better price, so that's why you won't see the new lever on these models. Let's discuss that for a moment: the new Reverb lever rocks, but I will state here that I've been used to the old one for years and while it's not as good, it's still pretty damn good. A KS Lev was spec'd on the Process  165 because Kona knows some riders will run a fixed length post on that bike, so why go to the extra expense (it also gets external routing).
Again, there is a new Process 153 Carbon in 27.5 only. The Process 153 29 comes in alloy only (for now) and two trim levels, whereas the 27.5 version gets two trim levels in two wheel sizes, for four total models. Who said 27.5 was dead?
The Process 165 survives as a 27.5" FR/Park/aggressive trail bike, but with a 170mm fork and a slightly shorter reach to make it handle more like the old 26" Operator. 
The previous generation Process 153 and 134 live on in an SE trim, and replace the Precept models as the lower cost mid-long travel trail bikes in the lineup. The Process 111 and 134 are discontinued for now - their lunch is now being eaten by the Hei Hei Trail.
2018 Kona Process Pricing
Process 153 AL 29: $2,999 US / $3,999 CAD
Process 153 AL DL 29: $3,599 US / $ 4,799 CAD
Process 153 AL 27.5: $2,999 US / $3,999 CAD
Process 153 AL DL 27.5: $3,599 US / $4,799 CAD
Process 153 CR 27.5: $4,799 US / $5,999 CAD
Process 153 CR DL 27.5: $5,999 US / $7,999 CAD
Process 165: $3,999 US / $5,299 CAD
Process 134 SE: $2,099 US / $2,799 CAD
Process 153 SE: $2,199 US / $2,899 CAD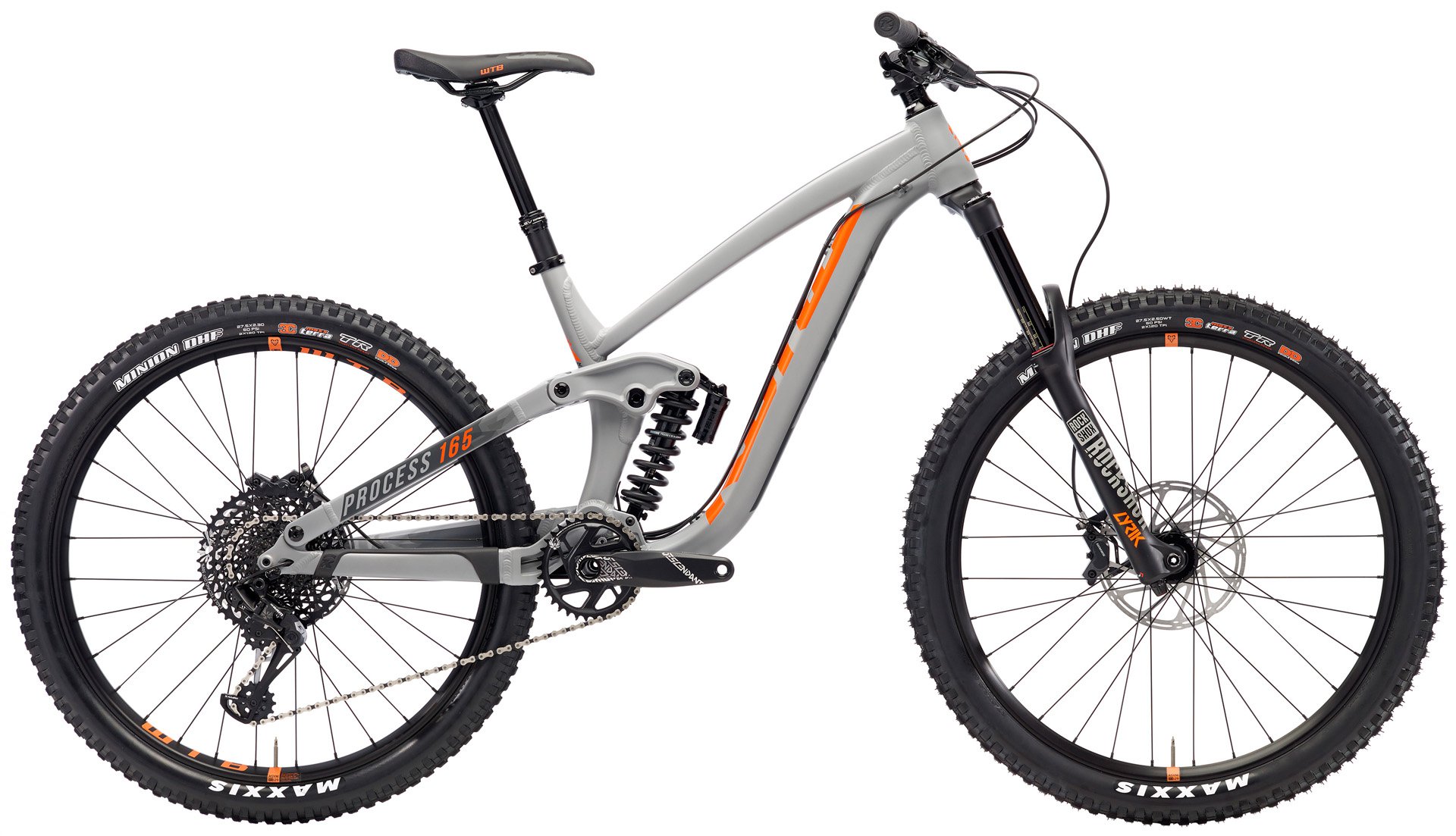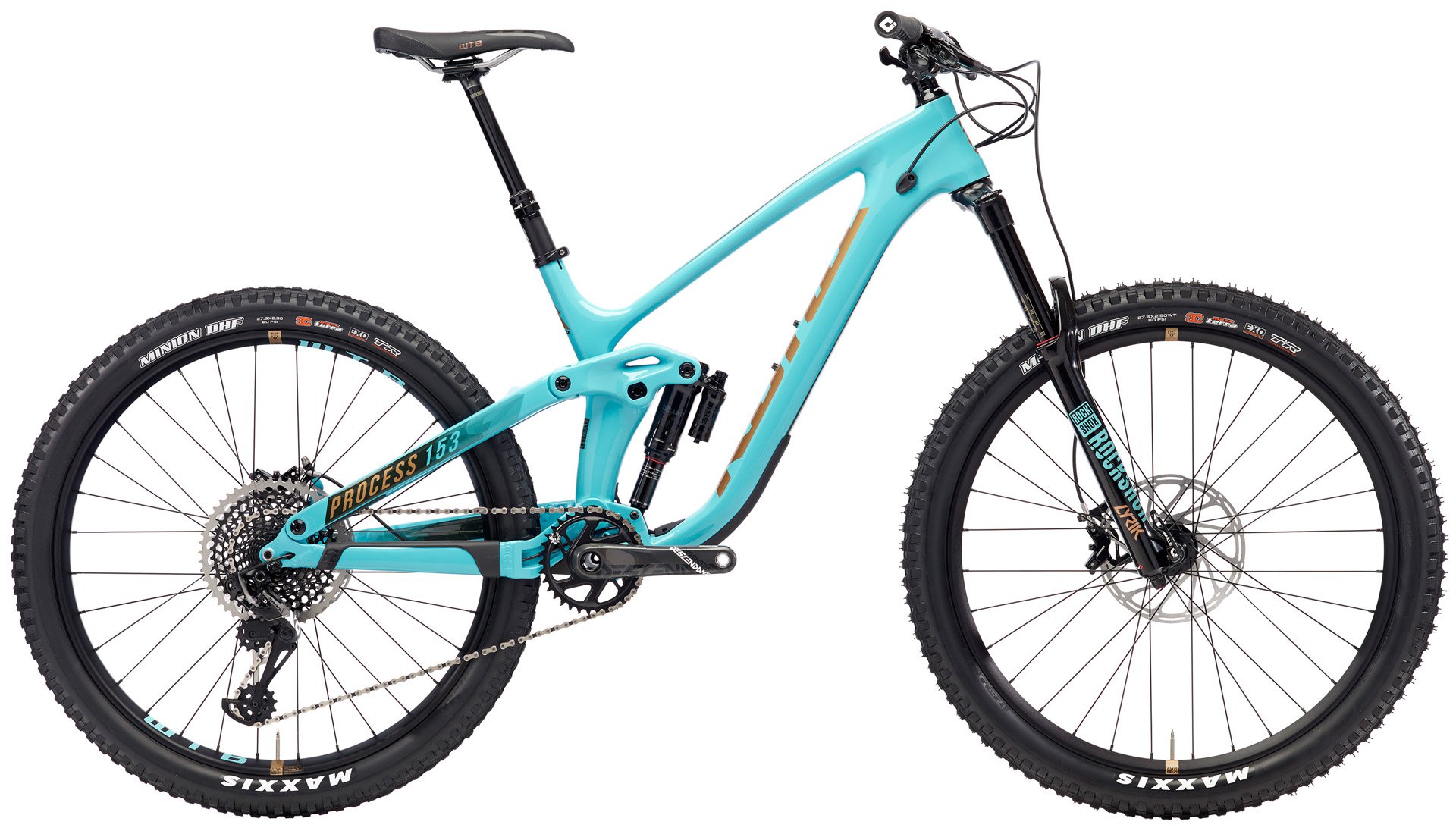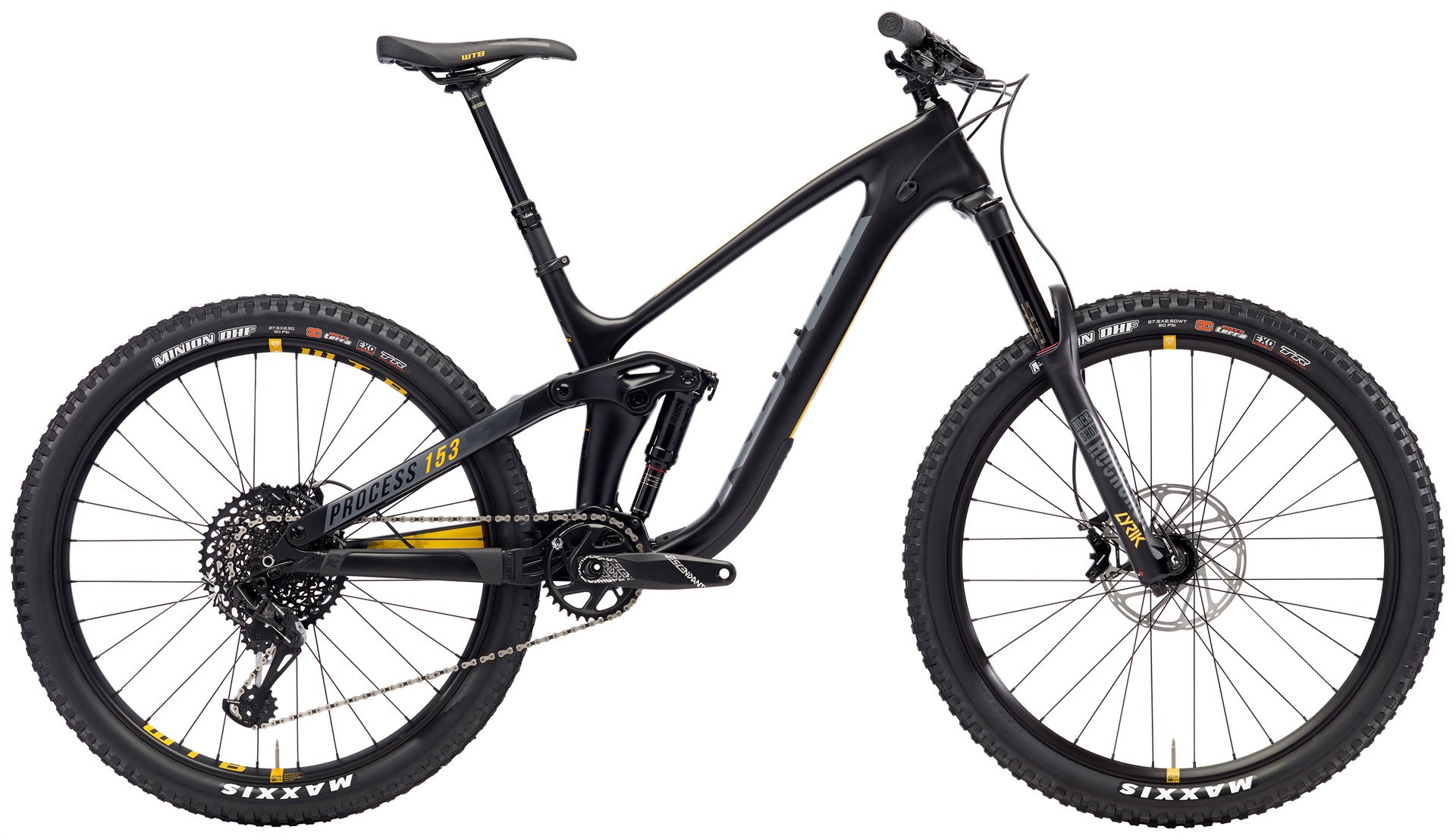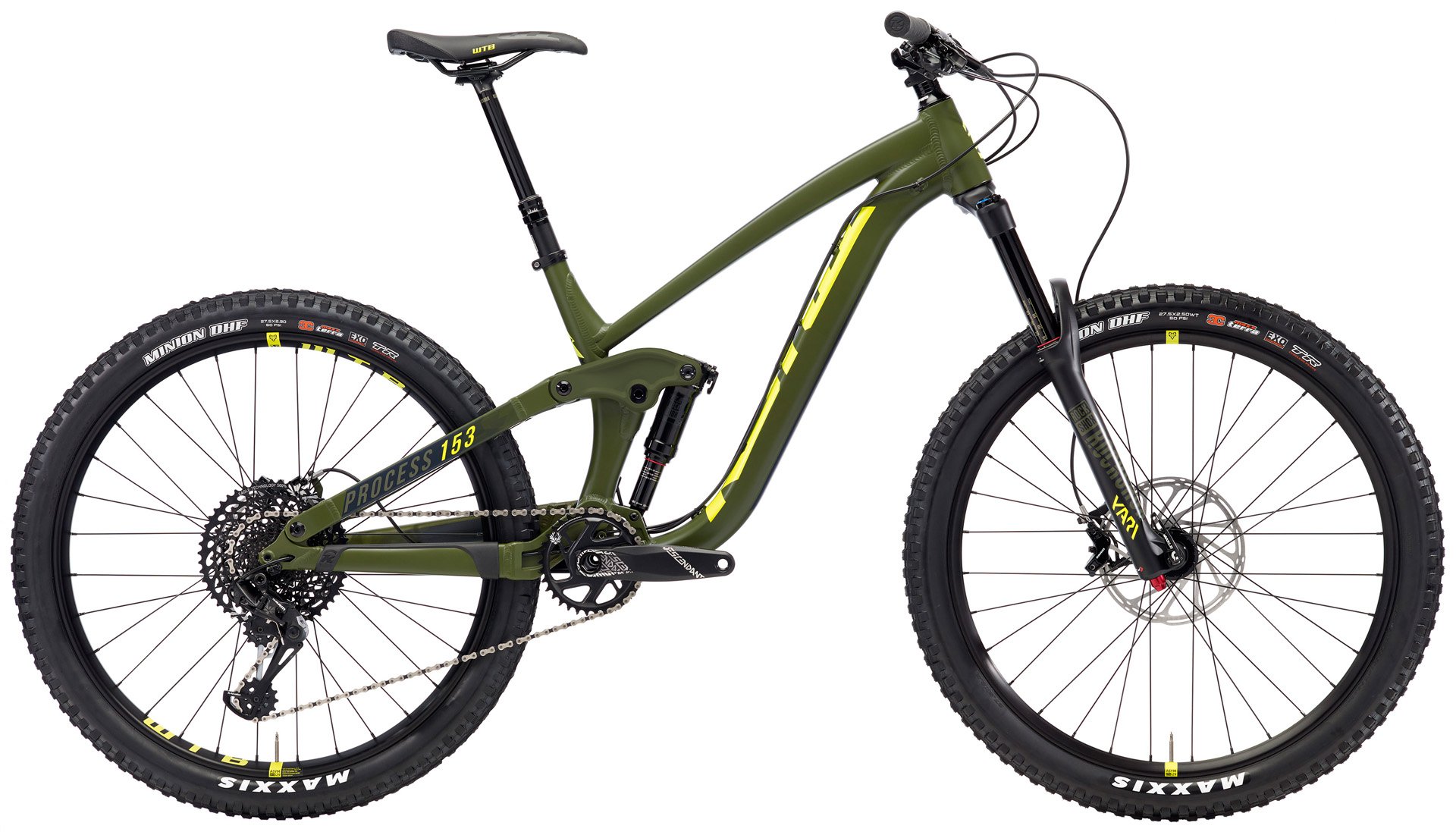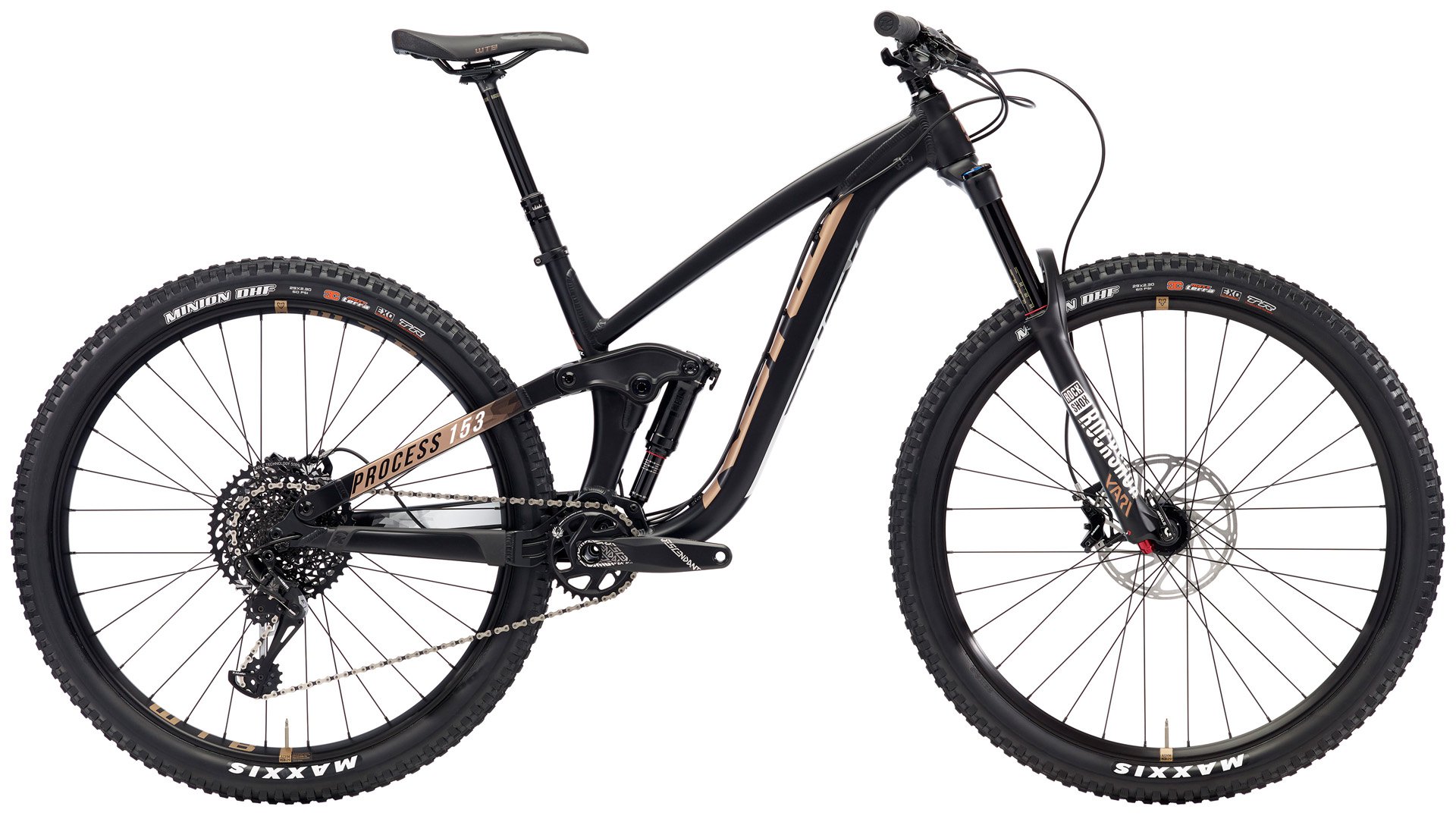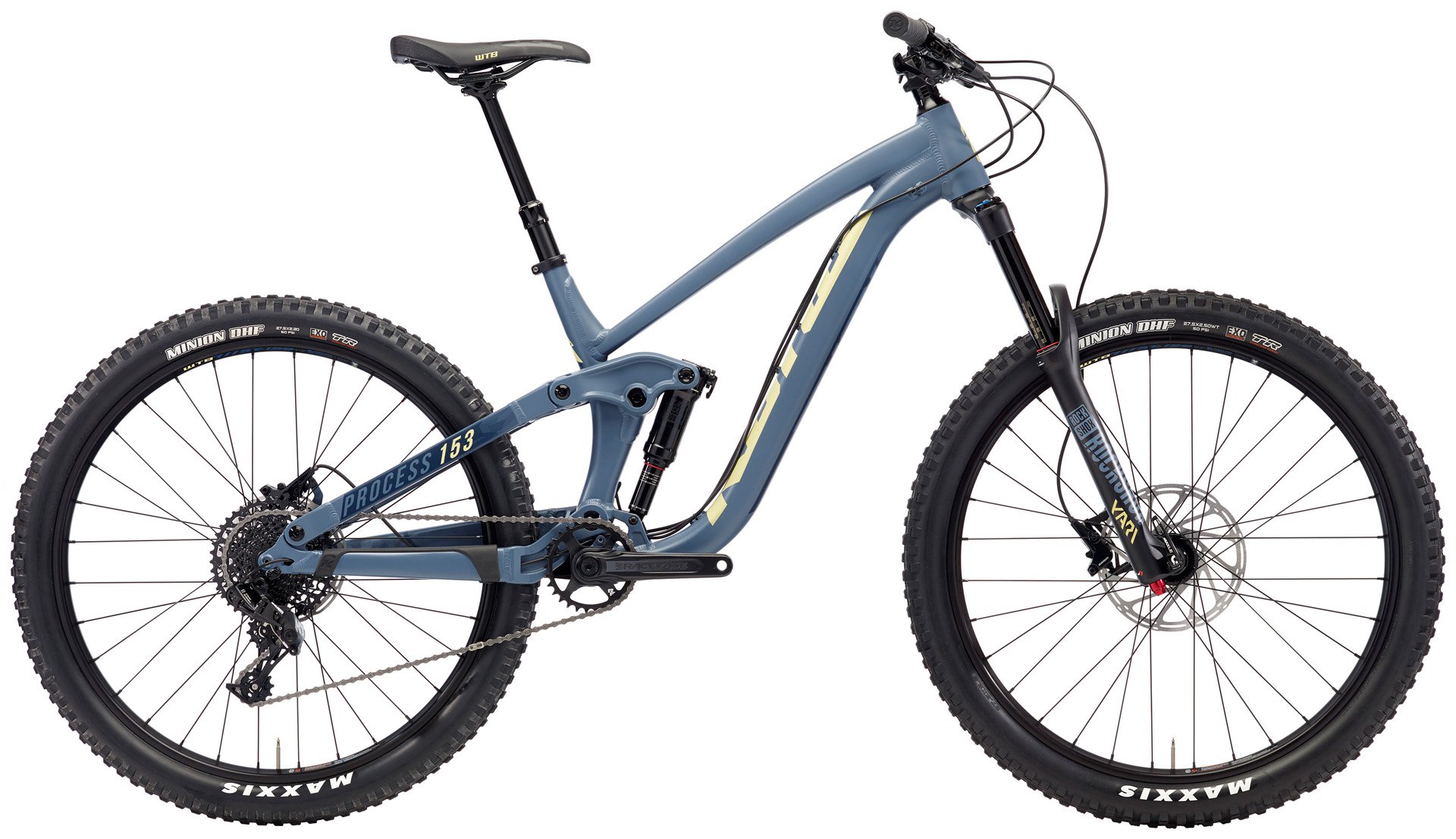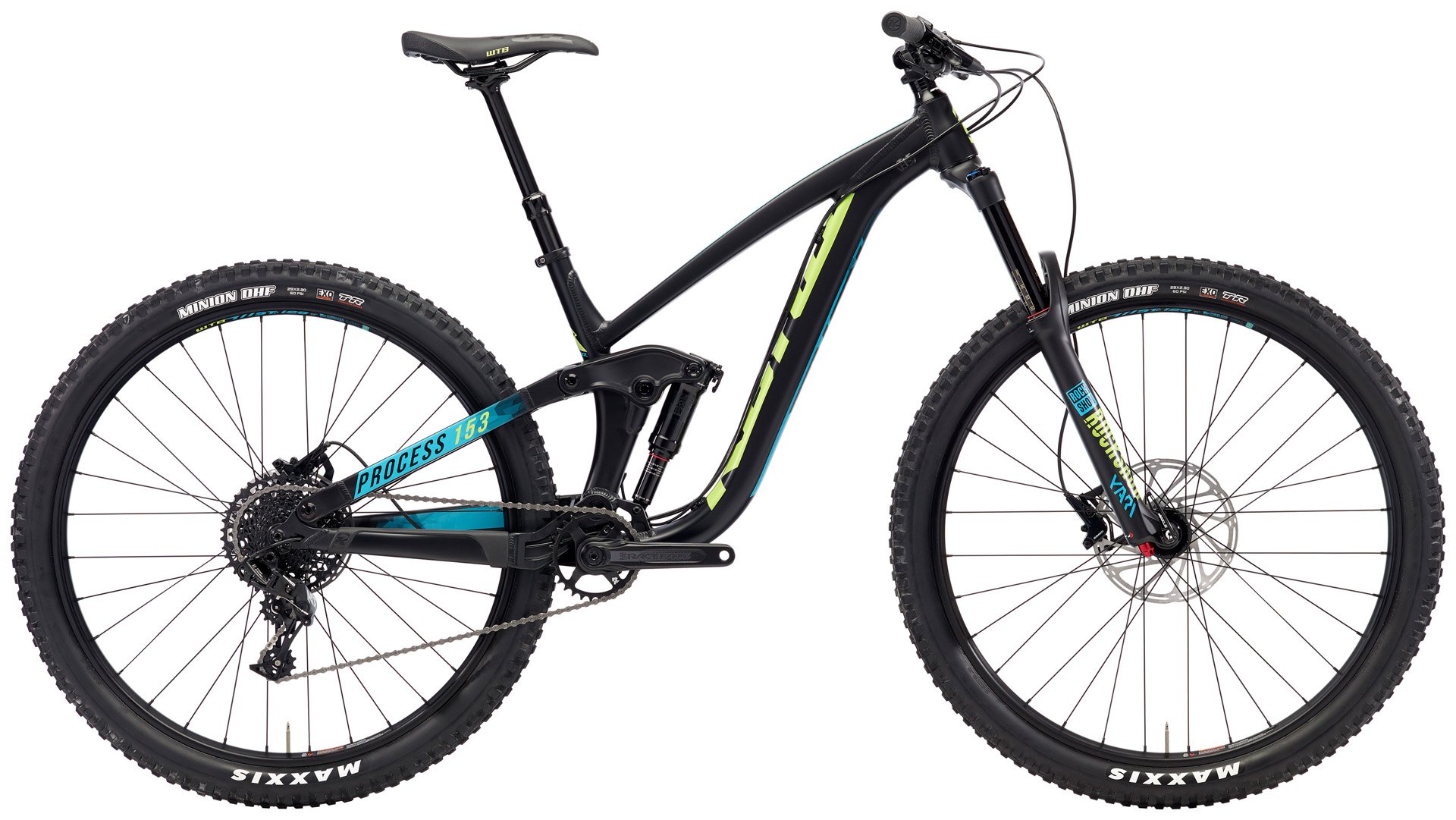 Riding the 2018 Kona Process 153 Carbon
To launch the 2018 line and the new Process 153 in particular, Kona invited a group of editors to Squamish - an ideal place to test out any bike, especially one designed to get groovy in the steeps. There were 27.5 and 29" models available, and I ended up on one of the Process 153 CR 27.5 builds, aka the lower-spec Carbon Process. Like every Kona I've ever ridden, setup was quick and easy and I felt comfortable right away on the size Large I rode.
Over the course of about three hours, we rode a selection of Squamish classics, combining steeps, slabs, chunder, and some ripping, but definitely no flow trails. It was a perfect getting to know you ride, and from what I now know, the new Process is worth knowing better. It's rare to have a first ride on a bike that doesn't have me either accepting that compromised feeling of a hurried setup, or doing a bit of fiddling, but the 153 felt balanced and easy to point down an intended line from the get go. It had me hanging on happily at speed through a few rough and blind lines, and when traction was needed, or poise under braking, it was all there.
The reach didn't feel as long as the numbers suggest, so once again, a reminder: geometry is always the sum of the parts rather than something you can look at and analyze on paper. Work went into the Process 153's numbers, and the balance between stability at speed and playfulness when you want it is clearly accounted for.
I had nothing to complain about spec-wise. Ideally, an extra token in the Lyrik would have refined the front end a tad, but it wasn't at the front of my mind while taking in a day of perfect conditions. GX Eagle - likely the MVP component of the year - was flawless, and even the lowly Guide R brakes showed capable power and feel (thanks in part to a 200mm rotor up front). The 2.5 / 2.3 Minion DHF combo and WTB Asym i29 rims (on Formula hubs) rolled along nicely, even if they didn't feel super light.
The Process 153 CR climbs well. I wouldn't call it spritely or fast on the way up but it wasn't a handicap either. I never felt bogged down or sluggish, and only flipped the lever on my shock when we were climbing smoother steeps where I was happy to sacrifice a bit of traction for some added support. Generally speaking, I left the shock open and didn't regret it.
It was just one ride, but it was enough to know that Kona have made another step forward in stiffness and handling and by introducing the Process 153 in carbon, have also declared that for their dealers and fans, patience is finally paying off.
We'll have a more complete review soon, but in the meantime, if you're a Kona fan or a Process fan, you're gonna be pleased with this one. Complete specs and info are available here.