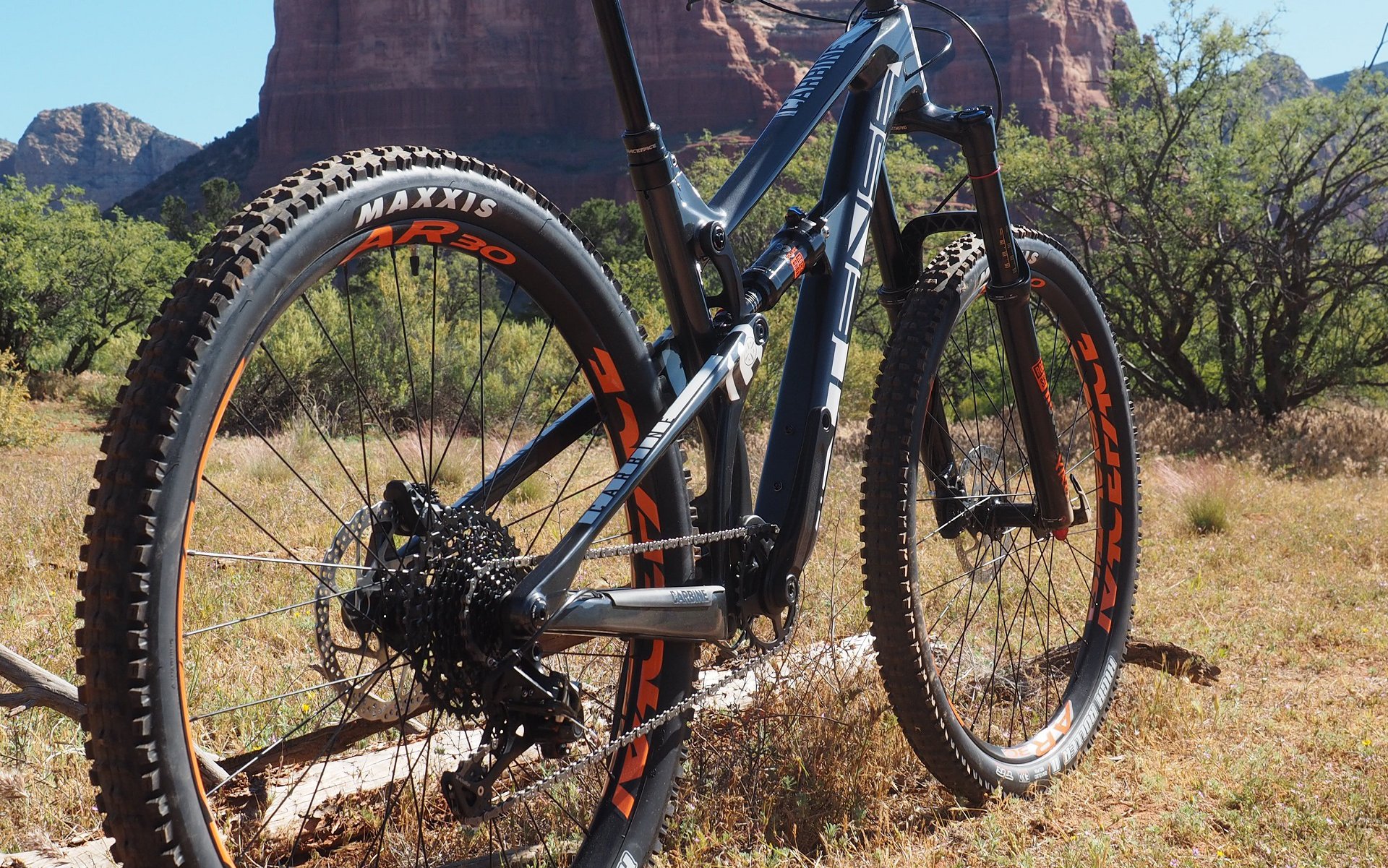 First Impressions
2018 Intense Carbine 29'er First Ride & Release
2018 Intense Carbine 29'er
From the Foundation to the Factory model, for a total of five price points, Intense introduces a brand new version of their JS-Link Carbine 29'er for 2018.
The 155mm travel platform features two levels of carbon frame, two suspension packages, four colours, and a range of 1x specific builds. The Carbines range in price from $4000 (USD) to $10,400 (USD) with both versions of the frame available for sale separately. In Canada, the Foundation, Expert, and Pro are CDN $5275, $6575, and $8190 respectively. The Elite build retails for CDN $9500 and the Factory an eye-watering $12250.
In addition to the media package, I had an opportunity to ride the Factory level Carbine on some technical Sedona singletrack but for the first time since they started offering complete builds, I'm most excited about the Foundation level build which I've focused on below.
Philosophy & Geometry
The new Carbine platforms share geometry and a specific spec philosophy that focusses on suspension, wheels, and tires. 

I've already focused in on Intense's 30mm internal rim standard in talking about their Recon carbon wheelset. From the Foundation to the Factory build, alloy or carbon, rims are a minimum of 30mm wide to take full advantage of current rubber. 
Speaking of rubber. No sh*t OE tires to be found. The High Roller II found on the Foundation and Expert build is not my favourite rubber, and it's not 3C, but it's totally rideable. If you are similarly inclined, throw a 3C 2.5" DHF up front and keep that HR II as a spare rear tire.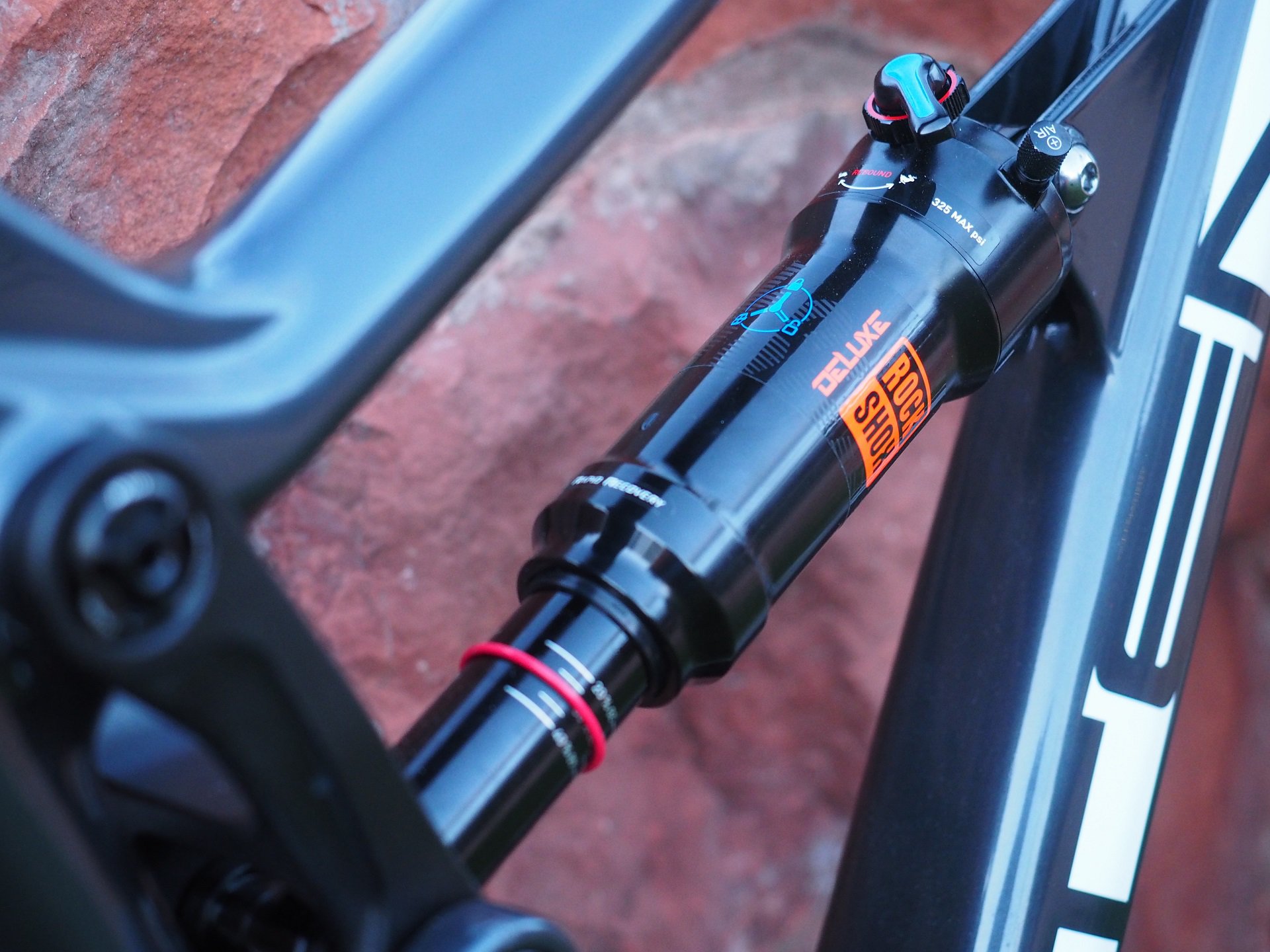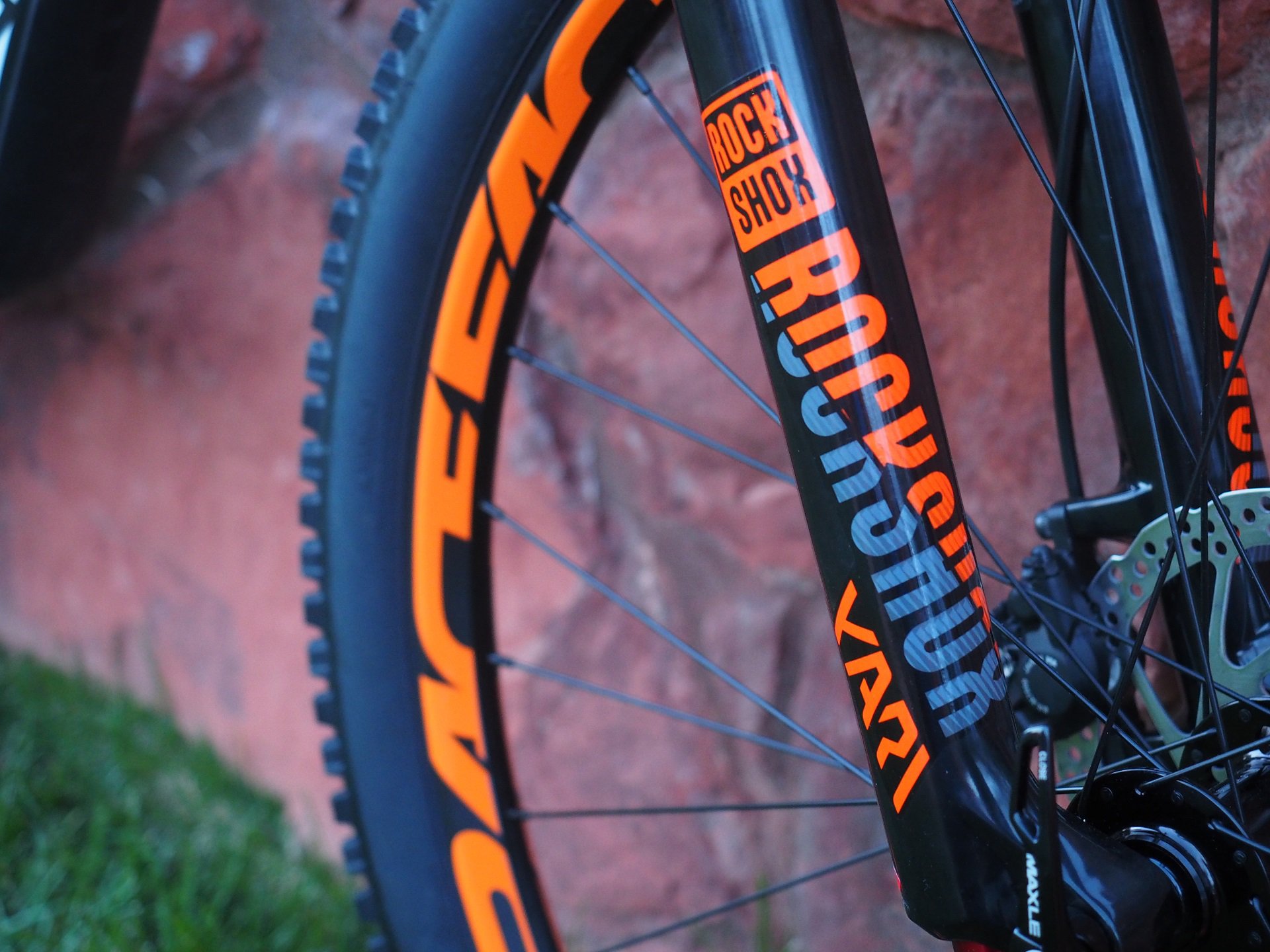 Suspension consists of two RockShox packages. Intense is very specific that suspension is an expensive aftermarket upgrade so this was a chief focus when putting together the less expensive models. The two Carbine frame-based bikes come with a RockShox Deluxe air shock and a Yari fork. The three Carbine SL frame-based bikes come with a RockShox Super Deluxe air shock and a Lyrik. 
Carbine vs. Carbine SL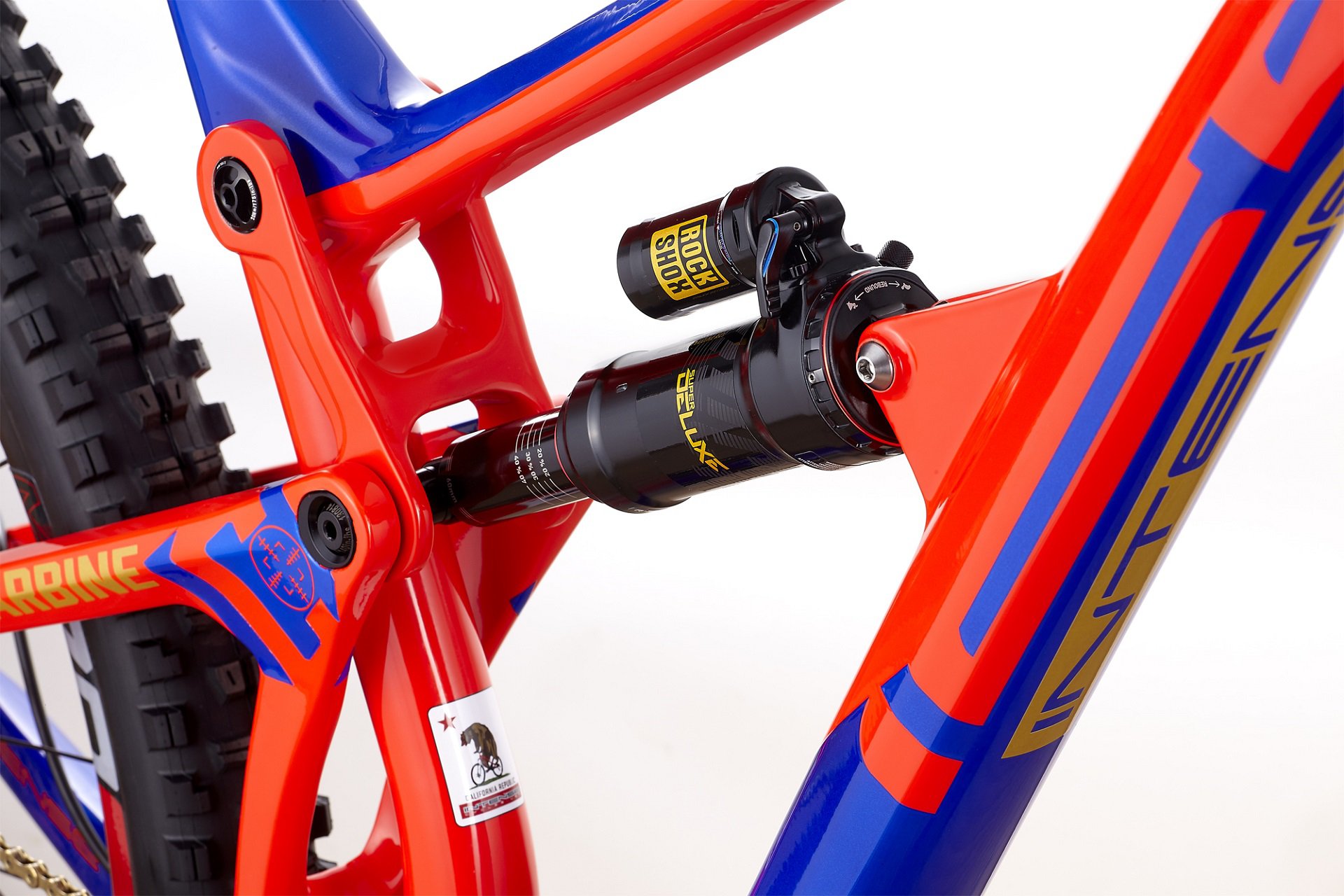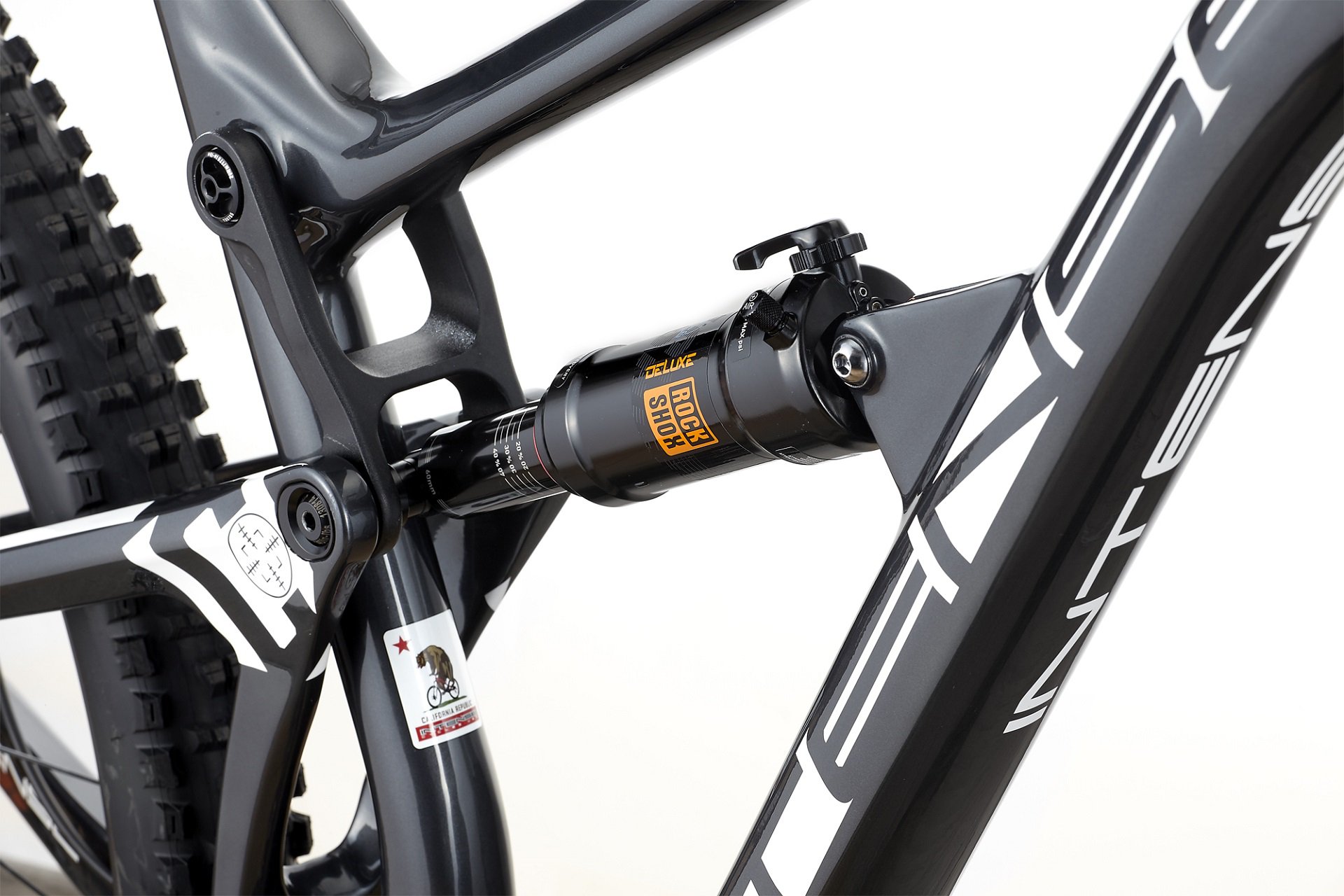 Intense offers two levels of Carbine frame. The standard Monocoque carbon Carbine is available in Charcoal or Orange and is used for the Foundation and Expert ($5000) level builds which are both available in either colour. The frame only Carbine is available as a why-not-just-buy-the-complete-Foundation-build-for-a-grand-more price of $3100 including a RockShox Deluxe shock. 
The Carbine SL frame uses more advanced High Modulous construction and materials, a carbon upper link instead of aluminum and any frame hardware that isn't alloy is titanium. It's used for the Pro (US$7000), Elite ($8000) and Factory level builds. The SL frame comes in two paint schemes which are both available at each level: Red-Blue-Gold & Black-Grey-Red. The SL Frame only sells for $3400 including a RockShox Super Deluxe shock.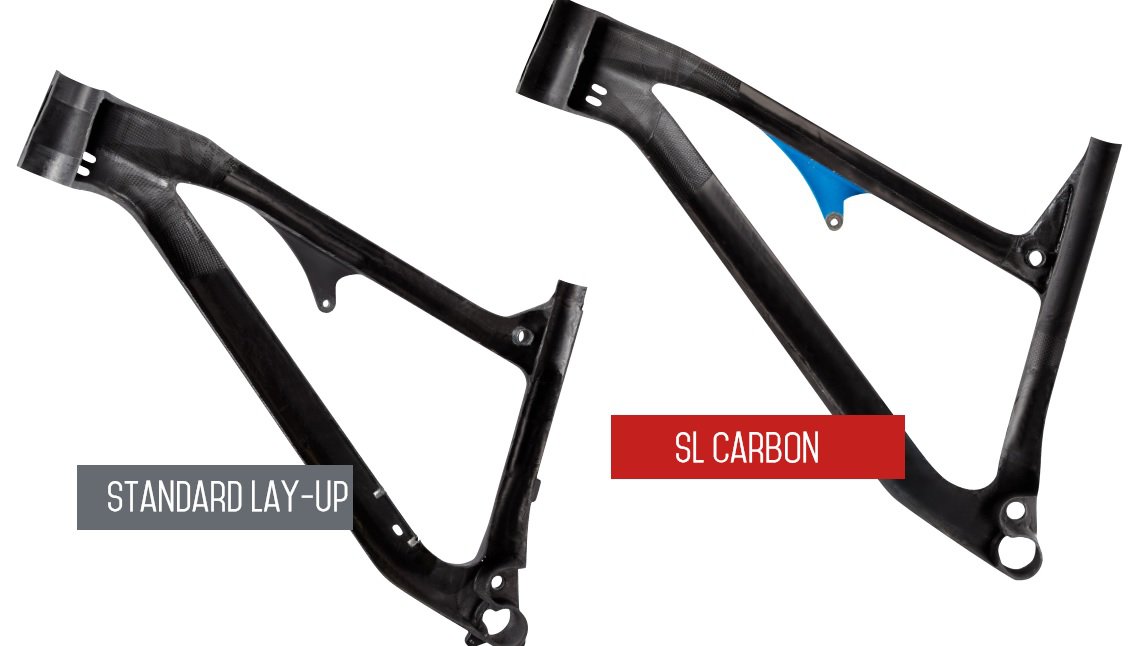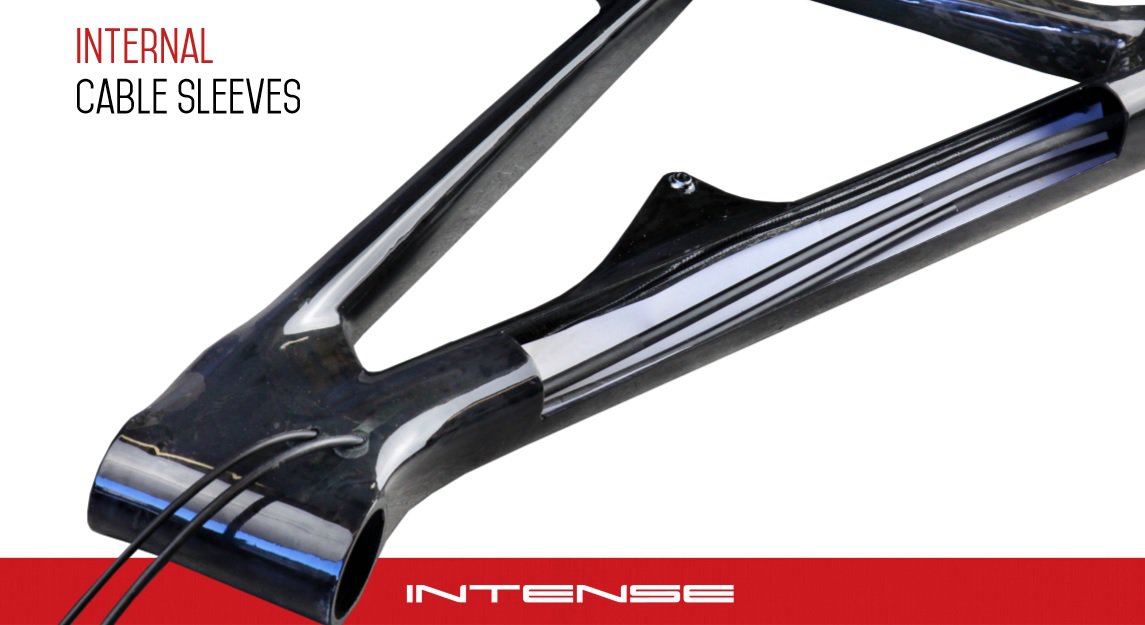 Both versions of the frame resolve cable rattle using internal sleeves. I can definitely vouch for how much quieter the new Carbine is compared to the past generation of Intense frames - no magic tricks needed. 
JS Enduro 
I've never found Intense's virtual pivot point bikes particularly difficult to set up. On the trail, bikes like the previous generation Carbine simply require you to find the sag pocket at around 28-30% and go from there. I got along great with the DVO shock I rode on the Recluse.
The new JS Enduro linkage provides better support while climbing and descending with the shock wide open with less faffing about than any other bike Intense has made. I'm not saying it's a peppy climber, it's a 160mm 29'er after all. But, it goes uphill as well as any bike I've tried in the category and better than most. That's especially true on technical climbs where the bike sits high and tractors up and over square edged shelves in a most impressive way.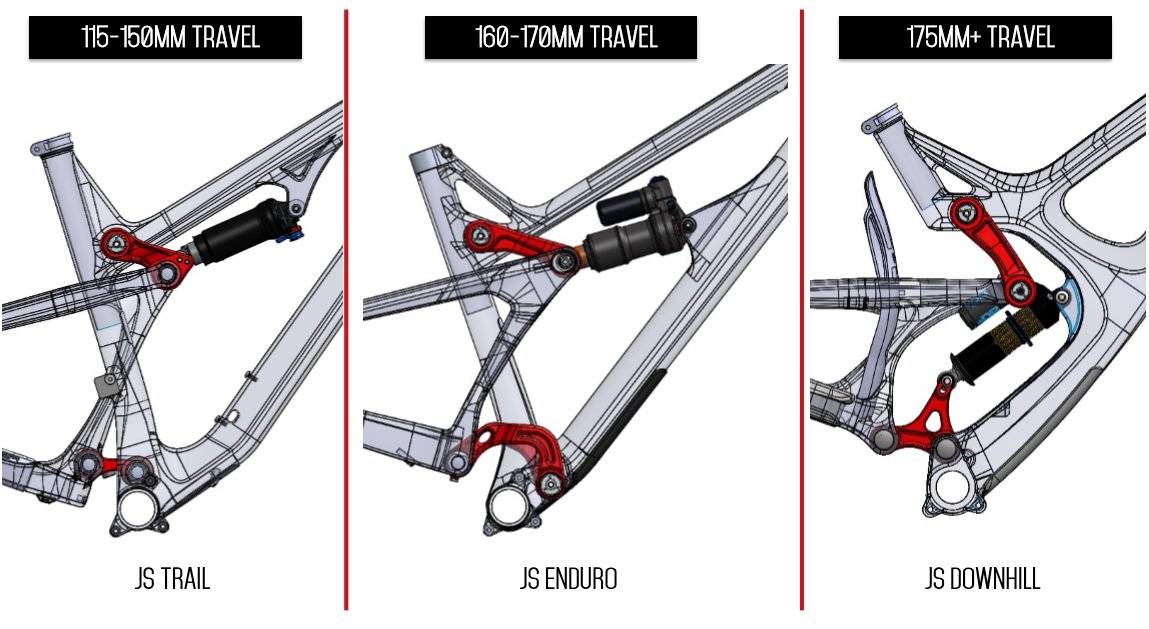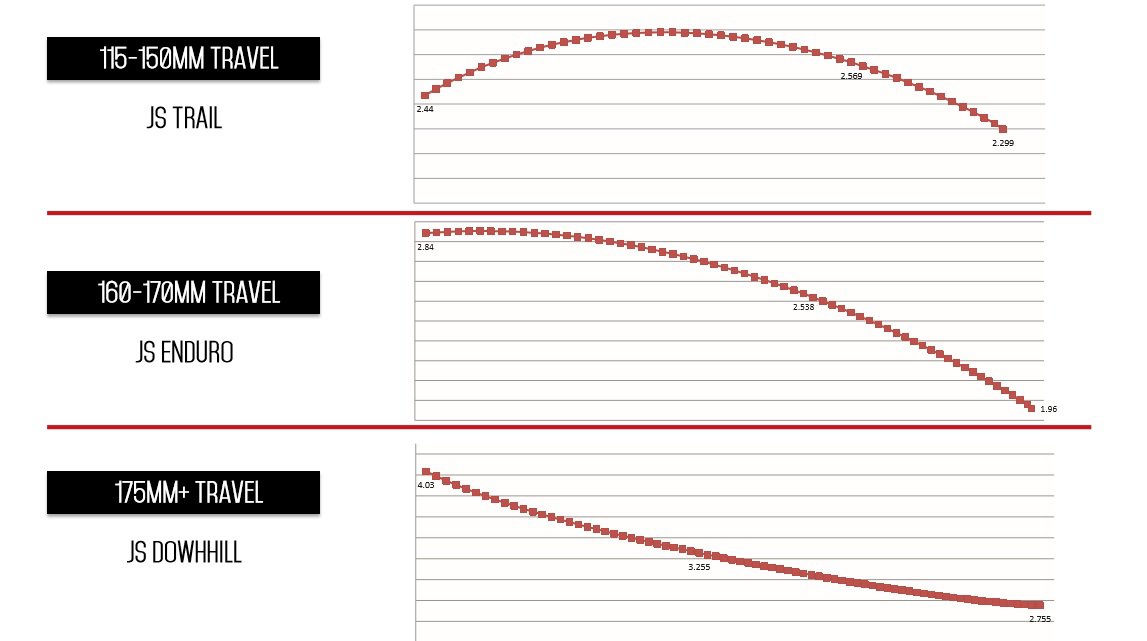 The climbing chops of a long travel 29'er are certainly important but I'm thinking most riders looking at a Carbine will be focused on its downhill prowess. I only had a brief introduction but the Carbine frame is impressive. The 160mm Lyrik and Yari are both good forks but in the chunkiest terrain the Intense frame out guns them. Smooth, supportive and bottomless feature prominently in the cliché string. 
Looking into my crystal ball, I can see the Carbine being run at bike parks and on shuttle trails using a new breed of 180mm dual crown 29'er forks. I joke but I would love to see Intense release a 140mm bike using this suspension platform.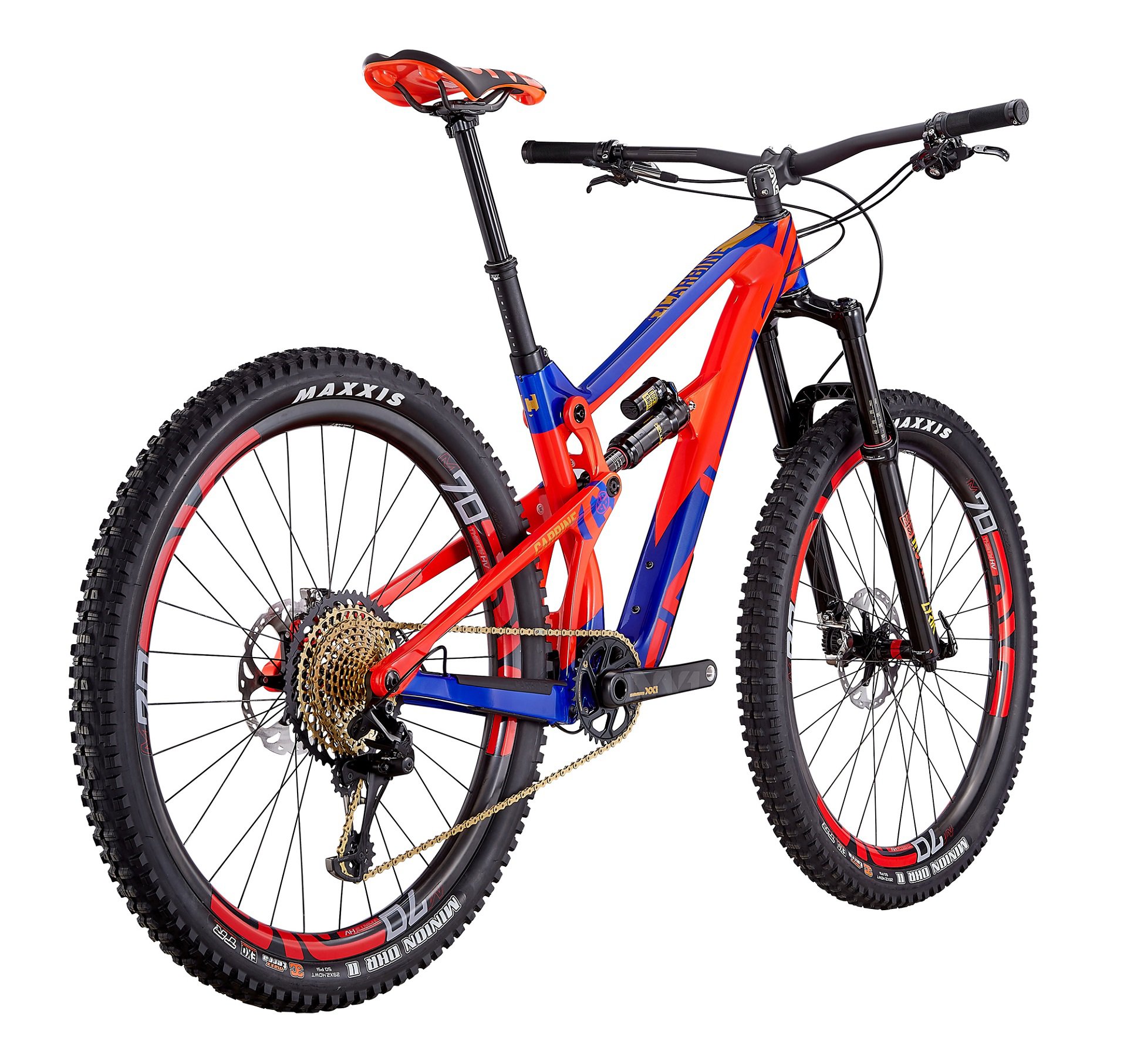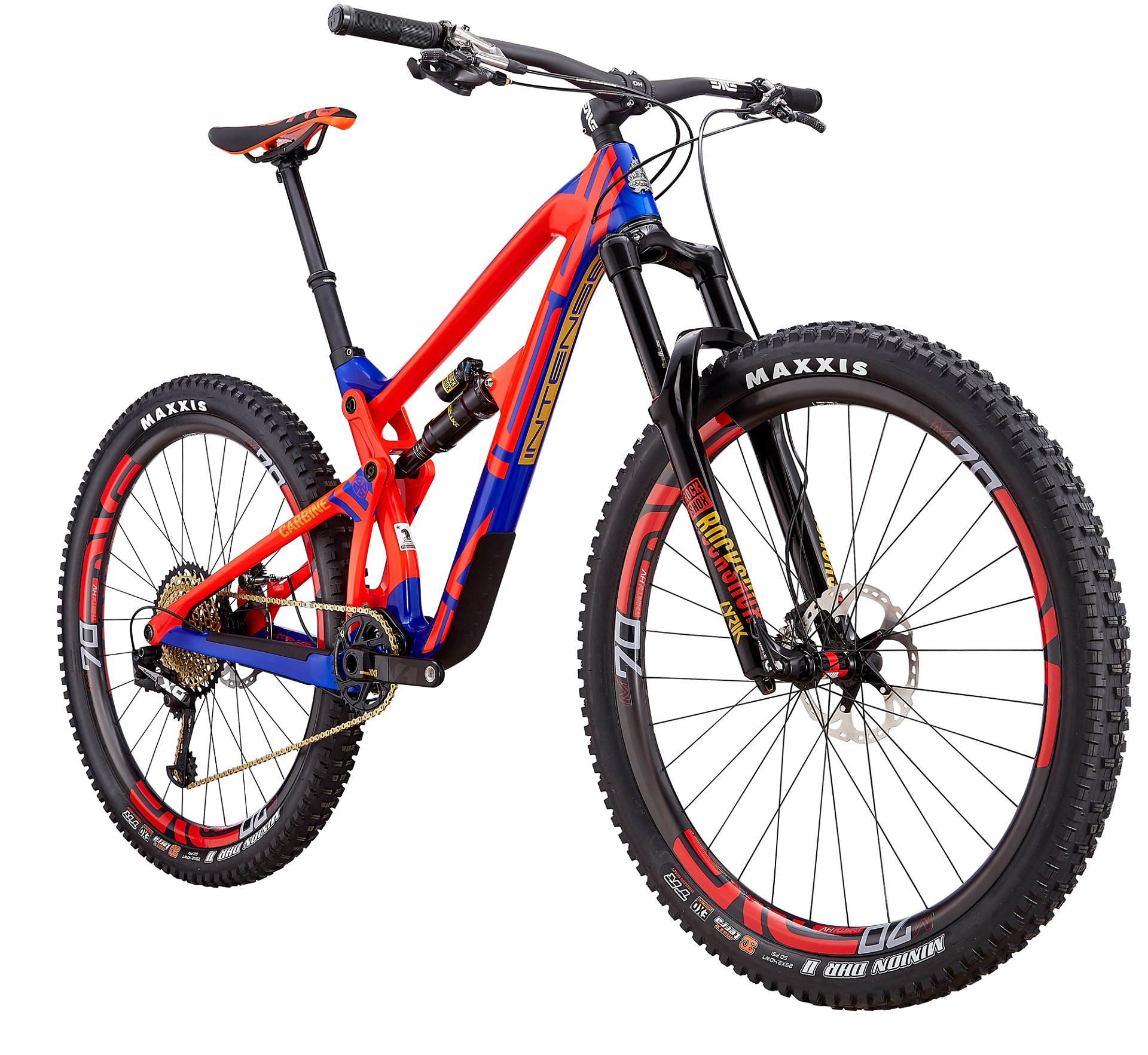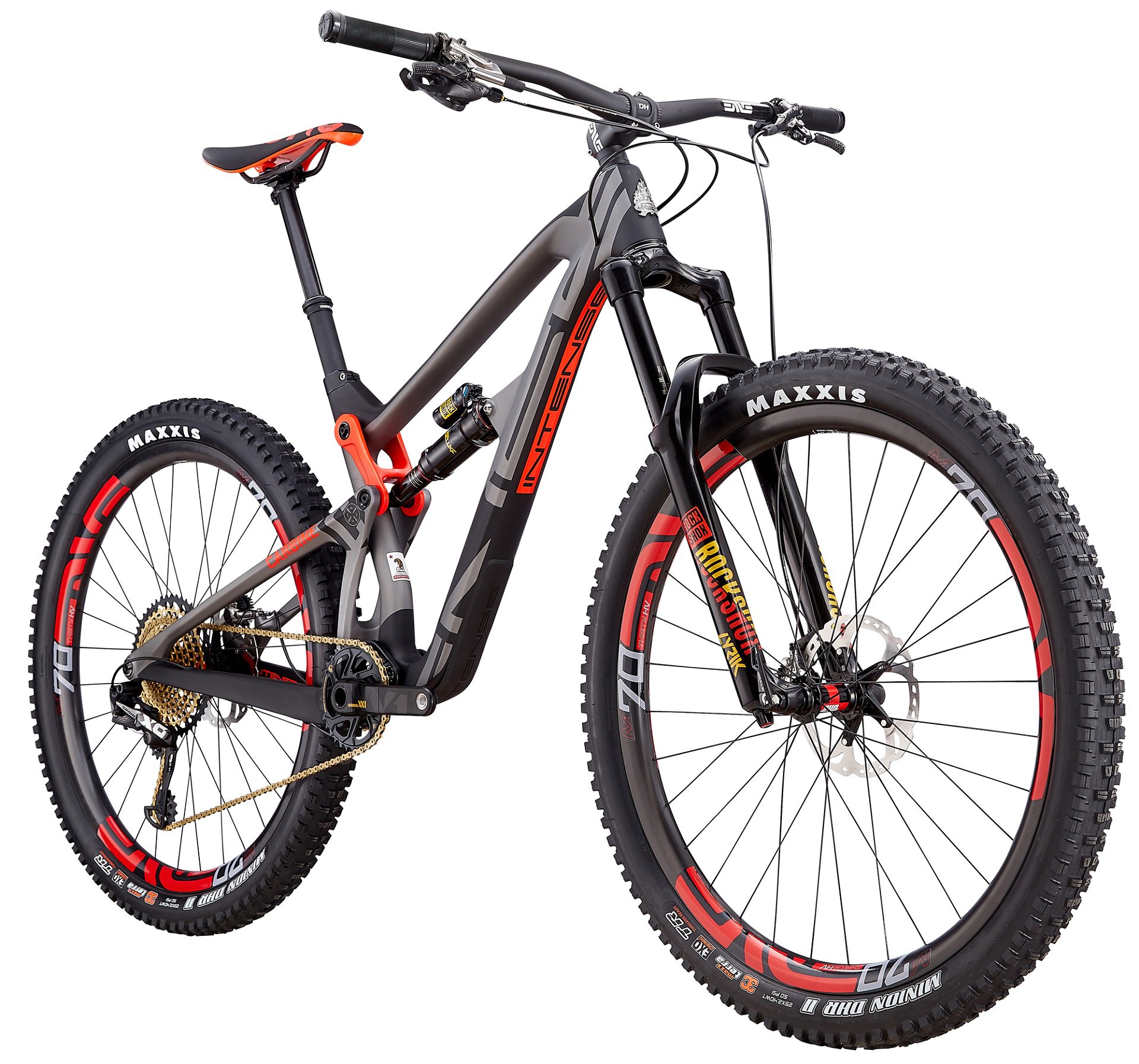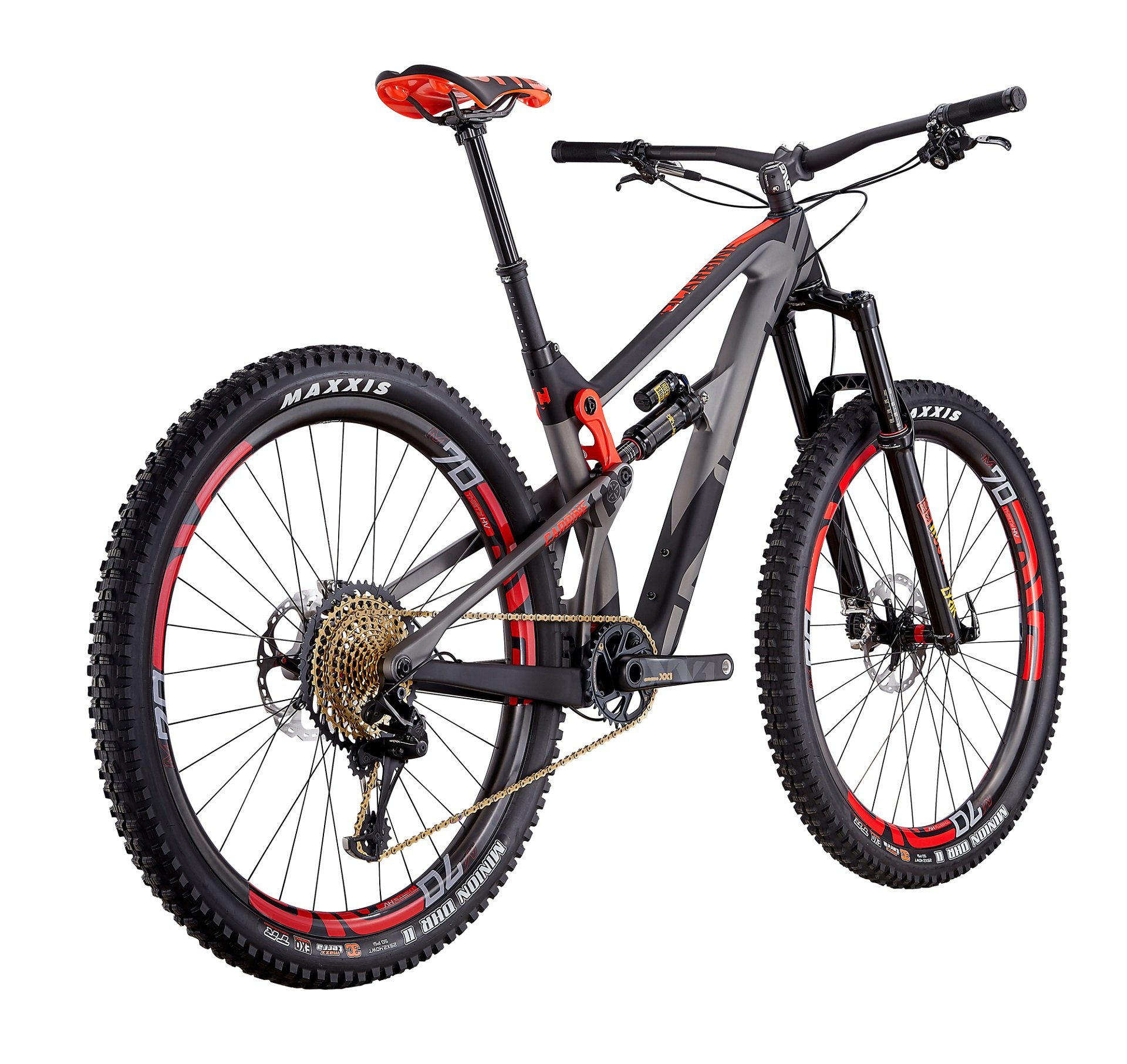 Foundation Build
Any company can produce a sweet 10k bike. It's easy. Eagle, carbon everything, sexy paint job and done. Intense has it extra easy because they just bought a bunch of parts from Intense Factory Racing sponsors ENVE & SRAM and put them on the (dun dun duuuuuun) Factory model bike.
I've come around to the fact that there isn't a complete bike on the market, at any price, that I wouldn't change something on for my personal preference. The Foundation build has a few such parts. I'd install a SRAM GX shifter instead of the NX which will result in a significant improvement in drivetrain performance. I'd swap out the Intense brand grips, and I'd throw on a front tire with stickier rubber. Lastly, I'd buy a Shimano Zee caliper and install it in place of the stock M500** unit up front. The Carbine wants to go Fast and the extra control and power are worth any weight penalty. 
The short of it is that the Foundation build at 4k has a well-considered spec on a carbon frame that I predict will be regarded as the best non-DH bike they've ever made. It leaves me wishing there was an aluminum option to hit the same level of performance at an even lower price point.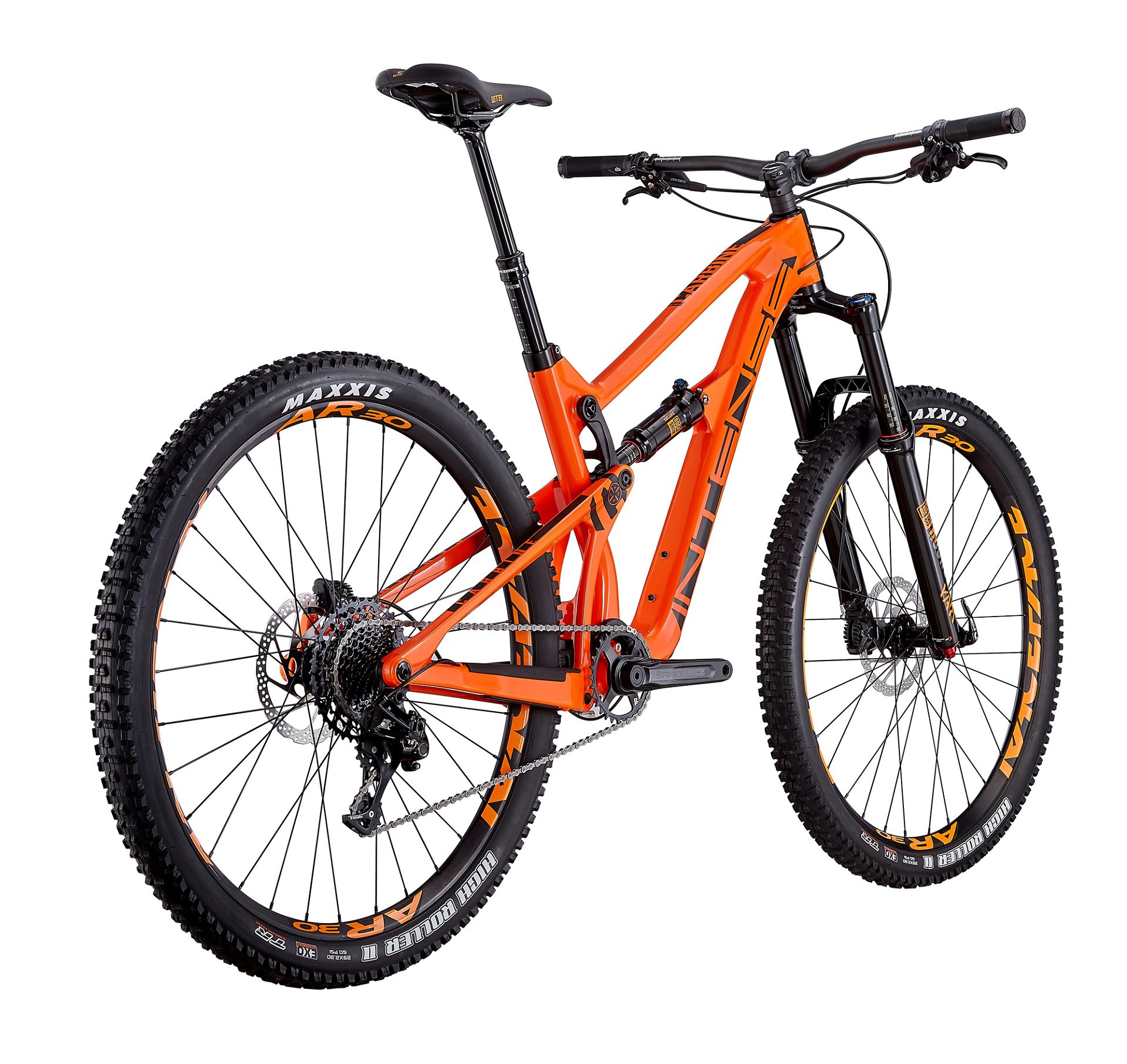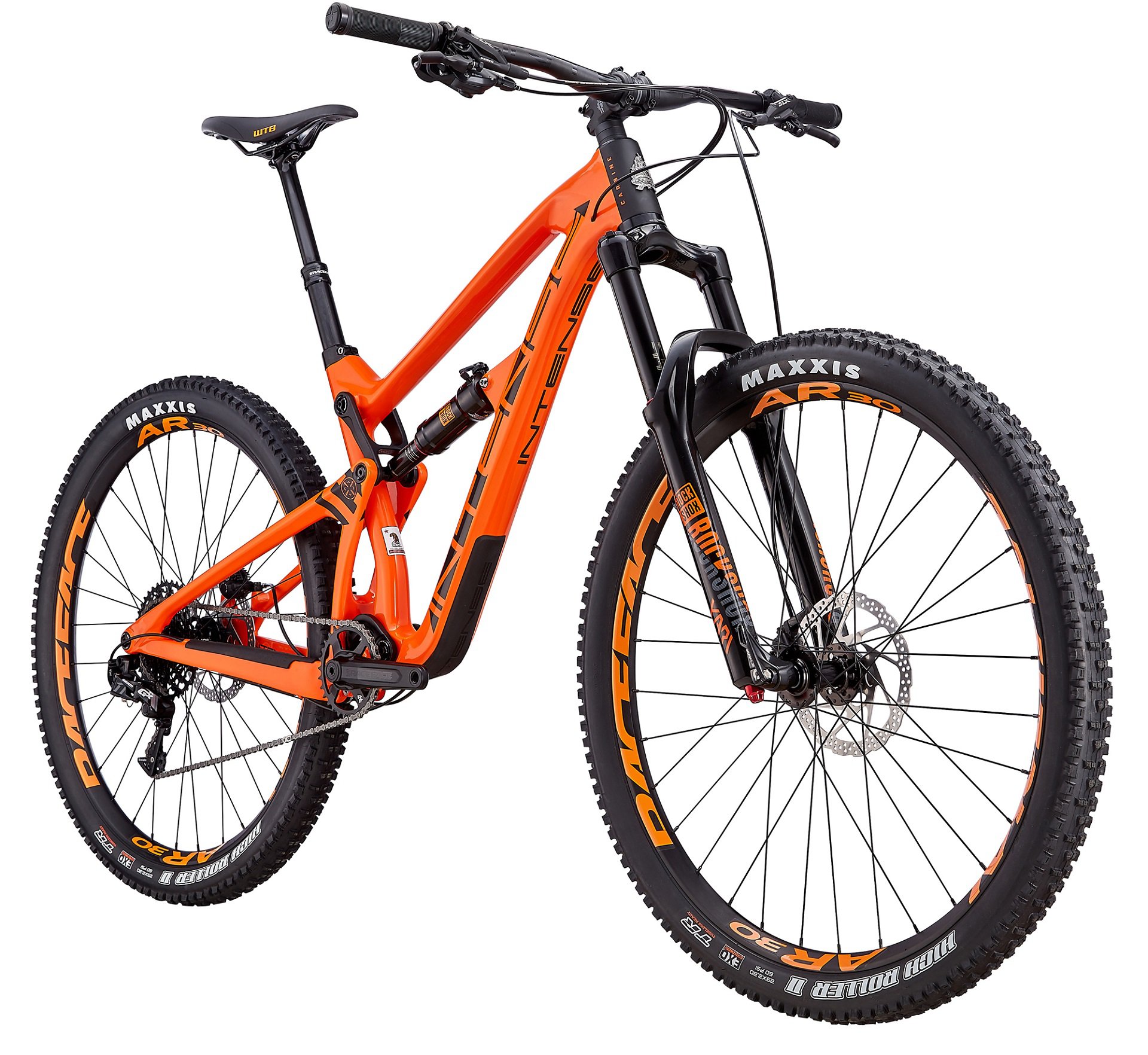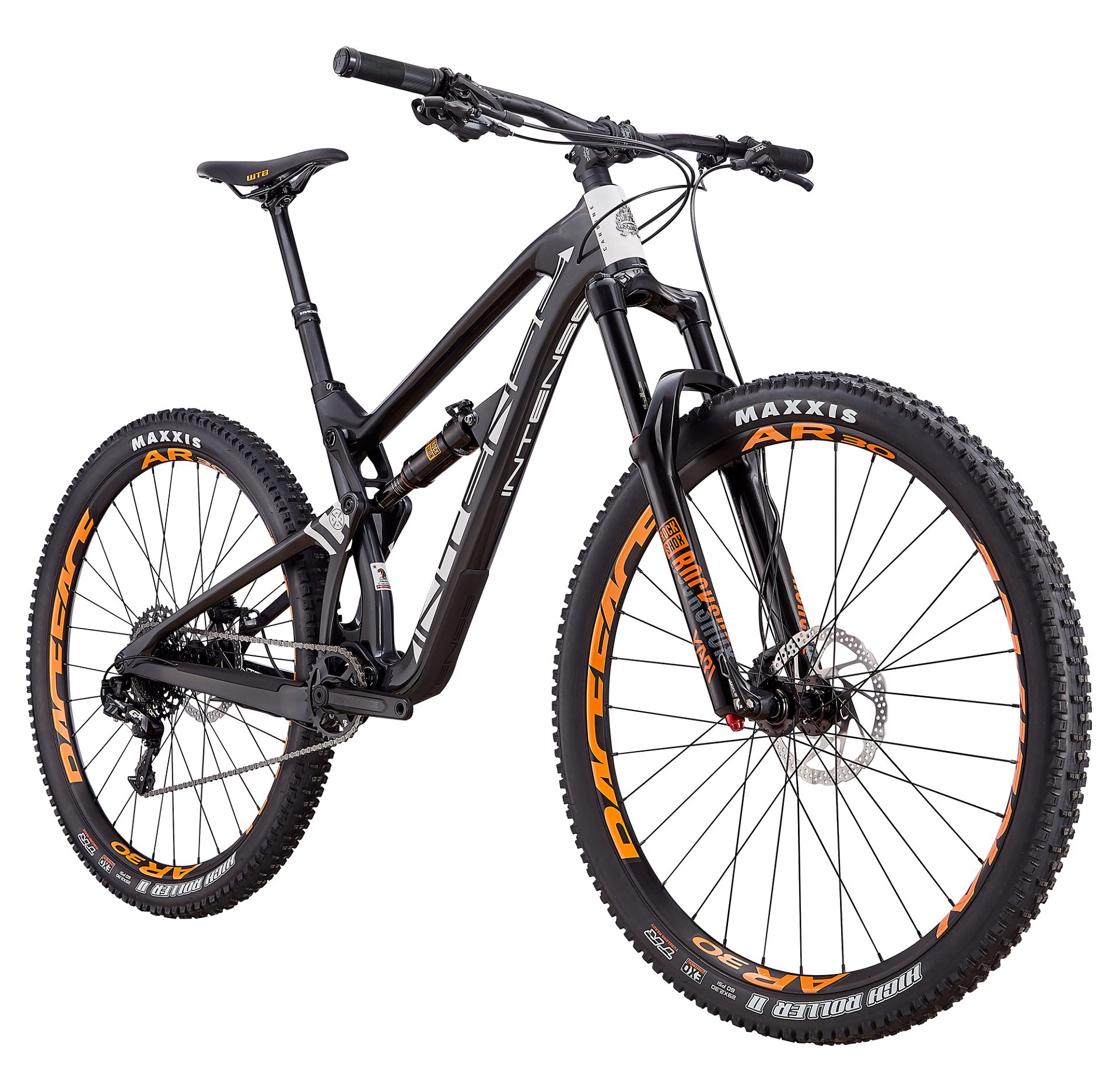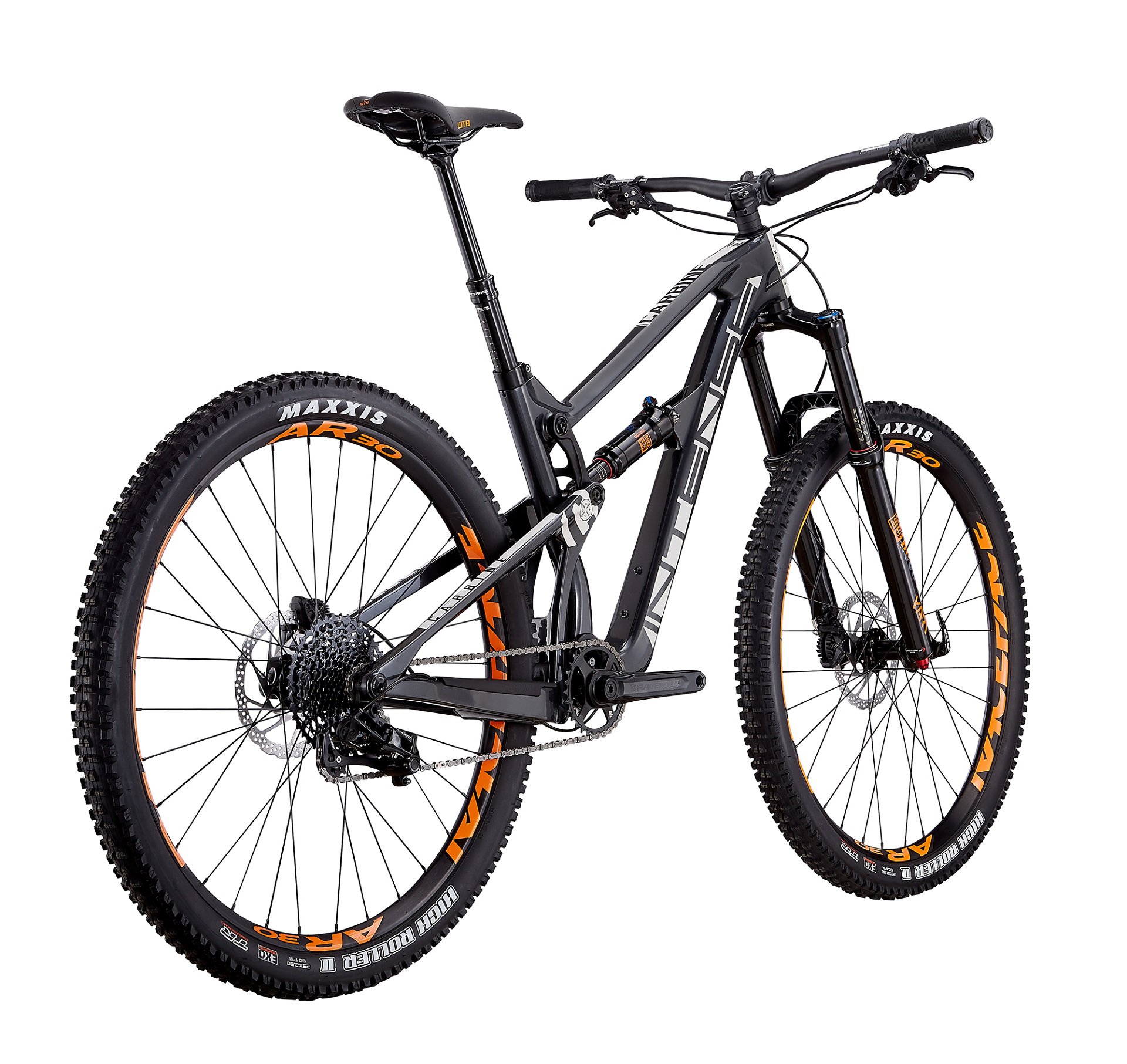 Carbines
This is a first impression and not by any means a full review of the new Carbine 29er but it's also a prediction that this will be a very positively reviewed and received platform. I've ridden the last few generations of Carbine and the new bike is better in every way. 
There may be better-appointed bikes for the money than the Carbine but if you are in the market for a long travel 29'er I'd highly recommend grabbing a test run on the new Carbine before you pull the trigger. 
**Assuming the Shimano M500 is a compatible Servowave brake. The one I photographed had SLX brakes.