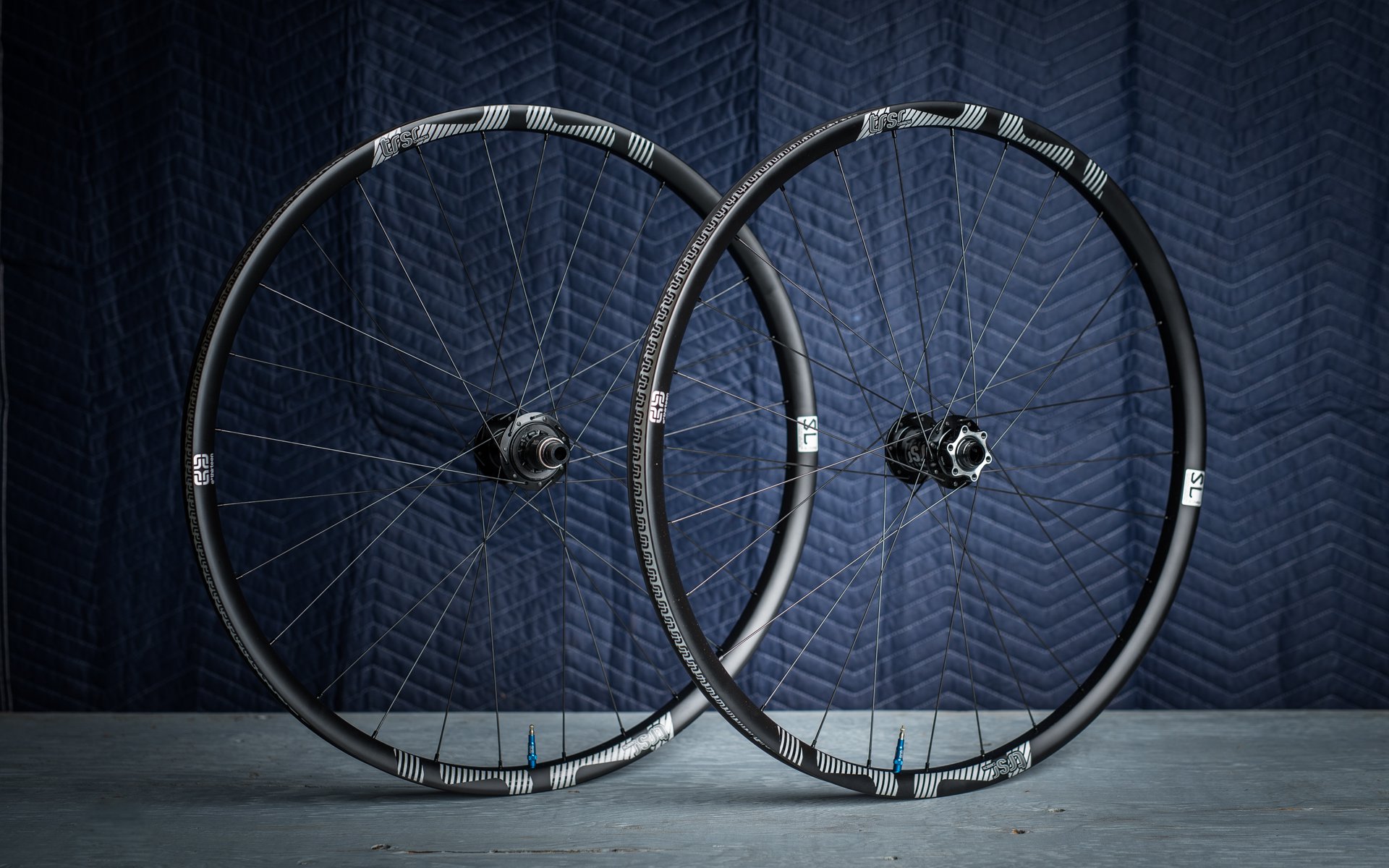 First Ride(s) and Product Info
2018 e*thirteen TRSr SL Wheels
Santa Cruz's recently launched wheel program was all about strength with weight factored in later. e*thirteen's TRSr SL wheels are about fine tuning an existing set into something a little lighter, while ramping burliness. These are all of 150 grams more feathery than the existing TRSr (non SL) model. The main weight savings come from the front hub which loses 27.2 grams. The rims drop from 447 grams to 422 while the rear hub drops 11.6 grams. Those of you following along at home with a calculator may have deduced that all this saves a total of 90 grams. We can presume the remainder of weight savings comes from triple-butted spokes and alloy nipples to arrive at a total of 1748g for a set of 29er Boost wheels with rim tape and e*thirteen's excellent tubeless valves. The 650b set weighs 1664g.
Now all of this may sound like a ridiculously long way to go for only 150 grams, but there's more; e*thirteen tells us these wheels test as twice as strong as the non-SL TRSr wheels in the weight class above. So a third of a pound may not be impressive, but when you save weight and double strength you are starting to get my attention. *
As more brands get into the carbon rim game the hope is that the price will start to come down. e*thirteen's isn't pushing any price boundaries but the MSRP is hundreds below several high profile competitors. In fact I was originally told one price and then it was adjusted US $100 to the good side. 

Set-Up
The mounting process, aside from the aforementioned bubble hunt, was straightforward. The tires mounted easily without tools but were a little reluctant to seat. This could be because I remain gunshy with my compressor. After mounting everything in a hurry at home I left town for some riding. Once I arrived, with photos yet to shoot, I realized that I had effed up the mounting process. The front wheel was okay but I hadn't noticed the graphics that align between tire and rim. The rear tire I had mounted backwards, something that happens with alarming frequency. This left me to remount without compressed air. The tires came off as easily as a Panaracer Smoke** and then seated without drama using a floor pump once I had the graphics clicked. Full points.
Interview
I sent some questions to Connor Bondlow at e*thirteen and he badgered the engineering department for answers on my behalf. 
Cam McRae -  Is there any crash replacement policy or warranty for e13 rims? 
e*thirteen - 1-year, no questions asked. We try to make sure people are the original owners first, but we stand by this.
CM - Some carbon rims don't work well with some protective liners - specifically Flat Tire Defender. Would you recommend against using FTD with the TRSr rims?

e13 - In our testing, FTD does not help prevent failure from large impacts. FTD reduces air volume by 30-40% depending on the tire. Although the lower volume combined with the damping that the FTD creates makes the tire feel good, we do need to recognize that with the FTD, the risk of an impact and loss of air pressure will have a bigger effect on the ending pressure after sealing. For example, the tire might go from 32psi to 15psi with FTD, whereas without FTD, it might only drop to 25psi. In our testing, 25psi is enough to keep the tire on the rim even with aggressive riding. Dropping below 25psi there is a risk of rolling the tire off the rim.
What can you tell me about the factory where the rims are made?
It's a state of the art facility in China, we've had our product developer and engineers flying over there regularly for years now. In working together, we were able to apply their manufacturing expertise to our engineering and design in order to come up with the carbon rims we have today.
Why did you opt for a symmetric design?
The reason for asymmetric rims is better spoke triangulation, and because our hubs have such tall flanges, we didn't see a need to switch to an asymmetrical rim. The strength and stiffness in current wheel builds is right where it needs to be and if we had switched to an asymmetrical rim, our opinion is that the wheel would be too stiff for most end users.
Is the tubeless tape normally installed when the wheels arrive as mine was?
All our wheels ship with tubeless tape and valves installed. 
My set shipped as Boost. Can these be converted to 100 x 15/142 X 12?
The hubs themselves are fundamentally different and specific to each individual bike. A Boost hub cannot become a non-Boost hub and vice-versa. If a customer orders a 142mm (non-Boost) wheel, however, he or she will receive 135mm endcaps as well.
How much of a strength compromise results in going from a 3mm sidewall thickness to a 2.5? 
None whatsoever. The material "lost" in the sidewall was simply redistributed to other parts of the rim, and the resulting profile is twice as strong in impact testing as the rim with 3mm sidewalls. 
Is there a weight maximum recommendation? Aside from terrain profile (the doc mentions both trail and AM) what sort of rider is best suited to the SL wheelset?
We've never recommended a rider weight for a wheelset, nor is there a limit. As far as rider type, the SL Wheelset is best suited for those riders wanting to save a bit of weight, without sacrificing strength, durability, and performance on the downhill. There was some ambiguity as to whether "trail" or "all-mountain" was the best term for this wheelset, but the SL's are built for both. 

How does your profile balance stiffness and compliance? What was the goal there - more compliance or more stiffness?
It's always a balance and handoff and in truth, we struck gold here. Our shallower rim profile doesn't make the rim feel unbearably stiff as some (cough cough) major manufacturers, and our use of layer compaction delivers a very well-planted (read "not bouncy, skiddish, or wooden") feel on trail. These wheels are incredibly comfortable, and we have worked hard to balance flange sizes, spoke angles, and rim layups to find the balance. 
The TRS wheels are 31mm internal and these are 28. Would you say one or the other works better with your tires? What went into deciding on the internal width for the SL wheels?
The 2017 TRSr rims, which the SLs are based on, were 27mm. This increase in internal width was a result of the sidewall thickness reduction we discussed above. The difference here is negligible in terms of tire performance. You'll start to see tire profiles affected when you get to internal widths above 31mm, though not necessarily hindered. 
If we say the TRS are a 10 for strength where do the SL wheels rate?
On impact testing on the SL Wheels was twice as good as that of the 2017 TRSr (27mm) wheels. So, the SLs are a 20. 
Can you say a little more about the offset flange widths? My understanding is that this is to maximize triangulation and minimize weight. Correct?
Correct. Just as you argue for spoke triangulation to increase wheel stiffness, our argument for offset flange widths is to also increase wheel stiffness and always has been. We've designed wheels around tall hub flanges from the very beginning.
The copy mentions that these are twice the strength of their predecessor. How was this achieved?
We achieved a stronger rim by improving our layup technique, as well as tweaking the rim profile itself (widening the inner width by a millimeter and strengthening the spoke bed).
Ride Impressions
Buckle up because I have some wide-ranging and detailed impressions based on many rides in all conditions that tested the strength of these wheels to the very limit. Just kidding. I only got one ride on the TRSr SL wheels on a bike I have only ridden three times. I didn't notice any shocking stiffness but I did notice comfort and traction, which suggests good compliance. The rear hub engaged as advertised but the real star was TRS+ 
the tires
. I was riding a trail I'd only ridden top to bottom twice before and on both previous occasions I experienced moments of 180 proof fear. This time the ride down was fun but there was a disappointing wide-eyed terror. In fact, I started moving my weight forward and going faster rather than locking everything and stiffening up like a gaper. The wheels likely get some credit but most goes to the TRS+ rubber and the bike, which I can't yet tell you about (hence the absence of riding photos).
Features
Weights

WHEELS (including tubeless valves and tape)
- 27.5" = 1,650 grams (F: 745 grams, R: 904 grams)
- 27.5" boost = 1,664 grams (F: 752 grams, R: 912 grams)
- 29" = 1,733 grams (F: 795 grams, R: 938 grams)
- 29" boost = 1,748 grams (F: 802 grams, R: 946 grams)
RIMS
- 27.5" = 388 grams
- 29" = 422 grams
KEY FEATURES
- US $1499
- Lightweight, trail bike wheelset
- 28mm internal width
- SL aluminum hubs with secondary seals and fast, 6 degree engagement
- Rim impact strength is 2x stronger, even at a lighter weight than the TRS Race 27mm rim
For more info hit up bythehive.com
* Testing claims come from e*thirteen and have not been verified by NSMB.com
** Line stolen fair and square from Jeff Bryson