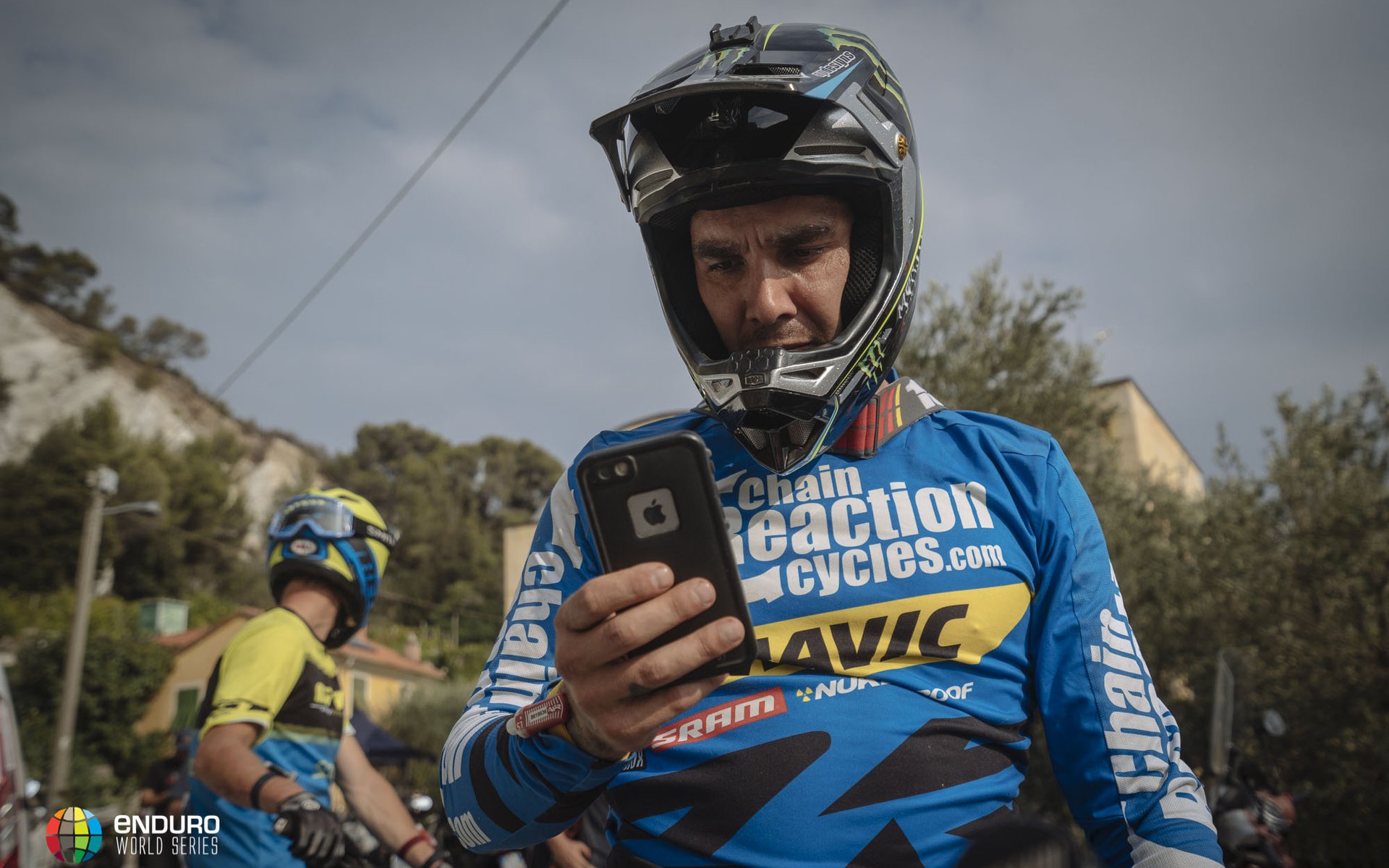 Some Changes of Note
2018 Enduro World Series Updates & Team Changes
It's time! The Enduro World Series kicks off the 2018 season this weekend in Lo Barnechea, Chile and what better time to take a look at some of the changes for the series and the racers involved. This will be the fifth year of competition for the series and with it comes a number of updates and changes. Like anything new, there has been a more constant rate of subtle changes, as a result of the desire to improve as quickly as possible. For 2018 the EWS has introduced a number of updates with the largest being the addition of the Continental Series and the one training lap rule, though there are a number of others of note. But first, a brief look at those big ones.
The Continental Series
New for 2018, the EWS Continental Series is a stepping stone between the Qualifier Series and the big show, the World Series. The Continental Series will crown continental champions in South and North America, Europe, Africa, and Asia-Pacific, and any points earned racing the EWSC (Continental) events will count towards a rider's Enduro Global Ranking, which is then used to pre-qualify racers for EWS events the following season. Where the EWSC differs from the Qualifying series is in the overall title for the continent. While qualifier events count toward being on the reserved list for global events, there formerly was no title like "South American Enduro Champion" to strive for, giving the new addition a lot of appeal.  
One Practice Run Rule
For 2018, riders will be restricted to only one practice run at global events (this doesn't include Qualifiers or Continental events). It's a rule put in place in an effort to minimize wear on the trails in the communities visited but one that could see the result sheets turn a little. While all of the EWS riders are incredibly skilled, those that deal with a newer trail better will likely rise to the top. For sure, there will be locals at each event that have a chance to perform better as a result of the rule change, but I don't feel that we'll see it regularly at the sharp end of the results. Riders will be allowed to walk the race tracks as often as they like, if they feel they need to see something better.
Other Rulebook Tweaks
Another couple of snippets that were found to be of interest:
New for 2018, the EWS is recommending that stages aim to include a maximum of 10% climbing and at least 80% descending, which could play right into the hands of the gravity-oriented riders on the tour. They also state a maximum of six stages in a one-day race, while eight is the max for an event with two days of racing.  
Team Moves
It's been a jam-packed off-season for a lot of the world's fastest enduro racers. Below are a number of changes that caught our attention during the off-season, with a number of new players coming over from World Cup Downhill and some new teams formed with familiar faces. 
Rocky Mountain Race Face Enduro Team
The refreshed Rocky team has gone full Canadian, well, more Canadian than previously. Gone are French riders Florian Nicolai and Sébastien Claquin with the team cut back to three full-time riders. All hailing from Canada, the team now includes Rémi Gauvin, Jesse Melamed, and Andréane Lanthier Nadeau (ALN). All three Canadians showed incredible growth in 2017 with Jesse bagging his first win, at home in Whistler. Nevertheless, Florian still finished 2017 as the highest-placed rider on the team, so perhaps there is more truth to the Canadian affair than initially thought?
Further to the Canadian point, the team has partnered more heavily with Canadian brand Race Face while continuing its relationship with OneUp Components. With Urge and Royal Racing out of the mix, the team will sport Race Face apparel and Smith helmets, while the majority of their other partners remain the same.  

Trek Factory Racing Enduro Team
For 2018 Trek Factory Racing will be joined by former Red Bull Hardline and Junior DH World Champion, Ruaridh Cunningham. Ruaridh came through the junior DH ranks competing against none other than Josh Bryceland and despite being more low-key, has continued to ride at an incredible level, shown clearly by his Hardline win in 2015 and a second place at the event in 2016. Ruaridh has been aboard a Trek for the better part of his elite racing career, so the bikes will be comfortable to him, though he will have his work cut out for him with the newer to him race format. Ruaridh joining Katy Winton makes the Trek Enduro team an all Scottish affair. 

Another big change for the Trek Factory Racing team comes in the way of partners with the team moving from Fox/Shimano to SRAM/Rockshox. For Ruaridh, it won't be a big change given he has been riding RockShox suspension for a couple of years now, but it's more of a change for Katy.  
Canyon Factory Enduro Team
After a number of successful seasons on the former Rocky Mountain Urge BP team and finishing the 2017 season seventh overall, Florian Nicolai has found himself onboard Canyon for 2018. The French rider says he is happy to be working alongside fellow-countryman and legend, Fabien Barel, and claims that his training for the 2018 season has gone up another level. He's consistently been a top ten rider in the overall and with a bit of a refresh, we may see him back towards the top five in 2018. 
What looks to be another change for the Canyon team in 2018 comes in the way of tire partners. Canyon has been pretty heavily involved with Mavic for some time and while the team will continue that partnership to a degree in 2018, they appear to be sporting Maxxis rubber for this season rather than the Mavic tire system. Canyon also released their new 175mm travel Torque model earlier this year and it will be interesting to see if the team make use of it on the world stage. It appears they're on the Strive for Chile at this point. 

Unior/Devinci Factory Racing
Kiwi youngster, Keegan Wright will join Damien Oton on the revamped Devinci team for 2018. The Kiwi has results in a number of facets of mountain biking, winning the overall in the New Zealand Downhill National Cup in 2017 and the National Enduro Series in 2016 – he's also won in the pumptrack during Crankworx. For 2018 he will be following the EWS on what is the biggest ride in the young racer's career and we will soon see if this young riders racer has the cut for results in world level competition. He has a great teacher in Oton at the very least. Keegan replaces Theo Galey who moved to the Sunn team for 2018.  

The team has also changed it up for the 2018 season with the Devinci brand partnering with Unior tools as a title sponsor and have separate DH and enduro teams in the mix.  

Kona Global Enduro Team
New for 2018 Kona will hit the full EWS calendar with Canadian, Rhys Verner, Leah Maunsell out of Ireland, Swede Alexander Kangas, and Americans Ryan Gardiner and Scott Countryman. Squamish ripper, Rhys Verner, crosses over from World Cup XC after some success in EWS events in 2017, placing third in U21 in Whistler and winning the category at the final event of the year in Finale Ligure with a time that placed him in thirteenth in the elite men's category. Maunsell is an Irish multi-national champion – the current DH and Enduro champ – and has seen success in the junior women's division on the EWS for a number of seasons. 

Now an official EWS team, Kona will surely be looking to continue the successes of the past and it looks to be a good time for the brand to push into enduro on the back of a revamped Process and with Verner already showing promise with times matching top 20 finishes in the elite category.  

Cube Action Team
Zak Johansen will also be joining the team for 2018, moving from Ibis Cycles. He will join Greg Callaghan as Greg continues as a key rider but one rider that will be sorely missed from the team, and at the races in general, is Nico Lau. Lau withdrew from the 2018 EWS noting that he wasn't as committed to it as he once was and that now being the father of two girls was more of a focus for him. 
According to the EWS Team pages, Kiwi Matt Walker is signed up for the entire EWS season but given that he's racing at Crankworx Rotorua it seems to be a mistake. Walker has also ridden for Cube for a number of years now as part of the Global Squad, which focuses on World Cup DH and is still listed on the UCI team list as riding for them in that capacity for 2018. 
Alchemy Factory Racing
Mr. Manual Monday, Cody Kelley, has left Yeti Cycles and joins the newly formed Alchemy Cycles team alongside legendary female rider, Anneke Beerten, formerly of GT Factory Racing. Cody's incredible style and ability to lay the bike over off the smallest hits quickly made him a crowd and photographer favorite on the EWS and while his term with Yeti was pretty short-lived considering the environment they generally seem to build around their younger athletes, it's good to see that he hasn't disappeared completely. 
Beerton has had a couple of rough years with injury but is no doubt looking to get back to her top of the pack ways and battling for the podium at each round. The team is supported by Fox, Enve, Shimano, 7Mesh, Maxxis, Crankbrothers, and Oneup Components. 
Yeti Fox Factory Race Team
With Kelley moving on from team turquoise, Yeti have brought in a number of young guns to take on all there is to learn from the young, yet very experienced, Richie Rude. Rude will lead the full American team of Shawn Neer, Jubal Davis, and Duncan Nason into the 2018 EWS season. The team is really a mesh of the Yeti National team and the Factory team but the young racers will be looking to build their experience in 2018 as they hit more world level events.

Shawn Neer has proven his worth by taking out the Big Mountain Enduro series in 2017. He also may help fill the gap of Kelley with a similarly smooth and stylish riding technique. Duncan Nason will race the U21 category and showed promise in 2017, placing second in the Aspen stop of the EWS.   
Norco Twins Racing
Norco enters the EWS completely thanks to the Gehrig sisters newly formed partnership and EWS team. Previously on Ibis Cycles, a team they've been with since the first EWS in 2013, the twin sisters have been consistent top ten and top five riders at each race. For 2018 they've developed their own EWS team, Norco Twins Racing, with a number of new and old partners. Other partners include; DT Swiss, WTB, Magura, Leatt, e*thirteen, and Camelbak. What's also of interest are the spy shots floating around of what appears to be a new fork from DT Swiss adorning the front of their newly specced Norcos. 
Intense Mavic Collective
A new team put together by Kilian Bron, Cedric Carrez and Isabeau Courdurier. Isabeau is the current world number two and has left the Sunn team that she got there on to join this new venture. It's a move that she is happy about noting the opportunity to work more closely with the brands backing her and something she says will be fun based on her recently finishing her marketing degree.  
She shone brightly a number of times in 2017 and was regularly the only one that looked like she could beat the unstoppable Cécile Ravanel. Fingers crossed the new bike gets her closer and brings the heat to Cécile because that will only make for even more incredible racing to follow. 

Commencal Vallnord
The team of Cécil and Cédric Ravanel and Yoann Barelli adds junior rider Theotim Trabac for 2018. The young French rider previously spent two years on the Lac Blanc Commencal team (which you may have heard signed US DH rider, Bruce Klein, for the 2018 World Cup season), and while there are a number of new partners he will be working with as part of the transition, the bikes being the same will likely help smooth the move for him. He spent the tail-end of the 2017 season injured but prior to that won the U21 class in Millau. Expect to see him get up to speed quickly with the new team and pushing the competition in the U21 category. 
Cécile is looking at branching out a little for 2018 and isn't signed up for the full EWS schedule – she currently looks to be skipping the third and fourth rounds. After racing the Val di Sole DH World Cup in 2017, finishing an admirable tenth, she has hinted at wanting to participate in more in the future. Cécile's also expressed interest in events like Crankworx and with the Les Gets stop falling close to the time of the fourth EWS that she is skipping, it is a possibility that this is her plan.  
Giant Factory Offroad
The team, which includes Aussie frother Josh Carlson, Canadian Mckay Vezina, and Kiwi Raewyn Morrison, moves to DVO Suspension and Shimano components for 2018 after a long relationship onboard SRAM/RockShox. DVO have never been a big part of any world level race program so it's a major step for the Cali based brand. There's also talk of the brand being spec'ed on future Giant bike models as an extension of the partnership. It will be great to see how the new gear performs under the pressure of the clock when racing kicks off in Chile this weekend. 
Cannondale Enduro Team
UK World Cup downhiller, Matt Simmonds has made the move to enduro for 2018 and will be riding the Cannondale Jekyll. Matt has been a fixture on the World Cup downhill scene since 2008 when he first signed for Chain Reaction Cycles and has a number of top 10 results to his name, including a fifth place at the 2013 World Championships in South Africa. Is Matt another DH rider that will take well to the EWS format? He has shown he's got fitness on his side in the past but the one lap format of the EWS courses in 2018 could wreak havoc on the downhillers, who are more accustom to knowing the course intimately. 
Matt joins Marco Osborne but perhaps not so much Jerome Clementz, who has stated that he will be more selective with what EWS events he does as he begins to shift his focus away from full-time racing. Currently, he is yet to be confirmed for any EWS events in 2018 and as riders descend of Chile for the first event, Jerome appears to be skiing somewhere rather than heading to the race. However, he was recently racing bikes in New Zealand as part of the NZ Enduro. 
Chain Reaction Team
For 2018 the CRC/Mavic team removes itself completely from World Cup Downhill after nine years of team involvement and focuses 100% to the Enduro World Series. Hill's successful inaugural season competing in the EWS and team manager Nigel Page's interest in the series – with the addition of a masters category champion too – surely helped make the decision but its one that resulted in some team shifts. Gone is Mad Mike Jones, who wasn't ready to relinquish his goals in downhill just yet and will stay on the World Cup to focus on them. 
Despite some great World Cup Downhill results in 2017, Elliot Heap has decided to stick with the team in the move and will focus on the U21 category of the EWS. Current Irish National Enduro Champion, Kelan Grant, who became champion aboard a Nukeproof, rounds out the EWS focused squad. 
The team also moved from Schwalbe tires, which they have ridden for a number of seasons now, and are instead rolling around on Michelin treads. With Sam racing on Michelin one does wonder if we will see a tire that incorporates his feedback coming from the brand in the future? 
---