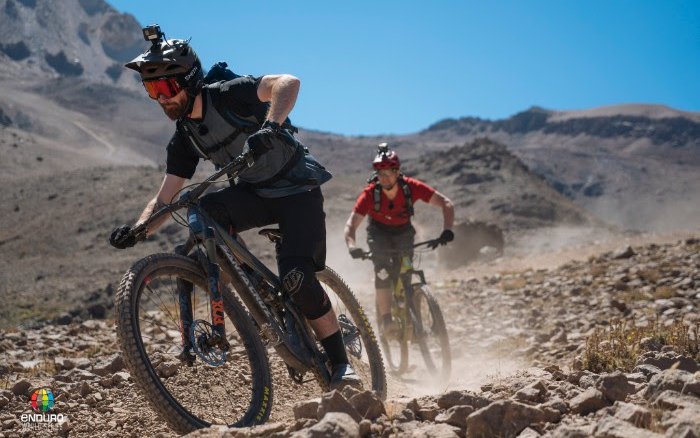 PRESS RELEASE
The 2018 Enduro World Series Kicks Off in Chile
The Enduro World Series is back and heading to Chile for the first race of the 2018 series. The new season kicks off with the Lo Barnechea Montenbaik Enduro high in the Andes mountains to the east of Santiago. It'll be a tough start to the year as 500 riders take on the famous Chilean 'anti-grip' over two days of flat out racing.
After incredible performances last year, all eyes will be on reigning champions  Sam Hill (Chain Reaction Cycles Mavic) and Cecile Ravanel (Commencal Vallnord Enduro Team) – although they're up against an ever-growing field of riders hoping to deny them that chance.
In the men's field, Hill will be keeping a close on eye on Adrien Dailly (Lapierre), the young Frenchman who proved to be his fiercest championship rival last year. Third-ranked Greg Callaghan (Cube Action Team) will also be one to watch – his win in Madeira last season proves he has the pace to beat anyone. Former champion Richie Rude (Yeti/Fox Shox Factory Racing) won the last time the series visited Chile in 2016 and Martin Maes (GT Factory Racing) was also on the podium.
In the women's race, Isabeau Courdurier (Intense Mavic Collective) will be looking to capitalise on Cecile Ravanel's decision to skip two races this season and be focused on that elusive World Champion title. Katy Winton (Trek Factory Racing Enduro) will also be looking for podiums, and it will be interesting to see how Noga Korem fares now she has her first team ride with GT Factory Racing. 
For the first time Master's category points will count towards the team rankings, so expect to see Nigel Page and Karim Amour battling it out again for Chain Reaction Cycles Mavic and Miranda Racing Team respectively. In the U21 categories reigning champions, Martha Gill and Killian Callaghan move to the senior competition leaving the field wide open – in particular watch out for Sam Hill's teammate Elliot Heap and rising star Ella Connolly from Great Britain.
Last year's team competition champions Ibis Cycles Enduro Race Team will be looking for more of the same, but they face stiff competition in the form Chain Reaction Cycles Mavic, Cube Action Team and Canyon Factory Enduro Team.
Chris Ball, Managing Director of the Enduro World Series, said: "The start of a new season is always exciting, and even more so when we kick things off in Chile. The guys at Montenbaik have been putting on incredible races in South America for ten years now and it looks like they have unforgettable race in store for us again this weekend. 
"The first race back is always a good indicator as to who's been putting in the hard yards in the gym over the winter – although that famous Chilean anti-grip can upset even the strongest of riders. We're definitely in for an interesting race and I can't wait to see who makes it to the top step of the podium this Sunday."
Full details of this weekend's race can be found here.
To follow all the action as it happens including live timing and race feed head to enduroworldseries.com/live  this weekend.