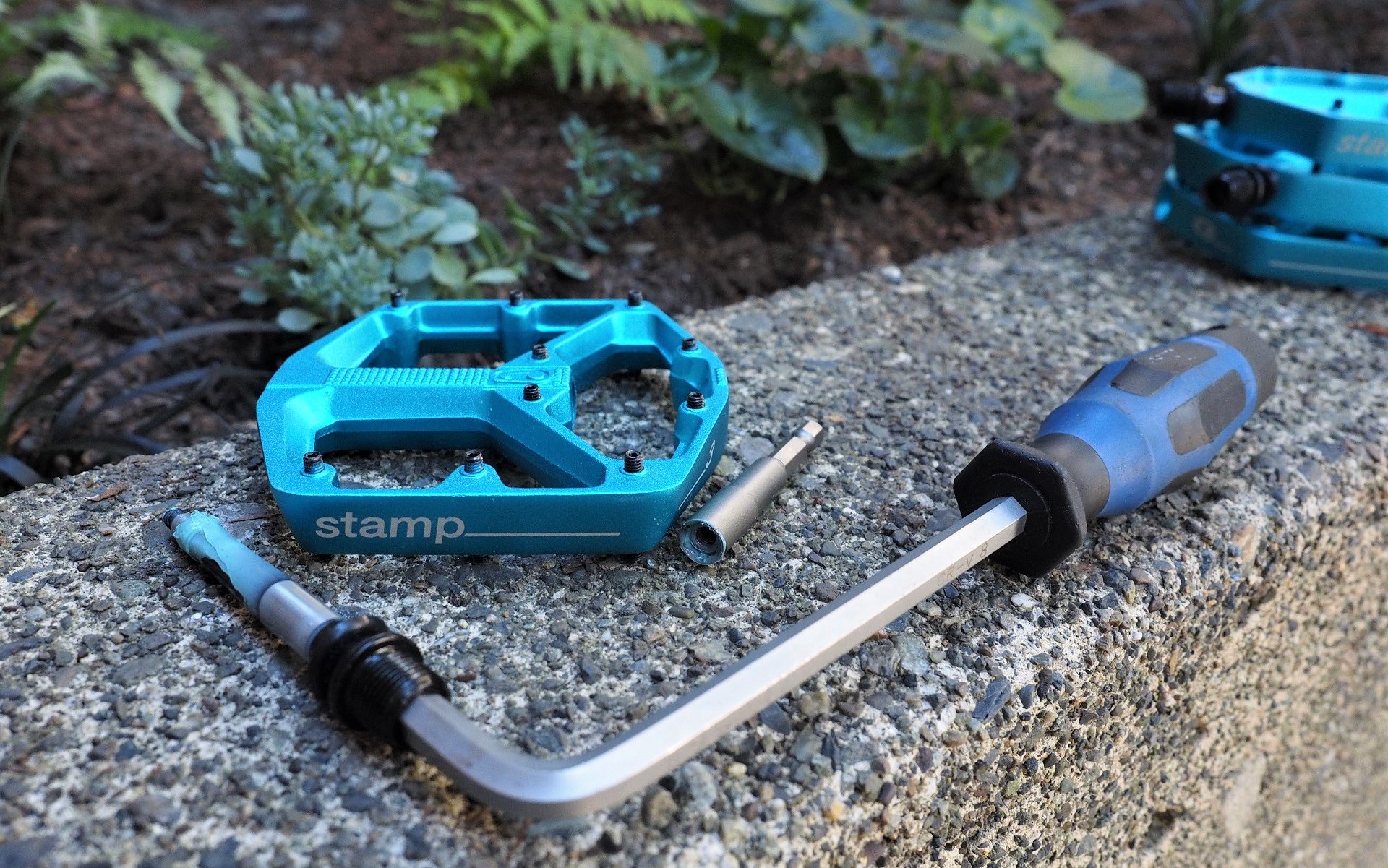 Product Release
2018 Crankbrothers Stamp 3 Pedals
Crankbrothers Stamps
Crankbrothers is expanding the Stamp flat pedal line to four models plus a signature product for 2018. Last year's 13mm thick Stamp becomes the Stamp 7 and Stamp 11 with the 11 sporting a titanium axle and sweet gold-on-black anodized finish, priced at $150 (USD) and $300 (all prices in USD) respectively. 
Down the line the $80 Stamp 2 and the $100 Stamp 3 are 16mm wide in order to house the same guts as Crankbrothers clip-in pedals. The Stamp 2 receives a heavier and less durable cast body. 
The most interesting pedal in the lineup is the new Stamp 3. 
Stamp 3
You might think the first thing that caught my attention about the Stamp 3 was the increased concavity over the higher end Stamp pedals or the fact that they're compatible with the standard IGUS bushing and Enduro bearing rebuild kits featured in the rest of the Crankbrothers lineup. In fact the most interesting thing about the Stamp 3 is that it's Danny MacAskill's signature model. It's fitting that Danny, a man of the people, decided to attach his brand to a product average riders can afford.  
Like the rest of the Stamp line, the 3 comes in two platform sizes. The smaller platform is a square 100mm x 100mm. The larger platform is 114mm x 111mm. One for big feet and one for small feet? That's generally the case but Kellen at Crankbrothers pointed out that Danny is actually running the smaller platform on his trials bike and the larger platform on his trail bike. 
Flooded
The flat pedal market is flooded with options. With the Crankbrothers 5-year warranty, concave shape, three colour options, two size options, readily available easy to install rebuild kits and the backing of arguably the most well-known mountain biker on the planet, the Stamp 3 is worth a look. 
For more information about Crankbrothers Stamp pedals hit here.