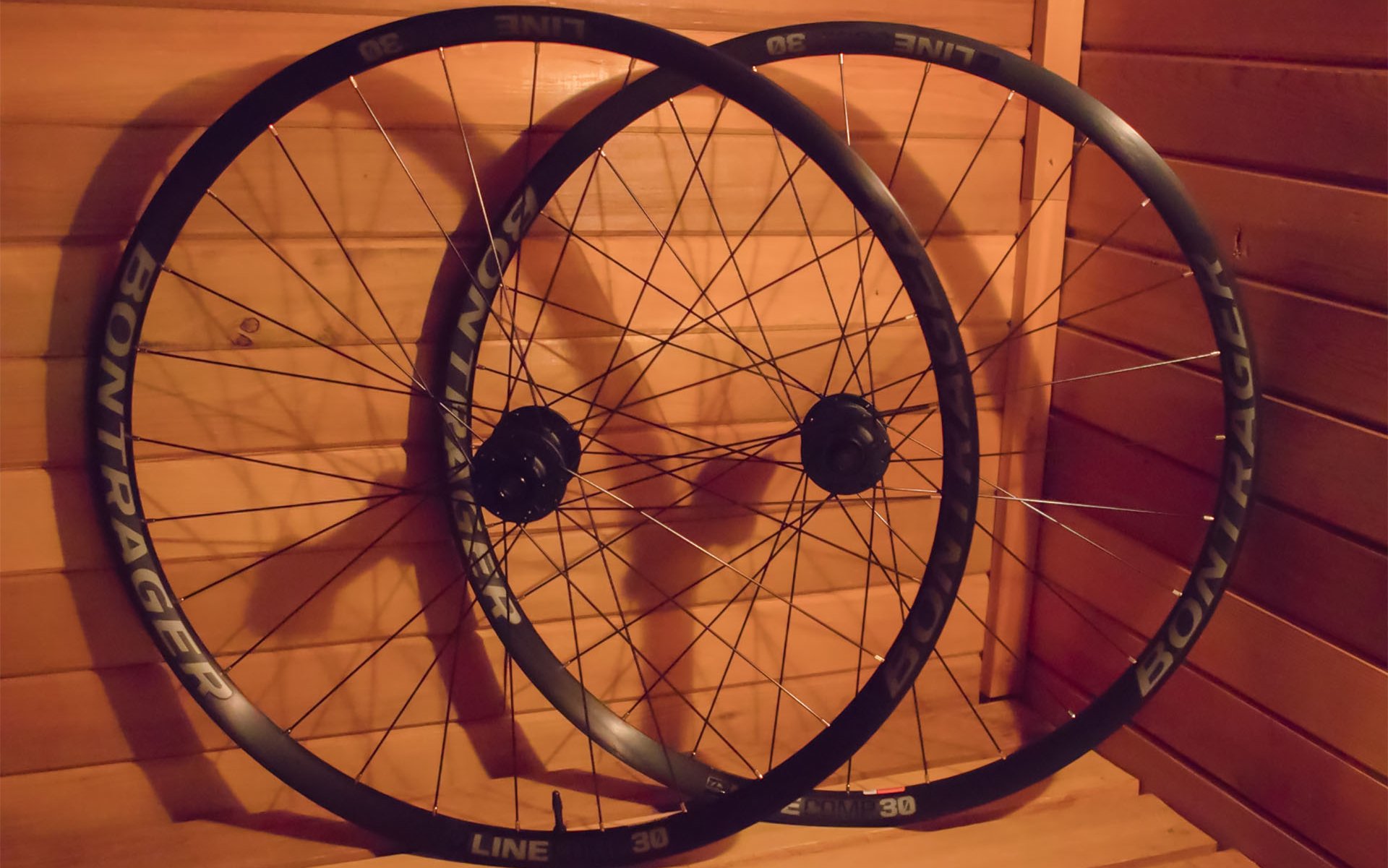 Teardown | Upgrade
2018 Bontrager Line Comp 30 Wheels (US$300?)
The Hubs
My first step in testing Bontrager's Line Comp 30 wheelset is a trip to the thesaurus to see if there's a usable synonym for game-changer. This is a $300US Boost wheelset with a 29mm internal rim width and 3-pawl 54-point engagement hubs that weighs around 2100 grams for a 29'er set. Yes $300US for both wheels. With tubeless strips and valve stems installed in the box. 
My second step is sitting down for a beer with Jeff from Bikeroom to install a $20 (USD) upgrade kit that doubles the number of engagement points from 54pt to 108pt - taking the hub from 6.7° to 3.3° rotation between engagements. There's just one problem...

...it's such an easy job it barely justifies the prep time. How easy? We were halfway through our first round at Beere (North Van's newest craft brewery) when we started. And we were halfway through our first round of beers when we finished. Jeff actually pulled the wheel apart again, and I took a few bonus photos, so we'd have a solid excuse for a second cup. 
Jeff did use his trusty Knipex locking pliers to pull off the driveside end cap. It's on fairly tight but in actual fact anyone with a firm grip will be able to pull it off by hand. For the rest of a us a gentle clamping in the vice or a few wiggles with the pliers and *pop* it's upgrade time. 
The Upgrade
For 2018 Bontrager wheels share the same hub guts through most the line from the $300US Line Comps to the carbon-rimmed Line Pro. The spoke arrangement and shell detailing changes but the hub driver is identical. Going from the 54pt engagement to 108pt engagement is simply a matter of adding three pawls and three springs to the stock freehub body.
I'm in the process of comparing Dumondetech's Pro-X Freehub Oil and Freehub Grease in cases where one would be used specifically and in cases where they can be used interchangeably. The coil springs backing Bontrager's pawl system make the Freehub Oil the obvious choice. 
For comparison a Chris King hub would run the Freehub Grease on their drive-and-driven ring system and the Project 321 hubs that both Tim and I are currently riding, with their magnetic pawl retraction, ship with the Dumondetech Oil.
As lubrication products go I've never had something recommended to me as highly as Project 321 and Industry Nine, with their leaf-spring backed pawls, recommend the Dumondetech oil. 
The Wheels
I recognize that I'm a sucker for value but still, I haven't been this excited about a Bontrager component since my buddy bought an old set of their rim brake 26" wheels for $150 and then realized they had Chris King internals. 
Ignoring the price point the wheels aren't particularly light. I'd also prefer 32x spokes over Bontrager's long standing choice to run 28x. The logo, while understated, could be a bit smaller? I'm short on out-of-the-box nitpicks. 

I'll be testing the Line Comp 30 wheels over the winter and will report back on the ride quality as well as any issues I come across. 

The Bontrager Line Comp 30 wheels are available through any Trek dealer and come equipped on the Trek Fuel EX7, Fuel EX8, Remedy 7 and Remedy 8 complete bikes. I know that not everyone loves fast engaging hubs but from my perspective don't leave the shop without the upgrade. 

For more information on Bontrager's full wheel program check here.