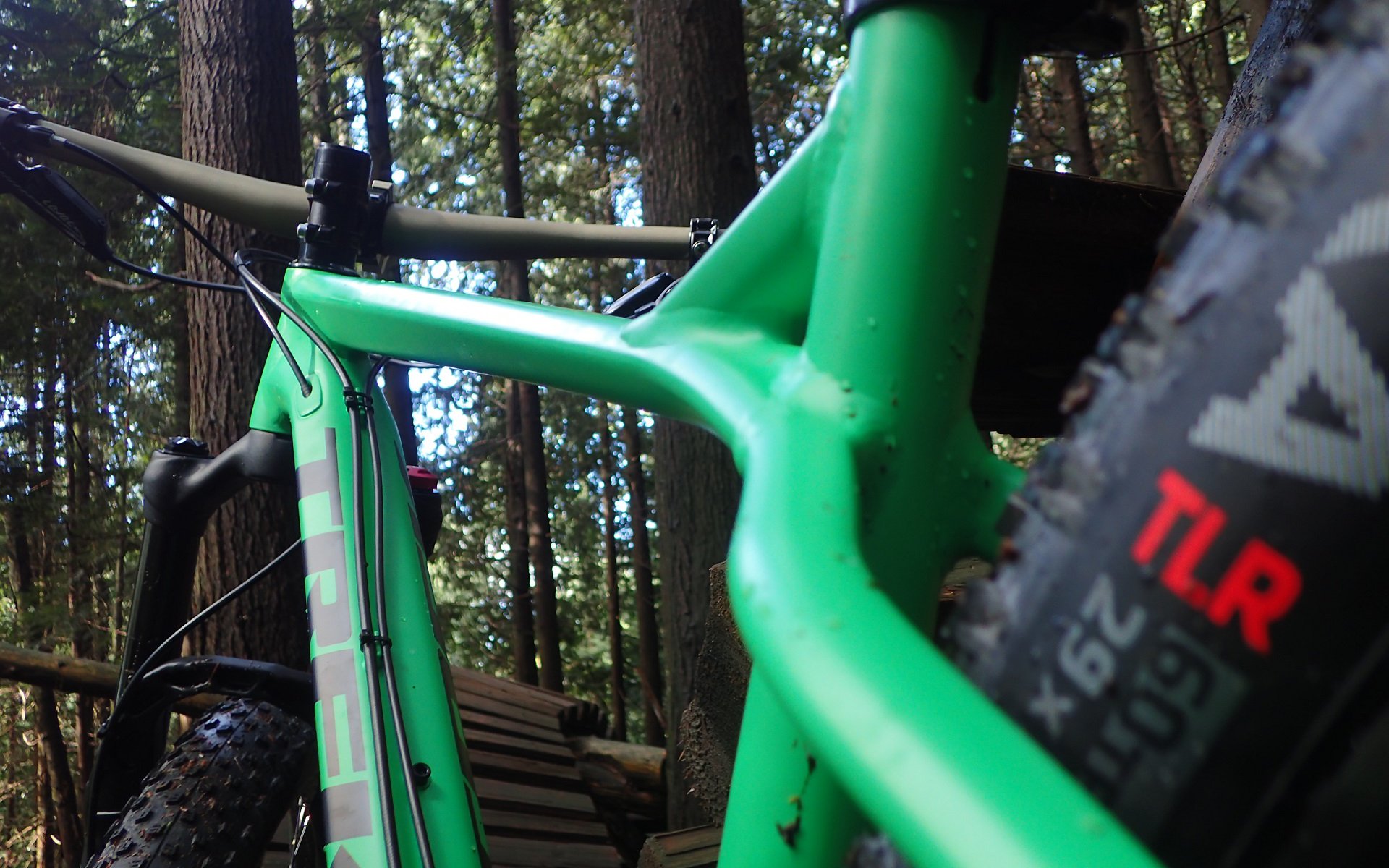 REVIEW
2017 Trek Stache 7 29+
Trek Stache 7
I've been grunting, pumping and pedaling around Kamloops' Pineview trail network for some thirty minutes with a giant grin on my face. It rained heavily the day before and trail conditions are simply amazing. Dry and pavement fast but with absolutely all the traction. 
I can do no wrong on Trek's Stache 7, the SRAM GX-equipped aluminum version of their 29+ hardtail platform. It's easy enough to keep the big hoops and massive meat spinning quickly through the rolling terrain. The house sourced Bontrager Chupacabra tires roll like big XC rubber, offer a significant degree of comfort and they are gripping everywhere. This bike is ridiculously fun. 
As the trails dry out and my descents in the 'Loops get steeper and steeper the Stache is much less at home. The stress lines on my forehead grow exponentially. I'm hard on the brakes trying to slow the steam roller down to make the next fast corner in a world where speed is the number one technical feature. 
In the manky and janky environment of my home trails, the stop-and-go-just-try-to-flow terrain often proves to be a handful for the Trek. It pedals smoothly across roots and rocks in a most un-hardtail like way. It screams down hills with an uncomfortable amount of momentum coming into steep turns.
I quickly discovered that where the Stache shines it is a brilliant package. While that's a very broad selection of trails, it certainly isn't everywhere. 
The Stache Package
I've been running a 29+ tire on the front of one of my own bikes for months - a 29 x 3" Minion DHF 3c to be specific - and it is a very different experience from riding the Stache. Where the Minion rolls slowly and provides gobs of traction in all situations along with an element of comfort, the Bontrager Chupacabra tires roll deceptively quickly for their size. The Stache simply rolls along like nothing I've ridden. 
After much debate about simply swapping the front tire out, and then installing the Huck Norris inserts in the Bontrager rubber, I came to an epiphany about the Stache that made me appreciate the bike more fully. 

The head tube angle, at 68.4°, could certainly be much slacker. I could mount up more aggressive rubber. I could go for a more powerful front brake. I could also ride a full suspension 'Enduro' bike. The Stache is a package of complementary components perfectly suited to a broad variety of mile-munching single track riding. It's a great bike riding through technical terrain as long as it's the not-too-steep off-the-brakes variety and that represents a lot of places I've ridden. 
Normally I would wax ad nauseam about the details I'd change about a bike to better suit where I live but I don't feel it's relevant in this case. I've set out to review the Stache in the conditions where it excels.  
Setup
The Chupacabra tires perform best with pressure in the mid-to-low teens. The ultimate mix of traction, support and comfort comes from airing the tires down until they feel a bit squirrely pushing into corners and then adding a few pumps of air at a time until they don't. At this point, I was bottoming the ultra supple Chupacabra tires onto the rims more often than I would have liked on my personal bike but the ride quality was excellent. With the Huck Norris system installed I kept the air pressure in the same zone and rode on with a feeling of impunity. 
Unfortunately, the stock XD driver wheel and a lack of a Boost replacement of sufficient rim width prevented me from testing the Stache as a single speed. This is unfortunate because the conditions where it shines parallel perfect trails for one gear riding. I did play around with the Trek's wheelbase via their Strangehold system. It sacrifices some level of intuitiveness for a very clean appearance and excellent performance and after I'd used it once it was fast to adjust the wheelbase at home in the shop.   
Aside from the personal preference items like bar height and saddle positions it is just a matter of setting up the Manitou Magnum 34 Comp fork. It's a straight forward single air valve affair with the basic version of their TPC damper, which includes adjustable compression & rebound. I settled around 24% sag of the forks' 120mm travel. It's important to measure with Manitou's forks as on many models the exposed stanchion is significantly greater than total fork travel due to the reverse arch design. 
The Magnum Comp is very easy to setup to work well enough as a system with the tires. The damping is especially easy to dial in with very positive clicks and notable variation through the rebound and compression range. 
That said, if I was buying a Stache 7, the one upgrade I'd want to make right out of the box is to have the Dorado air spring from the Manitou Magnum Pro installed. While the Comp air system is quite decent the Dorado air system is one of the best feeling on the market and it offers a much higher degree of customization to work as a system with the Plus sized tires. 
Unlike a fork swap, which is unnecessary because the TPC damper is quite effective, this is a cheap and easy upgrade to have done at the time of purchase, adding around $100 to the price of the bike. 
Fit Issue
I do have one fit issue with the Stache. I've talked to a couple of owners of both the carbon and aluminum Stache models and I'm the only one who has the problem but I'm mentioning it as I think it is easily discovered in a test ride and would certainly be a deal breaker for me in terms of buying the bike.
With the saddle lowered, pedals level and my knees bent, my inner knee contacts the seat stays when I lean the bike into turns. This likely would not be much of an issue except that I contact the stays where they have been compressed for vertical compliance and flared for tire clearance. I've had a couple of Really Painful knee-frame contacts despite being aware of the issue. 
Rolling About
Punching up climbs and then diving into any descent where momentum is rewarded is the target fun zone for the Stache. It also excels on long epic rides where it is efficient and forgiving. The aluminum frame, Manitou fork, Chupacabra tires and geometry made for an awesome package once I swapped out the stock 750mm bar for something wider. 
The aluminum frame is a decidedly modern affair. That's true of its appearance but also in that its asymmetric rear-end isn't a total ass kicker over long rides. The big 29+ tires run with pressure in the low teens maximize the comfort factor as well. The Manitou Magnum fork has modest 34mm stanchions affair but it's on the leading edge of chassis stiffness compared to any 29'er forks I've ridden, both laterally and fore-aft. 
When trails don't push past modestly steep, exposing the climbing challenges of the extra large hoops on the way up or the Level brakes on the way down, the Stache is a smile machine. It loves to be playfully pumped through technical sections, helped by the short 420mm chain stays, and leaned hard into turns. The Bontrager Chupacabra tires are surprisingly predictable except in greasy conditions. 
The tires are proficient grip monsters when climbing and they hold traction very well on descents for rubber that rolls this fast. When the tires do break loose it's easy to rediscover traction - just let off the brakes. 
In addition to being a delight in rolling terrain the Stache is comfortable, fast and efficient to ride all day. Bike packing isn't my thing but I think the Stache is a great candidate for multi-day adventures that is also a wicked fun trail bike. Just throw on some alt-bars for the extra hand positions and all-the-frame-bags.  
Sustained Climbing
The Stache is happy to spin along all day but it truly rewards out of the saddle climbing efforts. Normally I'd attribute this to the slack (68.9° actual | 73.5° effective) seat angle but in this case I think it is entirely about keeping the big rubber rolling. It's a decisively easier bike to ride with momentum on my side. 
I installed my Chromag Trailmaster saddle which allows me to perch on the nose and grind up plodding fire roads when my legs are tired but a spec change I most appreciate when climbing the bike locally is the addition of a dropper post.
Any time climbs get steep and technical I drop the post a couple inches and stand up. Climbing traction is never an issue with the Chupacabra tires run soft - even in greasy WTF moments - and the Trek likes to be pounded around in a big gear. 
Out of gas on a long day of turning the 29+ meat I could definitely go for an easier ratio than the 30t x 42t low gear combo, but for most of my mileage it was perfect and I used a broad range of combinations with frequent shifts. 
Climbing is where the GX drivetrain shines the most. It shifts up every bit as quickly and crisply as SRAM's top-end Eagle components and I crunched many a shift under load with nary a complaint. The GX trigger lacks the adjustable thumb position of the higher priced drivetrains but it is perfectly situated for me and the engagement feels as positive as any shifter I've used. 
For my personal use, given I'm happy to give up some gear inches at the high end by running a smaller ring, my Stache experience reinforces for me that GX is probably the best value blend of feel, performance and price on the market. Oh, and no derailing while backpedaling in any gears. Thank you. 
I'm not suggesting that the Stache climbs like a carbon XC bike with a set of tiny 2.1" semi-slicks. But, for a capable trail bike with a lot of up-side it transforms pedaling effort into uphill momentum very capably and under the right engine the Chupacabra tires roll fast enough that I could see it being an excellent Clydesdale race bike on a lot of tracks. 
Steep Descents
Anytime a descent places a premium on maintaining momentum the Stache rips along amiably, easily keeping pace with much more aggressive full suspension bikes. The Chupacabras rail imaginary berms and the whole package loves to pump undulations. 
The Stache falls short on steeper terrain. The SRAM Level brakes fail to arrest the big wheels when traction is available and when it isn't, the Chupacabras break loose in a hang-on-for-your-life fashion. The sagged head tube angle is too steep for aggressively charging on a hardtail. In these situations, it is the least pleasing bike I've ridden in years. 
Adding a 125mm dropper post and the Huck Norris system significantly broadened the range of descents I was comfortable riding on the Stache but for local terrain I was still very selective about where I would take the bike. As long as conditions weren't too greasy it was fun up to Blue level descents including 7th Secret or Expresso and absolutely ripped along on Bridle Path and the surrounding XXX-C trails. 
I know that swapping over the big brakes and a 3" DHF from my personal bike would have broadened the range of descents that the Stache could handle and I recognize that all bikes are fairly adaptable. Any changes in that direction though are going to erode what makes the Stache a beautiful machine to ride so I think it's more reasonable to recommend other bikes, even other hardtails, for aggressive riding and leave the Stache as is. 
I Love Stache
I've had a tonne of fun on the Stache. Location dependent I could definitely see it being my only bike - with a 3" DHF 3c on tap for road trips and I know a lot of riders for whom it would be a great second bike. It is dialed out of the box and I think it offers a lot of value for $2700 (USD). Or maybe call it $3000 (USD) with an X-Fusion Manic dropper post and the air system in the fork upgraded to Manitou's awesome Dorado air system. 
Maximizing the Stache experience is all about being honest about where and how the bike will be ridden. We're well over a decade removed from the idea that everyone needs a burly bike with lots of travel and as much as I'm passionate about hardtails with bleeding edge slack head tube angles, hugely aggressive (slow rolling) tires and DH brakes, I recognize that that's not an ideal setup for most places. 
If the Trek Stache looks like a bike that would be fun where you ride then it's probably one of the most fun bikes for where you ride. I highly recommend you talk to your local Trek dealer about a demo because the total package creates an experience, and value, beyond the sum of its parts.