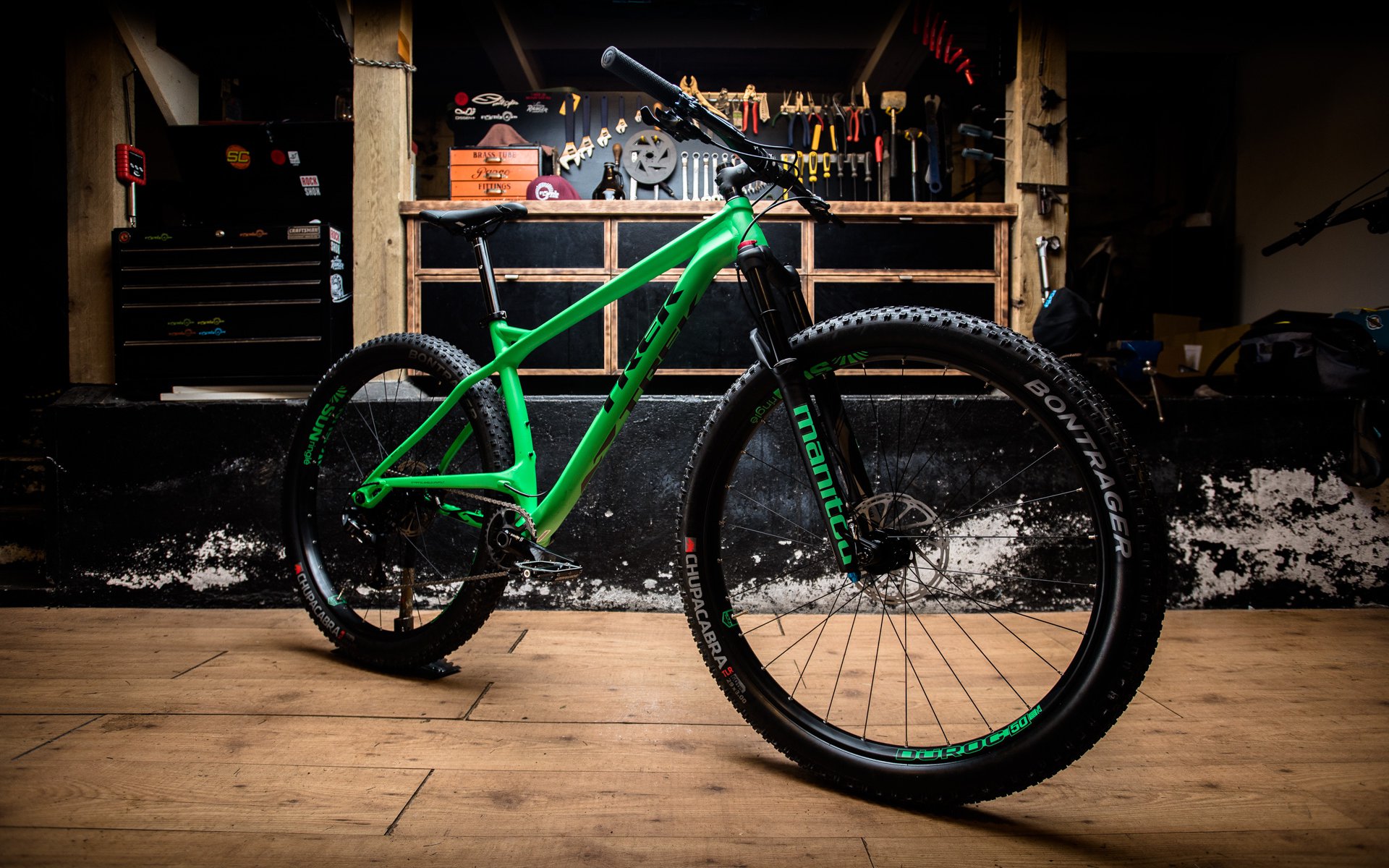 First Impressions
2017 TREK STACHE 29+ Hardtail
Build It
Unpacking the aluminum Stache 7 I can't help but chuckle at how much frame manipulation is taking place in this 'simple' 29+ hardtail package. I've seen the carbon version in person but that was less unexpected. Companies have been making crazy looking carbon bikes since the Trimble. 
There is no shortage of aluminum full suspension bikes with ample aluminum manipulation but aluminum hardtails are usually far more straightforward. From the captured sliding drop-outs*, to the elevated driveside chainstay, to the highly formed seat tube there is a tonne going on.  
But I'm getting ahead of myself. Putting the Stache in my bike stand I notice a separate cardboard box. I guess no one told Trek that no one is including cheap plastic pedals with bikes anymore?
In fact it's a set of 29+ tubes. Yep, the Stache comes stock set-up tubeless and ready to roll with my first two tubes courtesy of Trek. Maybe not a big deal but thoughtful nonetheless. Straight out of the box the bike shifts perfectly and the brakes are expertly aligned. I drop the fork and put a North Shore-suitable amount of grease on the headset bearings, install the front wheel and it's ready to ride. 
I've never had a bike go together so well out of the box. Well played Trek. 
Chupacabra
Apart from the highly manipulated aluminum frame, the heart of the Stache is its Bontrager Chupacabra tires. The tires are highly rated for good traction, light weight, relative durability and fast rolling. Unsurprisingly, as a front on greasy spring Shore trails, the tire quickly busts through its comfort zone with anything but the most diligent braking pressure.  
With the tires aired down to 14/15psi they offer a surprising level of grip but the light sidewalls make me cringe every time I bottom the rim.

My plan is to ride the stock tires with low air pressure, combined with the Huck Norris system to test the claim that the 85-gram-per-wheel weight of the system can be offset by running lighter tires. Barring that I'll swap the Maxxis 29 x 3" DHF 3c from my personal ride to properly test the bike with the one out-of-the-box upgrade I'd suggest to Stache riders in similarly greasy climes; a mean-ass front tire.
GX Drivetrain
This will be my first longer term experience on a SRAM GX drivetrain which is the most interesting in SRAM's product line. In my previous experience with fresh GX groups, the system was as fast and accurate as the more expensive lines. It takes on weight compared to an X01 or XX1 setup and has less gear range but unless durability is an issue I think it will present the best value in SRAM's lineup. 
My only concern was ergonomic. The shifter does not have the adjustable lower paddle of SRAM's more expensive options - and I always seem to be adjusting the paddle when I get on a bike someone else has ridden. My concerns were assuaged on my shake out neighbourhood pedal. Shifting is fast and natural. 
Dropper Post
Usually when I'm looking at a mountain bike in the $2100 (USD) | $2700 (CAD) range I feel like companies are doing a disservice to riders by not bumping the price range up a touch and including a dropper post. It is an upgrade that I foresee the average Stache 7 owner adding in short order and something that is included in both of its higher-priced carbon brethren. 
That said, in this case I greatly appreciate Trek leaving the dropper post decision up to their customers. The highly manipulated seat tube, curved to achieve the holy grail of shorts stays and tire clearance, restricts the space available for a stealth dropper unless you are the long-legged sort.
With an 18.5" frame size chosen based on reach and top tube length, I can just barely run a 125mm X-Fusion Manic post without the stealth mechanism bottoming out inside the frame. The X-Fusion has a relatively low minimum height thanks to the low profile seal head and clamp so those with shorter legs than my 32" inseam will likely want to look at a 100mm post. Another alternative is to go with the external version of Fox's Transfer post which has a fixed cable but ditches the actuator reducing its overall length. 
Stache Hits
The Stache 7's green paint job is Bright Green. Sure, colour choice is 100% personal preference but like the bike, the colour is anything but boring. Actually, if anything I think Trek missed an opportunity to have SUNringle fully colour match the Duroc 50 SL rims. Can you say green SUN Doublewides circa Freeride?
I would prefer geometry that would feature a slacker head tube angle but this is unapologetically an anywhere-and-everywhere trail bike with a static 68.4°. 
The Manitou Magnum 34 Comp fork feels good out of the box and offers a stiff chassis. 
I think the 30t chainring is a good match for the bike's 30lbs weight, big wheels, giant-ish rubber and 10-42 cassette. Some riders might prefer a 28t or a 36t ring but most will likely be satisfied with the 30t until it wears out. 
Stache Misses
The Stache has an actual seat tube angle of 68.9 and a claimed effective angle of 73.5 which offers a great pedaling position while not approaching the bleeding edge. Where I'm at a loss is why they've included a 1 cm offset seat post. Most riders prefer a steeper STA than I do so if I have the seat centered on the stock post I can imagine most customers will prefer a post with no offset, and would likely buy a dropper post with no offset for this frame.  
How cliché is this? I'm going to jump right in as the obligatory reviewer complaining about a narrow stock handlebar. It's not that Trek doesn't get wide handlebars - they manufacture multiple 820mm Bontrager options in carbon and aluminum including an 820mm version of the Rythm Elite on the Stache. 
I can't ride an 820mm bar personally but I can cut it down to my preferred 780mm width instead of ditching the 750mm stock option and having to dump money into a cockpit upgrade on a brand new bike. Trek makes two larger sizes of the Stache and I doubt many dudes looking for a 456mm Reach | 646mm Top Tube are going to be happy thrashing this aggressive 29+ hardtail with the stock cockpit. It's a cheap and relatively easy upgrade but it's money that could be put towards a dropper post, Maxxis DHF 3c front tire, pedals and etc. 
Must Stache Rides?
I'm looking forward to exploring the Stache's capabilities. It looks to be capable of taking multiple wheel and tire sizes and easily set-up single speed. I'm betting it can survive in some pretty aggressive terrain thanks to its huge wheels, neutral geo and ample travel up front. 
Like any bike that straddles categories, there is probably no such thing as a perfect ride for the Stache but I'm absolutely happy to be proven wrong. Worst case scenario, for someone without a massive stable of bikes I think the highly unique Stache will handle diverse duties at a reasonable price.
For more on the Trek Stache click here...
*Yes, I will be single speeding this bike as part of the test period. Check out those dropouts!