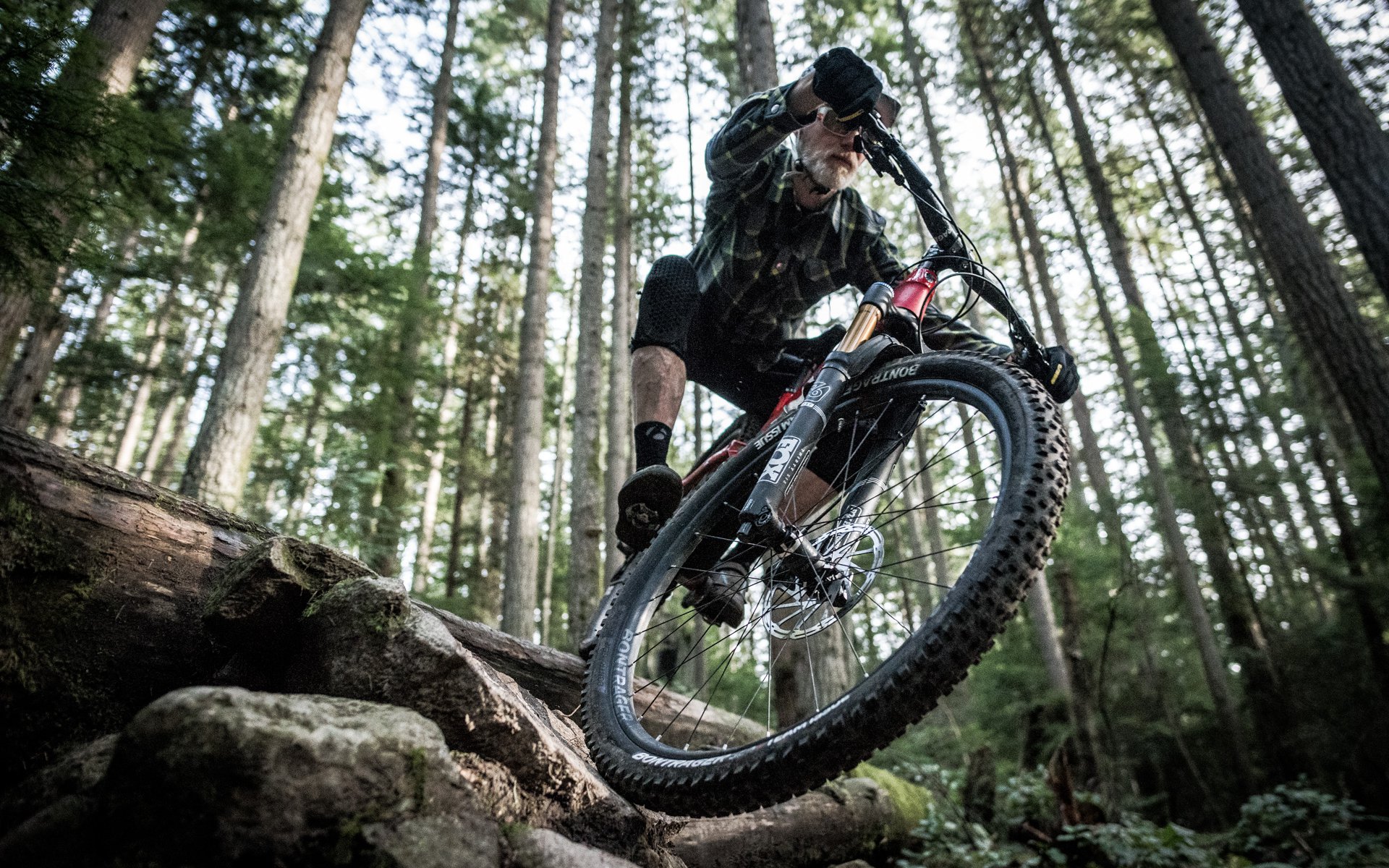 GEAR REVIEW
2017 Trek Slash 9.9 Review
Winter this year has been a bit anomalous. We're typically blessed with at least a passable selection of snow free trails throughout the dark season; this year even the lowest riding zones were ensconced in frozen horridness for over a month. So the red shred sled gathered dust in favour of the snowboard. Proper tools for the job, etc. The rains briefly returned recently, granting a reprieve from the grim frostbitten gloom; it was time to get tires on dirt again, blow off the cobwebs, and ruminate a bit about this bike. Detailed specs, geometry, and pretty pictures of the 2017 Trek Slash can be found in the First Impressions installment.
Reveling in a momentary lack of snow. Much to my delight, this frame fits a large water bottle. Photo – Perry Schebel
Creature comforts (front): The cockpit is nicely functional, if not blingy. All Bontrager, all the time, is the theme. The lock-on small diameter grips were grippy. The 780mm carbon bar shape felt fine, though I'd like a shade more length; everything should come in a fashionable 800mm. The 50mm stem fit well, though I might go 40mm if I was living with the bike. Personal fit preference. While we're here let's chat about the Lock Block. While I'm not entirely convinced this needs to exist (ie, the plump tubed front triangle is so stiff, I can't imagine there'd be a tangible difference with a bit of contouring to clear a fork crown), I didn't find it to be detrimental in any way on the trail. There was never a want for more steering lock on the tightest of switchbacks, just my x-up wheelies that were hindered. The keyed mechanism is simple enough and requires using the proprietary upper headset and spacers, but you can use any stem you please.
The Knockblock keeps the fork from knocking the straight downtube.
Creature comforts (rear): No complaints about the Bontrager Evoke saddle. Reasonably minimalistic, with adequate padding. Though the Bontrager Drop Line dropper post worked great out of the box, with a nice ergonomic, low effort lever, the post movement began to feel a bit sticky at the 1.5 month mark, getting progressively worse with time (albeit variably so; it's nearly seized on a few occasions, only to loosen up again). Regardless, whether a breakdown of lubrication, ingress of contamination due to poor sealing, or a combination of both, the post needs some loving. A bit disappointing. And while the 125mm of travel is adequate for my tastes, I'm sure heaps of people that would rather see a 150mm post on a big bruiser bike like this.
This long legged wagon wheeler turned out to be more nimble than expected; anti-fun this is not.
Brakes: I really like the performance of the Guide Ultimate brakes. Great lever feel with effective reach and engagement adjustment to get things just right. Though the reach adjustment feels a bit unrefined to these fingers (if you're going to call them "Ultimate", they should be dialed, no?). The stoppers provide good, consistent power and modulation throughout the review period. No performance complaints.
There is a rotor over there. It's just hiding behind the 50t Eagle pie plate.
Tires: A bike of this stature probably deserves meatier rubber. The relatively small knobbed 2.4″ Bontrager ES4 Team Issue treads work decently on harder surfaces, and roll well, but more aggressive knobs are in order when things get steep, deep, and chunky.  On second thought, I'd probably just toss a big front tire on, and burn through the stockers on the back; I don't mind a drifty rear.
Given Dave's choice of shooting positions, I'm convinced he fears my avoidance abilities.
Wheels: Again with the Bontrager here – the Line Elite 30 wheelset sports aluminum rims with a 28mm inner width. 28 straight-pull spokes are utilized per wheel. I remember back in the old days when a 28 spoke count was relegated to xc use (on wee 26″ wheels). That these few spokes can successfully support a basher 29″ wheel impresses me. The future is rad. Wheels are nicely built – they stayed true and well tensioned for the duration of the test. The rims are decently robust, not picking up any significant dents, which I found a bit surprising, really. Though I haven't spent huge time on 29ers, evidently the improved rollover has the added benefit of impacting square edges less severely and/or frequently, resulting in less abused rims than I'm accustomed to. I suppose that's pretty intuitive, and shouldn't come as a surprise. The hubs functioned just fine, with no appreciable bearing degradation. So: not terribly sexy, but effective hoops.
Much to my delight, big wheels + slack angles do not necessarily equate to an inability to handle tight tech turns tremendously.
Drivetrain: I like the Eagle. I've gotten accustomed to the aesthetics of monstercogs, and have embraced the wide range gearing. We have our share of long tech climbs in this part of the world, where even billygoats can make use of the 50T big cog; I was certainly happy to have the bail out gear, and am not ashamed to say it was used frequently. Shifting was spot on right through the test period, and the chain stayed put on both ends. And yes, you can backpedal in the big cog. The derailleur is extra dangly, but big wheels give additional ground clearance; I only tagged the thing once, with no functional damage. It's worth noting (the thrifty man that I am) that maintaining this drivetrain will put a hurt on your wallet – the X01 derailleur is $220 USD and the XG-1295 cassette is a hefty $360USD.
The big 36 is a great match for this burly chassis.
Fork: I like the Fox 36; stout, well supported, with a useful range of fluid flow adjustability. Trek chose to spec the travel adjust (130/160mm) Talas iteration on this bike. I'm split on the merits of this vs the non-adjustable Float. As a long-legged technical trail slayer, having the ability to dump the front for super tight & steep climbs can be useful. I found no need to drop the fork on moderate climbs but it worked well to help balance weight distribution when climbing walls, as well as tighten up the front a bit for intestinally tight switchbacks. That said, as a race machine you're more likely to be conserving energy and walking bits steep enough to benefit from this, and would probably be better served with the Float fork that offers the ability to tune the spring rate curve (via volume spacers) to better dial in downhill performance. I'd prefer a tad more ramp in the Talus' air spring, but volume spacers are not available for this fork. More a nitpick than a deal breaker, though; it's still a more than capable device.
" I like the Fox 36; stout, well supported, with a useful range of fluid flow adjustability."
Shock: I'm pretty happy with the Fox X2 air shock. It's jam-packed with a plethora of tuning adjustments that will keep the most neurotic of tweakers entertained – including low & high speed compression as well as low & high speed rebound, all with a huge range of adjustability, from locked out to pogo. It does take a bit of work to get things sorted. I started with the Fox recommended settings to get things in the ballpark and fettled from there. Supple and supportive, with a very coil-esque, relatively linear air spring, this one of the best shocks I've tried.
Here are the numbers again for handy reference. Click to embiggen.
Frame bits & bobs: This is a nicely refined, well constructed piece of carbon (as it should be for the price). Cable routing is clean and rattle free (though there is a bit of rubbing at the lower swingarm pivot), and protection is nicely integrated at all the right spots. All the pivots remained tight until I returned the bike. The angle tweaking upper seatstay pivot flip chips are easy enough to swap, though I left it in the slack (65.1°) position after a couple rides in the steeper (65.6°) setting. I prefer my BBs on the lower side; in steep mode it sits at a highish 14″; slack mode drops it to about 13.5″. Not as slammed as some other rigs of this ilk, but a bit of extra pedal clearance is nice to have when stuffing a plow friendly bike into the chunder. Fewer neurons need to be allocated to pedal position awareness.
Local builders really get into the spirit of the season. Climbing on this bike: surprisingly effective.
This bike is a worthy facilitator to stepping up your game.
Ascension: I was pleasantly surprised how well such a long-legged rig could climb – even on steep tech. I did make use of the two climbing aids in various situations however. For most climbs I'd use the compression tweaking lever on the Fox X2 shock – which adds a good bit of mid stroke support, reducing suspension movement and sag when things get steep, but still offering enough traction for grinding up techgnar sections. Without the climbing switch engaged, there's a good bit of suspension movement under hammering; an xc platform this is not. Unsurprisingly, big wheels plus low gearing conspire to make steep tech climbs a less hateful experience. The effective seat angle and reasonably lengthy reach was spot on for my body geometry; a nicely balanced, decently efficient position to grind out the vertical meters.  
Opened up is the Slash's happy place.
Declination: Though I'm relatively new to wagon wheels, I'm sold on their efficacy on rough & rugged trails. Hard to deny physics, they're smoother and less fatiguing in the chunder, which is where I spend a good bit of my time. As an enduro race rig, the combination of long travel (150mm rear / 160mm front), big wheels, and slack angles makes this a supremely forgiving machine – especially welcome on unfamiliar trails. No need for surgical line precision – point and shoot and this will deliver your ass down the hill in speedy fashion with minimal drama. The rear suspension is skewed a bit more towards plush than pop and doesn't offer as firm a platform as something like the Yeti 5.5c, so it's less adept at pumping features or putting the power down sprinting. It's not terribly wallowy per se, just quite active. It does however, beg to be smashed through the rough. It's fair to say it may not provide the input stimulus of a shorter, steeper, smaller wheeled device at similar speeds, but it's certainly planted and confidence inspiring. This bike is a worthy facilitator to stepping up your game.
Gas to flat. No need to step gingerly, this bike lives to be mashed into the terra.
That said, this bike is still fun at less than race mode speeds, and not the unwieldy thing some might assume. The North shore is relatively tight / not so fast and the leggy bike handles this stuff well, as long as you're not taking the back seat. This bike rewards a centered, aggressive riding position. Don't be afraid of pushing the front and it will carve nicely. It even handles janky stunt-laden trail surprisingly well. It's a nicely balanced, neutral handling chassis, that ended up being more versatile than expected.
Yes, we made extensive use of a small riding zone for this shoot. Now buried in snow again, much to my chagrin.
Final Thoughts: The bike snob in me is a little underwhelmed with the extensive use of house brand parts on a 5-figure superbike ($11k CAD / $8k USD – bit of a spread there). While these components work quite well, the bike lacks the boutique-ness that some other brands offer at similar price points by hanging trick brand name bits. At an eye-watering $4.8k CAD / $4K USD, the frameset price doesn't encourage custom builds. That said, this is a ridiculously capable chunder pig that would make a fantastic big hit trail slayer, or ripper enduro race rig. If you prefer your bikes on the smashy end of the spectrum, this is worthy of serious consideration.
For more on the Trek Slash visit trekbikes.com/slash
---
Feeling Slashy?