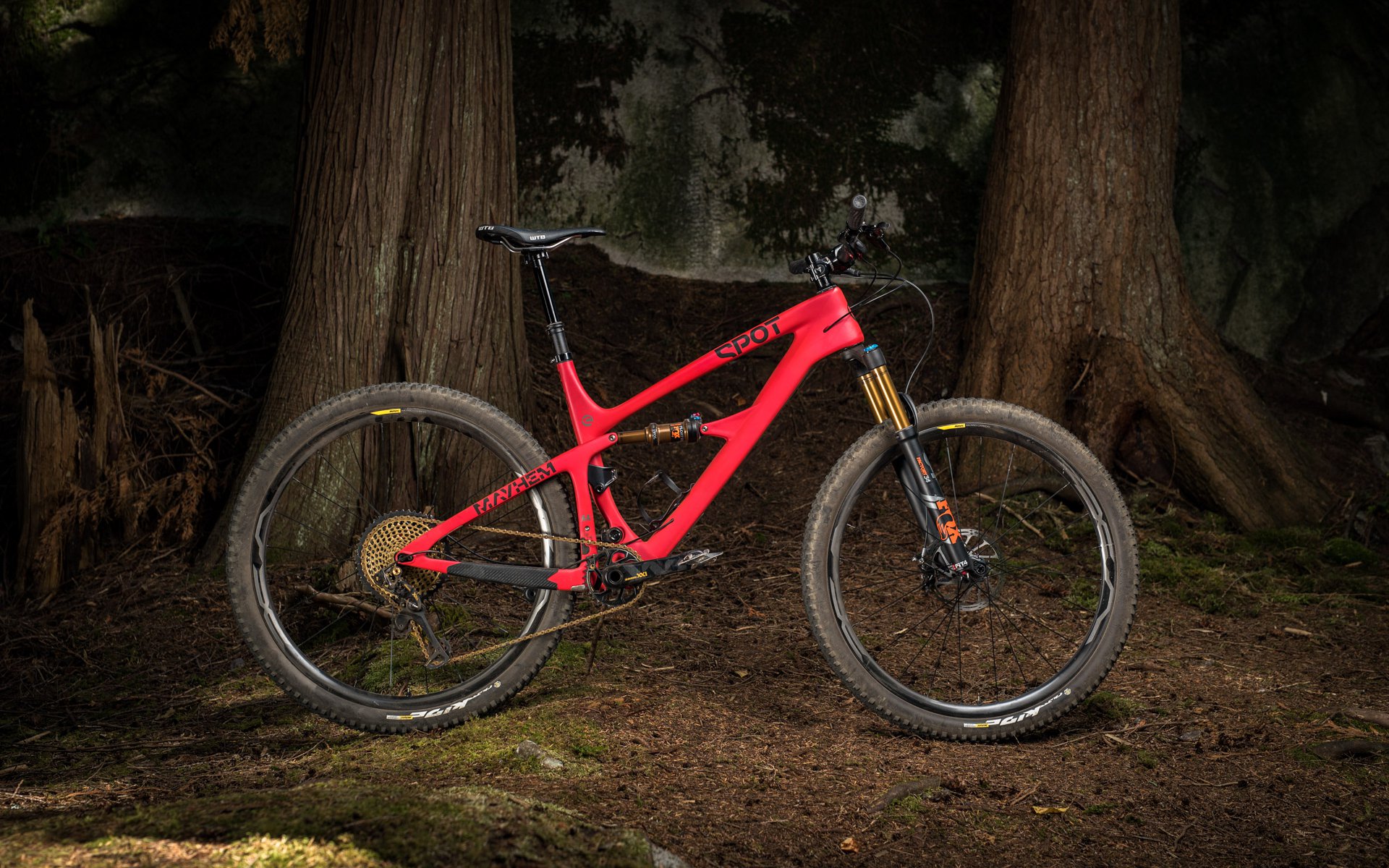 First Impressions
2017 Spot Mayhem 29
I've been spending a bit of time on 29ers that inhabit the heavy hitting end of the spectrum lately, so I decided to jump on something skewed more towards trail than enduro for a change of pace. Cam took a shine to the Spot Mayhem at the Sea Otter launch, and I too was intrigued by the novel suspension platform and svelte aesthetics from a brand that has little exposure in our neck of the woods. The opportunity to give one a go was met with very brief deliberation. Let's take a look. 
About Spot
The brand was birthed here in Vancouver, BC, building steel hardtails (welded by local torchwielding legend Mike Truelove). The company moved south of the border before running out of steam and was eventually sold to the Lumpkin family - founders of the Avid brake company, who are currently based out of Golden, CO. Hardtails have been the core of their product line (though diversified into city, road and CX as well as mountain) and this is their first foray into the realm of full suspension platforms. As such, introducing a unique new suspension design, it's a fairly ambitious launch. 
Pricing
There are three build kits and a frame only option available - our review rig is the top of the line "6 Star" build with a hefty $8,700 US price tag. As should be expected, all components are top tier at this spec, with nary a cut corner to be had. The cheapest complete build is $5,800 US, and the frameset goes for $3,200 US. The size large tester weighs 28.6 lbs on my scale, with XT Trail pedals (not included). 
Geometry
There's nothing too radical going on here. I'd describe the numbers as thoroughly contemporary. A slack-ish head angle paired with a steep-ish seat tube angle, and a long-ish reach. It's nice to see the effective and actual seat tube angles don't diverge much, so those running longer seat post extensions aren't deprived from the benefits of the steeper angle. Travel is balanced at 130mm front and rear. Peruse the cold hard numbers:
| | | | | |
| --- | --- | --- | --- | --- |
| Frame Size | Small | Medium | Large | X-Large |
| Eff. Top Tube Length | 22" (560mm) | 23" (585mm) | 24" (611mm) | 25" (636mm) |
| Seat Tube Length | 15" (381mm) | 17" (432mm) | 19" (483mm) | 21" (533mm) |
| Eff. Seat Tube Angle | 75.7° | 75.7° | 75.7° | 75.7° |
| Actual Seat Tube Angle | 73.9° | 73.9° | 73.9° | 75.7° |
| Head Tube Length | 4.3" (110mm) | 4.7" (120mm) | 5.1" (130mm) | 5.5" (140mm) |
| Head Tube Angle | 66.7° | 66.7° | 66.7° | 66.7° |
| Bottom Bracket Drop | 1.2" (30.5mm) | 1.2" (30.5mm) | 1.2" (30.5mm) | 1.2" (30.5mm) |
| Bottom Bracket Height | 13.6" (345mm) | 13.6" (345mm) | 13.6" (345mm) | 13.6" (345mm) |
| Wheel Base | 45.2" (1147mm) | 46.2" (1174mm) | 47.3" (1202mm) | 48.7" (1236mm) |
| Front Center | 27.9" (708mm) | 28.9" (734mm) | 30.0" (762mm) | 31.0" (788mm) |
| Rear Center | 17.3" (440mm) | 17.3" (440mm) | 17.3" (440mm) | 17.6" (448mm) |
| Reach | 16.0" (406mm) | 16.9" (429mm) | 17.8" (453mm) | 18.7" (476mm) |
| Stack | 23.6" (599mm) | 24.0" (609mm) | 24.3" (618mm) | 24.7" (627mm) |
| Standover | 27.7" (703mm) | 27.9" (708mm) | 28.1" (714mm) | 28.3" (720mm) |
Stop & go bits
Not a penny pinched: all top tier SRAM. The Mayhem sports a full XX1 Eagle drivetrain with the pimp edition gold chain & cassette. Guide Ultimate brakes handle stopping duties. Rotors are on the wee side at 160mm rear / 180mm front. 

Hoops
Wheels and tires are c/o Mavic. The XA Pro Carbon wheelset sports (unsurprisingly) carbon rims laced to a diminutive 24 straight pull bladed spokes, front & rear. The nicely sculpted hubs are Boosted, as is de rigueur. At a 26mm inside width, the rims aren't terribly fat, but they provide a nice profile for most tires you're going to run on this bike. Advertised weight for the bare wheels is a svelte 1590g. Tires are Mavic Quest Pro 2.35's front & rear. The bike was delivered set up tubeless. 
Damping Devices
Forking duties are handled by a Fox Factory 34 Float, with the FIT4 damper, sporting 130mm travel. In the rear resides a Fox Factory Float DPS Evol shock, with 57mm stroke. 
Human Interfaces
No house brand bits here. Up front: a Raceface Next 760mm x 20mm rise carbon bar, 60mm Raceface Next stem, and ODI Vans slip-on grips. Seating is provided by WTB - a Silverado Pro perched on a Fox Transfer Performance Elite (150mm travel) dropper post. 
About The Suspension
The Living Link platform is a short link 4 bar with a twist: in place of a lower link with bearings  at each end is a short carbon leaf spring that pivots at the front triangle, but is rigidly affixed to the swingarm, requiring a bit of flex to achieve the full range of motion throughout the suspension travel. It's a fascinating bit of tech. It provides several design opportunities: eliminating a set of bearings, providing a more laterally rigid interface, and most interestingly for me allowing for a secondary mode of shock spring rate tuning. 

I pulled the shock off to get a feel for what was going on down in the nether regions. It's pretty unique. Unlike a conventional linkage system that will cycle through the travel freely, there's a bit of spring resistance as it moves through the travel - the rate ramps to around mid stroke, then diminishes towards bottom. The force to overcome the leaf spring flex isn't significant, but it's certainly noticeable. An impressive bit of design nerdery employed here. In a nutshell the leaf spring is at maximum flexure around the sag point to mid travel range, giving the air shock a bit more support where it (traditionally) needs it the most.

How this novel suspension platform works in practice I'll address in detail within the scope of my long-term review, but first impressions are positive. Said midstroke support gives the bike good pop, making for a fun, efficient pedaling ride. Despite its shorter travel, the Mayhem plays well at the aggressive end of the trail bike spectrum. I'm looking forward to spending more time on board and will return with a detailed ride report. 

For more check out the Spot site.