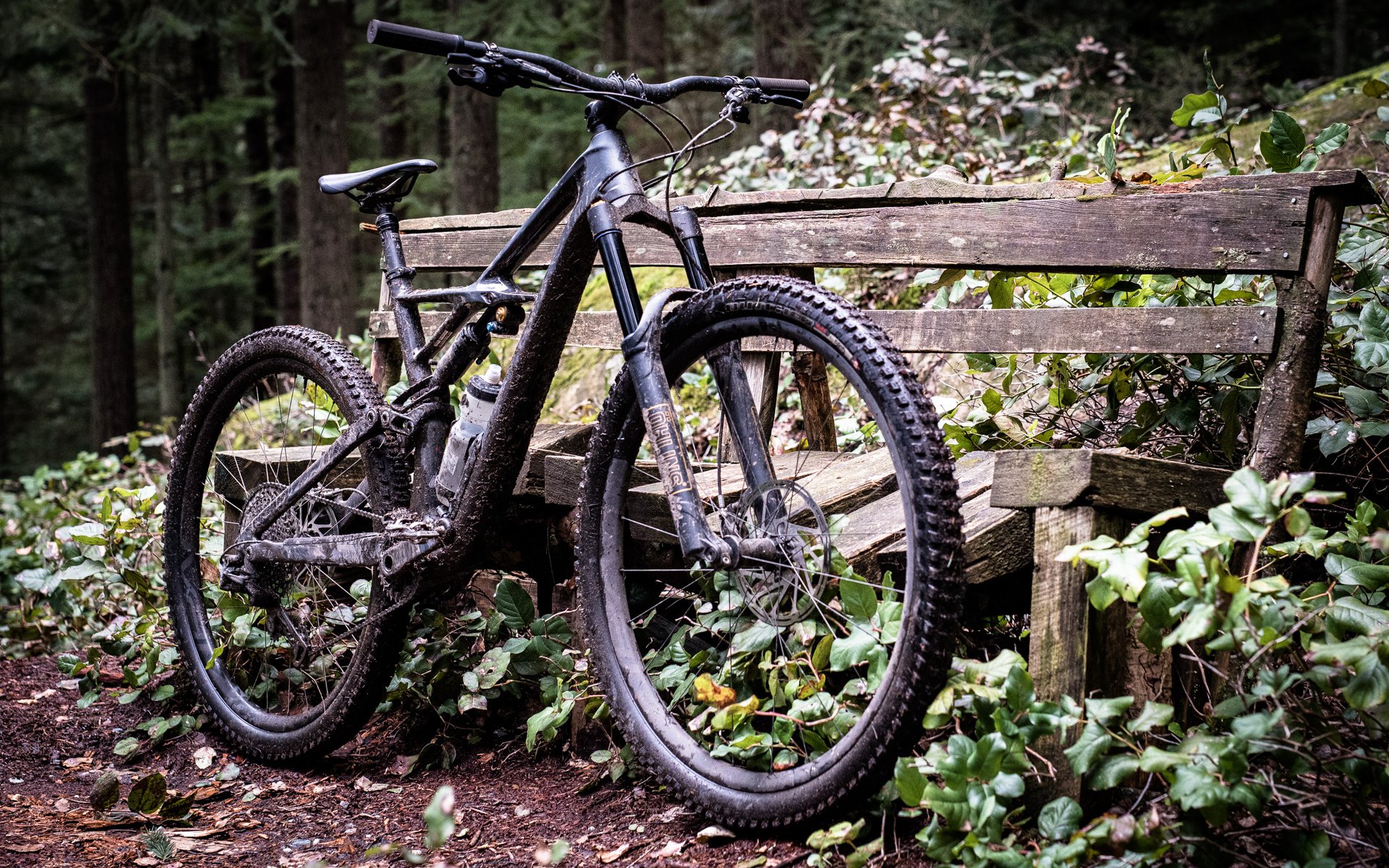 Long Term Review
2017 Specialized S-Works Enduro 29
The frozen tendrils of a protracted winter have at last released their tenacious grasp, and we're again able to ride our beloved trails free of the icy death. Time to wrap up the Specialized Enduro 29 long term review. As is our typical review format, if you're looking for more spec related detail on this bike, check out my first impressions bit, and/or Pete's coverage of the product launch. Now let's begin.
Holding on
The cockpit is a fairly tidy affair. I like the house brand single lock knurled / half waffle grips, as well as the 27mm rise x 780mm wide carbon bar. I found the 60mm Syntace stem to be a bit lengthy - too much tiller for my tastes. Swapping to a 50mm put me in my happy place.  
Sitting down
The Specialized Command Post is a sadistic thing. It performs the up/down functions fine, but does so in a remarkably unrefined fashion: returning to full height with ferocious undamped genital smashing speed, topping out with a hard metallic clank. Running the minimum recommended pressure had little effect. And at 125mm, travel is on the short side for a bike of this usage. One final gripe; the seat clamp has too much setback for my tastes. I had to run the saddle slammed forward for an optimal climbing position. The release lever is nicely ergonomic with copious position adjustment however. No complaints with the svelte Henge Expert titanium railed saddle.
SWAT
With the influence of Enduro racing, integrating basic survival items onto the bike has become the hot new thing, and Specialized is the current market leader in this dept. No need for packs or duct tape here. Room for a large water bottle in the supplied cage, with a multitool clipped on behind, chain tool neatly nestled in the steer tube, and down tube storage that includes a spare tube and tool wrap (with room to stow a small pump or c02 inflator, tire levers, and snacks). Brilliant.
Halting
I generally like Guide brakes. Decent ergonomics, consistent power and modulation. The pads on the RS model Guides on the Enduro, however, lack a bit of bite in the wet, and they're squealers. I'd be trying some fresh metallics to see if things improve. The RS lacks the pad engagement adjustment of the top of the line Ultimates, and I find myself missing the feature. As it is, lever travel to engagement is more than I'd like. It would have been nice to see said Ultimates on this bike. If you're bucking up five figures, what's a couple more bills for top tier stoppers?
Propelling
I'm a fan of the SRAM Eagle. The S-works runs the premium XX1 mech, shifter, and cranks, saving a bit of coin with an X01 cassette. Not much to say that hasn't been said before: it's the benchmark for wide range transmissions. Ran with nary a glitch. I would have specified a 32 rather than the supplied 30t chainring if I was want to nitpick.
That which spins in circles
For a house brand wheelset, the Rovals are pretty trick. Sporting 30mm internal width carbon rims laced to DT hubs with straight pull spokes - 28 rear, and a diminutive 24 count up front. Though I didn't weigh them, they certainly feel light, and spin up to speed quickly. The one thing I did notice - especially when transitioning from aluminum wheels - is the resonance of these things. They tend to ping (quite audibly) off impacts - especially the high tension, half radially spoked front wheel - and there seems to be a bit more distortion (ie, unwanted frequencies) being transferred to the chassis. Personally I prefer the slightly more damped feel of a softer aluminum wheel, but it's hard to deny the bling-y appeal of carbon, if one is swayed by such things.
I really like the Specialized Slaughter and Butcher tires, despite the silly names. The rear Slaughter is surprisingly grippy for a short knob, but is unsurprisingly overwhelmed in the sloppy season steep & deep. The Grid casings are stout, and I encountered no issues with burping at the relatively low pressures (around 23F / 26R) that I was running.
Oil through orifices
It's refreshing to see a major player like Specialized supporting a newcomer (to the bike industry) like Ohlins. The Swedish suspension marque has a serious pedigree in motorsport; I was curious to see what they could bring to the table in the realm of human powered devices.
Forking
The 160mm travel RXF36 fork sports a nifty air sprung ramp up chamber - allowing you to tweak the progressiveness of the spring rate with an air pump rather than having to mess with air chamber volume spacers. Using the recommended air settings (around 20% sag), I found the fork decidedly linear, with less suppleness off the top than I'd like. I reduced main spring pressure and added ramp pressure (by 10-15%) which improved things. As such, it was performing within the realm of current suspension major players in terms support and progression. I liked the mid-stroke / big hit feel. However, I found it still wasn't quite as buttery off the top as the Fox 36s And Pikes I've ridden recently, even with both compression adjustments fully open. These desk jockey hands prefer a bit more suppleness (Aaron Gwin I am not), and I found this fork to be a bit fatiguing in high frequency chatter. Unlike the shock, which sports a decidedly limited range of damper adjustments, the fork has copious clicks for all three tweaking parameters - high/low speed compression, and rebound. Near lockout resides at the end of the high speed adjustment range, though I never felt the need to use it on offroad climbs. At a lithe 165lbs, I preferred to run both HSC and rebound near the open end of the spectrum (Richie Rude I am not either). Unlike many other manufacturer's damper settings that tend to run from pogo to locked out, the Ohlins tends to run within a usable range. The 36mm stanchioned, 15mm bolted axle chassis proved stiff enough under my not so imposing bulk.  
Shocking
An Ohlins STX22 resides in the back, supporting a meaty 165mm of travel. With the factory tune, this is a fairly linear feeling shock. Though it uses full travel non-dramatically (ie, no harsh bottoming), even at 30% sag, it was stroking out more frequently than I'd expect, and I'd have preferred a bit more suppleness off the top, as well as more mid stroke support/pop. Perhaps I've been smitten by the Fox X2, but the Ohlins feels a bit dead in comparison, even with the damping circuits opened up. A bit of air chamber volume fettling seems in order to ramp up the progression. This can be done a couple ways - the home gamer can add a couple ml of Ohlins fluid via the air valve, or volume spacers may be added internally - though the Ohlins literature indicates this is a shop job.
Regarding adjustment, tweakability is decidedly limited with this shock. Low-speed compression sports a reasonable 8 clicks, while high speed has only 3 clicks, with the 3rd position designated the firm(er) pedaling position, leaving only two descending options, of which the difference between is not significantly discernible. I was ok with using the settings provided, but I doubt the offerings are going to please everyone. The rebound adjustment was a bit different in character in that while it offers more clicks (8), I found the effective damper adjustment between detents to be a bit too large - ie, my usable range was within 2 clicks, and probably would have been happier at a position between the two. So - while I got the shock working well, I'd still have liked to have had the ability to fine tune things a bit more - and I'll admit to not being terribly fussy with my dampers; I'm thinking the tuning neurotics out there may be a bit disappointed with this shock.
Upwardly mobile
For an aggressive-ish, long travel steed, this is a reasonably effective climber. The seat tube angle is spot on. Or it would be if it was sporting a non-layback seatpost. As mentioned earlier, the 3rd click high-speed damper climb position on the Ohlins shock is decidedly subtle. It has a bit more support than the first two positions, but certainly not a lockout by any means. Most lockouts tend to be significantly more effective, consequently this shock allows more sag, thus a more chopper-esque fork angle, resulting in a bit less sharp climbing precision than other bikes of this ilk I've ridden. A higher (342mm) BB compounds the feeling of a slightly more cumbersome chassis when the climb gets super steep and tech. The FSR suspension does provide good traction under power, however, at the detriment of a bit more chassis movement than some platforms.
Downwardly Inclined
Of course, the primary focus of a big bike like this is punching the downhills, and as such, it's a capable machine. If I were to describe the handling in a word: neutral. Owing to the relative linearity of the suspension, it's not the poppiest / most playful example of the breed I've ridden, though it does wake up when injected with more speed. Perhaps more apt for straight line charging than pumping features with the current tune. Despite a class leading 165m rear travel, said linearity contributes to it not feeling quite as plush as I'd expect (the 150mm Slash feels subjectively couch-ier to me) though it handles the big chunk just fine. The chassis is balanced, if not snappy through fast corners, and handles steep, tight janky turns (the kind that copiously populate the shore) quite effectively.  For a race-focused bike, it's quite competent in slower tech, the moderate 66° head angle offering a reasonable balance between stability and nimbleness. Unfortunately my test period didn't coincide with bikepark action, but it's well composed when you turn up the wick, and is quite happy being flogged aggressively. Effective over a range of speeds this bike is.   
Final thoughts
I've spent time on board a couple other longer travel aggressive 29'ers recently (the Yeti 5.5c and Trek Slash), and have come to appreciate why this is such a hot category these days. These bikes charge on rough trail, and have all surprised me with their versatility on climbs and mellower terrain as well. Lumbering behemoths, these are not. As I mentioned in my first look bit, I found the Specialized splits the difference between the slightly shorter and steeper Yeti, and the slacker, longer (albeit slightly less travel than the Enduro) Trek. It's got long legs for big hit capability but still steers sharply enough to handle slower, technical lines quite well without requiring overly aggressive inputs to come alive. However it didn't quite light my pants on fire in the fun hog dept with the factory suspension tune. It's not far off, but I think a trip to the local Ohlins guru could make this bike come alive. That said, it's a very refined, capable example of the species. The Specialized S-Works Enduro 29 can be yours for $8500 USD / $10500 CAD.
For more on the S-Works Enduro click here...