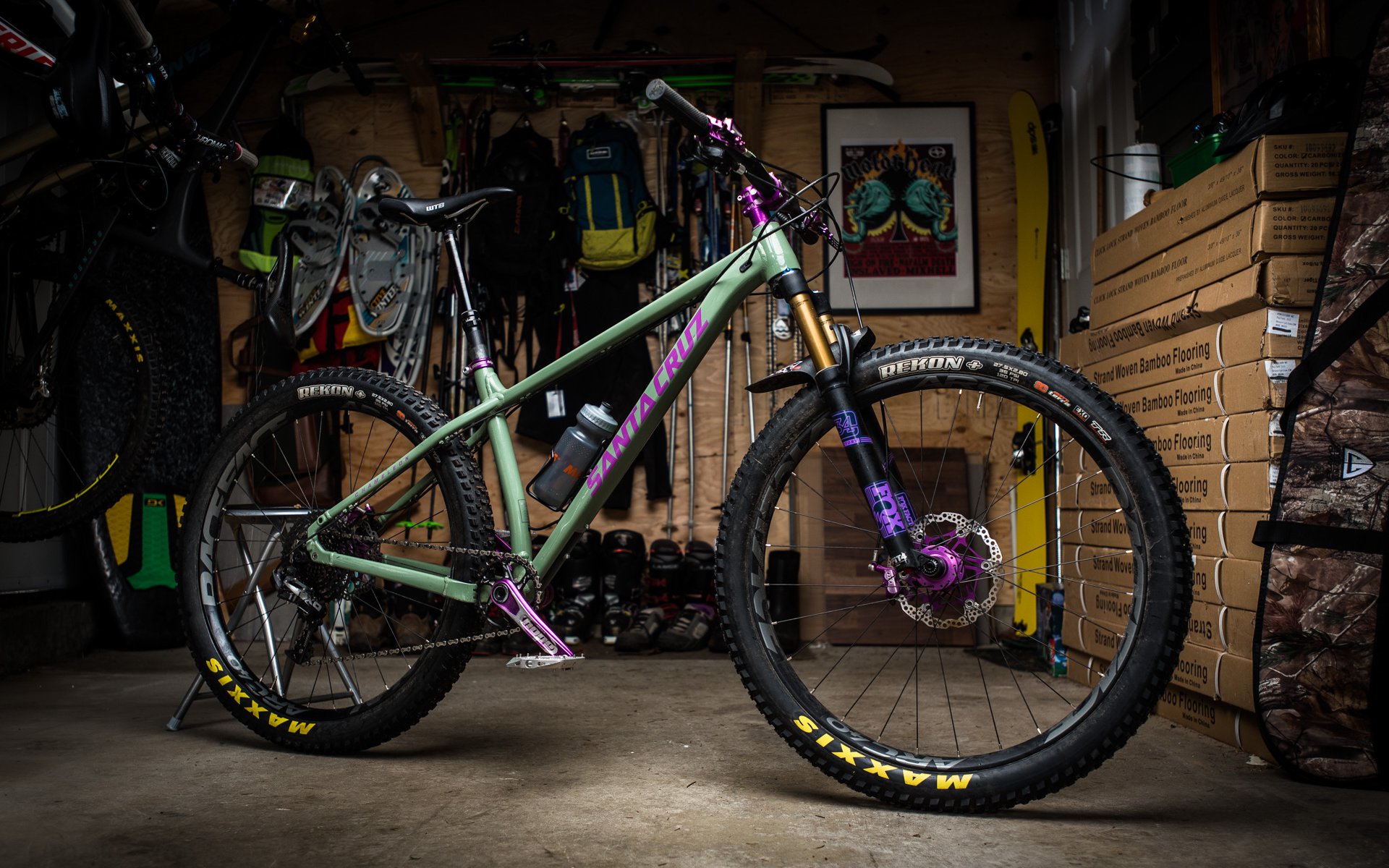 First Look and Early Ride Thoughts
2017 Santa Cruz Chameleon
The New Chameleon
The new Santa Cruz Chameleon has a lot going on - for a hardtail. It's slack; it's light; it's surprisingly smooth in the rough. There's tonnes of tire clearance for a 29" or 27+ wheel with short chainstays. It has rotating dropouts that make it simple to single speed with a rear center adjustable from 415mm to 430mm. 
The aluminum frame has highly formed tubing with a stiff and compact front triangle and a surprising amount of damping out back. All the Santa Cruz features that prove their sanity are present: threaded BSA bottom bracket shell, external brake cable routing, clean internal shift cable routing and a unique paint job. 
First Look
Santa Cruz is offering two complete builds for the Chameleon. Both bikes are built around SRAM's starting price-point NX 1x groupset and available with 29" or 27+ wheels. 
The base model 'D' Kit features a RockShox Recon Silver fork, an NX 11-42 tooth drivetrain and SRAM Level brakes for $1599 (USD). The 'R' Kit sports a Fox Rhythm fork, a 10-42 (XD driver) drivetrain and Level T brakes for $1999 (USD). The 27+ models sport 2.8 Maxxis Rekon tires. The 29er models run a Maxxis DHF up front and a Crossmark II out back. 

All the build kits come 1x with a 30t ring up front but the Chameleon does have provisions, and clearance, to run a front derailleur. 
The Chameleon will also be available as a frame only to build as you'd choose. I have a couple of rides on Santa Cruz's own custom all-the-purple Hope build. It's got Hope brakes, Hope rotors, Hope cranks, Hope hubs, Hope headset, Hope stem, and a Hope bar. 
Geometry 
To say the geometry is close to my 2013 Kona Honzo is an understatement. That's one hundred percent a compliment. It's a longer, slacker, Santa Cruz. There are only so many ways to skin a hardcore hardtail.
With a 120mm fork, Santa Cruz lists the Chameleon's head tube angle as 67.3° with 29" wheels and 67.6° with 27+ wheels. The 29er sports a 72.8° seat tube angle and the 27+ is listed at 73.1°. With 29" wheels the BB drop is listed at 55.2mm and with the 27+ they list it at 50.39mm. The frames use easily swappable wheelsize specific dropouts in order to maintain geometry with both sizes of hoops. 
There will be some variation in angles as the Chameleon's adjustable dropouts operate off a pivot point as opposed to sliding horizontally. As the wheelbase extends from 415mm to 430mm the BB height will get lower and the STA and HTA will get a bit slacker. 
There will also be some variation depending on the length of fork you choose. The custom Chameleon I rode had a 130mm Fox Float with their lightly valved FIT4 damper. If it was my bike I would definitely be increasing the travel to 140mm for the slight increase in BB height and a 1/2 degree slacker HTA. 

The headtubes and stack are a bit short for my personal liking. A large Chameleon checks in at 100mm and the XL only jumps another cm to 110mm. Even with a longer fork, I'd personally prefer to see larger stack numbers than 615mm for the large and 625mm for the XL to go with the longer reach numbers that Santa Cruz is using for this platform. 
That said, I don't hate the aesthetics of a large-rise bar and it seems that every company on the market is selling a 30mm+ rise option again. Likely for this reason.
The Ride
I've owned and ridden a huge variety of hardtails from carbon XC race machines to the 7lbs+ painted frame of my steel Honzo. There's lots of aluminum on my resume. What can I say after a couple of rides? The Chameleon is full of surprises.

Whether hammering on the 780mm bar out of the saddle or dropping into something steep while hard on the Hope E4 brakes, the compact front triangle is stiff and confidence inspiring. On the other hand, the rear end is surprisingly forgiving for a bike with short stays in general and an aluminum bike in particular. I attribute this to the lack of a seatstay brace or massive chainstay-BB yoke.
Repeat claims about carbon's 'vibration damping' or shout 'STEEL IS REAL!' enough times and it will seem to be true. The fact is that material is just one part of the design process. The 2017 Chameleon isn't a Banshee Morphine, or even a past example of the Chameleon, and combined with 29er or 27+ wheels it does a disservice to the bike to envision previous aluminum hardtail experiences when imagining how the Santa Cruz rides.
There is a bit of movement in the back end when hammering out of the saddle. That's not me calling the Chameleon "Flexy". Any time I read about how 'efficient' a hardtail is my back starts to ache and I'm also not saying I feel like I'm losing any power on the trail.
It's a nice sensation. The closest bike I'd relate it to personally is Kona's Ti Explosif. It isn't flexy - front or rear - but it dances through rough terrain a lot more pleasantly than most short-stay rigid frames. All that for a weight that's a couple pounds lighter than steel bikes with comparable geometry and pricing. 
Fork Travel vs Bike Value
From my experience with the Honzo, which is also spec'd with a 120mm fork,  I'd suggest most of Santa Cruz's customers would be happiest running longer travel forks than what are coming with stock builds. 
In my opinion, this makes the higher end R-Kit a significantly better value since the stock Fox Float Rhythm 34 fork should be an easy rod-swap away from being a 140mm fork. On the other hand, the D-Kit's basic Recon is a 120mm only affair, leaving a Chameleon rider wanting to maximize their budget experience in a position of eventually having to shell out for a new fork.
Due to a lack of 27+ compatible forks with 140mm travel, this would mean increasing the price of both models. I'm a big fan of Fox suspension - I had a great experience this year with their OE-only Float Performance Elite FIT4 - but I'd strongly advocate equipping the Yari RC at both price points and differentiating the higher end R-Kit with an upgraded GX drivetrain. 

Yes, that will increase the price of both build kits but as it stands now if I was still buying for a shop I would not be bringing in the D-Kit build. The R-Kit is simply a better and more adaptable long term value. 
I think the new Chameleon is awesome - see the header below on single speeding - and I suspect Santa Cruz is going to sell a surprising percentage of these bikes as frame only. The first run of frames have gone to building bikes but anyone hungry for a Chameleon frameset should put in an order in with their Santa Cruz dealer. 
History
The first Chameleon I can remember coming across was equipped with XT V-brakes, a Marzocchi Z1 fork, ceramic Mavic 521 rims and a sweet powder blue paint job. If I had to guess I'd say that was in 1998. It was a cool bike. As the proud owner of a similarly spec'd Giant ATX 890 Team Tomac, it didn't seem to be all that innovative. 
Fast forward a couple of years and it was the bike that changed how I thought about aggressive hardtails (I've had one of those in my stable ever since then). On my first visit to the North Shore I happened by a tiny shop called Steed Cycles with an entire ceiling of bright green, orange, and yellow Santa Cruz frames. Bullits, Hecklers, Superlights, and Chameleons, oh my! 
I couldn't track down a photo, but there on the floor was Kim Steed's personal Chameleon. Marzocchi fork with a massive bolt-on aftermarket arch. 3" Nokian Gazzolodis up front with a 2.6" in the back. Bright yellow Mavic rims (or were they green Double Tracks?) Hayes disk brakes. Santa Cruz had developed an add-on disk mount to interface with the horizontal dropouts which positioned the brake caliper below the chainstay - unlike anything on the market. The bike blew my mind. 
Single Speeding
Single speeders rejoice! The Chameleon is light, slack, forgiving (for a hardtail) and comes equipped with a sleek rotating dropout system to tension the chain for single speeding. It takes the hard decision away from riding a super fun rig like a Honzo, ROS, or Nimble-9 versus single speeding on a lighter SS rig with road geometry. 
The dropouts work by loosening the mounting bolts and then turning the chaintug bolts to tension the chain.

The stock dropouts and derailleur hanger work perfectly for single speeding; however, for those that already own a high end set of SS-specific hoops, there's an additional factor to be excited about. While the Chameleon's 'geared' dropouts are 148-Boost there are an additional set of super clean looking SS-specific dropouts that are 142 x 12!
I didn't have the chance to test the Chameleon with one gear so my opinion is based off of riding other single speeds with almost identical geometry as well as pedaling the Santa Cruz with its SRAM/Hope drivetrain. 
The dropout system is as clean as anything I've used. 

Yes, you can put a rack on that. Get some p-clamps if there are no mounts. - Surly Bikes
Oh, I know what you're thinking, hardcore bike packing guy. It isn't steel. It doesn't have a million frames bosses for mounting the kitchen sink. Actually, it has four bosses. Two pairs. One above the down tube. One below the down tube. The Chameleon has a tiny front triangle that isn't at all optimized for the maximum size custom frame bag.
The Santa Cruz Chameleon offers a comfortable ride for a hardtail, wheel size options, easy single-speed-ability in an emergency, and the thin square shape of the top tube is very ergonomic for portaging. 

There are an infinite number of gravel and mountain bikes designed with bike packing in mind. On the other hand, optimized or otherwise, the Chameleon is up for anything and it is a ridiculous amount of fun for all those non-bike packing rides. 
Chameleon Conclusion
This wasn't a long term test but after a couple of rides, I'm confident that the Chameleon likes to dance and is surprisingly spry for an aluminum bike. The rest of the spec is all custom and doesn't reflect the budget build options Santa Cruz is selling with the fade-green-and-purple machine. I'll definitely say that the Chameleon wears the full Hope raiment well.

I'm excited for this bike. On one level, sure, it's another hardtail. On the other hand, it's a highly adaptable machine with a strong heritage of just say yes: race, ride or roam. It's the new frame I didn't know I needed this year that checks all my boxes for an aggressive, versatile, single speed capable hardtail. 
---
Chameleon 'D Kit' : $1599 USD | $2249 CAD | 29lbs 29'er | 29.5lbs 27+
Chameleon 'R Kit' : $1999 USD | $2749 CAD | 27.7lbs 29'er | 28.6lbs 27+
Chameleon Frame Only : $749 USD | $1099 CAD | 4.6lbs