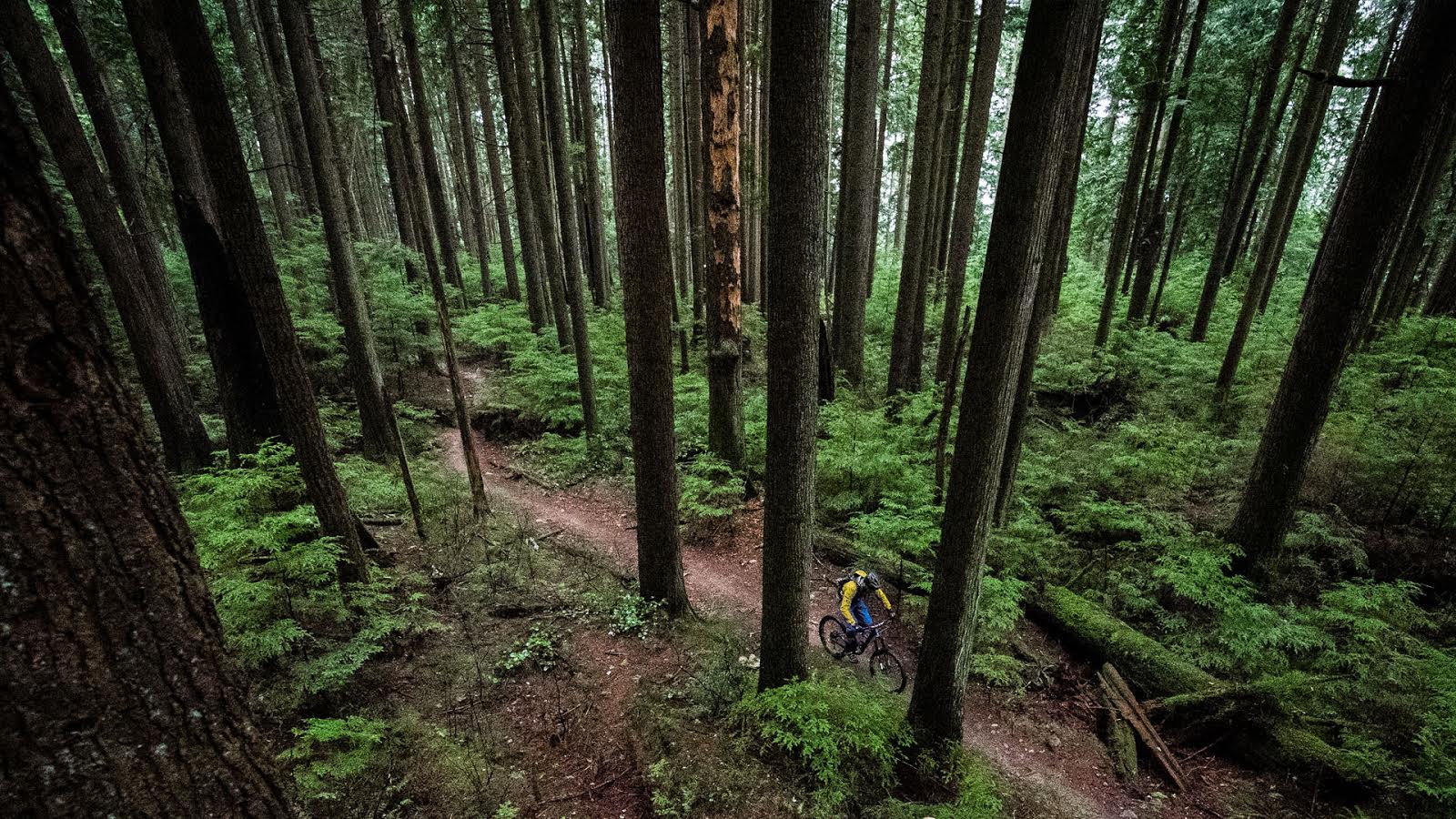 2017 Rocky Mountain Maiden
The Maiden and I had a rough start. On my first day on the bike on a wet February day on Cypress Mountain, I managed to break a rib coming up short on a gap jump. This was in no way the bike's fault, but it sure did slow down the process of getting familiar with it.
On my second day riding the bike 8 weeks later, the rear end felt like it was falling apart. After a visit to a local dealer, I was informed that Rocky had recalled the shock mounting hardware as the tolerances were off on the original sets. And 'no, we don't have any in stock'… After calls to other Rocky dealers it turned out no one had them even though the old ones had been recalled. Finally, a trip down to the Rocky Mountain office (which happens to be in North Vancouver) helped locate a set of the new spacers.
Once the shock mounting hardware was replaced the bike felt solid again and the test could begin. Since then and over the last 2 months it has been ridden on Cypress, the Whistler bike park, at the PROGRT race in Port Angeles, Washington, a BC Cup at Silver Star, the BC Championships at Whistler, and at Canada Cups at Mont Tremblant and at Panorama.
This bike is Rocky's full carbon entry back into the DH world. Rocky worked hard to make sure it was ready and earlier versions were spotted under test riders such as Thomas Vanderham ages ago.
At first look, this machine has a burly appearance. The 4-bar Smoothlink set up has giant sculpted carbon links and arms and oversized bearings. The bearings are actually large sized Enduro Max versions held in place with the popular expanding collet system. To me, it has the look of being built for the North Shore rather than the race tracks of the French Alps. The burliness is a little misleading – in a good way, though. Both the front triangle and rear end are pure carbon goodness so the bike's weight is very competitive. There is no price to be paid for the 'burliness.'
The Rocky is available in a unique matte blue with yellow and orange accents or black on black. Personally, I didn't love the blue but the black versions I frequently saw in the Whistler bike park line-up looked awesome.
The spec on the bike tested is the World Cup version. There is another level above and two trim levels below. The World Cup comes with BOS suspension front and rear, Shimano Saint brakes and drivetrain, Stans wheels, Race face cockpit and an E-13 chain guide without a bottom guide.
Moving up to the Maiden Unlimited version gets you Race Face carbon cranks, Reynolds carbon rims and a Sram X01 drivetrain. The Unlimited costs you 3500 USD more than the 6999 USD World Cup and saves you 1.1 lbs. A no-brainer for most racers ☺.
Full Specs on the Maiden World Cup
The big news on this bike was supposed to be the short rear end and therefore quick handling and the expected great cornering. To see what short meant I reviewed a few of the key measurements for several of the popular DH bikes. Wheelbase, reach, chainstay length, bottom bracket height and head angle were all compared for 5 different size Large bikes. Keep in mind some bikes come in XL and even XXL where others have L as their largest size. This was an interesting exercise as it quickly became apparent that there is a formula for the modern DH bike these days that works and is used by most. Head angles were all between 63 and 64 deg.
The wheelbases on all the models were very similar except for the Norco Aurum. The Aurum was longer but this makes sense as there is not a carbon XL model.
As you can see in the chart below the chainstays on Vanderham's baby are relatively short.

The only bike with a longer reach was the new Demo. This relatively long reach was a little puzzling to me as the bike always felt a little small – and I come in at 6 ft even.
Suspension and parts
The choice of the French BOS suspension by Rocky for their new DH rocket is a common topic of discussion in places of knowledge and brilliance like the line up at the Whistler bike park. I have to say I lived the good and the bad of this decision and can most definitely offer a somewhat knowledgeable opinion here. The BOS Idylle Air 27.5 fork is the worst parking lot fork I have ever tested, however, it is a great fork if you actually want to ride your bike downhill fast.
As pointed out to me by S4 suspension in Quebec, the bushings on this fork intentionally have a lot of play. In other words, the bushing tolerances are quite open leaving the fork with a lot of lateral mobility. This means when you are sitting on your bike before your ride if constantly feels like you have a loose headset. In the beginning, the fork also had a strange top out when you dropped the bike to the ground. Thankfully the cats at Vorsprung Suspension eliminated that with an overhaul. When riding the bike you don't notice the play in the bushings. What you do get is a fork with a lot of suppleness at the top end of the stroke due to the lack of friction. I can say that after several days in the bike park I never once suffered from sore hands. This is actually a fairly big deal. Trying to find a fork that can handle very high-speed chatter AND the big hits is not easy.
BOS has done very well here although this new feel (when stationary) does take a lot of getting used to. I also found I needed to set the rebound a little quicker than other forks. Again, it only feels quicker in the parking lot but completely fine on the trail. The other downside of this fork, at least for now, is the lack of places to get it serviced. Being able to get your fork serviced well and quickly is a big deal for racers and weekend warriors both. All high-performance forks require regular service on a regular basis, regularly.
The rear BOS Stoy Rare shock was bomber and felt consistent throughout the test. It worked well on hard hits with good controllable rebound (no kick) but also felt good on the high-speed chunder of the boulder-filled Mont Tremblant race course.
The other parts spec'ed on this bike worked amazingly well during the two months of hard riding. The Saint Brakes were flawless actually. Not once did they fade or was there any lever position movement even when riding the Garbo zone.
The OEM Stans ZTR Rapid 30 rims are similar to the popular Stans Flow EXs and they performed similarly. I set the wheels up tubeless and never once had an issue with them. The Stans NEO hubs ran well with no signs of play.
The Shimano Saint drivetrain also worked well. I was leery at the start as the E13 chainguide had a top guide and lower bash guard but no lower guide. Not once did I drop a chain or have chain issues.
With more and more downhill bikes running large diameter carbon rear stays, chain slap noise is becoming more of an issue. It is common at Whistler these days to see guys trying all sorts of methods for quieting down there $10,000 sleds. The Maiden ran fairly quiet even without a lower chain guide.
The Ride
The Maiden is a proud bike. By this I mean it sits up tall and takes whatever you throw at it.
It took me a long time to really understand this bike. It rides high in its travel. It doesn't give you support the way a plush VPP bike might with lots of sag and a long rear end. Instead, it supports you by being super solid. Cornering on this bike is excellent. With a short rear end and absolutely no wallow the bike feels awesome diving into and popping out of corners. I almost want to say the bike rides like a long travel Enduro bike but that wouldn't be totally fair because when you do get into trouble (like casing a 25 foot double) the bike holds fine with the suspension completely taking care of business.
The Maiden's head angle and bottom bracket drop are adjustable – you can lower the head angle down to 63 deg from 63.8. On the BC Cup circuit I rode it in its slackest form and never felt the need to steepen the head angle. Unlike other DH bikes I have tested, I never found the Maiden to be unwieldy in slow, tight corners.
During the last two months, the pivots have not once needed adjustment or tightening. The frame is still as solid and as tight as when it was new. This is huge and a big win for Rocky. Dealing with loose pivots is a constant in the DH bike world.
The Rocky Mountain Maiden does have a couple of oddities, like exotic French suspension and a somewhat unique set of frame measurements. I am not sure if DH racers will flock to it but I can say it is one of the best bike park/weekend ripper DH bikes I have ever ridden. This bike is strong, proud, blue and a ton of fun. Kinda like an American action flick. If you are racing courses like Mont Ste Anne where the speeds get ridiculous, you might want something a little longer for stability. Otherwise give 'er!
---
Do you like Carbon Maiden?