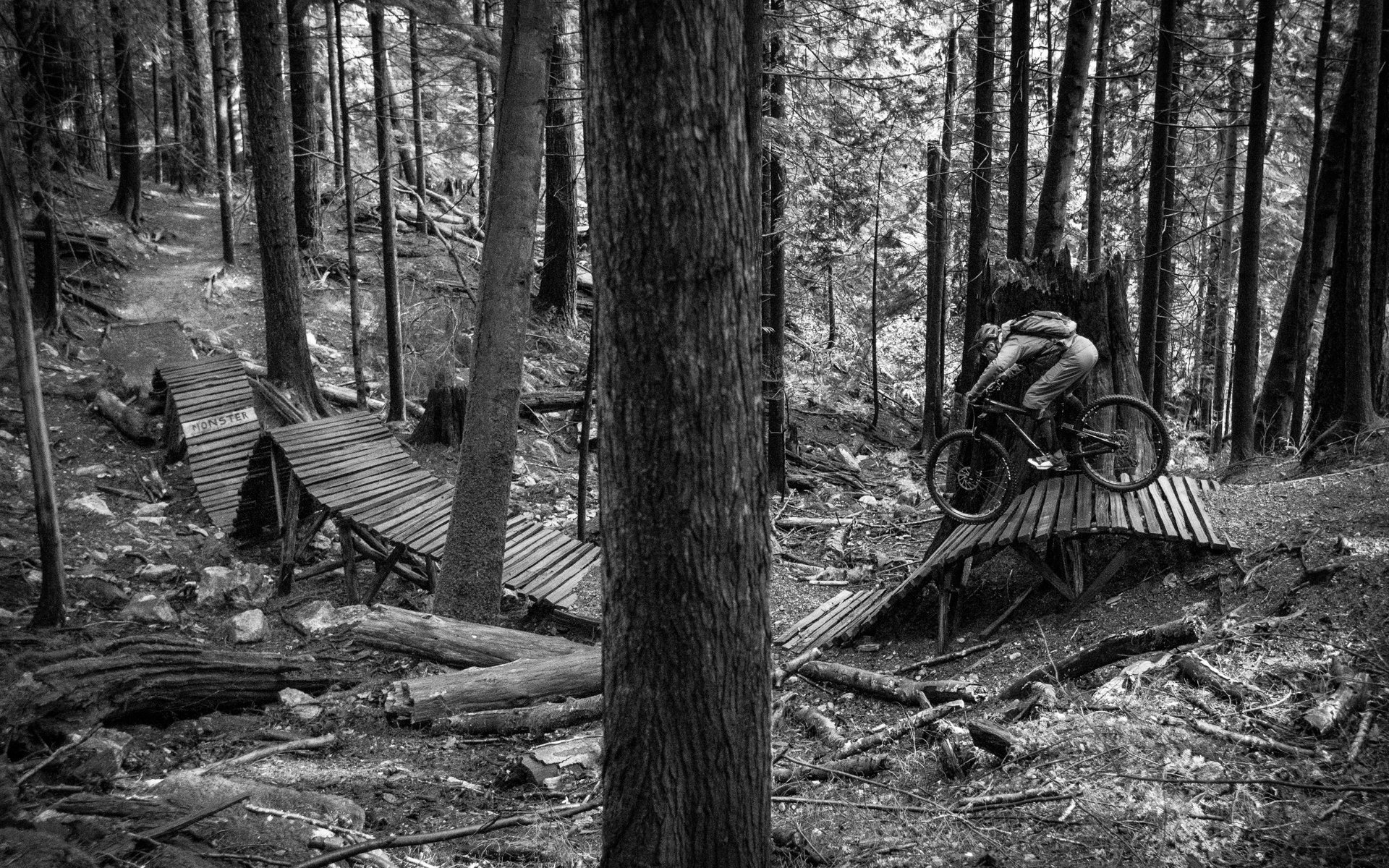 FIRST IMPRESSIONS
2017 Norco Range 29 9.2
Some brands were late to the 650b party (Specialized) and others were late to 29 (Giant and Norco), while some dove in on both wheel sizes early on. Long travel is the last category for most brands to go wagon wheeling with because they present the toughest code to crack; making them ride well is tricky. Now that many of the early conundrums of building long travel 29ers have been solved more riders are beginning to appreciate large hooped bikes for rough play.
It turns out these bikes can be fun and manoeuvrable like their smaller-wheeled brethren if the design is good – and Boost spacing has lubricated that process .* There is finally starting to be some consensus on what good design for all mountain big wheelers looks like, at least in the mainstream. And now that geometry has caught up they continue to roll over obstacles and carry momentum better than tweener wheels.
The Range is a bike worthy of Lower Ladies, one of the tougher lines on the North Shore. Built by the incomparable Digger.
Norco's foray into the longer travel 29er duallie market was announced last year with the 110mm-rear travel Optic, which rolls on either 27 plus or 29, and then the 130mm Sight in 27 and 29 arrived in January. Saving the burliest for last, today Norco is rolling out the Range 29 – and I've been riding one for a couple of weeks – snow permitting.
The Lyrik up front adds to the solid impression the bike leaves on rider and trail.
My first on trail impression of the Range was solidity. It rolls over bumps silently and the stiffness of the platform instills immediate confidence. The silence can be partially attributed to Norco's new port covers for internal cable routing, dubbed Gizmo (the name isn't new but the system has evolved). Like Pivot's solution, the ports lock the cable down at entry and exit preventing slop within your frame. The look of the plastic covers isn't as slick as I'd like but the lock down works well and they provide a nice large window for feeding lines and housing in and out.
Norco's rocker link is a bolted three-piece affair. It's less elegant than other brands' solutions but Norco says the end product is the strongest they can make.
The aforementioned solidity is no accident. Many design cues are lifted straight from the Aurum. Norco's senior design engineer, Owen Pemberton said this about the frame goals; "It is an enduro bike and we were looking to make it as strong as possible. We took everything we learned from the Aurum, which is our strongest bike, and we applied it to the Range. It's a bike that's going to be ridden hard and we're looking to make it as reliable and dependable as possible."
Any day you get to ride a bike with a SRAM Eagle drivetrain is a good day. Chainguide by OneUp. I wouldn't have known it was there if I hadn't looked.
As you can imagine, this comes with a weight penalty. The example I have been riding weighs a little over 32lbs without pedals. I notice this putting the bike in my truck but I haven't noticed it climbing or descending, aside from the positives.
So far the Range's cornering ability has impressed me most; wide corners, flat corners, bermed corners and tight corners. This bike loves them.
Cornering prowess registered early as well. The Range 29 is comfortable on the side knobs, and it feels predictable approaching the limit of grip. Inside lines were coming easily for me on my last ride and tracking is excellent.
Quality rubber; Maxxis DHR II rear (2.4) and DHF up front (2.5) – both in the WT (wide trail) size, with EXO casing, 3C compound of the Maxx Terra variety which is the middle of the three durometer options. Raceface AR30 rims are seeing a lot of spec this year – but seeing them paired with SRAM hubs is an unusual combo. And there is a rotor on the other side – you just can't see it because of the 50t dinner plate obscuring it.
The geo numbers of the Range 29 are progressive and they make it clear that this bike was made for getting rowdy. The BB is nice and low at 340mm, the 65.5 head angle means it will be comfortable in the Whistler Bike Park and the 435mm chainstays (size large) keep it snappy and willing. It's also nice and long up front with a 637mm effective top tube measurement. A pedal-friendly 74.1 effective seat tube angle rounds out the important numbers. Everything felt right on the large for my 183 cm (6'0″) frame.
Norco's Gizmo ports give a large access window for internal routing and they secure hose and housing at exit and entrance to prevent rattling. They are effective but to my eyes they look less refined than some other solutions.
A nice 800mm Raceface Atlas bar and Aeffect stem is clad with thin tacky Raceface Love Handle grips.
Norco's interpretation of the Horst link configuration keeps the wheel tracking. Pivots this year turn on premium Enduro Max bearings. These are designed specifically for bike suspension applications and apparently have more balls than conventional bearings (hence Max). They also boast deeper grooves to resist " twisting and multiple forces associated with mountain bike pivots." Seatstays are carbon while chainstays are aluminum.
Rear brake hose is routed externally for trouble free swaps.
The largest rebound damping adjuster in the business.
Lots of black with bright green highlights – it works nicely. The Range is available in medium, large and XL.
Range C 7.2/9.2: $5799 USD / $7499
I am going to need more time to get fully acquainted with the Range but my settings are pretty dialed already. With only a short time between receiving the Range and the embargo lift, I decided to go and visit Arthur Gaillot at Suspension Therapy for a suspension set up. Arthur is a guru and the bike feels great after his exhaustive tuning procedure. The settings he gave me, based on 165lbs or so with pack, are below. Consider visiting Arthur if you are in B.C. He's worth every penny.
*mea culpa here – I was a Boost naysayer early on but I'm a believer now – for 29ers at least.
For more details, visit norco.com/range.
---