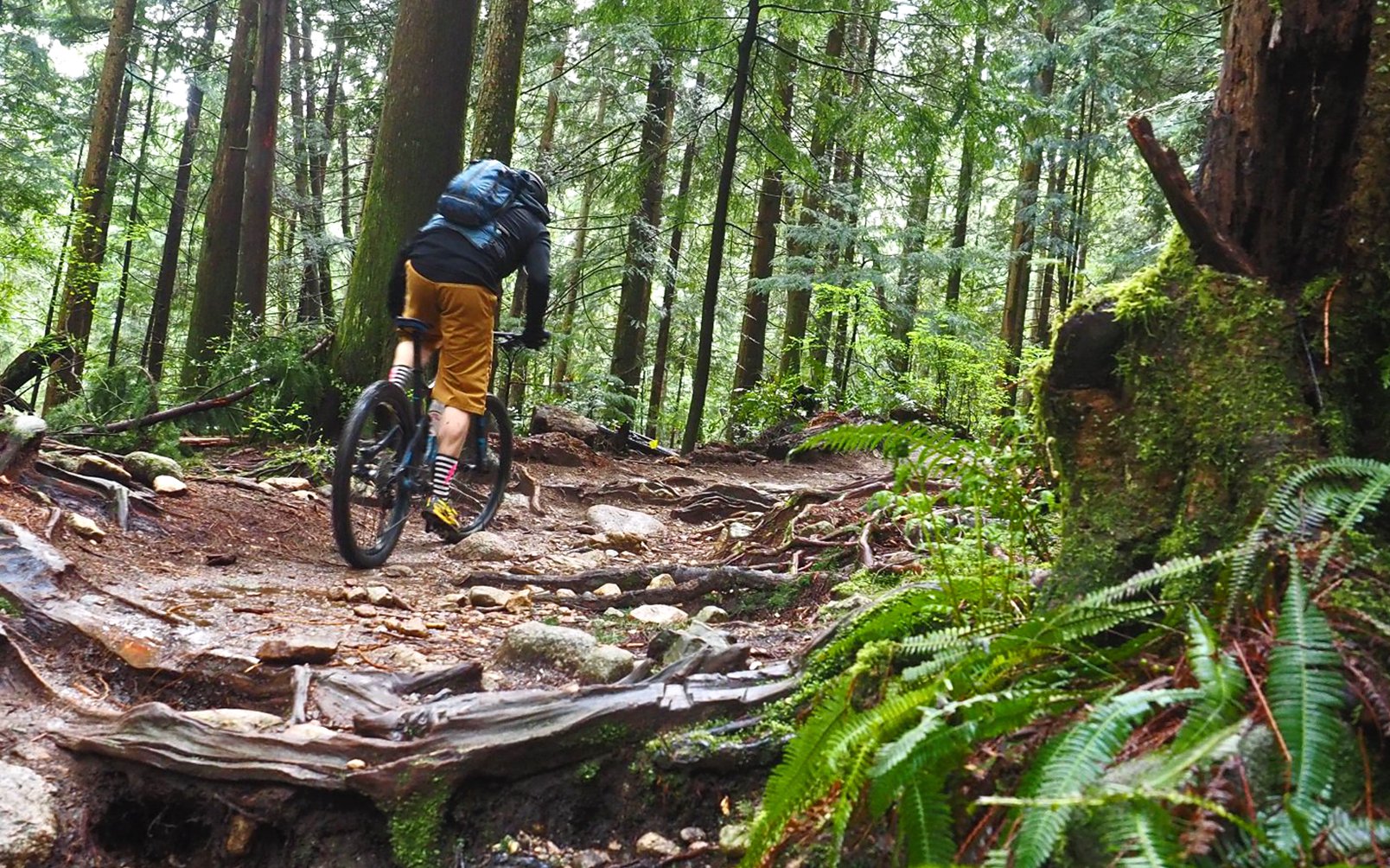 Review
2017 Marin Hawk Hill

"No matter how much you spend, we feel that everyone deserves an awesome bike..." - Marin Bikes
Part One...
To begin with I'm looking at the 2017 Marin Hawk Hill as an out of the box, $1500 (USD)/ $1900 (CDN), full suspension mountain bike. Thanks to some assistance from Marin's Chris Holmes and Matthew Cipes I'll also be following up shortly with an editorial piece about min-maxing component spec; getting the maximum on-trail performance from the minimum cash outlay. 
Without pushing the bike out of its price point I am going to nitpick Marin about a few details I think they should change but at the end of any ride, I really like this bike. Enough so that, not to give the ending away, I've asked Marin to hang on to it as an excellent, neutral, smile-inducing platform to test other price-point components. Yes, it's that good. 
For more info on the spec of the bike, check out Dave's first impressions here...
Hawk Hill Day
When I first put my hands on the Marin Hawk Hill it was in rough shape to say the least. I booked some bench time at Bikeroom for a little Wrench Now, Ride Later action. A basic service on the fork and shock, a new shifter cable and some grease in the frame bearings and it was a whole new animal. 

Still. This is the cheapest spec bike I've ridden on trail in almost twenty years. Shimano Deore? That's for other people. RockShox Recon suspension fork? Isn't that for commuter bikes? 

Before I turned my first revolutions on the trail I made a pact with the black-and-blue budget machine. No matter the group, day or night, any mountains, any trails and any conditions. If it's a ride I would take my personal trail bike on and it was a Hawk Hill test day then without a whimper I'd take the Marin. 
The Hawk Hill is a 120mm travel full suspension bike. The geometry chart (67.5° HTA, 337mm BB Height, 450.9mm Reach - Large, 430mm Stays) tells a story of a bike that is more aggressive than a lot of bikes in the category regardless of price. It has burly rubber, a 780mm wide bar and it's designed around a 60mm stem. 
So I wasn't shy about where I rode the bike. I pointed it down challenging North Shore trails like Pipeline and 7th Secret on Fromme, Severed Dick, Dear John, Pangor and a variety of XXX-C on Seymour. And some trails further afield. 
I'm very conscious of the $1500 (USD) / $1900 (CAD) price point of the Hawk Hill and how easy it is to say "just change this - just change that" until the bike in question is a thousand dollars more. As such I've really drilled down to two things I'd change on the bike before I took it home and in the turn the things I think Marin should change on the production model. 
The first is really cheap and simple. Galvanized shifter cables have no place on performance bicycles. Even ones that sell for less than 2k. I'd expect any shop I was buying this bike from to throw in a stainless cable and I wish Marin would just sell it that way. 
The second is those POS Resin only rotors. It's a big OE pricing jump to Shimano's proper rotor price point to fit the Hawk Hill's Center Lock hubs but it would be worth it to anyone whose riding the bike offroad. Especially if that person ever sees moisture of any kind. Shimano's RT67 rotor fits the bill. Better yet, ditch the Center Lock hubs and open the Hawk Hill, and its future owner up to a plethora of 6-Bolt rotor options. 
To maximize the experience-per-dollar there are a couple of less essential changes I'd love to see on the Hawk Hill. 
Marin came up with a nifty way to spec the 142x12 compatible rear end with a much cheaper 135mm QR hub using steel adapters that thread onto the hubs steel axle. It's a smart way to hit the price point (especially as they've made some awesome choices like spec'ing a proper sealed cartridge bearing headset) but it is very heavy. When I swapped it out for an aluminum Shimano axle I also found that the original was notably less stiff.

Kudos for making it an easy swap and using a non-proprietary axle system to do it.
Independent of compound or casing I'm not a fan of Schwalbe's Hans Dampf tires. I am glad Marin spec'ed aggressive trail tires on this bike but looking at who is going to be buying it I think confidence trumps a bit of rolling resistance. I'd like to see a new Nobby Nic out back with a Magic Mary up front. I think the combo rolls faster, corners more predictably and basically is better in every way. 
Perhaps it's a philosophical trickle-down from Marin's new Wolf Ridge. Maybe it comes down to budget. It could be both. The Hawk Hill has a very basic X-Fusion O2 shock with only rebound and air pressure being adjustable. No magic pedaling switches or compression adjusters here. But the real story is that they aren't needed. 
There is no question that good suspension bikes are easier to design these days thanks to 1x drivetrains. Marin makes no secret of it: 

The ride quality is less based on shock tune and more based on a solid kinematic package that is built around a 1x specific drivetrain. This really allowed us to create a bike that pedals well, but still absorbs bumps easily. - Chris Holmes, Marin Bikes
The effect is that the shock is easy to set-up and the bike rides very neutral in a wide sag range. I was quite happy, and used full travel, with 25% sag and the rebound set fairly open. This gave very good support standing climbing out of the saddle and pumping the Marin downhill. With more sag (30%) the bike is more comfortable cruising around but the performance was not as good climbing or descending.
The Marin's RockShox Recon Silver is as cheap as trail worthy forks come. Considering the Recon costs half as much as many budget forks this fork was clearly chosen to hit the price target. The Recon wouldn't make my short or long list - even in the budget category. It isn't a RockShox Revelation, an X-Fusion Sweep RL2 or a similar budget fork and this frame is worthy of such an upgrade.
With that out of the way and the price point in mind, the Recon is not a total piece of crap. That's better than expected and as I'll talk about in my Min-Max follow-up, the fork is one area where an upgrade bumps the price of a bike significantly. It is not at all a match for the impressive performance of Marin's rear suspension but it is fully possible to get enough traction, support and comfort out of the thing to ride the trails I mentioned above. 
As much as it adds weight I think the Recon Silver's steel stanchions contribute greatly to its ride-ability. Combined with the 15mm thru-axle this ultra-budget RockShox fork is actually reasonably stiff rolling into steep chutes and cornering. 
I set the excellent feeling Solo Air system up with 25% sag and then started playing with the damper. There's no way to sugar coat how basic the RL damper in this fork is and if I try to set it up like a higher end product it beats the snot out of me on successive hits. 
I found my best results came from running the compression adjuster wide open and the rebound as fast as I could control it. With the least amount of restriction, small bump compliance is really good. I raised my bar significantly higher than I normally would on a 120mm bike and combined with the fast rebound I always felt like I was in a good attacking position on steeper downhills. 
UP, UP and UP
I've ridden some pretty luxury bikes in the 120mm category and none of them pedals better out of the saddle with the shock wide open than the Marin. I've had lots of opportunity to test it because I often just leave the saddle in descending position for short climbs or flats rather than getting off and opening the quick release. I've happily mashed my way along a few different sections of Mount Seymour's Bridle Path connector trail pedaling standing up and it's impressive how responsive the chassis is to inputs. 
Despite sporting big tires and being a little hefty it was a very rare day that the Marin's 32t x 11-42t gearing wasn't sufficient. I'm not complaining about the 30t I'm running now though and there was no impact on suspension performance making the small swap. 
The Deore drivetrain shifts the chain up and down the Suntour cassette quite deliberately. The shifts are sluggish and I was careful about pushing through multiple gears under load but all in there is nothing I would change until I wore it out or wrecked it. 
I had no issues flowing up tight switchbacks and the steering responds well to a light touch. Aside from only being as fast as the engine it's an easy bike to navigate up hills and responds predictably to and body English. 
Descending
The Marin carries speed very well. It's stable and planted in corners and I'd sum it up as being very easy to ride. I could jump on it from any other bike and instantly be right up to speed pumping down the trail. 
With about 25% sag front and rear I set up the X-Fusion O2 shock a little faster than I normally would, to balance it out with the fast-as-I-could-control front end. The Recon Silver SL rides surprisingly smoothly with the compression wide open and the rebound as fast as I could run it and the balance of traction, support and comfort is good. That's good without taking the budget into consideration. For $1500 I can't believe how well this thing goes down. 
Ridden downhill in anger I'm certain the Marin would blow the doors off bikes many times its price with a higher end fork up front but I always felt in control with the Recon and the aforementioned chassis stiffness was fine riding down some pretty steep and gnarly trails. I just kept the speed in check, which is easy to do with the excellent $45-per-wheel-cheap Shimano brakes. 

Braking doesn't seem to have much effect on the suspension and the geometry is at home cruising along down steeper rockier sections. There is nothing weird happening here except adults having fun in the woods.
The Hawk Hill is playful and likes to be jumped. I found it best to land with a slight rear bias as again the rear suspension is more controlled than the party up front. The few small crashes I have had were the result of not getting over the front of the bike enough which I'd attribute to a lack of faith in the fork and/or a failure to muscle it into position with the fast rebound. 
I found the stock grips weren't comfortable for long descents and switched them out for my personal preference; not a big deal. The only other issue is the Deore shifter trigger is a bit of a reach with the brake levers moved in for one finger braking. It isn't an issue on trail because shifts need to be planned. 
The Ideal Buyer
Anyone in the market for a $1500 mountain bike is doing themselves a disservice by not considering the Marin. At this price, the travel doesn't even really come into the equation. This 120mm bike is more capable than anything I've seen in the range, regardless of travel, thanks to its suspension and geometry. 
The ultimate beginner trail bike? A great choice for your kids or a partner you're trying to introduce to the sport without the huge initial investment in something they may not love (if they are crazy people)?  If it can be ridden on fairly aggressive terrain here on the Shore it would be a great welcome-to-mountain-biking bike anywhere. 
But it is also a lot more than that. Slap on a good fork, a couple hundred dollars in rubber, a set of mean brakes and a dropper post and I truly believe the Hawk Hill would hold its own downhill against virtually any 120mm bike on the market and be a tonne of fun doing it. 
The Future
There are upgrades to be made but as a package, I'd say replace the rotors and hit the trails with no excuses for not having fun. See how many carbon super bikes you can catch going up and down the hill. 
Eventually I'd suggest coming up with the funds for a budget dropper post like the X-Fusion Manic. Do some research into fresh rubber. Stay on top of the basic fork and shock service. The upgrade potential with the Hawk Hill is very deep indeed.

The Hawk Hill isn't just an awesome value at US$1500 or CDN$1900. It's an awesome mountain bike. It's playful and poised anywhere a 120mm bike with a slack (67.5°) head angle and aggressive tires can go. The frame design reflects a level of thoughtfulness that is often missing from bikes more than twice the price. Three times the price. Four times... 
For more information please check out the Hawk Hill here. 

*Shimano's SM-AX58 for anyone who needs one.