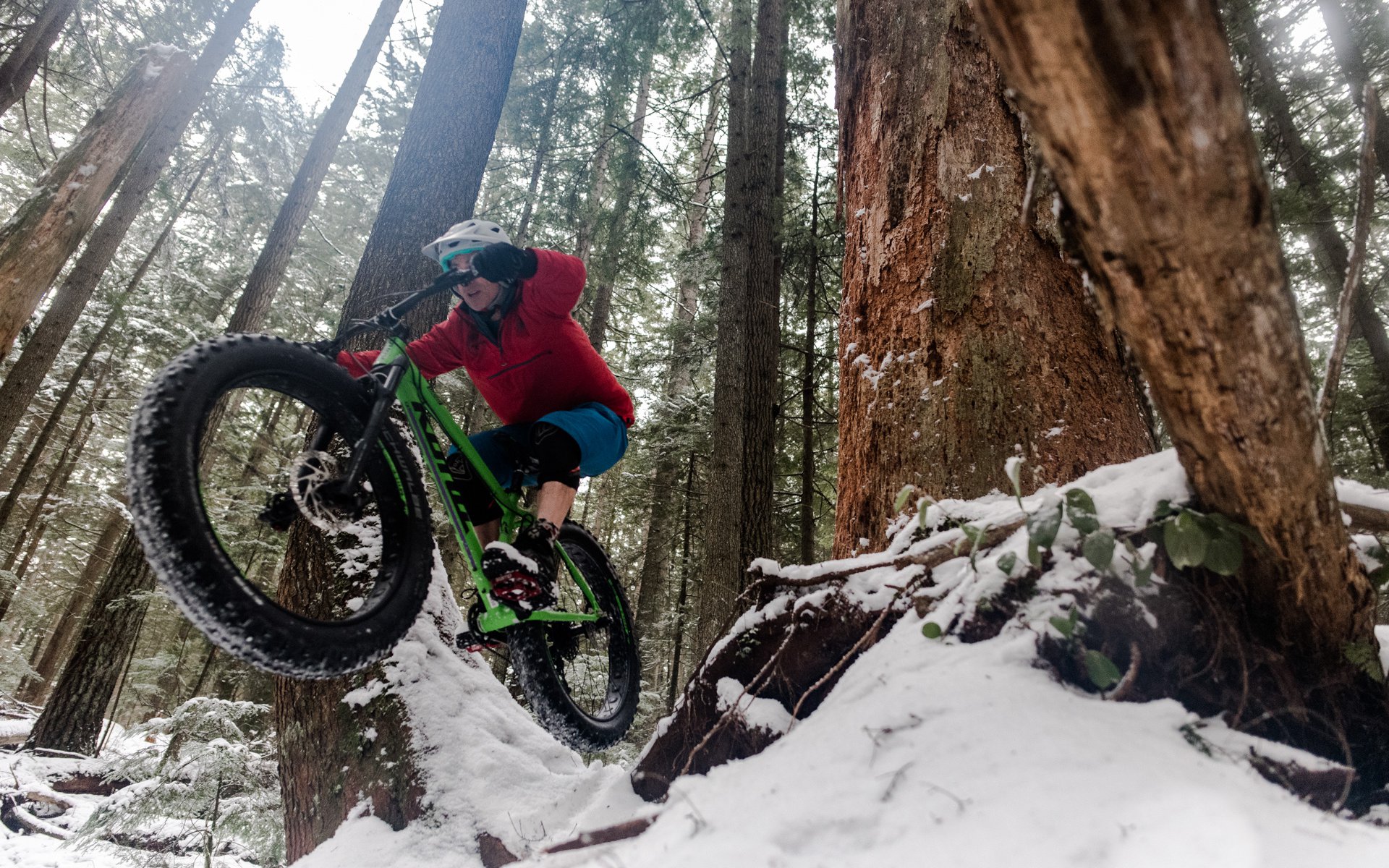 TRIPLE TESTER REVIEW
2017 Kona Wozo
Andrew
Dropping In
I'm two wheel drifting the Wozo down a steep icy chute, begging for mama. It's endless. Slow motion. I'm chanting to myself "relax, relax, relax" but I'm so tense my legs are crushing the saddle. I hit the bottom and find some real snow. Traction returns instantly and I effortlessly blow through the 100mm Bluto.
There's no 'oof' moment as the linear fork transitions smoothly into the tires' compression. Before I can bottom out on the rim the bike is rebounding as a system. The handling slows down a bit and I take a deep breath before pumping into the next blind corner. Floating over snow that even my Plus bike can't dream of handling.
Cam flies the Kona Wozo through the winter wonderland that was Mt. Seymour this winter.
WOZO!
It's a bike name and it's a battle cry. Kona's take on a fat bike for four seasons. Or, as they put it a "fat trail bike". It has an adjustable wheelbase, a 69° head tube angle, and Huge Meat.
The big green machine munches terrain with a 4.8″ Schwalbe Jumbo Jim tire and a RockShox Bluto up front. Out back it's a 4″ wide version of the same driven by an 11-42 SRAM cassette and a 28t ring on the RaceFace Aeffect crankset. All the parts are hung off of Kona's 7005 aluminum fat bike platform.
The Wozo's front 4.8″ Schwalbe Jumbo Jim floats over snow that traps smaller rubber. Headed downhill it grabs the RockShox Bluto by the dropouts and digs for traction.
The SRAM NX trigger shifter and SRAM GX derailleur is bread-and-butter bike spec and both worked very well for me. Based on the Wet Coast it never gets 'that cold' but given that fat bikes are often ridden in areas requiring thick gloves I think this is the perfect application for SRAM's NX Grip Shift shifter.
Kona Wozo – Sun MULE rims on Jumbo Jims. Cut outs in the rim reduce weight. It's a fat bike thing.
I would normally have a beef with the 'Resin Only' Shimano rotors. They usually leave me wondering "why do they even make those?" but in this case I felt the anti-lock characteristics complimented the fat rubber well. The secret to riding a fat bike on technical terrain – in snow or dirt – is definitely to keep the wheels rolling. Up or down.
As always, the Shimano Deore brakes themselves were excellent. Certainly one of the best trail worthy budget components on the market.
Normally saying "I'm not a fan" of Shimano's 'Resin Only' brake rotors would a gross understatement but in the Wozo's case they complemented the fat rubber on dirt and snow. The Shimano Deore brakes were excellent.
Set Up
Setting up the suspension on the Wozo is a two stage process. First I dialed in tire pressure to get that perfect combination of traction, support, damping, and "there's no Wozo-ing way I'm changing a flat on this thing on the trail." Once I was confident with my tire pressure I set to work on the RockShox Bluto.
For setup I first dialed in my preferred ride characteristics for the Jumbo Jims. Then I adjusted the Bluto to compliment the tires on the trail.
To complement fat rubber I set up the Bluto's SoloAir spring as linearly as possible with significantly more sag than I would normally run. After some experimenting, I settled in around 30%. Then I set the rebound damper on the slow side since the tires themselves bounce back quite quickly.
I also installed an 800mm bar and a longer stem to slow the handling down. Even with the huge meat the Bluto's 51mm offset combined with 30% sag makes for big changes from light touches.
The entire range of Wozo's wheelbase adjustment is usable with the 4″ wide rear tire. It's a great feature for tweaking ride characteristics.
The Wozo's adjustable wheelbase is entirely usable with the 4″ rear tire. I thought I'd prefer to run the stays as short as possible to maximize the playfulness of the bike but it felt most balanced front-rear between the middle and full-long positions.
Climbing traction in the iciest re-frozen slush conditions was also best with the chainstays set up longer.
I rode the Wozo clipped in so the last step was to move my cleats as outboard as possible. Crank rubbing be damned – I needed my shoes as inboard as possible to compensate for the width of the bike. The Q-factor on most fat bikes is not unlike riding a horse.
Despite the slippery conditions, the Wozo wasn't shy about getting off the ground.
Geometry
If the Wozo was my bike the very first thing I'd do is buy the parts to jack the Bluto up to 120mm travel. It's not a surprise as every Kona Honzo and Explosif owner I know personally – and there are quite a few of them – prefers how the bikes ride with an extra 20mm of travel up front.
The primary advantage is to raise the bottom bracket height. Although the slacker head tube angle certainly doesn't hurt. Running 30% sag up front the Wozo definitely drags its moose knuckle through the rough stuff.
The naked numbers behind the Wozo. Combined with 30% sag up front the BB height is really low. A 120mm Bluto would make everything a degree sweeter.
That certainly didn't stop anyone from getting rowdy. The huge rubber can get you in trouble just like big tires and slack angles on a short travel bike.
Reach is generous as with its Honzo namesake. Also, like the Honzo, the seat tube is curvaceous so the effective seat angle is going to vary massively depending on inseam.
Perfect air pressure is the key to getting amazing traction in all conditions and enough support to clean the Wozo over. Cam showing how it's done after a dusting.
WOZO on Snow
When the snow is 'right' the Wozo is a ridiculous green box of fun that's way more smile-inducing than the sum of its parts would suggest. By that I mean that it's a distant second to riding regular bikes on dirt and way more fun than not riding at all.
It floats up, down, and over a crust that would have any less endowed bike's rider off wading through snow. My fat bike experiences are very limited but the geometry definitely feels less 90's XC race geo than the other monster machines I've pedaled. I do note there are a quite a few options with slacker HTAs on the market now.
Eyes on the prize. Climbing traction is excellent in most conditions.
Climbing traction is excellent in most conditions. That's even true for ice as long as it isn't mirror smooth. Generally speaking, it's best to sit and spin a good cadence but when the paddles are digging into fresh snow there's enough traction to stand and hammer.
The overall experience is like driving a 4×4 with good tires in snow. Accelerating generally is not an issue. Time to stop? Don't go too hard on the brakes. The secret to cruising the Wozo down steep snow-covered Shore trails is definitely to keep the wheels turning even if the speed gets a little uncomfortable.
When my situation became properly FUBAR'ed I would just aim for deep snow and rely on the extra-Jumbo Jim and Bluto to take the brunt of it. It's amazing how often the snow would break most of my momentum and I'd ride right out of it. It's jarring how many times my shoulders hit the ground with my hands still firmly gripping my handlebar.
Dirt or Snow the X-Fusion Manic made for an awesome upgrade to my Wozo experience. Working a QR with cold hands sucks. Yes, I know it isn't called the 'WAHzo'. Photo: Andrew Major
WOZO on Dirt
Riding a bike in snow, even a fat bike, doesn't tell you that much about it. For one, most snow conditions damp vibration way better than any carbon bar claims to. It also acts as a random traction generator. Sometimes I would ride the same section of trail four times the same way and get seven different results.
With some mostly clear trails, I upped the pressure in the tires a few pumps to resist roll over and hit dirt with much more consistent results. It's actually crazy how far a mere mortal – such as myself – can lean over the Wozo without actually laying it in the dirt. Even in flat corners. Even at slow speeds. Uphill on steep and tight switchbacks! Wheelbase is not an issue when you tip the bike over at a 45-degree angle.
How good is that mere mortal cornering? I ate sh*t thrice my first ride back on a 'normal' bike trying to lay it over without laying it down.
The Wozo isn't in a hurry going up or coming down but it is full-fat-fun and capable of eating sloppy technical terrain while keeping a huge smile on its face. Photo: Andrew Major
Pedaling through really technical terrain is where the low bottom bracket and pronounced fork sag became really noticeable. I clipped my pedals with countless regularity and had a few abrupt stoppages from BB contact. The handling also became too-fast between the actual (sagged) HTA and fork offset.
Rider: Cam McRae | Location: Mt Seymour | Bike: Kona Wozo
A taller fork would definitely be the easiest way to mitigate both of these symptoms and make the Wozo even more fun. In the mean time a wider bar, longer stem, and shouting "WOZO" loudly at any extra spicy sections of trail worked out really well.
Dropping Out
This is Cam's " don't hit Dave face."
If snow on the Shore for a few months every year is going to be a thing, there'll be a fat bike with aggressive geometry in my quiver. I had a lot of fun riding the Wozo.
Cam and Trevor rode the Wozo with flats and Andrew clipped in.
Trevor
Wozo Spec
The big round Jumbo Jim tires gave me super traction in high-speed corners on snow and dirt which allowed me to lean in more than I am used to. This thing rolls over almost everything on the trails I rode. My only complaints would be that it could use a dropper post and my tired body could use some rear suspension and a bigger front fork. Small details that can be overlooked by me.
Wozo Reflections
I rode the Wozo during the snow covered trail season. I rode it 7 times in the snow and 4 times on dirt and I loved every minute of it (well maybe not climbing with buddies on 29er xc bikes). This bike was so much fun.
Everything was looking good… photo – Cam McRae
I loved carving lines in snow banks to the side of trails, going through trees off- piste (on top of snow so I was not damaging forest floors) like I was tree-boarding. It was great fun when snow turned to dirt and I was hound-dogging friends on trails ranging from intermediate flowy to advanced gnarly Shore tech.
…but things didn't work out as planned.  photo – Cam McRae
The chant "Wozo" (from the North Shore dialect "Woohoo") was called out by the riding crew as I flew past and through certain sections of trails.
Trevor 'Wozo-ing' down Boogieman. Photo: Ryan Robertson
The one area I assumed the fat tires would dominate over regular sized bikes was in snow climbing and down-hilling through big snow fields but it was very similar. I could usually get a little further up hills and farther down large swaths of snow than my buddies on 2.3-2.5" tires but it was not a marked difference. Maybe they were just more talented than me… actually no they weren't.
After two rides I was hooked and wanted one of my own. Being delusional and ignorant of retail pricing on fat bikes I was disappointed when I found out how much this extra treat in my bike quiver would cost.
Low gearing is very helpful in snow and other variable surfaces.
Cam
Surprisingly Fun
There isn't too much for me to add except to say that the Wozo is a surprisingly fun bike on dirt and snow. Anywhere except perhaps pavement actually. I would even recommend it to friends considering adding a hardtail to their collection – independent of snowy climes. The big tires, with their correspondingly large cushion and grip, encourage aggressive riding, and the geometry and fork play along nicely. This bike was a medium but the nice long front center made it a comfortable descender for me. Going up was problematic however without a dropper post because I couldn't get proper extension.
The Wozo is surprisingly capable and fun – on everything except pavement.
If the Wozo was available it was always in demand, which explains why three of us have something to say about it. I was always surprised by how much fun I had riding it and how it could handle terrain of all sorts. Give one a try if you have the opportunity.
The Wozo sells for $3199 in Canada and $2400 in the US.
For more check out konaworld.com/wozo
---