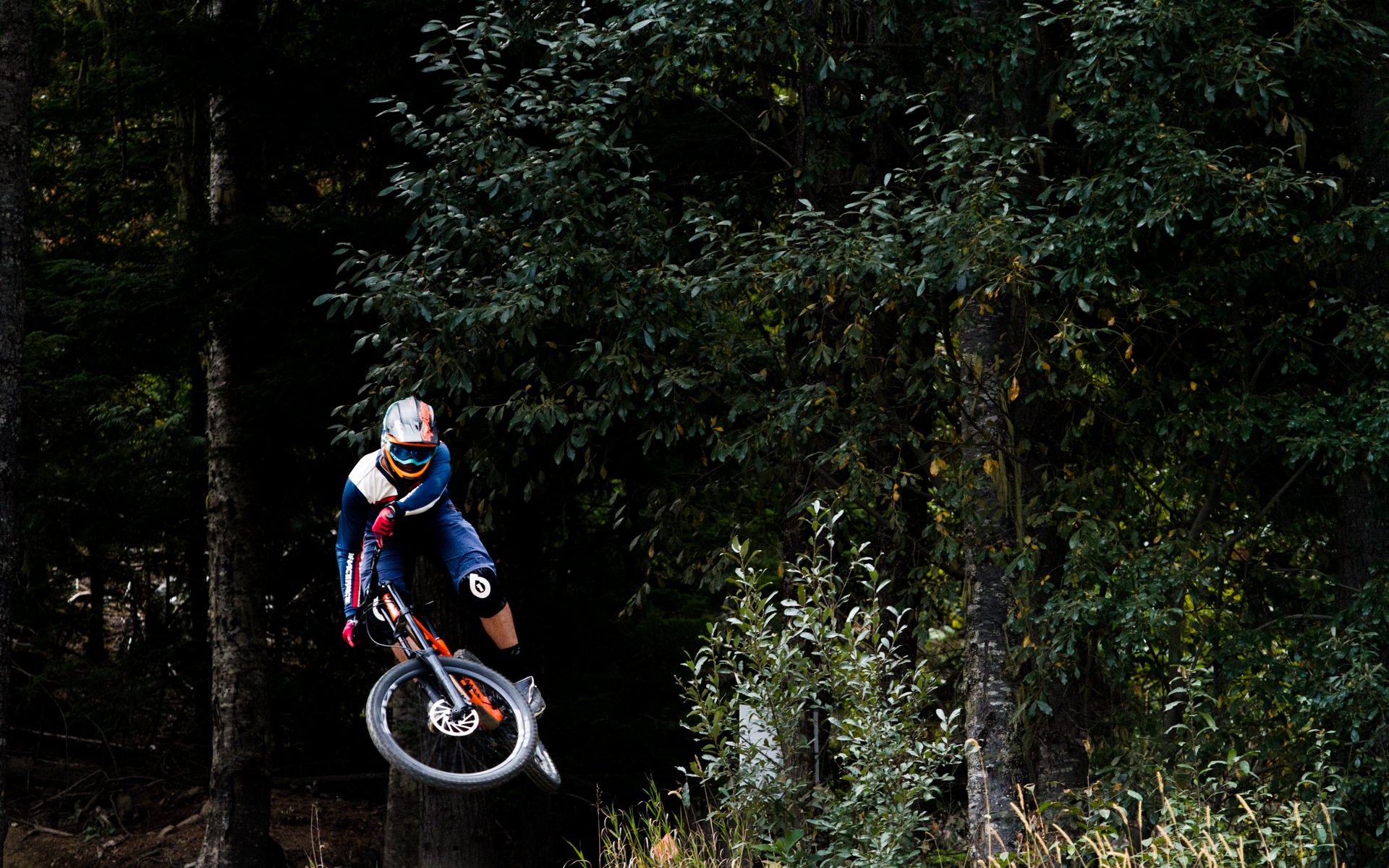 Long Term Review
2017 Kona Operator DL
I was lucky enough to cover the launch of the new Kona Operator at Retallack last fall. The Kona crew were fantastic, and they hosted a great trip. While a day on the bike was good for an initial read, it certainly doesn't amount to a long term review. Thankfully Kona was nice enough to send us the exact bike I rode at Retallack for a long term test; a Kona Operator DL in size Large. 

It doesn't strike me as an out and out downhill race sled that's uber long, low and slack. Think of it as more playful, and fun.
During the launch Kona expressed how they wanted the Operator to be a durable, workhorse platform for downhill duties. From my experience that was achieved. I had no frame durability issues, and all the details worked as intended. Cable routing is good with no unexpected wear issues, the shifting stayed crisp, the bearings remained smooth, and the frame felt stiff throughout the test period. Even the paint finish appears to be durable, with the bike still sharp after a couple months of use in the bike park.
Size wise, I felt like the Large was too small for me and I would have preferred an XL (I'm 6' tall with apish long arms and an XL wasn't available). Despite this I had a blast riding the Operator. The bike is a bit shorter than I'm used to so it took some time to adjust on rowdier trails. The compact back end begged you to slash through corners and the front end came up with ease. A strong case of business in the front, party in the back here, doubled up with Hello Wheely Wednesday! It doesn't strike me as an out and out downhill race sled that's uber long, low and slack. Think of it as more playful, and fun. And if you balk at this bike having the chops to hang on the DH track, you might want to watch Connor Fearon smashing his stock Operator down the World Cup tracks. I thought the rest of the geometry was mostly standard fair, with a well judged bottom bracket height, head angle and seat angle. So while I prefer a longer bike, the shorter stays on the Operator have their advantages, and take advantage I did.
Component Check:
This 2017 Kona Operator DL comes in at a price of $5,299, with a mostly well thought out spec:
Fork: I like the Boxxer chassis, but I could tell where the RC damper falls short of the superior (and more expensive) Charger  damper in the Boxxer Team. The fork feels great until you get the Operator up to bike park speeds. The RC was overwhelmed in high speed repeated compressions through bumped out trail. While I think the RC is a good fork for the money, and likely more than adequate for most folks, don't expect World Cup performance. This came with the Firm spring, which was appropriate for my 185 lbs.

 Shock: The RockShox Kage did an admirable job for a mid-spec shock. The rebound and compression adjusters had ample range, and I was able to dial in settings I was happy with. Don't get me wrong, it's no replacement for higher end dampers, but I was impressed with its performance at this price point. The shock came with a 550 lb/in spring, which was a hair undersprung relative to the fork. 

Brakes: The Guide's aren't fantastic on a DH bike. While these are adequate for bike park use for relatively short runs, they would fade on longer descents. The organic brake pads don't help either. A proper DH bike like the Operator deserves a proper DH brake like the Code R or Zee. Some metallic pads would go a long way to improve the stopping power on the Operator too.

Cockpit: Kona spec'd a strangely shaped bar that I didn't love. Handlebars are a personal thing I know, but I would have preferred a bar with less upsweep, and wider while you're at it
Wheels: the Mavic 729 rims on Formula hubs is a good durable choice. They aren't light, but they are tough. A great choice for a bike that is going to see plenty of bike park abuse
Drivetrain: Nothing fancy here, run of the mill stuff from SRAM and Shimano. And that's a good thing. The SRAM GX setup shifted perfectly. The Shimano Zee cranks were good with no issues
Tires: While I like the Maxxis DHF's I tore a hole in one at Retallack. They fared better in the Whistler Bike Park however. Besides the casing failure due to a sharp rock, I don't think anyone is going to complain about DHFs being spec'd on a bike
Suspension
The Operator is a linkage driven single pivot. Main pivot location is on the low side resulting in a compromise between chain growth and bump compliance. The leverage curve is decently progressive, which worked well with the Rock Shox Kage coil shock. The Operator doesn't feel mushy at sag, and ramps up well to control severe bottom out. Rear brake performance isn't class leading, but not terrible either. 
Frame
The Operator felt stiff in every direction, which works well with my riding style. I think all these choices by Kona fit the design philosophy and geometry of the Operator. All the decisions are middle of road, nothing extreme in any one direction. All pointed cohesively towards one goal; a fun and accessible downhill bike that most folks can go out and enjoy. Kona has released the 2018 Operator line which can be found here. The 2018 Operator is the same as the reviewed 2017, with the exception of the shock configuration. The 2018 Operators use a Metric trunnion mount, which is said to make the linkage more progressive, which is a good thing in my view. 
Ultimately I had a ton of fun riding the Operator DL. The component spec isn't top shelf, but nor should you expect it to be at $5,299 CDN. However in comparison to some of the other bikes on the market for roughly the same price I would have liked to have seen a set of proper DH brakes, and mid-spec dampers. I think with some better dampers, a handlebar and brakes the Operator would be an absolute blast. It seems Kona predicted my whingeing. The 2018 Operator DL comes spec'd with the better Boxxer Team fork, a Super Deluxe Coil shock, Race Face cockpit bits, and Code R brakes. The 2018 bike is $300 more than the 2017, but I think the component upgrades are easily justified. 
Easy to jump, manual, slide in to corners, and crank sideways off jumps the Operator is always up for a trail party. Add in that I had no issues with the bike over the test period, and the Operator makes a lot of sense. It might not have the trendiest geometry on the World Cup DH tracks, but how many of us can truly ride those bikes to their potential? I appreciate Kona's design philosophy making the Operator a fun and capable all-rounder, accessible to most riders.
The 2018 Operator DL is priced at CAD5599 and USD4599. 
For more details and prices in other jurisdictions click here...