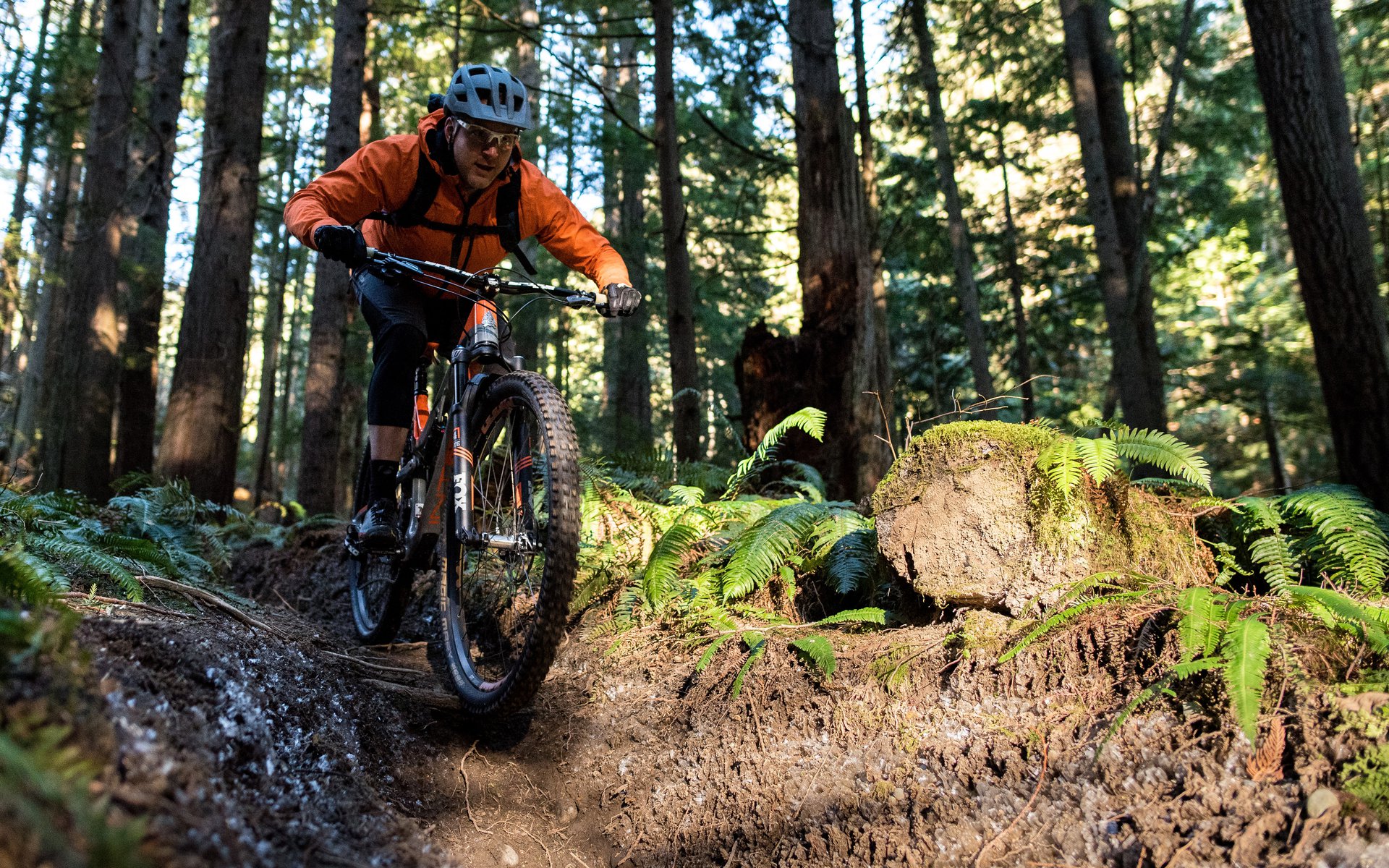 2017 Intense Primer Pro Review
The Fine Print
The Intense Primer Pro is a well appointed bike. Fox suspension featuring their top end dampers, a SRAM Eagle 1x drivetrain, a light & stiff carbon frame using a proven virtual pivot point suspension system with counter-rotating links. It is adorned end to end in quality brand name components.
The Intense Primer Pro is fast & firm uphill in its 115mm travel mode. A simple swap of a single bolt and a small air pressure adjustment and the 130mm travel mode provides a much plusher ride downhill and a less efficient trip to the top.
Really, though… I think any company would have to actively try to make a crappy bike that sells for $8400 (CAD). That's not intended as a cop-out but rather an explanation. I'm going to be discussing some minute details in critical terms, because frankly at this price point I think frame design and bike spec should be absolutely nailed.
With my aversion to on-ride knob twisting I generally ran the Primer Pro in its 115mm travel mode with my more aggressive spec changes. Not as plush or forgiving but it still liked to attack downhills.
Split Personalities
After riding the Intense in both the 115mm and 130mm travel modes, I've come to understand most of the questionable spec choices I noted in my Primer Pro first look.
In its short travel form, the Primer is a ripping XC/Trail 29er. It responds very well to aggressive out of the saddle attacks with the shock wide open and leans towards efficiency. It feels a lot more 'XC Race' than other similar travel (115mm rear / 140mm front) 29'ers I've ridden. The Kona Process 111, for example, is a lot more active off the top.
Set up fast and firm, with the quick rolling 2.25 Nobby Nic out back provides decent traction, while the 760mm handlebar and SRAM Level brakes make perfect sense.
The Intense Primer Pro challenged my set-and-forget self-image. It is two very different animals depending on which hole in the linkage holds the shock mounting bolt (shown here in the 130mm setting). I used both extensively but generally preferred the shorter 115mm mode on rides with significant pedaling.
Swap the bolt, swap the bike. With 130mm of travel, the Primer Pro has a significantly softer ride. In a straight line descent, the additional speed was notable. So was the necessity of reaching for the Fox shock's compression platform switch on many climbs.
With this mode in mind, I swapped the Intense's 2.35 TrailStar Nobby Nic tire to the rear and installed my own 2.35 Magic Mary up front. I also ran both an 800mm and 780mm bar on the Primer Pro over the test period. Bar width is personal, and I get that lots of top Enduro racers have switched to narrow cockpits, but I still think an aggressive geometry 29er should arrive with a wider bar. It can always be cut down.
Intense Primer Pro: XC Trail
In its 115mm travel guise the Primer Pro pedals as efficiently as any 29er XC bike I've ridden. Sitting or standing. With the shock wide open.
The SRAM Eagle drivetrain shifted as I expected. Which is to say firm, fast, and flawless. The 34t ring up front worked well with the 10t-50t spread of the cassette and I never found myself searching for gears at either end of the range. The Primer Pro likes to be hammered out of the saddle and I performed significantly more bad shifts under load than normal with no issues.
The seat angle is significantly steeper than the Carbines I've ridden. That isn't to say that 72.3° / 75° (actual/effective) seat angle is pushing any boundaries but it is much steeper than the 70.5°/ 72° on the Carbine. I ended up running the saddle fairly rearward for my desired climbing position but I think most Intense aficionados would be very well served by the updated pedaling position.
When it comes to drivetrains I'm a long time Shimanophile on my personal bikes but I love Eagle. Flawless shifting, backpedaling for days, and good component life. I'd love to see lower profile rear derailleurs more akin to Shimano's Shadow.
Intense's bikes like to be run with quite a bit of rear wheel sag. In the 115mm travel mode, I hovered between 25-28% with the Float DPS shock's compression adjuster open and the rebound set fairly fast, although definitely slower than the fork.
The Primer Pro gets up to speed easily and provided awesome traction and support for technical climbing. The rear end was a bit harsh on longer technical descents at 115mm, something that I didn't experience in the longer travel mode.
Intense Primer Pro: All Mountain
In the long travel setting the Primer Pro eats terrain as well as any bike I've ridden in the 130mm 29er category. It isn't as lively as the 115mm setup but there is a time and place for both setups. If I was to guess, I'd say most riders who try both settings will end up leaving the Intense in the longer travel setting and then relying on judicious use of the shock's platform when the trail turns uphill. Keep in mind I was running 28% sag rear.
In this longer travel guise some aspects of the part spec become underwhelming. The 2.25 Nobby Nic on the back is tiny. Its PaceStar compound is a poor choice when the going gets greasy. I felt the Level brakes were under powered for the application and that Guides would be the more appropriate spec. They feel great, they're easy to bleed, and to be entirely fair SRAM does bill them as an XC/Trail brake.
When the going gets rough the Primer keeps rolling. In the 130mm travel setting.
Now, Cam had great impressions of the Level brakes on the Tallboy 3. I have also been riding, and am comparing, Magura's MT Trail and MT7 brakes and Formula's ROR brakes against the Levels. Those brakes carry a higher price point and more aggressive intended application.
Yes, tires are definitely a regional choice. Bar width is personal preference. With the Schwalbe 2.35 Trailstar Nobby Nic swapped to the back, my Schwalbe Muddy Mary up front, and 800mm Spank Spike handlebars the Intense rode much more aggressively. I think the Primer Pro deserves wider bars and meaner meats given its long travel capabilities.
Wheel Spec
The only spec choice  that I can't come to terms with, or simply chalk up to personal preference, is the wheels. DT's hubs, spokes, and rims are all top quality products. Top Quality Products. But, I think the choice of the M1700 wheels holds back descending performance and reduces the number of good tire options going forward.
I'm ignoring the 20° engagement of the stock hubs with 18t ratchets. Some folks don't care as much as I do about fast engaging options. As I noted in my first look the hub ratchets are upgradeable to the 36t or 54t option.
The M1700 wheels are top quality but the rims are too narrow internally. This negatively affects tire profile and limits good future tire options.
My issue is that aggressive tires are all being designed with much wider than 22.5mm (internal diameter) rims in mind. The stock 2.25 Nobby Nic looked quite at home. Both the 2.35 Nobby Nic and 2.35 Muddy Mary were very round and didn't provide the sidewall support I'm used to.
The resale value of 29″ wheels with Boost hubs and narrow rims is questionable so this is not an easy change on the shop floor. I'd like to see a set of DT 350 or Hope Pro 4 hubs laced to Stan's Arch MK3 rims with a 26mm (internal diameter). High performance. Good value. A similar cost to spec. And light enough to maintain the bike's chameleon-like nature.
Suspension Performance
The Fox Performance Elite suspension was every bit as good as any similar Factory fork or shock I've ridden. The range of adjustment, internally and on the fly, compliments the Intense Primer Pro's multiple suspension setups beautifully. The best part is that the cheaper OE price should free up some budget for the brand manager to up-spec other components at zero performance loss on the suspension front.
The new Fox 34 Float forks with FIT4 dampers have been very well received. They are very plush off the top, right out of the box, and the air spring is highly tunable via easily installed volume spacers. I personally prefer the more supportive damper tunes of past Fox forks but the current forks seem to please many riders. Custom valving is an option if you'd like more support.
The ride of the Float 34 Performance Elite is much plusher out of the box than any other Fox fork I've ridden. The air spring is highly tunable via tokens. I personally missed the firmer support of past Fox forks but feedback has been very positive and custom valving is always an option. Photo: Andrew Major
I ended up running 18-20% sag with the low-speed compression adjuster 4 clicks out from closed. This with the stock volume spacer configuration (three green volume tokens). For the Float DPS rear shock I ran 25-28% sag in the 115mm setting. I ran 28% sag in the 130mm setting. I ran the shock wide open in the shorter travel setting and used the platform adjuster regularly in the longer travel setting.
Two Different Bikes
Swap one bolt. Tweak the air pressure. Experience two different bikes. The duality of Intense's XC and All Mountain full suspension bike characters are the number one strength. That's shared from the entry level Foundation build to the top end Factory model.
Any bike that is trying to cover such a broad range of usage is going to have some compromises. Even at an $8400 (CAD) $7000 (US) price tag. If it was my bike? I would make some different spec. choices to any bike in the Primer lineup. As a bike that is being sold all over the world, the Primer models are well considered, aside from the rims on the lower models, which err on the narrow side.
A good looking, good riding bike that needs a few spec changes to offer relative value at its price point.
Intense has a deep history in mountain biking, a racing first mindset, and a unique aesthetic. Those features are all readily apparent in the Primer line. Intense is selling a total package, not just a nice rear derailleur. This is a boutique brand and exclusivity comes at a price.
The Intense Primer Pro is a lot of fun and the Primer line is definitely worth considering for anyone looking for a new ride that straddles the XC and trail categories.
For more head to intensecycles.com
---
Primed to be your one-bike-does-most.