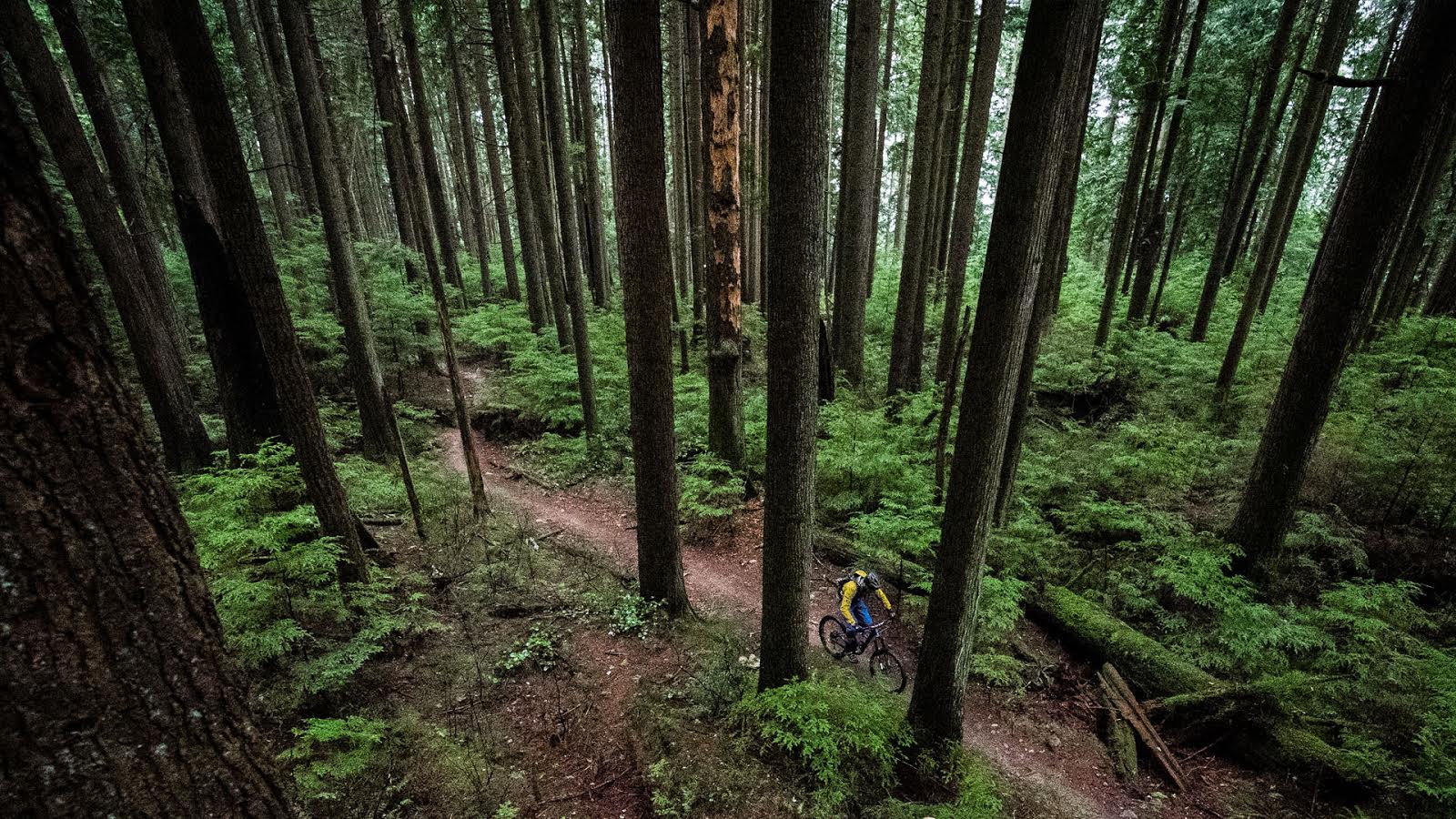 2017 Giant Trance
I'll be the first one to say that being an editor of a mountain biking publication is a good gig. Giant media camps have a habit of making it even gooder. For the introduction of the 2017 Giant Trance to the international media, they chose the South Chilcotins as a venue. Well known as the Chilcotins are, they're not easy to access. It's a 5-6 hour drive from Vancouver, depending on your vehicle and comfort level with off-road rowdiness. So they organized a little shortcut:
For the last 16 years, Dale Douglas, owner of Tyax Adventures, has been guiding, flying, and hosting mountain bikers in the Chilcotins. Safe to say that he is the driving force behind the development of mountain biking in one of the best known, remote locations on the planet. In case you were wondering about his mtb pedigree, he built the famous Dale's Trail on Mt Seymour in North Vancouver. NSMB adopted Dale's Trail for a few years – here's a little Matt Dennison vid from a while back – and it remains a favourite with just about everyone I know that rides on that mountain.
So, all credit due to the crew at Giant for picking an ideal venue to let us put some hard miles on their new trail bike. If 2014 was all about Enduro bike mania, with a hangover that lasted well into 2015, then this year is definitely the domain of the shorter travel shredder. And while most of them are 29ers (with chubby options), Giant stayed within the lines they painted for themselves a few years ago and introduced the latest Trance as a one-wheelsize pony. And that wheelsize is 27.5. No plus-sized option is officially mentioned, however you can run up to 2.6″ tires in the new Trance frame, and the fork is a Boost-spaced Pike, so it technically is plus ready if you're inclined. Clever move, Giant. Stick to them 27.5 guns but allow the dabblers to load the other barrel.
The design notes for the new Trance probably won't surprise you:
It is longer by about 10mm.
It is lower by 5mm.
It is not slacker, though – head angle remains constant at 67 degrees.
Also the same is the true seat tube angle of 73.5.
Like the previous Trance, travel is 140mm out back but gets a 10mm bump for a total of 150mm up front.
A tweaked Maestro suspension tune was designed to improve the bike's ride height and mid-stroke support.
It's almost comical how common that longer/lower (and, usually, slacker) refrain has become, except that it would be easy to overdo one of those attributes, and most designers are doing a good job of preserving an equilibrium. The Trance is no exception. Want to see some numbers? You want to see some numbers.
2017 Giant Trance Pricing
We don't have complete spec at this time, but the Trance Advanced 0 models we were all riding were equipped with X01 Eagle, 150mm Pikes, Guide Ultimate brakes, and Giant dropper posts, saddles, cockpits, and carbon wheels. Schwalbe Nobby Nics worked great in the Chilcotins' mixed bag of shale, sand, dirt, and mud.
2017 Giant Trance Advanced 0: $8,050 USD
2017 Giant Trance Advanced 1: $4,950 USD
2017 Giant Trance Advanced 2: $4,125 USD
2017 Giant Trance 2: $2,700 USD
2017 Giant Trance 3: $2,100 USD
Riding the 2017 Giant Trance
On the terrain we covered (Lorna Lake to Spruce Lake on day one, and then onto Tyax/Tyaughton Lake on day two for those keeping track), we didn't do a lot of sustained low or medium angle climbing. Instead, it was mostly very steep and punchy ascents. Sometimes long and punchy to the extent that as soon as you left a stroke awry, you were getting off to walk. We kicked off the ride with a 45-minute hike-a-bike on day one – you could pedal a few sections (if you could keep your balance long enough to grab a pedal and get a stroke in) and test out how the bike hooked up and climbed while using SRAM's 50t Eagle ring out back.
Verdict: the Maestro is tuned such that I never felt compelled to pull the shock out of fully open, pedal bob was not noticeable, and the added traction was outstanding. In fact, on several sections, I felt like I was climbing pitches that I may only have approached in the past on slickrock. Suffice to say the Trance climbs steep and technical stuff extremely well and in this situation I have to admit that the 70mm stem felt like a savvy spec. Still, I'd be inclined to run 60 or even 50, with wider bars.
Descending. While there aren't many areas in the Chilcotins where the descending is technical (at least by BC trail riding standards), the key to riding properly there is maintaining enough control that you don't tumble down an off-camber scree slope into a river 100 ft. below, or go over the bars into the trees and suffer an injury that would require an evacuation. That's because no matter where you have a problem, you're hours and hours away from a helicopter being able to get to you if you can't get out under your own power.
So, confidence and poise are key, as are complete confidence in your equipment. Therefore, even if we weren't often in super challenging descending situations, there is plenty of speed, lots of linked turns with questionable visibility, and some truly narrow singletrack that was formed decades ago as gold miners and other prospectors scratched their way along the countryside in search of riches.
In other words, don't be the dick that f*cks up and hurts yourself, because it's going to be everyone's problem when you do. Our pre-trip instructions were to ride at 70% at all times. And honestly, for the first hour on day one, we were mostly at about 60. We started with a creek crossing that felt like a tightrope routine over an icy, glazed string, and then we basically hiked straight up for 45 minutes. So the first time we pointed it down and Sterl was pointing his 70-200 at us, I know I was just taking time to try to find the bike's balance point while trying not to let the headrush-inducing views pull me right off the trail. By hour two, we were probably all violating the 70% rule. The Trance lets you hit it with the whip and it'll reward you, so there was a lot of whipping going on when we could see around the next corner – and sometimes when we couldn't.
The Trance climbed with confidence and traction that made me feel fitter than I am, and descended smoothly and capably, though we didn't have a chance to ride it in truly demanding, steep conditions. Still. you can jump on the Trance, tell it to sit, and it'll hunker down immediately. It may not be the most playful trail bike, but it doesn't lack liveliness. I certainly wondered a few times just how fast it would feel if it came equipped with bigger wheels, and that is not my usual perspective, but the recent crop of trail-bred 29ers has proven that big wheels don't automatically preclude tons of fun.
It's easy to spend time on a bike for two days and say you can't conclude a review without more time. No doubt I'd love to spend a couple of weeks on the Trance on the trails I know best, and that would reveal a few things that would round out a comprehensive review. However, after two days aboard Giant's new trail killer, I can say that it took no longer than an hour to feel comfortable, two hours to want to push it, and by the end of day two I was fully confident laying it into turns that had unknown amounts of grip and camber, or shoving the front end into rooty sections at speed. I'm left with a bit of an unusual impression because it almost seems like it was underwhelming, but the reality is that the new Trance was a hell of a lot of fun to ride, and never put a foot out of place. It's more of a Waltzer than a Tango partner, but that is no insult, just a trait. If you're after a trail bike that literally defines the genre, and aren't keen on a 29er, the Trance's balanced suspension performance and geometry may be the refined mount that you're after. I know I'm looking forward to more time on one so I can see how it does on the trails around home.
---
If you're a fan of past Giants, the new Trance Advanced will surely