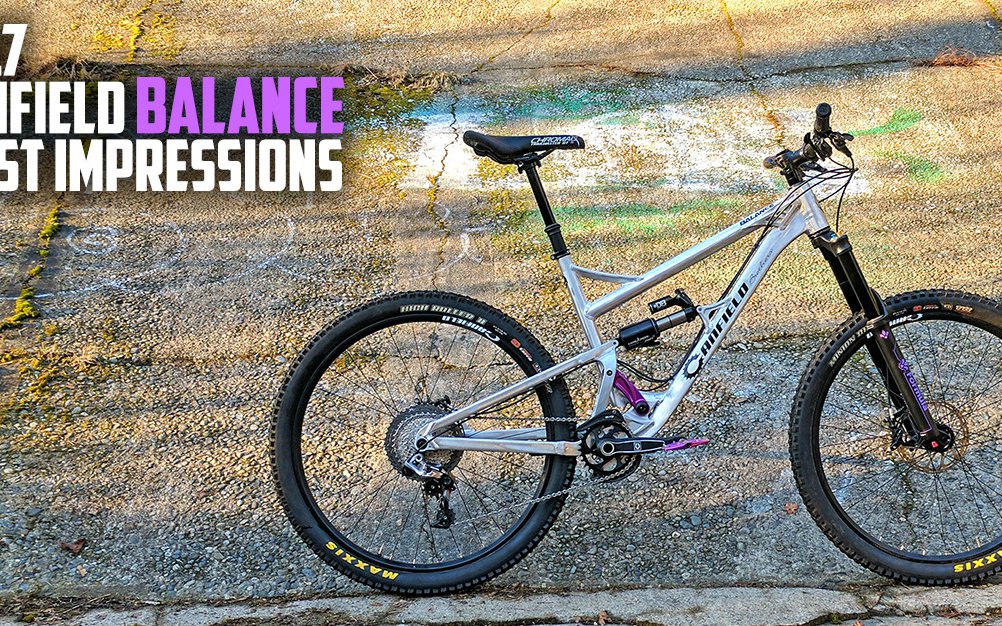 2017 Canfield Balance – First Impressions
I got to ride the first iteration of the modern Balance when it was released in 2014. Last year the frame had a nip and tuck job done with a bump in travel (165 millimeters), a slight stretch to the top tube and a drop in the bottom bracket height. The suspension gubbins also got tweaked along with a lower leverage ratio and a bigger kick up ramp at the end of stroke for a more progressive feel on the big hits. Add in an all-new CNC'ded upper link, a redesigned rear triangle to improves tire clearance, and the tweaked frame is full of improved details.
From a distance it's hard to see the changes made to the new frame over the previous version. It's a nip and tuck job but it's all been done to bring the Balance in line with contemporary thinking.
Canfield doesn't like to use the word Enduro, but this bike is aimed at that market. It's designed to be an aggressive bike for ripping anything you throw at it, be that the bike park or grunting up to get to some big alpine descent.
And here's a closer look.
We got sent a frame and a few key components to build up the bike, although Canfield does offer full builds with varying specs. That means this build is a bit of a mish-mash of parts that I had on hand or needed to be tested as you will see.
The rear suspension is a dual link design but one that differs enough from others that it is patented. The Canfield Balance Formula suspension as it is named, promises efficient pedaling with minimal pedal feedback.
The retro-riffic colour combination of this frame sends me back to the days when I had a poster of Han's Ray on his GT Zaskar. It definitely stands out from the crowd of carbon frames available today.
A closer look at those purple anodized links. The frame is available in either this Factory Raw finish or anodized black with a choice of link colours. This frame has welds for days.
The Balance is our test sled for the Formula 35 fork. This fork is set up with 170mm of travel. Formula supplied the fork with a set of purple decals and I'm undecided if I should go for the full matchy-matchy with the links or leave it like it is right now.
Proudly made in Italy, the Formula 35 warrants a separate review which it will get soon. Suffice to say so far I'm very impressed.
Crampon Mountain pedals." src="/media/original_images/IMG_20170112_152403.jpgw1600" alt="2017 Canfield Balance." data-recalc-dims="1" />
Mud clearance on the rear triangle is plentiful. Canfield thoughtfully supplied a matching pair of their new Crampon Mountain pedals.
The head angle sits at a slack 65 degrees which clarifies the intentions of this bike. On this Large frame the reach is an accommodating 460mm. The seat angle sits at 75.5 degrees which puts me in a nice position over the pedals when it's time to climb.
You can choose shocks from Cane Creek, DVO or Push. The Cane Creek DB Air has a lot of adjustability, but there is a good base set up on Canfield's website as a starting point. The chainstays are nice and short at 16.5″ and contribute to the way the Balance rides.
More of those welds and the burly head tube gusset. This frame is built for abuse and doesn't hide its intentions.
The iconic Canfield headtube badge.
I thoroughly enjoyed my brief time with the previous version of the Balance (I even owned a Canfield Lucky back in the noughties), so I'm happy to have this Balance under me for a longer period this time. That short rear end made the previous version really playful and easy to place, so with a little more length to stabilize the bike at speed, I'm expecting to scare myself on this bike.
2017 Canfield Balance Features
Ÿ27.5" Aggressive All Mountain / 165mm travel
Ÿ7005 aluminum with an all new, stiff CNC'd upper link
ŸPatented Canfield Balance Formula Suspension
Ÿ216mm x 63mm shock included*
Ÿ142 x 12mm rear dropouts, axle included
ŸTapered headtube
Ÿ15mm pivot bearings
ŸReplaceable rear derailleur hanger, spare hanger included
ŸAnodized and factory raw frame options
ŸAvailable in Small, Medium, Large and X-Large
The Balance is available on Canfield's webstore as a frame only or a factory build. The frame only starts at $2099 USD with full builds starting around the $4500 USD mark. You can pick through your options on frame colour, link colour and choose shocks from Cane Creek, DVO or Push.
---
Up for some rowdy lines?