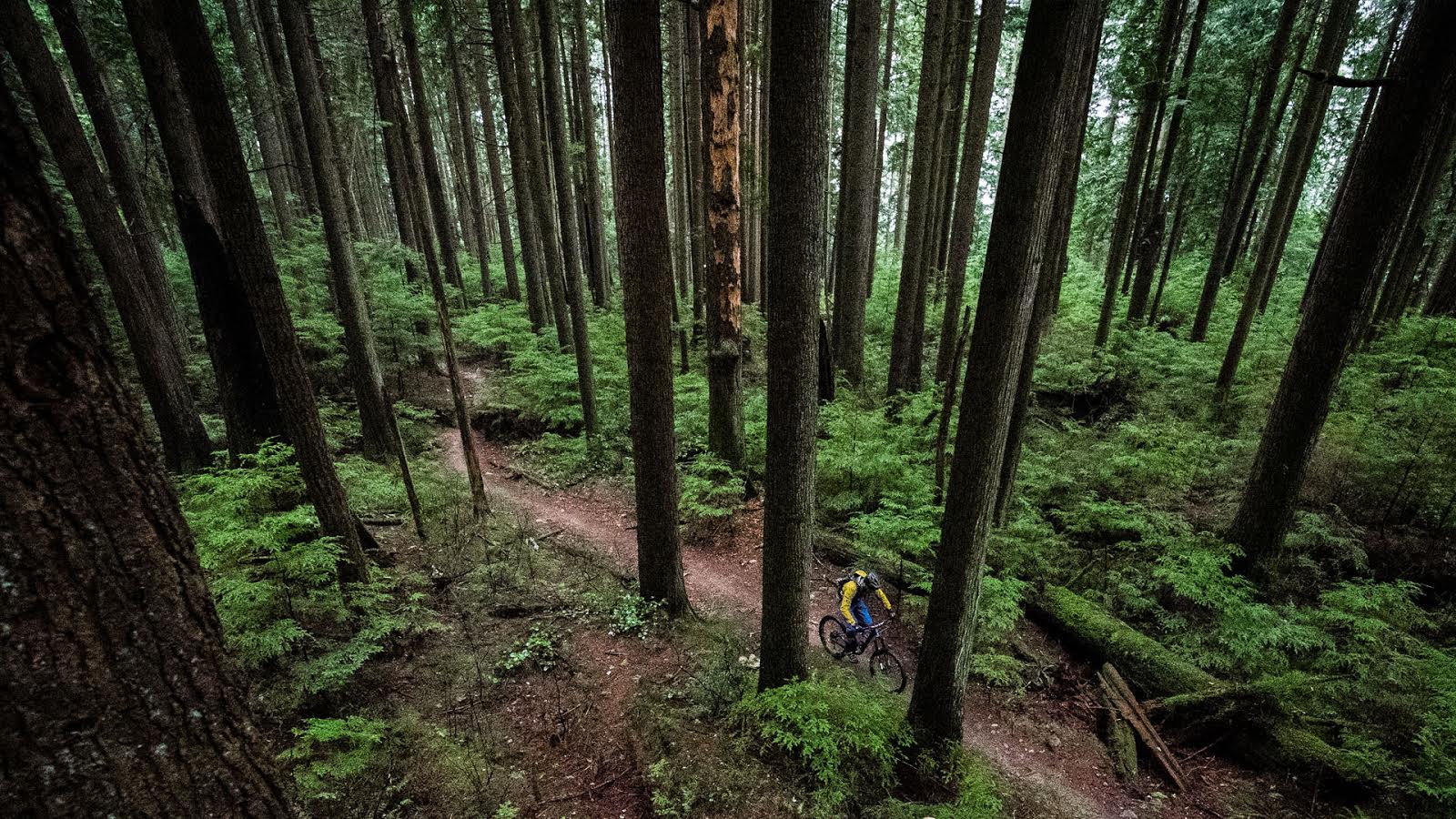 2016 Yeti SB5.5C
It wasn't supposed to be like this.  We've seen this bike before.  Like a BMW from the 80's, each Yeti looks pretty much the same, just in a slightly different size.  The SB6c looks like an SB5c and this SB5.5.c certainly isn't all that different.  Cam had to talk me into taking the damn thing.
A Yeti SB5.5c in a sun-dappled forest.
But as I pulled it out of the box…oh my god.
"What is that!" came the cry from the other room.  Silence.  Some confused looks.
"But you hate that colour?"  No.  I don't.  Not any longer, anyhow.
Oh man.  Look at those curves.
Everything about this bike is just sort of correct.  The comically large wheels fill the gaps in nicely.  The swingarm arcs and swoops into all the right places.  All the linkages are tucked away so as to not bother the aristocracy.  This, people, is a nice looking bicycle.
We'll see though.  This whole switch infinity thing…I mean, follow the linkages and you've essentially got a single pivot that moves around a tiny little bit, chasing a theoretical point slightly above the chainring.  Can it make that much of a difference?  Is it worth the bother?
The switch infinity link tucked in behind the swingarm.  The chips in the paint aren't our fault
Whatever.  Who cares.  Just look at that bike!  I thought Dave was going to club me over the head, leave me to die in the woods and take off with it.  It's gasp inducing.  Stomach churning.  Crotch tingling.  And it's unfortunate that the gods have conspired so that I haven't been able to ride the thing yet.
Parts.  Rather than talk about parts, let's look at some photos.
Race Face Turbine cranks take usurp SRAM in this key drivetrain position
DTSwiss SM481 29er rims hold the Maxxis Aggressor 2.3 (rear) and Minion DHF 2.5 (front) in place.  A non-Eagle XO1 drivetrain is hinted at.  A finely sculpted swingarm lords over them all.
A Fox 36 Factory 160mm (boost compatible, of course) leaves little to be desired in the fork department.
While on the back, Fox gives us the Float X Factory DPS Shock.  We'll see how that goes.
Easton has the controls.  Havoc 800mm wide bars bolted to a 50mm stem.  The 35mm diameter means I probably won't be swapping anything in here.
Guide RSC brakes and a thoroughly non-surprising Reverb seatpost.  Would it have killed them to give us more than 125mm travel?
A Yeti branded WTB saddle prevents the post from stabbing into your body
All of that stuff bolted to the beautiful, beautiful frame.  The beautiful size large, 140mm travel, 29 inch wheeled frame with the 66.5 degree head tube angle.  You want more numbers?  Fine.
Once again, I'm saddled with a Large where an XL would probably make more sense.  The 24.6" top tube/17.4" Reach numbers oddly mimic the longish top tube/shortish reach numbers of the Spartan that I just came off of, and I may find myself looking for a teensy bit more stem length to compensate.
Who doesn't want to ride a bike with this guy stuck to the top tube?
Whatever.  That's a bunch of numbers, specs and photos.  I'm looking forward to beating the crap out of my first real 29er test bike.  One that looks finely crafted to take whatever it is I can serve up.
---
Wiping the drool off your keyboard like Uncle Dave?