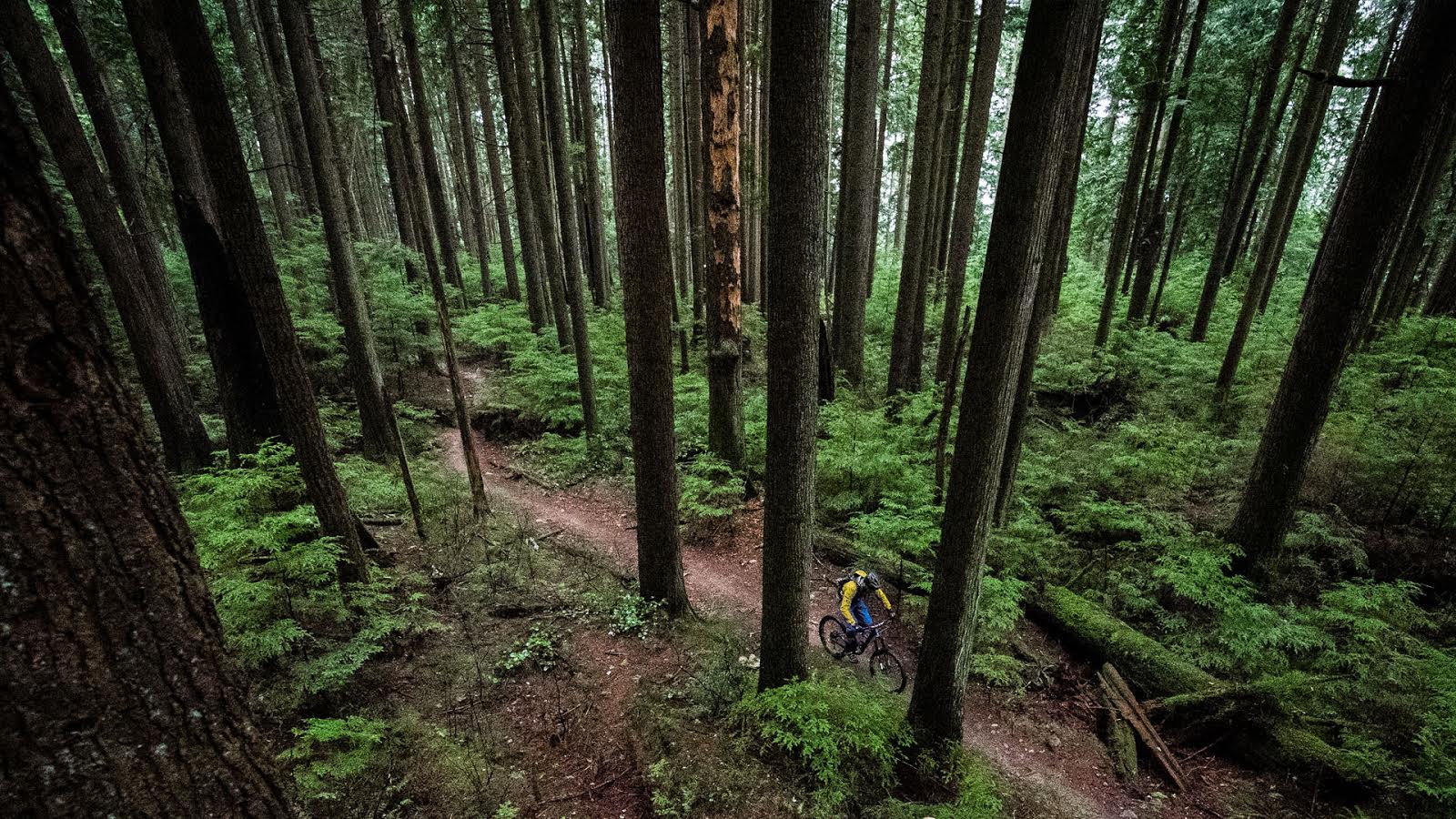 2016 Shimano Deore XT (11-spd) In The Wild
I'm not used to being on this level of gear receipt.  Please don't mistake this for a complaint…but I know I'm on the B team for NSMB gear dispersal. I'm not sure what I've done to climb out of basement to this level of Grade A Awesomeness. Brand new XT! Carbon Devinci Spartan!  DVO Diamond! And other goodies.
Of course, the purpose of this bike is to be a long term test bed for the New XT. We'll have a long term review up in a few months. I've managed about a dozen rides so far, and things are looking pretty good.
Let's talk about XT
At first, I was going to paint a metaphor of reviewing the new Deore XT as test driving a Toyota Camry. Common. Relatively affordable. Great stuff, but not anything to get the masses hot and bothered.
But things have changed over the last few years.  Like North American incomes, component spec has polarized. There's a tremendous amount of focus placed on the super high end, and the lower end has quietly started to kick a bit of ass. XTR is there if cost is no object. SLX is there for affordable performance (and lately I've been wondering why anybody would need anything more). You could almost make an argument that we don't really need XT any more.
Not only that, but the whole gruppo mentality is going out the window. Mix-and-match Shimano/SRAM brake/drivetrain combos are common. There are millions of crank, hub and wheel options. A full XT spec is a pretty rare beast these days.
So, in a way, it would be easy to not worry too much about the dawn of a new XT. But that would be a mistake. This new XT is breathtaking.
There is a polish to these parts that was absent from past XT gruppos. The crankset is sleek and elegant. The shifters are refined.  The brakes have upped their game. The rear derailleur is somewhat cobbled, but has shed some of the tool-for-a-superhero look of the past. And the wheels…I wouldn't think that the wheels came from Shimano if "XT" wasn't plastered all over them. There's no rubbery/plasticky Shimano-ness to these hubs. The rear buzzes loud and proud. It's really quite amazing.
And of course we have the 11 speed, with the 11-42 cassette. It's not 10-42… but it also doesn't require an XD driver body. At some point, I will make sure this sucker crams on to an older style hub.
Some early thoughts
Shifter – There's some really nice texture and feel to the rear paddle. Oddly, they've stuck with a plastic trigger. You can't really see it, but it feels cheap and I want this to be made of metal. As well, there seems to be a distinct difference in feel on the trigger, depending on if you push or pull it. Oddly, it seems to feel better as a SRAM style push than as a Shimano style pull.
Rear Derailleur – About what you'd expect out of a brand new XT derailleur. Solid and practical.
Crankset – This is a nice looking crankset and I'm glad Shimano is going back to refined understatement. There's a lot going on with the chainring and it looks really expensive to replace (US $74.99 to be exact).  We'll see how their non-narrow/wide chain retention system works. And it feels like they've missed a chance for differentiation here – why no odd number toothed rings? (essential with Narrow Wide rings – Ed.)
Brakes – The new version is subtler than the old, and the design is much sleeker, with better integration of the master cylinder. The most noticeable change is the texture to the levers. They feel reminiscent of Straitline lever blades of yore. Oddly, they didn't give me the finned pad option.
Pedals – This is my first foray back into the world of clipless in a long, long while. You can tell by my choice of footwear…some circa 2000 Lakes. The 15 year old cleats clipped right in. Things feel great, but I worry about some of the adjustment locations.
Wheels – The hubs are great, but I'm a bit worried about the rims.  I've had quite a few struggles getting the tubeless to work. The initial set-up, completed by Shimano I might add, didn't work at all. Sealant all over the place. Eventually, I got it so that the pressure will hold for days, but quickly leave me in trouble once I'm heading down the hill. I think I have the problem licked, but we will see. I expected a bit more out of a "factory" tubeless set-up, to be honest.
Cassette – What we're all really concerned about, right?  Can Shimano make an "affordable" 11 speed cassette that fits on a standard shimano freehub? Are there any shortcomings? Why can't they make a 10 speed 11-42?
So far, so good. Most of my "complaints" so far are nitpicks. But anything else out of XT would be a surprise.
The most interesting thing for me so far?  Not a single person has noticed that this is the brand new XT yet. Many, many people have stopped to ask me about the fork.
See you in a few months.
---
On your Xmas list?