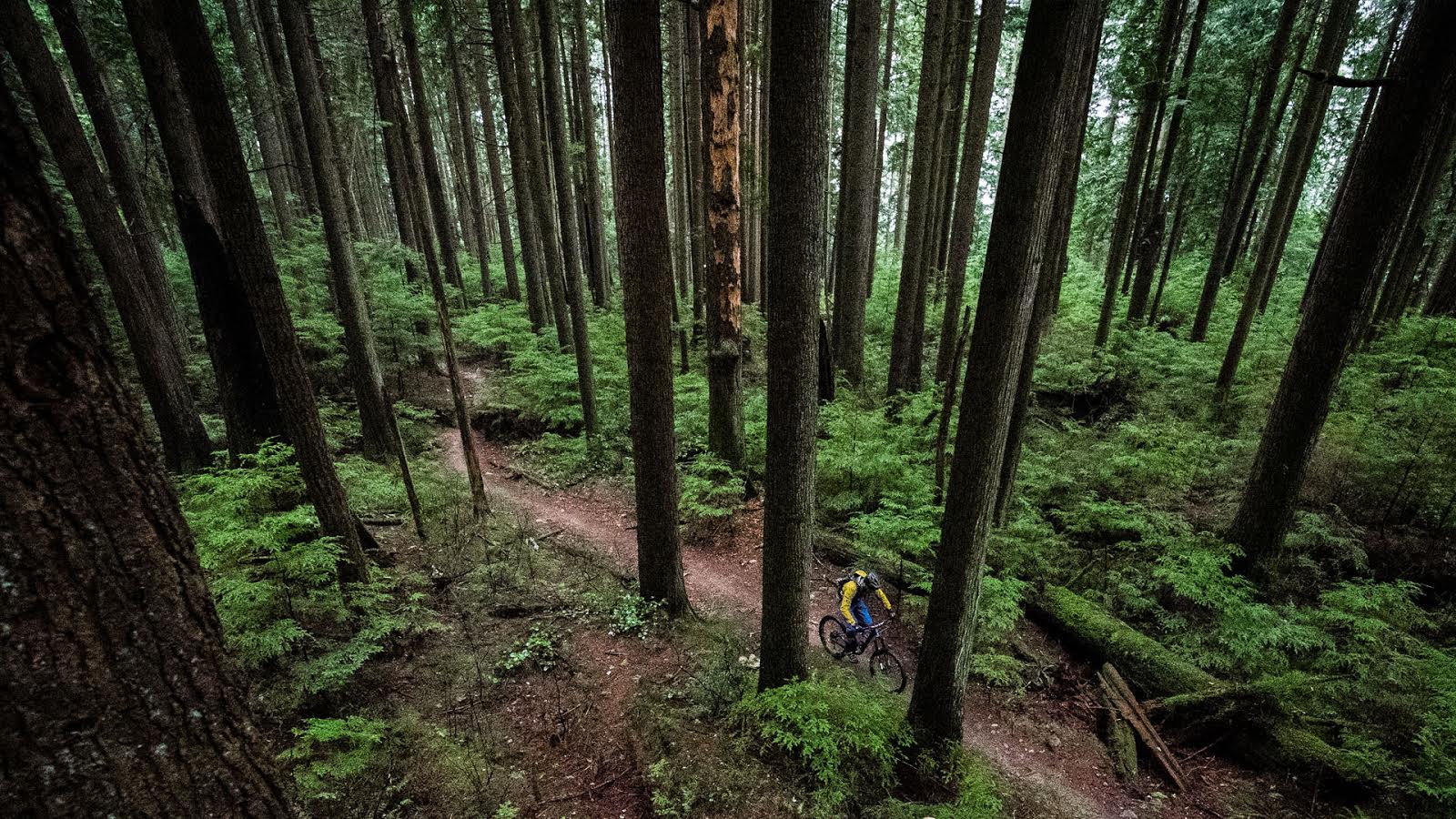 2016 Rocky Mountain Maiden
Introducing Rocky Mountain's all new Maiden for 2016. She's all carbon, 200 mm of travel, full of spunk and compatible with both 27.5" and 26" wheels. The Maiden has been in development for four years and represents Rocky's take on a downhill bike for a wide range of riders. Rocky chose to unveil the bike at Retallack, BC, and I was on hand to cover the launch and get a first impression of riding the Maiden.
 Walking up to the bike for the first time I was immediately struck by the 60s muscle car paint scheme. While the side profile silhouette of the bike might follow a familiar form, I think Rocky has done a great job with the unique styling elements of the downtube protector, shock fender, oversized pivot hardware, and unique paint scheme; all details that will make the Maiden easily distinguishable. High level features of the Maiden are:
Full carbon frame including all linkage components
Four bar linkage with 200 mm of rear travel
Pipelock collet axles and oversized Enduro MAX bearings
Integrated fork bump stops, shock fender, chain guide protector and downtube protector
Di2 electronics compatible with internal battery port
Internal cable and brake routing
Pressfit BB107 bottom bracket, drop-in IS42/52 headset, 157 mm rear axle spacing, ISCG-05 tabs
Ride 4 adjustable geometry
Available in four sizes; Small, Medium, Large and Extra Large
One of the defining characteristics of the Maiden is its relatively short rear end, with 425 mm chain stays. If you look at Rocky's wide spectrum of iconic team riders the emphasis was on a fun, playful bike, rather than an ultra-long World Cup DH race machine. Other than the short chain stays, the geometry on the Maiden follows the current trends of head angle and wheelbase. Summary of the Maiden geometry:
Head angle: Adjustable from 63° to 63.8°
Chain stay length: 425 mm
Bottom bracket drop: 9.5 to -1.3 mm
Wheelbase:

Small: 1188 to 1185 mm
Medium: 1206 to 1203 mm
Large: 1220 to 1217 mm
X-Large: 1238 to 1235 mm

Converting to 26 inch wheels has minimal impact to geometry
More detailed info can be seen here.
The Maiden will be available in four build kits as well as a frame set. Pricing for the Maiden ranges from $5,399 CDN / $4,499 US for the Park, up to $11,999 CDN / $10,499 US for the Unlimited, and $4,299 CDN / $3,999 for the frameset. The Unlimited, Pro and frameset come in black. The World Cup, Park and frameset come in blue. One of the standout choices Rocky has made in the spec is choosing BOS suspension for both fork and shock on all builds except the cheapest Park spec. I rode the World Cup version and was impressed with both the BOS shock and fork on my test bike. Full build kit details for all builds can be seen at www.bikes.com/maiden. 
So how does it ride? In a word: playful. I hate that term, I think it's overused, but the Maiden begged to be thrown in to corners, thrown sideways off jumps, manualed down the trail and felt easy to rotate in to and out of tight turns. For me personally the Maiden wasn't love at first ride, mostly because I've been riding bikes with longer stays as of late. But after a couple runs to dial in the BOS dampers and adjust my body position I thoroughly enjoyed my time on Maiden. Sizing is similar to most DH bikes on the market at the moment, and at 6 feet tall, I would prefer the X-Large than Large test bike I rode.
The combination of the Maiden's leverage curve and the low speed compression provided by the BOS shock offered loads of support at sag, and also felt supportive when pedaling / cornering. I thought the bottom bracket height in the low setting was just about spot on. Braking through rough bumped out sections felt active and neutral, which Rocky says is attributed to "balancing anti-rise, caliper counter-rotation and instantaneous inertial brake transfer values." I'm not sure I know what that all means, but when I took the shock out of the frame and cycled the suspension I noticed there was little caliper rotation relative to the rotor from sag to bottom out. 
The BOS Idylle fork was good. All the adjustments made significant changes in the appropriate manner. The air spring was firmer off the top than a coil spring, but once in the travel the air spring felt very linear. I think some folks, myself included, would want a little more ramp up in the air spring, but the dampers did a great job of controlling a wide variety of compression events. On the test bike I rode the BOS Idylle did have a small amount of bushing play, but I didn't notice this on the trail.
Maiden launch video featuring Thomas Vanderham
I think Rocky has made an interesting and different contribution to the downhill bike market with the Maiden. I like that Rocky has done things just a little bit differently, and I hope that pays off for them. The Maiden railed through corners, begged to be taken airborne and monster trucked through rough sections with composure. There has been an apparent move to longer World Cup inspired bikes as of late, but I'm not so sure that what's most effective on World Cup race tracks is necessarily the best solution for the vast majority of riders. Rocky's mix of team riders seem to have created a bike that's equal parts race business and freeride play, a characteristic I think many riders will love. While pricing seems a little on the high side, the builds are well appointed, smartly thought out and the frames appear to be nicely made. All in all I think the Rocky Mountain Maiden is a downhill bike well worth checking out.
---
Rocky is back in the DH bike game. Time to make room in the stable?