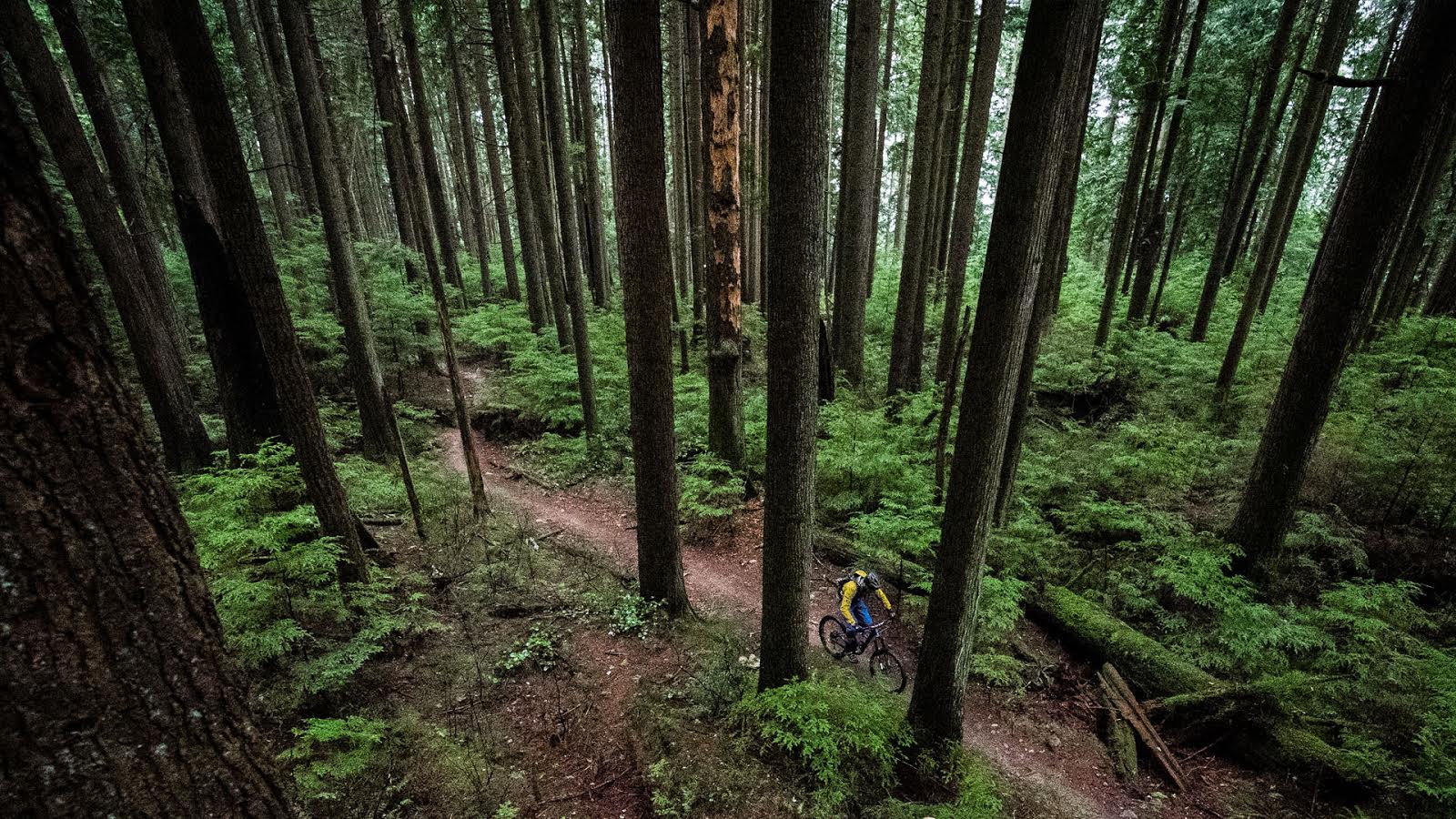 2016 Kona Process 134 Supreme – First Impressions
It seems asinine to be talking about 'value' when it comes to a $6000 bicycle, but on the day I pushed it home from NSMB.com HQ (sans pedals and with a toddler in my backpack if you're wondering why I didn't pedal it) listening to the pleasingly loud rear hub, it dawned on me that the stock hubs on a lot of 6k+ bikes are pretty pathetic. This 2016 Process 134 Supreme has Hope hubs laced to WTB i23 rims using butted DT spokes. Reliable. Quality. Loud. Nice.
Size Large: The Process bikes have incredibly generous standover.
I'm a fan of Kona (more on that below). And since they launched their latest line of Process full suspension bikes it seems that a lot of riders are joining me on the bandwagon.
The spec of this Process lives up to the Supreme handle.
The build kit is supremely populist with a full SRAM drivetrain, in this case a top end XX1 setup, mated to Shimano's benchmark XT brakes. An excellent side benefit of this combo is the utter lack of 'i-match' ™ integration so if you do want to upgrade/change the brakes or drivetrain in the future you're not paying for, and sourcing, expensive adaptors to break up your controls.
That's a 140mm Rock Shox Pike Solo Air RC3.
Andrew is not a fan of the Ardent on the front.
The Process avoids all the shifty crap that some companies pull to scale down the weight of their bikes on the show room but that end up costing you a pile of money if you actually want to ride the bike as intended (or is the word marketed?). Rather than spec an over stretched 32mm XC fork, the 134 Supreme is running a RockShox Pike Solo Air dropped to 140mm of travel. Instead of some narrow XC/Trail handlebar we see a sweet black-on-black 785mm RaceFace Atlas bar, while Kona-branded stem and grips round out the cockpit. A comfy Kona logoed, titanium-railed WTB saddle sits atop a KS Lev Integra seatpost.
XX1 Carbon cranks, a Rock Shox Monarch RT 3 shock, XT Brakes, Hope Pro2 hubs – lots to like here.
For my local riding the bike brings two small concerns, which I can probably accept when thinking of the global market for 5.5″ travel 'Enduro Light' or 'Race-able Trail' bikes. Firstly, even for someone with the ignorance, or stupidity, to pedal around a single-speed, a 34-tooth ring up front seems a bit steep. From my experiences with 1x setups a 30t ring would better suit the average set of legs for local climbs. I will give the 34t a go and either surprise myself or switch out to an easier gear if 'No Quarter', a fantastic new single track climb on Mt. Fromme, proves too relentless.
A nice, 785mm wide Race Face Atlas bar confirms the quality of this build.
The other concern is a personal distaste for the Maxxis Ardent tire up front. I can accept it as a fast-ish rolling, decent braking, reasonable cornering rear tire. As a front tire I have no love for it skipping across wet roots, the vague straightline braking, or the upredictable drift while driving it into dusty corners like the ones we saw in the Shore-To-Sky this summer. For these trails I'm happy to pedal around my prefered 3C EXO Maxxis Minion DHF or SG Schwalbe Magic Mary, and if purchasing the Supreme I would arrange to have the front tire swapped before leaving the shop. In this case, to properly assess the bike itself, I will swap out the front tire to one I'm more comfortable with.
In case you were wondering… The frame on the other hand is alumin(i)um.
If I'm allowed one final nitpick, I will say that Jagwire cable and housing has no business on a 6k+ bicycle. For a few pennies more at the OE level some nice Shimano 4mm housing with a stainless cable (there is only one after all) would keep the shifting sweet significantly longer. It's a little detail that a bike nerd will appreciate.
A KS Lev Integra dropper post. Not the best name, but the post works well.
From the preliminary 'getting to know you,' I'm looking forward to racking up the hours on the Process. Riding time is before 7am or after 9pm most days so a stable platform that complements an under-caffeinated or over-caffeinated rider is an exciting proposition – and to report back in detail after some steady saddle time.
MSRP for the Process 134 Supreme is $5999 Canadian or $5499 US
Have a look at Konaworld.com for more.
---
Andrew and Kona
Inviting me to test-write the Kona Process 134 could be construed as asking the fox to review the hen house. I am a fan of Kona, going back to my days working at a Kona Dealer (Different Bikes) and I feel they run their business with integrity and they do what they say they will – even when it is inconvenient. They back the people that choose their products as best as they can, and from their Dew commuter line to their steel hardtails, they make high-value, high-performance, interesting products. My main ride is a single-speeded Explosif frankenbike, and I pull my daughter around town on an old-school steel Kona road frame with a flat bar conversion.
---
A note about our First Impressions articles
We do these quick looks at bikes for a couple of reasons. The first is to let you know what we are testing so you can keep tabs and ask any questions you may have. The second is to avoid the temptation to talk too much about the parts spec in the final review. What you really want to know, and what we are really out to determine, is how the bike performs on dirt, not that the tires don't work on our soil. Stay tuned for the full review.
---
How many millimetres of travel do you need?