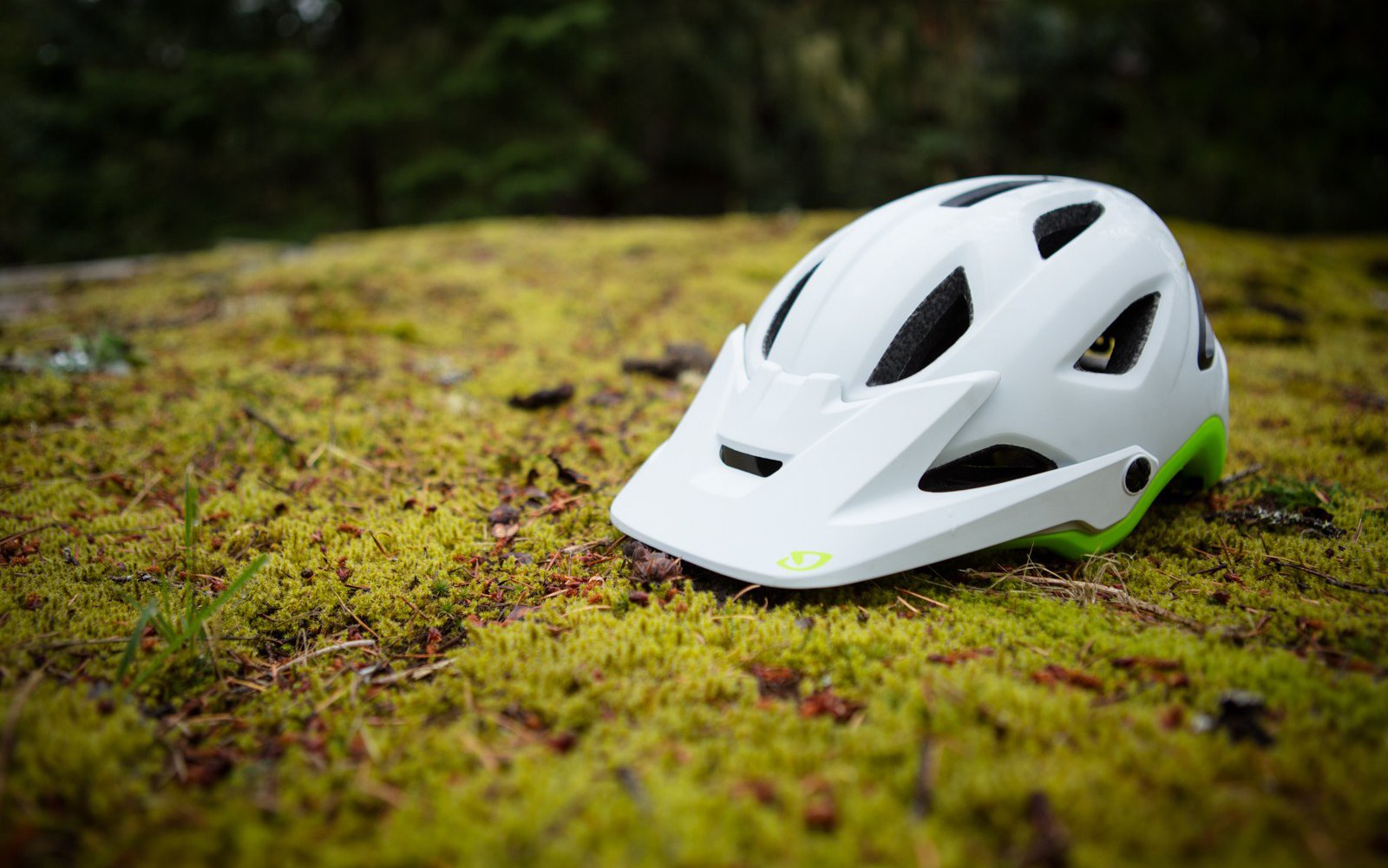 2016 Giro Montaro
Other than the successful introduction of the Xen over 10 years ago, which as far as I can remember was the first 'full coverage' half shell, Giro was overdue to bring a high-end AM helmet to market. The Feature has been a mainstay in the lineup and a good value at that ($75 US for the MIPS version), but was lacking a few things that round out the bullet points in a good ol' premium extended coverage AM lid.
The Giro Montaro (Montara is the ladies' version) is their latest release, and it while it won't set your hair on fire with gizmos and doodads, I'm not sure I want a helmet to do that for me, anyway. Nope, hair on fire not good. Protection and comfort, those things are good. Let's discuss.
The Giro Montaro MIPS in Matte White/Lime
Construction is typical but not basic: we're looking at an in-mold polycarbonate shell and an EPS liner…wake up Bueller; that basically means it's well-made, strong, and pretty light. Coverage is good at the back, making it look decidedly 'AM' (F the E word) although at this point I have to ask why XC folks don't consider this to be a preferred style of helmet. Ever see a clipped-in lycra-clad whippet with a post that reaches all the way to St. Peter go straight over the bars because they didn't expect a root on their race course? Yeah. They need that back of head protection at least as much as we do, extra weight be damned. If it's me and I have one helmet only for trail riding, I'm choosing this style of helmet. But 'AM style' it is.
Sarah Leishman looking pretty matchy in a Matte Turquoise Montara. The ladies' version differs from the men's Montaro only in terms of colours. Photo courtesy of Giro.
Gone are the days of counting vents as a means of determining airflow – it's gotten more high tech that that – but the Montaro has 16 of 'em (17 if you count the one in the visor that channels air straight down the middle). Giro's Roc Loc Air Fit system is designed to position the helmet with a slight gap between it and your coif so that more air flows through. Your inner dog's mouth hanging out the window should be happy. I say should because our ride was short, so pronouncing this helmet a good mouth-breather is too soon. I'm betting Giro got it right but let's get some time in on it first.
The Matte Titanium/Flame was my fave among the 'lo-pro' colour options. Photo: Dain Zaffke.
Can we talk about vents for a second, though? I use 'em to stick my glasses in, but it's gotten harder. Helmet co's need to work this out. Many helmets don't work well for this at all, instead leaving you with glasses bent like a pretzel, upside down and protruding, or with earpieces jammed into your scalp. Adam Craig was on hand to demonstrate that he'd figured out that Smith Pivlocks fit well upside down, in the back vents, if you can maneuver the arms between the MIPS liner and the helmet. Not bad. YMMV with other shades. Maybe we'll go over that in the full review.
Adam Craig's dome carries a Montaro, which carries some stealthily placed Pillocks. They were on there securely – you could ride any piece of trail with them placed like that and they're not going anywhere. Photo: Dain Zaffke.
The vents in the back do have a rubber coating around them which helps grab your goggle strap, and also put a bit of friction into sunglass arms. It's a nice touch. There are others, too, like the Visor (Giro calls it POV Plus) which swings up across four detents from low/ride mode to high/goggleBro mode.
The black border shows off the rubber goggle strap grabbers.
If you're going for bright, Matte Blue/Lime is one option. Good view of the rear vents. Flow in is one thing, but that air has to go somewhere. Giro was careful to point out how much time they put into engineering their vent size and placement.
POV Visor in 'air brake' mode aka ready for your goggles, bro. I'm not mocking – some rides call for a half shell and goggles, and having a place to perch them makes sense.
My favourite feature, however, is that the hydrophilic padding uses ShamWow material to absorb sweat, which Giro claims will mop up 10x more liquid than a 'standard' pad. This seems dreadfully obvious but not many helmet manufacturers make good use of fabric here. I'm a sweaty dude so on the top of a climb the 'push the helmet into my forehead' move yields a lot of sweat. Executed properly, your glasses stay dry. But when it happens on the way down and you hit a g-out, your glasses get soaked and your vision can suffer. Before now, there were only two helmets I'd recommend to sweaty people: the Urge All-M and Bell's Super series (2, 2R, etc). The former has a good forehead pad, the latter channels sweat miraculously away from your forehead. The Giro Montaro looks to be another good option for the hair soakers out there.
Looks like your standard sweat-soaker forehead pad, but it's said to absorb 10x the moisture. Dain Zaffke did a little demo with red wine in the middle of the forest and it looks legit. By the way, red wine tastes better after a ride than you might have thought.
ShamWow! on board.
Lastly, there is an integrated camera/light mount in the top vent, but we didn't see it since the helmets we wore are pre-production. It will be included in the box, and it does have a safety break-away feature built in. More on that when we actually see it.
There's your camera/light mount. Companies are adopting GoPro's 3-pronged standard which is going to make lighting setups that much easier. Giro naturally built in a break-away function so that your camera or light will come off in a crash and not get hung up and potentially exacerbate an injury.
Features and fit matter, but this is a helmet, so what about protection? Montaro and Montara are exclusively MIPS-equipped, so Giro's commitment to that function is clear. MIPS (Multi-directional Impact Protection System) won't help in every crash, but the evidence suggests it helps counter rotational forces caused by impacts at an angle. In other words it's a tool for certain crashes. I asked Giro marketing director Dain Zaffke if there was any difference in the protection afforded by the Montaro vs. the Feature. He explained that it's hard to answer since crashes are all so different, so it would be impossible to declare one helmet to be superior in a crash. If you answered it for one specific crash force/angle/scenario, you'd have to answer it for all of them. Suffice to say that they both have passed Giro's standard battery of tests (they have dozens of them) which make sure to exceed the standards required by multiple certifications like CEN, CPSC and Snell.
The inner dome shows MIPS on the inside of the Montaro's chassis. Two years ago your MIPS options were limited. Now just about every manufacturer offers at least one or two models that are MIPS-equipped.
The 2016 Montaro/Montara MIPS will be available this Fall for a retail of $150 US. Details, colours, and more here.
---
We'll have a review up in a few months once we've spent a bit of time with the Montaro.