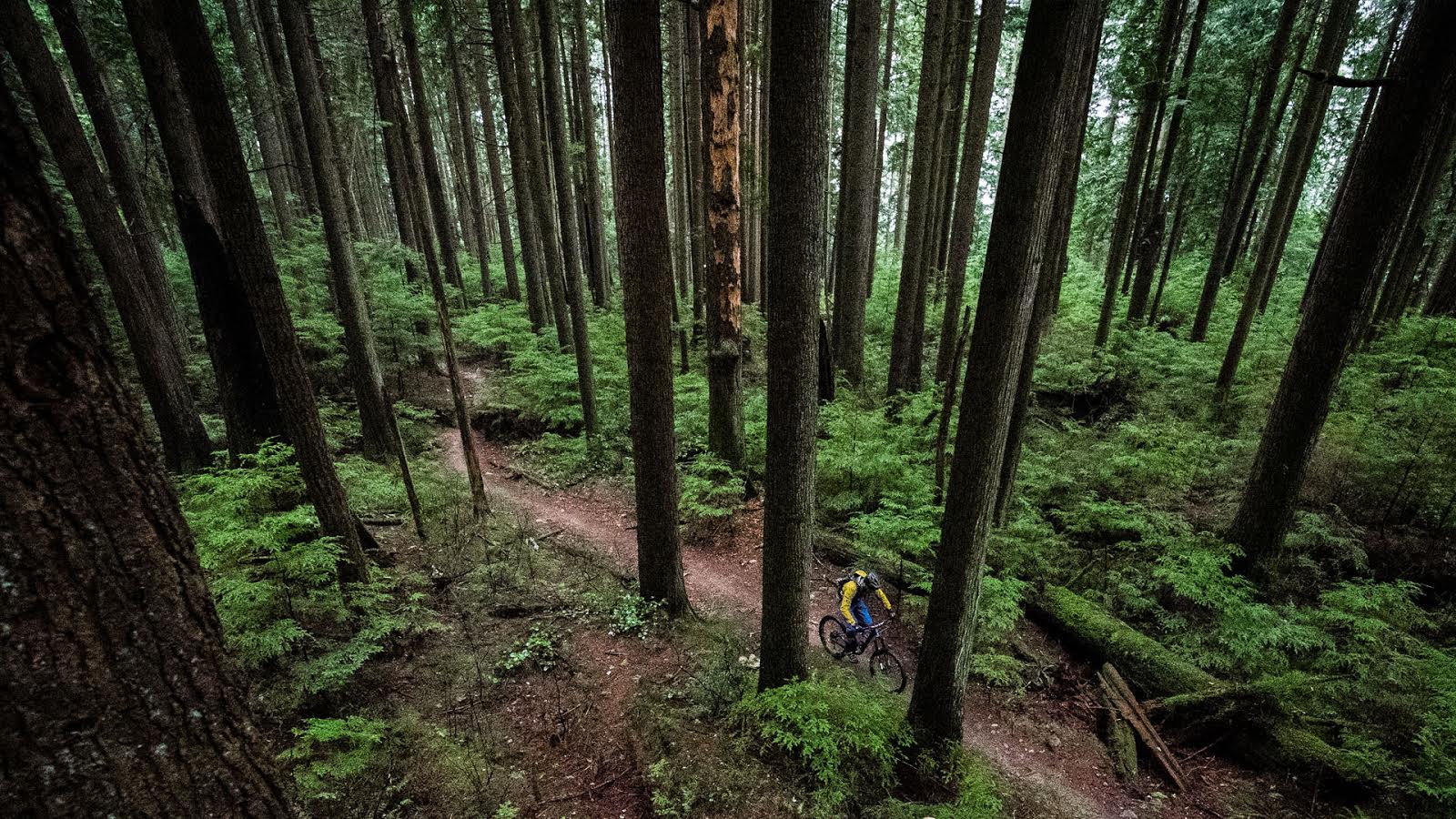 2016 Cannondale Jekyll Carbon 2
The, great looking, matte black and silver Cannondale Jekyll, is an interesting bike. The slack-ish, 67 degree, head angle, brawny looking carbon frame and the build kit definitely all say Enduro – or All Mountain if you prefer not to use the E word. But the combination of the unique pull shock configuration and the massive downtube, which makes a classic Super-V look spindly, give the bike a very unique look in a sea of rides that inspire "looks like a ________" comments.
Cannondale's Jekyll platform has distinct lines thanks to its burly looking carbon frame and DYAD pull-shock suspension
Let's get straight to what's unique. Pull shocks on bikes are a lot like inverted forks; harder to design, and to design around (although the Jekyll manages to fit a water bottle mount inside the front triangle), but with benefits that are notable including better lubrication of seals, better heat dissipation (the shaft is not contained within and air sleeve) and lower initial friction. Shocks that pull aren't a new idea, going back to the winning Straight-6 and Straight-8 DH bikes that the Yeti and Schwinn teams raced on in the 90's, and more recently Scott's Genius and Genius LT models which featuring their own collaboration with DT Swiss.
A full SRAM build with Guide RSC brakes, Pike RC3 fork, X01 drivetrain, and Cannondale's own HollowGram SI crankset compliment the understated matte silver and black graphics
As you will see in an upcoming tear-down article, thanks to our friends at SuspensionWerx (the locally authorized DYAD and Lefty service centre) the DYAD, a Fox Racing Shox/Cannondale collaboration, is a beautiful and interesting piece of engineering. With everything proprietary, I'd be curious to know much more it costs than spec'ing one of Fox's standard dampers.
The DYAD pull-shock is a collaboration between Cannondale and Fox Racing Shox. It promises two travel settings, with unique rates, separately adjustable rebound, better heat dissipation, better seal lubrication, and top quality manufacturing.
From their Lefty forks to other 'before-their-time' concepts like the pioneering uses of aluminum, Magic Motorcycle cranks (with external BBs), Headshock forks, road stays on their disc-specific hardtail frames, the early adoption of 1.5" steerer tubes, and some category predicting bikes like the Prophet, Cannondale has always been interested in doing their own thing. Apart from the Dyad, the HollowGram Si cranks spec'd on the Jekyll are a great looking example. Here there is a slight tinge of disappointment as I shift the bike into the 42t cog, spin the crank backwards, and just like every other 11spd drivetrain I've seen from Shimano and SRAM the chain drops a couple of gears. This is quite obviously not a Cannondale-specific complaint, but it seems a lost opportunity. If you are designing and spec'ing your own crankset, why not to move the chainring inboard a few more millimetres?
The DYAD pull-shock's steel shaft in action. The shaft is either exposed to the air or immersed in oil offering better heat dissipation that other air shocks where the shaft is housed inside the air sleeve.
The rest of the build is fairly standard fare for a SRAM-equipped bike at this price point (~$6000 USD). There are some 'great feeling with-awesome adjustments but shouldn't they really be more powerful than they are with four pistons' Guide RSC brakes, an X01 drivetrain (with an X1 cassette), a KS Lev seatpost and a RockShox Pike RCT3 fork. Tires are a set of Snake Skin Hans Dampf tires
Great looking and definitely stiff. The Jekyll comes spec'd with Cannondale's own HollowGram SI cranks in my preferred 175mm length. The chainring uses SRAM's patented X-Sync tooth pattern.
The 2016 Pike is definitely the out-of-the-box standout for most improved product. Or possibly I lucked into a really well built one, which I'll attribute to the new SKF main seals and SKF damper seal head. That's not to say that the Pike was a bad fork previously, but if you own one definitely consider getting it in for a service/upgrade; I'm running more air pressure (less sag) for better support and getting smoother initialization than any Pike I have ridden. I will also be riding a Lefty SuperMax, which uses RockShox Solo Air technology, for an interesting fork-to-fork comparison.
From 160mm of plush travel to 95mm of XC bike support at the push of a lever. The button on end of the lever releases you back to full travel.
From the first glimpse the Jekyll has many interesting details. The external cable routing is neat-and-tidy under the downtube using an integrated rock guard and thread in cable guides, the rear derailleur hanger bolts thread into itself for a solid but light weight design without having to bond threaded inserts into the carbon, and all the suspension pivot axles have preload that is adjustable separately from being clamped in place which makes for a super smooth rear end combined with the DYAD pull shock.
The long travel side of the DYAD. The suspension pivots offer bearing preload separate from retention.
As with every bike I seem to ride these days, I sit squarely in the sizing purgatory between a medium and a large sized frame with ~20mm of stem length between them at my preferred bar width. Based on my preference I'll be testing a medium with a ~60mm stem, but if you're in the 5'10"-ish range and prefer to run shorter stems, like the stock 40mm, make sure to ride the large before you decide.
Positive and Negative air pressure. Sag was very easy to ballpark with Cannondale's supplied settings. I am riding the setup for a +~10lbs heavier rider.
Different day; different stick. Downtube protector and super-sane external cable routing with bolt on guides.
Nice graphics; one bonus(!) cable compared to a now standard 1x-with-dropper set-up.
–
More coming, once I get a few dozen rides on Cannondale's race proven long travel rig. For more check out the Jekyll 2 on Cannondale.com.
---
Are you pull shock curious?