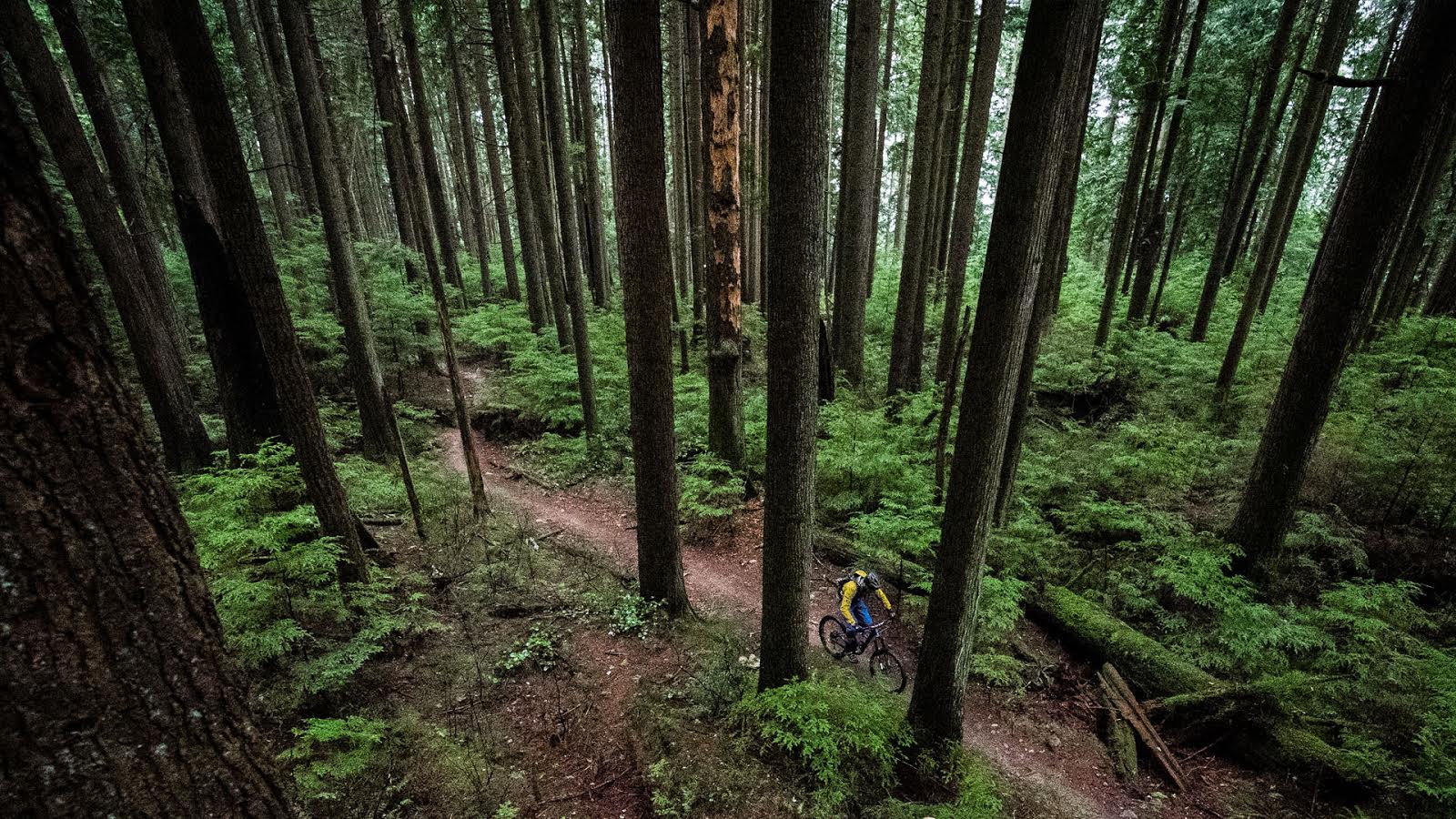 2015 Specialized Carbon Demo: Details
Yesterday we featured a sneak preview of the 2015 Specialized Carbon Demo as seen through Kaz's lens. Today we are allowed to talk about the bike and have all the info, specs and details.
Everyone knows the Demo is a hucker's bike. Sure it's plush and it can take a hit but it isn't fast. Except when it's winning races. Sam Hill missed the entire World Cup season in 2010 and he was only fit in time to race World Champ's at Mont Ste. Anne. Which he won. On the outgoing demo. Troy Brosnan won two Junior World Championships and a Junior World Cup overall on the previous Demo and was leading the series this year, albeit with 650b wheels, until he was eclipsed by Josh Bryceland last weekend. Aaron Gwin won on the previous bike as well (despite choosing the Enduro Evo 29er for some races and his rumoured dissatisfaction with the bike).
Specialized had to have known they had an image problem so they went shopping, buying 12 competitors' bikes. They grabbed bikes from all the big players but also a few smaller brands like Zerode and Evil. After analyzing axle paths, sniffing, measuring, dissecting and riding the bikes thoroughly, Specialized came to the conclusion that the Demo platform was as strong or stronger than the others. When the project began everything was on the table and engineer Jason Chamberlain was keen to build something completely different, but in the end he realized the way forward was to continue the Demo's evolutionary path. It would still be a Demo but they would be shooting for the next level.
Jason's first step was to figure out how to lower the centre of gravity. When your COG gets closer to the ground your fork is pushed from a vector that makes it less likely to pitch forward when you hit something. Impact intensity is reduced and speed is increased. Cornering also improves when weight is lowered.
Jason took the original demo and lowered every pivot by 3 inches and then reverse engineered the bike from there. The main pivot is now concentric with the bottom bracket and the seatstay pivot hangs well below the derailleur hanger. Previous versions of the Demo had an arch over the rear wheel connecting the upper stays, but a new square-ended rear axle adds enough stiffness to make that unnecessary.
Chamberlain also realized that, working with carbon, there was no need to have the seat supported by two members, and the righty was born. The unenclosed shock gives the bike a space age look but it also shaves weight and gives great access for changes or repairs. Unlike previous Demos, a proprietary yoke isn't required to mount the shock so just about any 9.5" x 3" unit will now fit. The opening faces the drive side because most upcoming shocks from Rock Shox and Fox have controls that are accessed from the left when they are mounted with the reservoir up.
Aaron Gwin has been deeply involved with the development process, taking part in test sessions every three weeks during the off season. Brad Benedict, a former DH pro who now works as a liaison between Specialized athletes and engineers, rips test runs with Gwinner to measure how changes affect times. Benedict, who says he's faster now than when he raced full time, is less than half a second behind Aaron on their 50 second test segment. Brad and Aaron start with one pedal stroke and then ride chainless-style on their test tracks to remove variables and make results repeatable.
Öhlins
Both complete bikes come with an Öhlins TTX rear shock that has been tailored to the Demo. Adjustments, high and low speed compression and just one rebound dial, are kept to a minimum but springs come in 24lb increments.The shock uses Öhlins' patented twin tube technology which separates compression and rebound. Brad Benedict's personal bike had a Boxxer with an anodized top cap that matched the colour of the Öhlins shock perfectly – but we couldn't get anybody to talk about that. For more on the Öhlins shock click here. 
Race Ready
Specialized has been playing around with fewer cogs and narrower rear ends on pro bikes for several years and now they are bringing these changes to market. You'll find only 7 cogs (with 11 speed spacing) and a 135 x 12mm rear end for heel clearance, mated to an 83mm bottom bracket. Specialized tells us the new swingarm moves with one third less friction for better response. To clean things up Troy and Aaron asked for a solution to move cables and lines away from the frame, and the new internal routing prevents any contact. There's no need to hold our breath as you bounce through rock gardens. Both the S-Works model and the Demo 8 1 have an integrated downtube protector.
S3 Geometry
This year there are four Demo sizes; short, medium, long and extra long. Team riders realized that, because of differences in riding style and body shape, there are riders the same height that suit bikes with different top tube lengths. Instead of three or four different seat tube lengths there are now only two. Short and medium share a 394 mm seat tube length and long and extra long are both 419 mm. The four top tube lengths are 495, 525, 545 and 560 millimetres. Mitch Ropelato (5'8") and Troy Brosnan (5'7") previously rode small frames but now both are on medium while Gwin (5'10") rides a long. How did nobody think of this simple and elegant solution before?
Freeriding on Carbonium?
Darren Berrecloth, Matt Hunter and the Coastal Crew would all love to get their hands on the new Demo, but that may not happen. At least not for competition. In a race situation a frame is generally subjected to predictable impacts and the frames have been optimized for this by reducing wall thicknesses where possible. An aluminum tube will have consistent wall thickness all the way around. A little heavier but more durable in the face of randomness. At Rampage impacts are more difficult to anticipate and a carbon frame of this pedigree may not be suitable for somersaulting down a bony 50 metre chute. And as Jason Chamberlain added, a World Cup rider has a mechanic to comb the bike after every run, which may not happen in the Gobi Desert.
Weight
The new S-Works Demo frame, without shock or protectors, weighs 7.6 lbs or 3.45 kg. Specialized had a bike on hand with a slightly lighter spec, and it yanked the scale down just 33.3 lbs or 15.1 kg.
S-Works and Demo 8 1 Carbon
The new frame is available in the all-carbon S-Works version and the slightly less expensive 1 Carbon, with aluminum lower stays and link plate. While an all-aluminum version may be in the works it won't be seen until 2016 at the earliest. Until then the Demo aluminum will get 650b wheels and use the previous generation's front end coupled with a new swingarm to accommodate the larger wheel.
How does it ride?
I asked several of the pros and staff in attendance and everyone had a slightly different take. Jason Chamberlain called it more plush, Mitch Ropelato appreciated the light weight and the ability to tackle square edges without losing momentum while Brad Benedict praised the bike's ability to stay higher in the travel for more cornering exit speed. I haven't ridden the new Demo yet but a couple of us will get some Whistler Bike Park laps in in a few days. All we've seen so far has me a little excited to mount up.
It sounds like you'll be able to get one of the new S-Works Demos in January, and perhaps as early as October for the Demo 8 1 model. Pricing may depend on how well Troy and Aaron perform for the final round of the World Cup and World Championships.
---
Looking forward to riding some Whistler Bike Park on these bikes in a few days.
Do you love it so far?