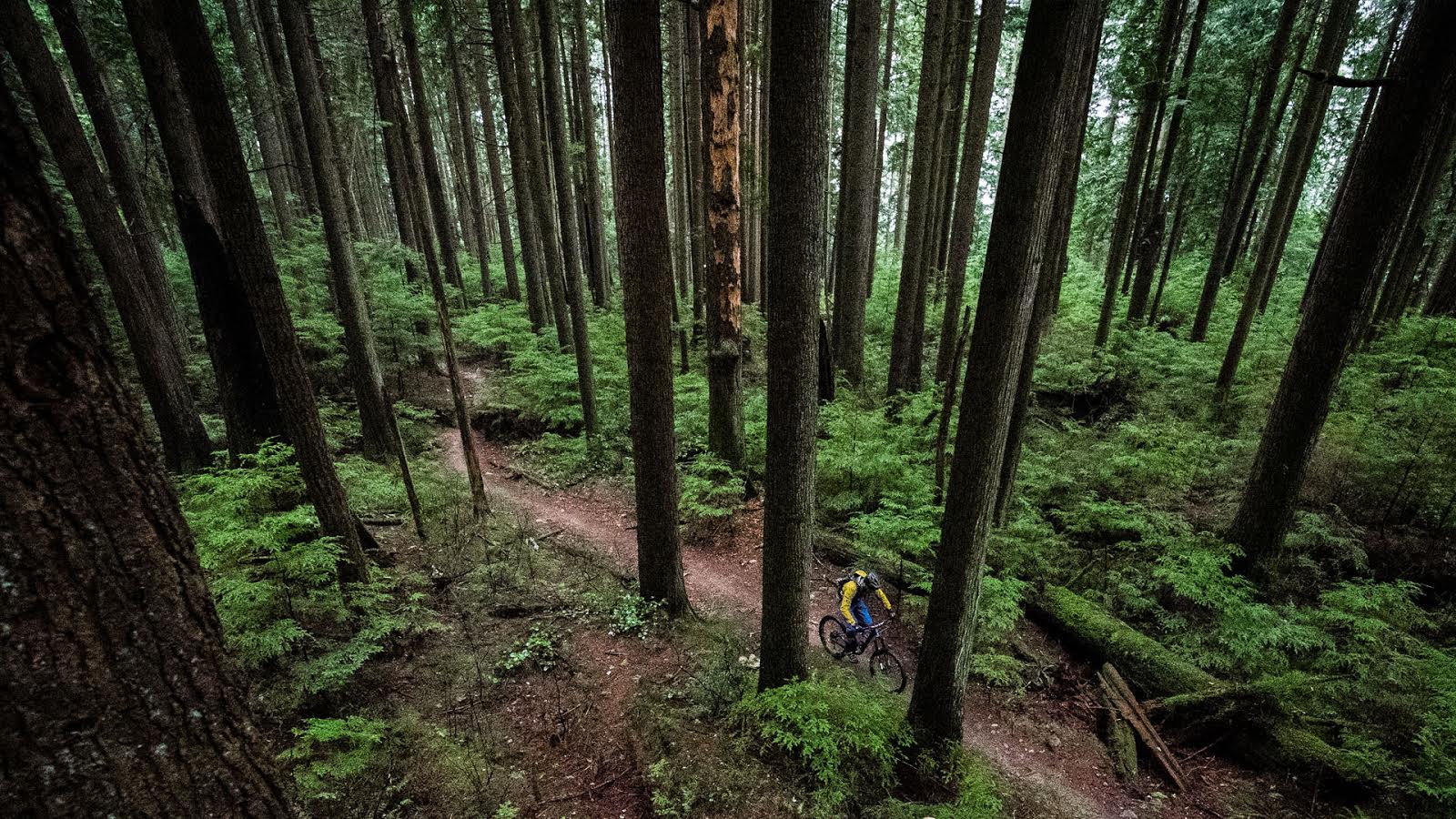 Shimano MTB Gets Electric with 2015 XTR Di2
Earlier this year, Shimano released the latest version of its top shelf XTR group in 11-speed Race and Trail versions. They were late to the party by  a year and a half and although they released a 1x chainring configuration it was clear that the wizards behind the curtain in Osaka still believe that 2 chainrings up front presents the greatest versatility and performance for most riders. Heck, there's even still a 3-ring XTR configuration still being offered in the latest group.
Further, their rear cluster range fell shy of the range offered by the competition: 11-40 teeth to SRAM's 10-42. The new XTR hasn't hit the market yet, and no one has really ridden it (we're expecting a test group later this summer), so reception to date has been mixed: front derailleur defenders and detractors alike can agree that the latest XTR will probably set a new standard in drivetrain performance (the new brakes and wheels look impressive also), but it's still too early to tell how the market will react, let alone Product Managers who now have harder decisions to make when spec'ing high-end bikes.
XTR Di2, then, is very important for Shimano, even if its price point puts it even more out of the reach of most riders than the mechanical group was already. First, as was the case on the road side with Dura-Ace Di2, they are the first to market in the electronic MTB drivetrain race, and while we know assume SRAM are working on it, we have no idea when that will make it to production. Second, Di2 trickled down on the road side from Dura-Ace to Ultegra, meaning we can assume that XT will also get electrified at some point. That's probably a few years away but still, it's coming. Third, it establishes Shimano's ability to remain ahead of the curve in some areas. Whether it's an area the market is going to embrace, we cannot yet know.
At the press event in Orange County earlier this year there was a XTR Di2-equipped bike available for a leg-swing. Draped mostly in prototype pieces. it was however still fully functional. It was only a parking lot test, but that was enough to glean a few things. First, the XTR Di2 shifts way more quickly than mechanical XTR, with trademark Shimano accuracy. Also great is that you can select how fast the rear derailleur executes shifts when you hold down the shift paddle (the action is more like a button). And because there's no cable throw required, those shift paddles are closer than ever to your thumb and forefinger, meaning you can initiate a shift even more quickly than with a cable-actuating shifter.
When you try to screw with it by executing really ambitious front and rear simultaneous shifts, the system sorts it all and spits you out the other end in whatever gear you were trying to get to. Seriously, I tried to mess it up, and I couldn't. Granted, this was on a perfectly clean bike on flat pavement, but the fact remains: this Di2 business has legs.
Synchronized Shift and the ability to customize your shift maps, and control both derailleurs with one shifter is also really cool, and does address one of the issues with a 2x setup, which is removing a shifter from the left side of the bar. Here's a video that demonstrates how Synchro Shift works:
It's hard to discern the usual pre-production hype from propaganda at this point, but Shimano's track record with Di2 on the road side coupled with its reputation for releasing new product only when it is absolutely ready for prime time give us hope that once we're able to test it in earnest, XTR Di2 is going to break new ground in mountain bike drivetrain technology.
---
Here's the release from Shimano:
Mountain Bikers Enter the Digital Age with Shimano XTR Di2
XTR M9050 Di2 System Debuts Intuitive, Customizable Shifting
OSAKA, Japan (May 31, 2014 – 12:00am Osaka time) – Following over half a decade of proven Di2 electronic shifting systems, Shimano introduces XTR M9050 Di2, the world's first production electronic mountain bike shifting system. An electronic shifting option for Shimano's new 11-speed XTR M9000 mechanical mountain bike components, XTR Di2 redefines how mountain bikers can control and personalize the way they ride through the proven Di2 digital platform.
Shimano XTR M9050 Di2 electronic shifting integrates with XTR M9000 mechanical components in a variety of Race or Trail "Rider Tuned" 1x, 2x, or 3x drivetrain configurations. The new 11-speed XTR M9000 drivetrain introduces Rhythm Step gearing which provides range and ensures rhythm, no matter the rider or terrain. With the additional efficiency, new shifting options and personalization of the digital Di2 system, riders now can control their ride like never before.
The XTR Di2 Ride Experience
XTR M9050 Di2 has undergone over 20,000 kilometres of testing to ultimately refine how precision and logic can deliver a completely new mountain bike ride experience. Di2 digital shifting is seamless, instantaneous and can be custom tailored for any rider. Shifting becomes a simple rider reflex, allowing riders to place their attention where it belongs – on the trail ahead. Totally new ergonomics reduce hand movement and improve control, further boosting rider confidence.
The possibilities with Shimano Di2
Over half a decade of experience in electronic shifting components have culminated with the introduction of Shimano's most advanced Di2 system ever. XTR M9050 Di2 features the programmable, upgradeable and expandable attributes of Shimano's latest Di2 shifting systems, which now debuts intuitive shifting control. Shimano's E-tube wiring and electronics make expanding Di2 shifting systems easy and also enable riders to custom program and upgrade the system through a computer software interface. Riders can program and control the shift patterns for single or multi-shift modes, the speed of those shifts and the actions for each shifter and button. With XTR Di2, Shimano Synchronized Shift is also custom programmed through the Di2 program software, allowing front and rear shifts using a single shifter.
Shimano Synchronized Shift: two derailleurs, one shifter
The new Shimano Synchronized Shift function and programmable shift mapping allows riders to change their focus from the physical effort of shifting to the trail ahead. A programmable option with XTR Di2 M9050, Shimano Synchronized Shift creates an intuitive shifting experience on the bike through customizable synchronized front and rear shifting via a single FIREBOLT shifter.
• Improved efficiency – The XTR M9050 derailleurs communicate gear position and automatically execute front and rear shifts when riders select a sequentially larger or smaller gear. This improves efficiency by minimizing time spent on smaller chainrings and cogs.
• Personalized shift mapping – Riders can program when front shifts occur through two customizable shift maps based on terrain and personal preferences. An audible alarm will warn of an upcoming front derailleur shift so that a rider can choose to remain in a given gear.
• Total control – On a mountain bike with both front and rear FIREBOLT shifters installed, the rider can manually shift at any time. Synchronized Shift becomes another available tool for riders, not a requirement. With a touch of a button, riders quickly choose between synchronized maps or choose manual mode for complete control.
XTR FIREBOLT shifter: seamless control and instant response
The new, easy-to-use XTR Di2 FIREBOLT shifters make shifting a simple rider reflex and deliver customizable ergonomics that improve bike control. Shimano's FIREBOLT customizable shift button placement is determined entirely by human ergonomics, not by the needs of a mechanical mechanism. FIREBOLT shift levers are now exactly where thumbs naturally rest, allowing riders to put more grip on the handlebar and control the ride with more confidence – especially in rough conditions.
• New ergonomic rotary shift lever design matches natural hand movement
Independent lever position adjustment
• Short stroke, perfect click levers provide faster, more accurate shifting
• Increased trail readiness thanks to decreased shift effort and superior ergonomics
• Programmable, multi-shift and Shimano Synchronized shift functions, including control of Fox Racing Shox suspension components
XTR RD-M9050: Unrivaled shift performance and stability
Shimano's first mountain bike specific Di2 rear derailleur is also its most technologically advanced. Introducing Shimano Shadow RD + stabilization to Di2, the RD-M9050 couples unrivaled chain control that aggressive riders have come to love with shift performance that doesn't degrade over time. Whether cross country or trail riders run a 1x, 2x or 3x drivetrain, the ultra narrow profile help protect the drivetrain in tight trail sections. The refined rear derailleur geometry further improves the performance stability while Shimano Synchronized Shift enables system communication with the front derailleur.
• Instantaneous shift response to rider input
• Seamless gear changes
• Shimano Synchronized Shift compatible
System communication with front derailleur
• Advantage in all conditions
E-tube electric wire transmission guarantees stable performance
• Low profile positions RD safely away from trail obstacles
• 1x, 2x and 3x compatible with GS and SGS cage options
FD-M9050: powerful, Di2-optimized front shifting
Long regarded as the most notable feature of Shimano Di2 shifting, the front derailleur performance remains the best in the industry, now with the additional capabilities of Shimano Synchronized Shift. With XTR M9050 Di2, front shifts require the same light effort of a rear Di2 shift, reducing effort and freeing up the rider to focus on the trail. The FD-M9050 uses computer controlled auto trim as the chain moves up and down the cassette to keep the drivetrain running smoothly. Shimano Synchronized Shift compatibility allows a single shifter to control both front and rear shifting.
• More powerful shifting than mechanical (+25% compared to M9000)
• Reliable gear changes under load
• Computer controlled auto trim
Optimized Di2 cage profile and gear tracking
• Shimano Synchronized Shift compatible
System communication with rear derailleur
• Advantage in all conditions
• Modular mounting structure
SC-M9050 Display Unit: system status at a glance
Digital Di2 E-tube electronics allow the inclusion of the handlebar mounted SC-M9050 Display Unit for monitoring important Di2 data: gear selection, battery level and shift mode. The SC-M9050 not only provides data, but also is the convenient interface where riders will plug in and charge the system from the handlebar – an especially handy virtue when running an internal battery. The expandable E-tube platform also means that integration with electric-controlled suspension from FOX is a reality.
• Multiple simultaneous display fields
Battery level
Gear position
Shift mode (Synchronized or Manual)
FOX iCD position (Climb or Descend)
• Shimano Synchronized Shift mode switch
Change between S1, S2 and Manual shift maps
Audible Shimano Synchronized Shift notification tone
• Precision derailleur adjustment
Easy access adjustment mode
Numerical adjustment indicator
• Junction A function
Battery charging port
Three E-tube wiring ports
E-tube electronics connect the system
Shimano's XTR M9050 shifting system uses the same E-tube platform introduced with road Di2 groups that is programmable, customizable and allows for expansion and further system integration. Wires are offered in a wide variety of lengths for bikes of all sizes and shapes and cable routing options will connect the various junction points. Unlike traditional cables and housing, wires are not affected by trail and weather conditions, providing consistent performance in this waterproof system.
The SM-BTC1 mounts Shimano's cylindrical SM-BTR2 Di2 battery on a bike's water bottle bosses and also acts as a Junction B, connecting wires from the shifters to the battery and derailleur.
Junction B function
• Six E-tube wiring ports with cable organizer
• Case is only available for riders with an existing battery
Clean appearance thanks to internal wire routing
System expansion possible thanks to the E-tube platform
###
2015 Shimano XTR Di2 groups are expected to ship in Q4 of 2014. Pricing is yet to be announced.
---
Does XTR Di2 represent a new frontier to you? Who's thinking wireless shifting can't be far behind?