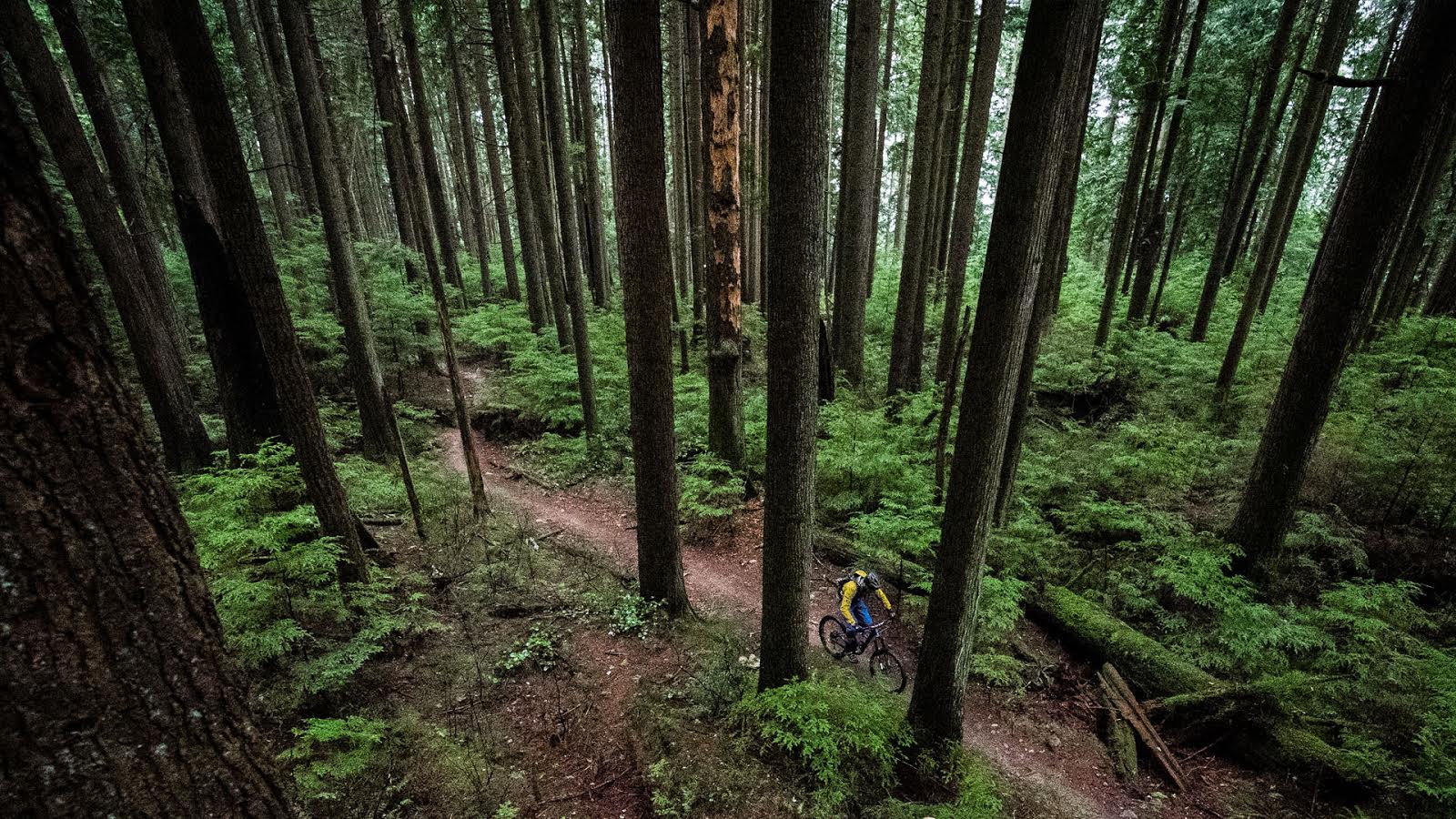 2015 Norco Sight: Reviewed
At first glance, the 2015 Norco Sight C 7.2 seems like it ticks all the right boxes for a modern, semi-aggressive, all-mountain bike. For our tastes here in the Pacific Northwest the angles trend towards the more cross country or trail side of the spectrum, but the smattering of enduro-esque parts hints towards a slightly more aggressive bent. At 140mm of travel front and rear, and a steeper head angle of 67.5 degrees, it was likely never going to inspire vast amounts of confidence when things get really steep and deep, but one couldn't help but ponder the possibilities of what this bike may be able to handle.
The carbon framed Sight has a drastically sloping top tube that provides ample standover, even in the medium size I rode. While the front centre may appear a bit short by today's standards, I found the whole cockpit to be comfortable and adequate for my riding style and it was nice to be able to stay relatively centered on the seat and not have to slide back and forth much to maintain weight and traction on the front wheel when required.
The Sight is spec'd with many solid choices. The X1 11-speed drivetrain performed flawlessly with the narrow wide style ring combined with the e13 XCX upper guide chain device ensuring no chain retention issues. Norco also made a great value/performance choice with the Race Face Turbine bar and stem combo, with moderately wide (760mm) bars and relatively short (60mm) stem, which combined with skinny(ish) lock on grips making for a no-nonsense setup. Finally, the internally routed cables maintained the clean aesthetic of the frame, even if they can tend to be rattley at times.
The Reverb handled the remote adjustable seatpost job very reliably, and the SDG Circuit saddle was neither too bulky or too narrow, providing enough support without being uncomfortable. SRAM's Guide RS brakes were definitely a standout item on the bike, and in a good way. 180mm rotors provided plenty of radius for the calipers to really clamp down and provide plenty of stopping power. Even on long, rough descents with lots of braking, it was always unstrained one finger braking, and I never experienced much in the way of fade and always felt confident that they wouldn't let me down when I needed them.
I'm not going to dwell on the tires/rim combo here as I've already spent multiples of hours gnashing teeth, skinning knuckles, and working really hard not to hurl the wheels off something cliff-like. Suffice it to say, putting an agressive tread (Magic Mary/Hans Dampf) on a lightweight casing (Snakeskin) tire is kind of deceptive, and that, combined with pinner rims meant that any and all slightly square rock was likely to cause a flat. Pinch flats galore with tubes, punctured and slashed casings tubeless, it was really bad. And I think I'll just leave it at that.
Wheel woes notwithstanding, let's focus on the ride of the bike. A prominent component selection would be the new Cane Creek DB Inline rear shock. Featuring more opportunity for fiddling than most people know what to do with, the damper features both high and low speed compression and rebound adjustment. For the first couple weeks I attempted to dial in the settings but could never really get it feeling great, even after a visit to Steve at Vorsprung Suspension. Eventually I just zeroed everything and went back to the base tune as listed on the Cane Creek website. This proved super handy and immediately the bike felt noticeably better, lesson learned. With some minor adjustments to the rebound and low speed compression, I felt like I was getting a lot more performance out of the bike and shock.
While the shock provides an incredibly supple and smooth ride, even on really rough trails, I still felt that the bike lacked a certain cachet in that it just always felt kind of dead and lacking in pop and playfulness, especially when trying to air sections, or double up features. That being said, it more than held its own on big hits, and while the o-ring always indicated regular full travel being reached, I don't ever remember really bottoming out the bike, even in g-outs or big holes or off drops or jumps, which says a lot on a short travel bike that saw its fair share of rowdy trail riding.
With patience and some learning, the DB Inline provides ample opportunity for tinkering and fine tuning to eke out those extra bits of performance for personal preference, although on the flipside the less inclined may find that to actually be an irritant compared to some more simple to use dampers.
My first week on the Sight consisted of some pretty heavy off the deep end into the burl territory. I received the test bike a day before the now infamous Crankworx EWS event and spent a couple of days on some of Whistler's steepest, more technical, and rough terrain. At only 140mm front and rear, and that 'steep' head angle, things definitely remained on the spicy side. Steep rolls to compressions required a more than normal amount of muscle to hold on and get back, no- further back, to prevent one from getting pitched over the bars.
At speed and hitting hard, solid objects, the bike probably hit its limit more than a few times, and I never had an overwhelming sense of stability. Again, I was not surprised at all by that given that I was definitely pushing the limits of what this bike was designed for. That being said, in EWS practice on the Saturday I also felt like I had some really great runs on the technical stages where the speed was a bit lower. A full lap down Ride Don't Slide to cap it off may have been one of my more memorable down that trail in the recent past. The Sight's quick-handing nature meant that the bike was extremely responsive to direction changes and allowed one to make quick decisions, albeit with little room for error.
It was when the speeds picked up that the Sight just got a bit too twitchy for my liking, and it became a lot more of a chore to handle. I couldn't help but feel more than a few times that this bike would benefit from a 160/140 travel adjust fork, to both help rake out the head angle a bit, and provide that little bit of extra suspension travel to help soak up the bigger hits at speed.
Where the bike really shined, though, was on rolling technical terrain and at slightly lower speeds. Norco's move to a single-ring setup also seems to have reduced the pedal bob that was prevalent in the granny gear on their previous 2x setups (although there is a direct mount for the front derailleur should you be so inclined).
The Sight really came into its own on technical trails with lots of roots and rocks, and awkward power moves. On trails like Kill Me Thrill Me or Lumpy's Epic in Pemberton, the bike was supple and planted through the rough bits, but never felt like it was losing energy to the suspension while seated. The bike also stayed firm enough in its compression to not get too bogged down when you needed to get on the pedals and get the power down. The quick handling definitely helped on trails where you need to be use lots of steering input to hit the right lines, versus plowing straight over things. The Sight really likes to be turning and is nicely damped to handle the multiple trail variations one faces on those kinds of technical singletrack.
Towards the end of the test period I found myself seeking out those lesser travelled, tighter and more technical trails. Rides where maybe the speed wasn't as high, but the challenge of classic rooty and rocky singletrack mixed with a soft heaping of duffy goodness was where I really started to enjoy riding the Sight. Short punchy uphills with slabby rocks or roots were danced up, and tight trails that can be a handful on a slacker and longer bike were really enjoyable. The bike really excelled on trails that required more turning, finesse, and skill as opposed to straight line monster trucking, and that isn't necessarily a bad thing.
While the Sight may try to masquerade as an enduro, or more aggressive all-mountain bike, I can't help but feel like it only gets half way there. When it comes down to it the Sight seems to be a trail bike for people who like it rougher around the edges. While it sometimes feels let down by the 140mm travel Pike and the weak tires, addressing those two issues would allow the Sight to compete quite well with some other brands who offer models in a similar genre. The argument can also be made that a $6000 bike ($6425 CAD to be exact) shouldn't require immediate upgrades to make it more suitable.
In the end the Sight may not have handled the rougher and higher speed trails as much as I was hoping. It made up for that by being a fun bike for hours of pedaling on technical singletrack where quick handling and responsiveness are balanced by its suspension's efficiency without sacrificing compliance over roots and rocks. With a couple of changes (and even without them for some), the 2015 Norco Sight would definitely put a smile on a singletrack lover's face.
---
A slightly steeper option for those who want a more playful bike…