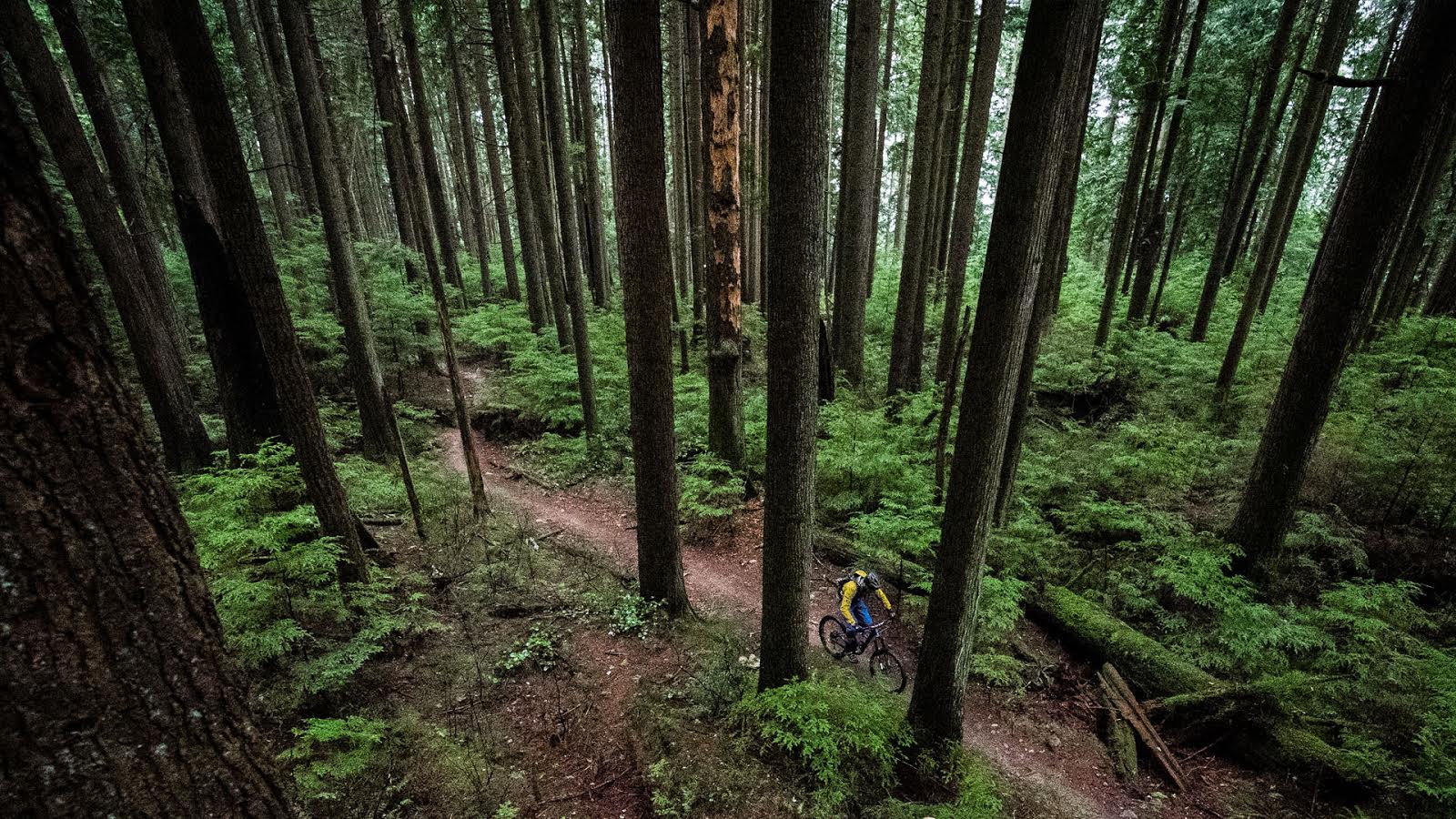 2015 Norco Aurum Carbon
If you were paying attention during the 2014 World Cup, you probably noticed Norco's DH athletes racing on bikes that were notably different from the ones on shop floors.
For one thing, as with most every other team that hadn't already released one, last season saw Norco experimenting with a 650B-wheeled descender. Except that their riders were not on alloy mules – instead they were seen on a carbon 650B Aurum, and by the time carbon molds are committed to and cut, it means the company feels about ready to commit. So it may not be a really well-kept secret (very few bikes are these days), but the arrival of Norco's latest downhill weapon is here, and they are understandably quite excited about it.
Bryn Atkinson and Jill Kintner raced for all of 2014 on their proto carbon Aurums – and each only used a single frame for the whole year. Pretty good initial endorsement.
Introducing the 2015 Norco Aurum Carbon
The 2015 Norco Aurum Carbon, seen here in 7.1/Enve Limited Edition spec.
To launch the bike, Norco invited some media to join them for a few days of riding in the San Jacinto mountains and Idyllwild, California, where some of their recently announced World Cup team were training; Sam Blenkinsop and Jack Iles were there, while Magnus Manson and Harry Heath were training elsewhere. Bryn Atkinson was also in attendance, and although he isn't a part of the Norco Factory Team, he and partner Jill Kintner run their own program which has included Norco for the last three years.
Idyllwild proved to be a great place to host a launch. At almost a mile in elevation, it sometimes has snow in February, but the hills above LA and Palm Springs have been unseasonably warm this winter, so we were instead treated to Spring-like warmth and sunshine. We focused on one trail in particular which had appropriate amounts of speed and steeps, dusty berms and boulderfields, and doubles and senders from tame to massive.
We spent a day and a half riding the new Aurum – just enough time to get acquainted – but before getting to that, let's talk about the new bike itself.
Taking a break from the dust and chatting about bikes with Jim "JJ" Jamieson, long-time Norco Product Manager and lifelong BMXer and Vans shoe devotee.
We got a rundown on the project goals and design process from Jim Jamieson (Sr. Product Manager) and Owen Pemberton, Norco's Sr. Design Engineer. JJ has been with Norco for over 30 years, while Owen has just surpassed a half decade. His first design project was the original Aurum, which he started working on while horizontal in bed and recuperating from a huge crash – in a sense the Aurum v.2 is the equivalent of him rounding the bases, since he's worked on quite a few other Norco models in the the years in between.
Designing the new Aurum
The process began in late 2012 with mule testing. If you can remember back that far, 650b wheels were being whispered about with respect to DH bikes, but it wasn't yet known which way the majority of companies and riders were going to go. Of course, that didn't mean most of then were working on it already…So for the new Aurum, Norco's goals were to switch to carbon, to decide yay or nay with respect to the new wheel size, to do so while preserving the original Aurum's suspension feel, and of course to make the bike faster and lighter.
Those mules were raced throughout the 2013 WC season. In testing, riders found that times weren't much faster but they reported to be feeling much more comfortable on the bigger wheels and knew they could go faster with more time on them. Interestingly, this is exactly the same story I've heard first hand from Giant and Santa Cruz about the development process with respect to their 650B downhill bikes: times aren't obviously faster from the outset, but the riders report to feeling 'better'. How much of that is psychology vs. physiology is impossible to know, of course.
The 2015 Aurum as we know it today was raced for the full 2014 WC season. No major changes made from those race protos to the bike Norco have released. Bryn and Jill rode for the entire 2014 season on one frame each – so it's fair to say that Norco made them capable of withstanding a pounding.
Norco had a fresh Aurum Carbon 7.1 waiting for each of us. Breaking in a cherry DH bike is a rare treat but I have a feeling those Aurums will feel almost as good after they've had a couple dozen days' worth of riding on them.
2015 Aurum Design Details
Norco claims to have approached the new Aurum with a 'ground up' approach, but that fails to take into account that the original Aurum was a winner from the start. So, despite the fact that the new bike is different in many ways, it has to be acknowledged that they had a great first generation to start with – from there, they could focus on key changes (carbon, 650B, etc) and then add a slew of improvements that fall closer to the incremental improvement category.
Other than the new wheel size, the most obvious thing change to the new Aurum is the carbon front triangle. This is something Norco was compelled to do to remain competitive, both on the World Cup (if they hoped to attract the right talent and field a competitive team) and on shop floors. The rear triangle (all of it) is 6061 – for now. They are happy with the weight they've achieved – 3300 grams – without prioritizing light weight as the absolute goal, yet this is also the strongest frame they've ever made. Carbon seat/chain stays do save weight, but also add considerable cost and for now Norco was clearly content not to take that on. One thing at a time – check back in a year or two.
Another key in the Aurum's genealogy is that it was designed around a 7-speed DH drivetrain. They selected a 142x12mm rear axle for a few reasons: the ability to lighten wheel weight, but more importantly to optimize the tighter cassette's chainline, improve heel clearance and make the rear end slightly narrower, to keep it out of harm's way. Does that narrower rear end mean it is less stiff? Time will tell if that is an issue, but it didn't crop up in my time with the bike.
The 2015 Aurum is designed around a 7-speed DH drivetrain. The 7.3 is the one model that doesn't come with a SRAM XO1 DH group – but for that one Norco designed a custom cassette spacer in order to preserve the chainline they wanted.
The link plates were changed to a 3-piece forged design. This made it stiffer and easier to disassemble and press in a new bearing. It is also just slightly lighter. Apparently carbon was examined as an option but the weight savings didn't justify the cost. Again this seems like a possible improvement for the future…
Norco also created custom integrated frame protection: the downtube gets stout protection at the BB, the chain stay gets a bumper, and the fork stanchion bump stops were carefully designed in such a way that it allowed a lower head tube position. It also allows the attachment of an integrated front fender they dubbed the Cobra which adds splash protection on wet days.
The specially-designed downtime bump stop allows for a lower head tube orientation, and integrates with the down tube protector – to which you can affix a cobra-shaped mud guard for wet days.
The Aurum's linkage got some consideration as well. Ball bearings were added at the upper shock mount position, where the majority of suspension movement occurs. The thinking was that a DU bushing in that location will wear a lot faster than one in the lower position. The bearing up top helped with a lighter suspension feel, whereas down low it didn't make much difference – certainly not enough to justify the extra weight.
As a response to an athlete request, the rear axle and hanger system was re-designed to be stiffer and to come with a stronger derailleur hanger. It is still the deliberate weak point and will break away rather than the frame, but the goal was to allow you to finish a race run after a crash rather than DNF – something that happened several times for their world cup athletes using the old frame design.
Maintenance freaks and race purists will rejoice at the external cable routing. It may not be as clean as internal or partial internal routing, but it's hard to argue with the convenience of it.
And to keep the rear shift cable from scratching the frame, a nifty floating eyelet.
Norco Design Engineer Owen Pemberton (right) loves talking about bikes. Geometry, spec, design, intended use…he is a bona fide bike lover and geek, just like all the other Norco staff that came along.
The Aurum MK I vs MK II – what did Norco change?
So we've covered the design goals and some highlights, but what specifically is different about the new Aurum, other than the carbon front triangle (which saves 450 grams) and the 650B wheels?
– The BB sits lower and is now listed as a 12 mm drop, or 5mm lower than the MK I.
– Each size was lengthened slightly (wheelbase jumped 17, 19, and 21mm in sizes S, M, and L).
– The shock sits further forward and a bit lower, meaning it was centered a bit in the fore/aft plane.
– The Head Tube angle is now 63 degrees, or a half degree slacker.
– The frame went from a single Headtube length of 110mm to three lengths of 100, 110, and 120mm.
– The rear center dimension changed to accommodate the longer wheelbase. Norco continues their vaunted Gravity Tune geometry from the MK I Aurum (Gravity Tune means that as the front centre grows, the rear centre grows proportionately). The rear end is the same, but the BB position changes in order to alter the rear centre dimension and keep the front/rear center ratio consistent.
Riding the new Aurum
With all those design notes and tech behind us, it was time to get the fleet of brand new Aurums dusty and broken in. After a few runs to shake out the rust and get a feel for the bike, I started to settle in and lay off the brakes a little. The ART (Advanced Ride Technology) suspension platform has been Norco's go-to for about 5 years now, and they've learned a great deal about how to dial it in. It is certainly a progressive design – the Aurum feels plush off the top but definitely does not settle or wallow, instead it feels balanced and energetic when you're in the pocket and has plenty of travel on demand when you hit something harder than expected or just plough into it at ramming speed.
Idyllwild had some chunky rock and a few steep sections – just not as many as I would have hoped for. There was still plenty of terrain that was suitable to testing DH bikes.
My tires bottomed on the rim several times, but the rear suspension never hit the limit. A bit more time and tuning would have balanced those two out, but suffice to say that the Aurum's suspension feel inspires confidence, provides tons of traction, and soaked up everything from stuttery ruts to square rock hits that littered the track we were riding. I would have liked the chance to hit some more steeps and sustained technical lines – something that felt a bit more like the riding on the Shore or up high in Whistler – but with time we'll have a chance to try the Aurum there and I believe it'll perform admirably based on my first impressions.
In several spots you'd go from grippy rock to slippery dust. Stay off the brakes as much as possible and get those tires to bite – or wind up on your ass in the middle of a massive cloud.
The Aurum's geometry felt spot-on and I think that Norco's Gravity Tune concept deserves a special call-out. The idea that there is a consistent ratio that riders of all sizes seem to agree on makes a lot of sense, and the consistently rave reviews that Norco Aurums, Ranges and Sights have been getting over the last few years indicate that they've found a slice of geometric gold. We say this over and over again, but as suspension design gets more consistent between platforms and brands, it is often a frame's geometry that makes the difference between a good bike and a great one, and Gravity Tune seems to be earning its pay. A lot of factors go into feeling comfortable on a bike in a short period of time, but nothing is more significant than geometry. Don't underestimate its importance.
Under braking (yet another pair of SRAM Guides that kicked ass), the Aurum was active and controlled and as a result, more time on the bike meant less time on the brakes. Everything felt crisp and controlled. The Schwalbe Magic Mary is an emerging fan favourite for a reason – tons of traction and bite, incredible braking response, and decent rolling speed. As a non-racer, I'll sacrifice a bit of speed in favour of all that bite, but go-fast types are gravitating to that tire as well. Definitely a spec highlight.
Idyllwild had lots of rock in technical configurations, and plenty of dust – so traction was at a premium. I would have liked more sustained steeps, since that is a good test of the combination of any bike's suspension and geometry, but the tastes I did get indicated that the Aurum will live up to its BC lineage. More on that when we get a tester and have more time on it.
Another winner on the spec side was the Boxxer World Cup. We've seen several companies spec'ing the Boxxer team on their top bike, and it usually feels under sprung. For the buyer that means you might be swapping out a spring right away, and regardless of whether that ends up costing you anything, it's an unnecessary hassle. The WC's air spring is easy to adjust and feels great. At lower spec levels one might tolerate having to dig a bit deeper to get your bike dialed, but if you're opening your wallet for the high end, you're justified in expecting that nothing will feel like a compromise from the time you roll it off the floor.
The integrated down tube protection may not be the slickest looking execution, but that is some of the best coverage I've seen, and when you've paid good money for a carbon DH frame, you want wall-to-wall protection.
It is always difficult to draw definitive conclusions about a bike in a short period of time, especially when you don't have other bikes to ride for comparative purposes, and you are on terrain that is unfamiliar. However the Aurum made a very positive first impression. It is among the quietest DH bikes I've ever ridden (granted it was brand new), and the ride is smooth, balanced and refined. The geometry had that instant comfort zone feeling to it that is as good an initial feeling as you can hope for, and the spec is dialed from tip to tail – with the exception maybe of the WTB saddle which has very hard edges if you happen to have it ricochet off your inner thigh. As far as first impressions go, they don't get much better.
With a new team featuring a high-caliber contender in Sam Blenkinsop and a crew of young chargers, Norco has signaled that it plans to compete on the World Cup circuit in 2015 – and now it has a bike that is up to the task. It will be interesting to see what results they are able to come up with – not to mention Jill Kintner – in the upcoming campaign.
Getting most of the fork's travel wasn't hard to achieve in Idyllwild's chunky boulder fields.
Bryn Atkinson won't have a full race schedule for the first time in 2015, focusing instead on some filming, some development, and working with partner Jill Kintner as she continues to chase podiums – but he will race some Enduros and the odd DH as well. We haven't seen the last of the affable Aussie by a long shot.
Spec Highlights
The 2015 Norco Aurum C 7.1 Enve edition. At $9700 US, it should have no compromises as far as spec – and it doesn't. The $2700 premium over the identically-spec'd version (minus the Enve wheels) feels a bit high – we'll report back if that pricing changes a bit.
Aurum C 7.1 / C 7.1 Enve Limited Edition
Frame: Aurum Carbon 650B 200mm travel
Fork: Rock Shox Boxxer World Cup 650B 200mm
Shock: Cane Creek Double Barrel Coil
Handlebar: Race Face SixC carbon 800mm
Stem: Race Face Atlas Direct Mount 50mm
Brakes: SRAM Guide RSC w/200mm rotors
Rims/Hubs: C 7.1 Enve Ltd Ed'n: Enve M90/ DT 240
Rims/Hubs: DT EX 471 / DT 350
Tires: Schwalbe Magic Mary 650B x 2.35 Super Gravity, Vert Star, Tubeless ready
Cranks: SRAM XO1 DH Carbon
Rear shifter: SRAM XO1 DH 7-speed
Rear Derailleur: SRAM XO1 DH 7-speed
Cassette: SRAM XO1 DH 10-24T 7-speed
Chain Guide: E-13 LG 1 +DMB guide w/lower guard
The Aurum C 7.2 sees a few key differences as you step down from the 7.1: you lose the carbon cranks and bar, the fork and shock change plus a few other small things – but the XO1 DH 7-spd group remains. The Aurum C 7.2 is going to be a very popular choice for racers who have to cut a corner or two but still demand top tier performance.
Aurum C 7.2
Frame: Aurum Carbon 650B 200mm travel
Fork: Rock Shox Boxxer Team 650B 200mm
Shock: Rock Shox Vivid RC2C Coil
Handlebar: Race Face Respond 785mm
Stem: Norco Direct Mount 50mm
Brakes: SRAM Guide RS w/200mm rotors
Rims/Hubs: DT EX 471 / DT 350
Tires: Schwalbe Magic Mary 650B x 2.35 Super Gravity, Vert Star, Tubeless ready
Cranks: Race Face Respond DH
Rear shifter: SRAM XO1 DH 7-speed
Rear Derailleur: SRAM XO1 DH 7-speed
Cassette: SRAM XO1 DH 10-24T 7-speed
Chain Guide: E-13 LG 1 +DMB guide w/lower guard
For $4230 USD, the Aurum C 7.3 gets the very same frame as the 7.1 and 7.2. SRAM's excellent XO1 DH group is replaced with Shimano Zee's capable but less elegant option. Still, this will be a fast package that offers the chance to upgrade later when needed.
Aurum C 7.3
Frame: Aurum Carbon 650B 200mm travel
Fork: Rock Shox Boxxer RC 650B 200mm
Shock: Rock Shox Kage RC Coil
Handlebar: Spank Spoon 772mm
Stem: Spank Director direct mount 50mm
Brakes: Shimano Zee w/200mm rotors
Rims/Hubs: Sun Inferno 29 / Formula DHT rear/Formula alloy front
Tires: F: Maxxis Minion DHR II / F: Minion DHF 3C 650B x 2.4
Cranks: Race Face Respond DH
Rear shifter: Shimano Zee 10-speed
Rear Derailleur: Shimano Zee Shadow Plus short cage
Cassette: Shimano SLX custom 7-spd w/ spacer
Chain Guide: E-13 LS 1
All three Aurum C models come with the same carbon front/alloy rear frame. The 7.1 steps up $2,700 to the 7.1 Ltd. Ed'n for the Enve wheel upgrade, which seems like a greater premium than it should be for a wheelset that retails for about $3k. And at $7,000, that means the C 7.1 is a pretty good value for a top-spec'd DH bike with a carbon main triangle.
Aurum C 7.1 Enve – $9700 US
Aurum C 7.1 – $7000 US
Aurum C 7.2 – $5800 US
Aurum C 7.3 – $4230 US
Aurum C Frameset – $2585 US
Availability: in shops in April 2015
---
Will we see Blenki on a World Cup podium in 2015?