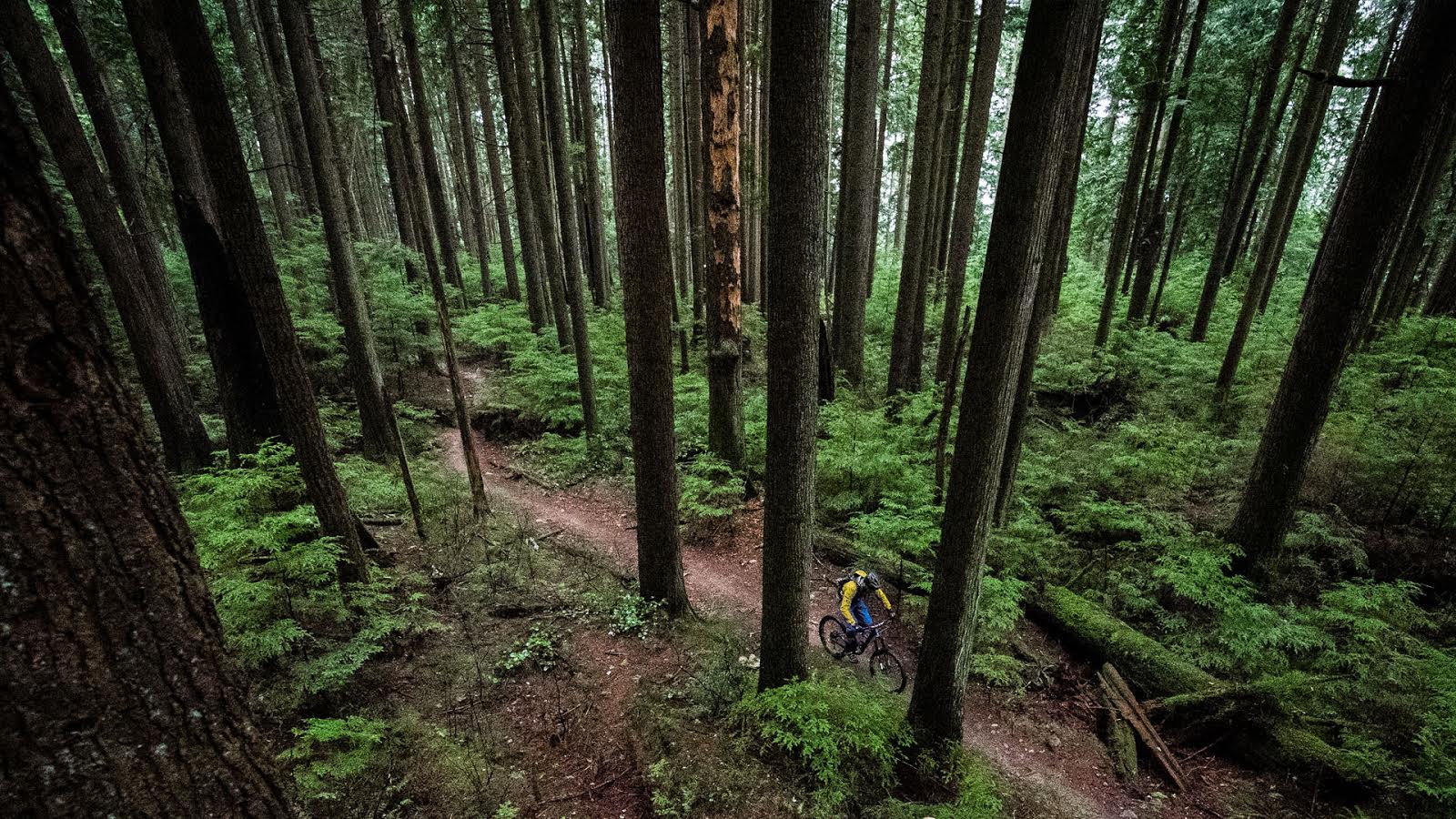 2015 GT Sensor X Pro Review
Much like the film technique of the same name, the Sensor X Pro is the result of taking the original (the trail friendly, 130mm-travel Sensor) and cross-processing it with another bike's finishing solution (a parts spec which includes a 150mm-travel RockShox Pike, RaceFace wide and short cockpit and 1×10 drivetrain with chain retention device). The result is an otherworldly high-contrast bike that is very lively.
I wanted to know more about the genesis of the Sensor, so in the following captions there's a brief Q & A with Todd Seplavy, GT's Mountain Bike Product Manager.
As I explained in my First Impressions of the bike "the Sensor X Pro is a highly tuned version of the standard model. The fork, drivetrain and even the cockpit has been upgraded in a way that will suit riders who love a little va-va-voom." What GT did was take the 130mm-travel Sensor platform and soup it up with a parts list that would transform a lively, pretty forgiving trail bike into something sportier and more boisterous. Something snazzy for the weekend.
It starts at the front with a 150mm-travel RockShox Pike that is bolted into the rider's hand via RaceFace Respond bar (785mm – hooray for awesome width bars!) and stem (45mm – yay for an appropriate length stem!). These three items mean that now the SensorX Pro has considerably improved steering due to the sturdy and robust chassis of the RockShox fork and the leverage and precision that a stubby stem and ample bar width will allow. Immediately a rider will be placed in a confident and powerful riding position that will allow them to navigate the trail rather than steer the tiller of a bike, and the suspension is able to just do its magic. The result: better handling in all the situations that a modern mountain biker will find themselves in and not just good for 'yoofs riding like hooligans'.
OK, that's a sort of vague and whimsical summary of the bike-body geometry matrix, but this is hardly the time and the place to go to specifics. A good starting point for anyone that needs convincing is Chris Porter's experiments and postulations on this matter.
Other highlights include the dropper seatpost. The KS LEV Integra is a smooth operator that only required a bit of cable tension fettling from time to time. It allows infinite adjustment of seat height and the head is a simple but very sturdy two-bolt, zero offset system which prevents any unwanted saddle shifting. Overall, it's a seatpost that vies for top honours in its category.
Where I still had question marks was regarding the 1×10 drivetrain, specifically the 32-tooth chainring paired to a maximum 36-tooth cog on the cassette which made climbs feel more like a test of willpower than usual. The 104mm bolt pattern of the RaceFace Evolve cranks does restrict the size of the chainring, with 30-tooth being the smallest currently on offer (Chromag Sequence X-Sync rings are available in 30-tooth, for example). Of course, with 11-speed drivetrains still being high-end, top dollar items it isn't going to be possible to spec one on the $4300 Sensor X Pro without compromising somewhere else. For some riders in some areas 32 teeth is going to be too much, likewise, for others maybe it won't be enough. The solution isn't easy for companies who want to spec bikes for a universal market but instead it might be up to the customer to tune the chainring size to suit their own specific needs. On a related note, top points for speccing a chain retention system because not all chainrings are made equal and the magic magnets do fade, not that I got to find that out on the Sensor.
My second head scratcher was the cable routing, which is so bizarre and convoluted that it seems to be a puzzle, rather than a sensible solution for slick shifting. I never got around to rerouting but a more sensible routing option would seem to be using the existing bosses and holes but avoid looping under altogether. If I owned this bike I would take the time to remedy this right away.
The third was the tires. I questioned the grip of the Continental Mountain Kings in my First Impression and simply couldn't spend all the test period with one of these rubbers up front (as Brian Earle pointed out in the comments section, "Life is too short to ride crappy tires") so I swapped the front tire to a used Schwalbe Magic Mary. Instantly the bike was allowed to run loose like it wanted and could be reigned in when necessary. I was satisfied with leaving a Mountain King on the rear, that is until the casing went twang after an afternoon of light-hearted and heavy-handed riding. This has been reported before but this was my first experience with casing failure. I've not had much time on Continental's Mountain King tires previous to this experience but this now makes me very reluctant to do so again. In my time testing this bike I'd say that the tires would be the only obvious upgrade necessary.
In terms of ride quality the Sensor X is lively and coaxed me into situations that tested my own abilities to keep my shit in a pile. Pardon my French. I think this is a good thing, though. I like a bike that challenges you to try your hardest and lets you make your own mistakes. The Sensor X moves well when given input but also deals with a lot of the little stuff so you don't have to. Yet again, it's another mid-travel (I'm talking about the 130-140mm-travel range) bike that has me questioning whether most of us need much more, and perhaps if more people were honest with their abilities, their local trails and their needs then they'd find such bikes are all that they really need, and more.
I found the bottom of the suspension quite often on this bike. I'd put this down to having just 130mm of suspension travel in the rear while the rest of the bike lured me into situations that were above the pay grade of the bike; such is the assertiveness of the stout little frame and the parts spec. Or was it some characteristic of the mousetrap and the shock tune? I'm still unsure of the answer but I'll be handing this bike off to suspension nerd Dave Tolnai for further and more theoretical computations in his forthcoming series of suspension tech pieces for NSMB.com.
I'd characterize (or questionably compare) the Sensor X Pro as somewhat like a hot hatch GTI or XR2i, in that it can do it all even if there might be better suited specifically tailored models. You could certainly drive a Golf GTi car across country, but perhaps a nice plush grand touring vehicle might be more suited to this particular task, in much the same way that the Sensor is more than capable of going on longer, more XC focused expeditions but there's probably better bikes for this purpose.
The hot hatch parallel is really due to the fun-factor of the Sensor X Pro. It's best when the rides are relatively short – two hours and under, probably an afterwork, evening blast or a goon with friends – because in that short time you'll be seeking to have as much fun as possible and this little bottle rocket lets you do that. It's a bike that is suited both to boy racers and grown men who need lots of little bouts of accessible thrills.
Overall, this one can do a lot AND have a lot of fun doing so. The question is what kind of rider are you and what bike is going to complement your riding abilities and the trails you choose to ride.
For more click GT Sensor X Pro.
---
Can't have enough hot hatches in our opinion. Is the mid-travel shredder a category we'll be seeing more of? Seb seems to think we should be.