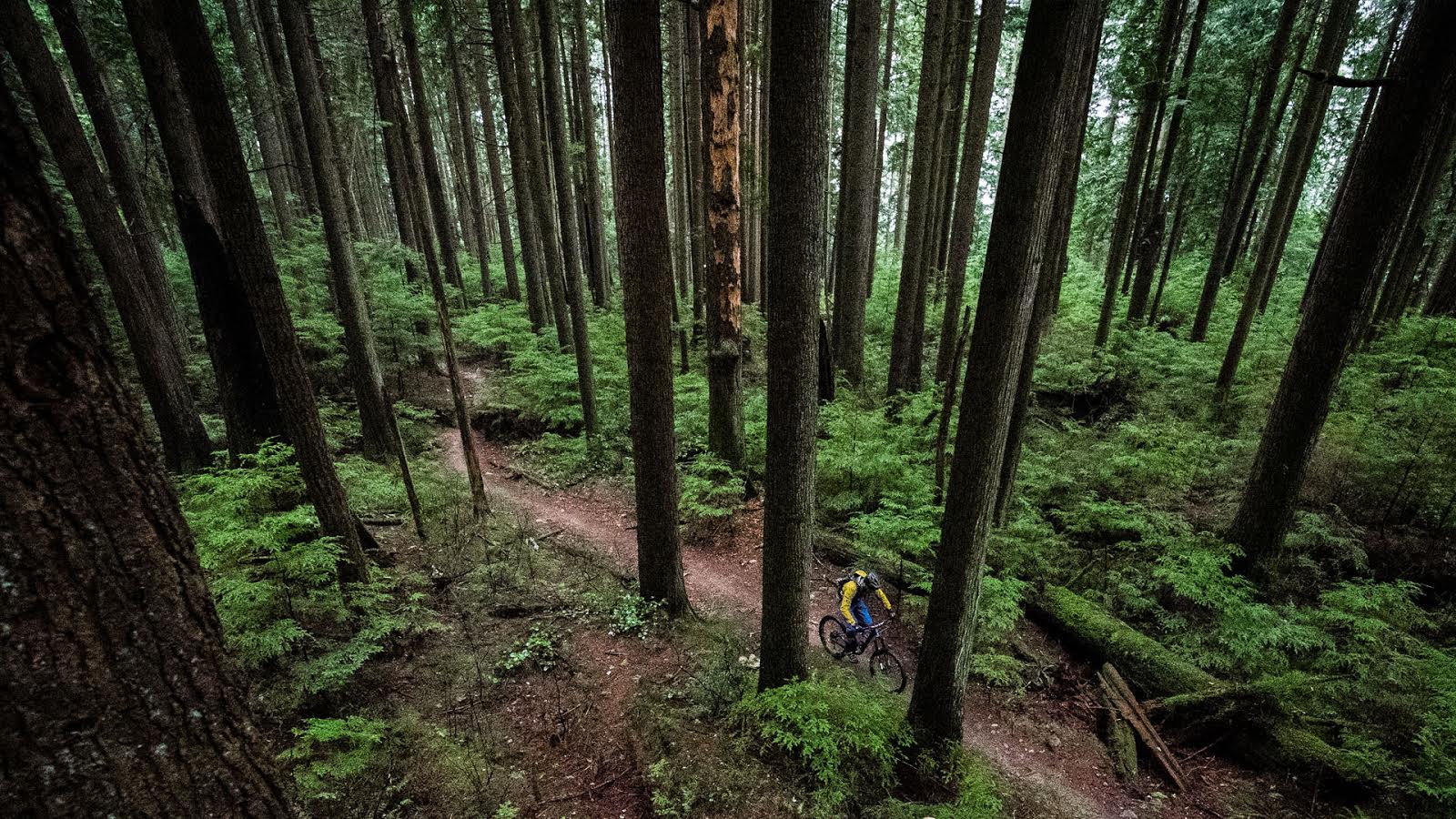 2015 GT Sanction: 165mm Enduro Platform
The 2015 GT Sanction is the newest addition to what is turning out to be a very popular market segment this year. Yes, this is another bike with 27.5" wheels; it also has 165mm travel and was built around the new Fox 36 fork with either 160 or 170mm or travel.
GT does already have a bike with 27.5" wheels and a seemingly similar 150mm of travel in the Force, so the question is: why don't the GT team racers use that? Morgan and I sat down with designer Etienne Warnery and marketing manager Chris Hopwood to chat suspension and frame design which, with a number of tangents about bike design and rider intent, allowed us to geek out on how the Sanction came to be.
Let's start at the beginning. The GT Force was already far down the design process when the Athertons signed on the dotted line with GT and the Factory Team was put together. The Force is designed to have good pedaling characteristics in all scenarios, up, down and across. However, in the new world of Enduro racing, downhill performance is coming to be favoured by most riders.
While the Force is a good bike and one that GT young gun Martin Maes had piloted to success regularly, Dan Atherton had something else in mind; he wanted a bike that had the suspension and rough-terrain pedaling characteristics of the GT's Fury downhill bike in a scaled down chassis. The Fury is said to excel while pedaling through rough sections of trail with minimal pedal feedback – and Rachel and Gee's 2013 season would correlate with that idea. These characteristics would be expected while maintaining an acceptable ability for the bike to climb – potentially with the help of a remote lever to activate a climb mode on a rear shock.
While opinions differ on whether bikes should rely on platform dampers to perform in a variety of conditions, it should be noted that this bike was designed to be a race bike and Dan felt that this was the best way to have a bike optimized for the courses he competes on. The frame is designed around the Float X shock from Fox which in turn is designed to accept a bar activated remote to move through the modes of the shock – problem solved?
So the Sanction really is a scaled down Fury, but at the same time it is quite different. All the tubing on the frame is custom drawn with only the main pivot design shared with its long travel predecessor. The bike is designed to be very stiff laterally and, as Warnery emphasized, to have balanced stiffness through both the front and rear triangle. This isn't a point that many companies will mention, but Warnery is adamant that bikes should be designed this way.
Speaking of the front triangle, the Sanction is designed a long front centre philosophy and is intended to be ridden with a 35mm stem length. The longer front end also means that the bike runs with a 66 degree head angle – no need for a super slack head angle to make the bike feel stable at speed here. At the moment the shortest stem you can run with a 31.8mm bar is a 30mm, but if 35mm bars become the norm then 35mm will be the bottom line. Suffice to say that save for putting the bars on top of the steerer tube with a zero stem, which raises bar height significantly, GT has designed this bike around very short stems and relatively long top tubes.
The rear end of the bike has a 142mm rear axle and post mount for the rear brake caliper designed around a 180mm disc. The rear axle is similar to that found on the Fury, but uses a single non-drive side pinch bolt. Of course there is also a ISCG mount but the bike is designed around a single chain ring; no front derailleur mount to be seen here.
The prototype Sanction spent last season underneath Dan Atherton, with Martin Maes riding the Force for his race bike. Now that the Sanction is nearing production Martin was given the option of choosing his bike for the season. After a few runs Martin was pretty adamant about riding the Sanction this year. With a bike that has a more gravity biased performance I know that he will be on my pick list for my fantasy team.
We'll learn more about the Sanction in a month or two when GT releases more details. What we know right now is that there will be two complete bikes on offer along with a frame only option, all of which will come with the Float X and (removeable) remote.
I'll admit that I'm actually quite keen to have a ride on a race inspired machine. It seems that the racers and engineers have worked closely on this bike and I think that this could translate into a bike that will have some good benefits for us riders endowed with the skill levels of mere mortals.
---
Is a 160-165mm 27.5″ bike in your future?