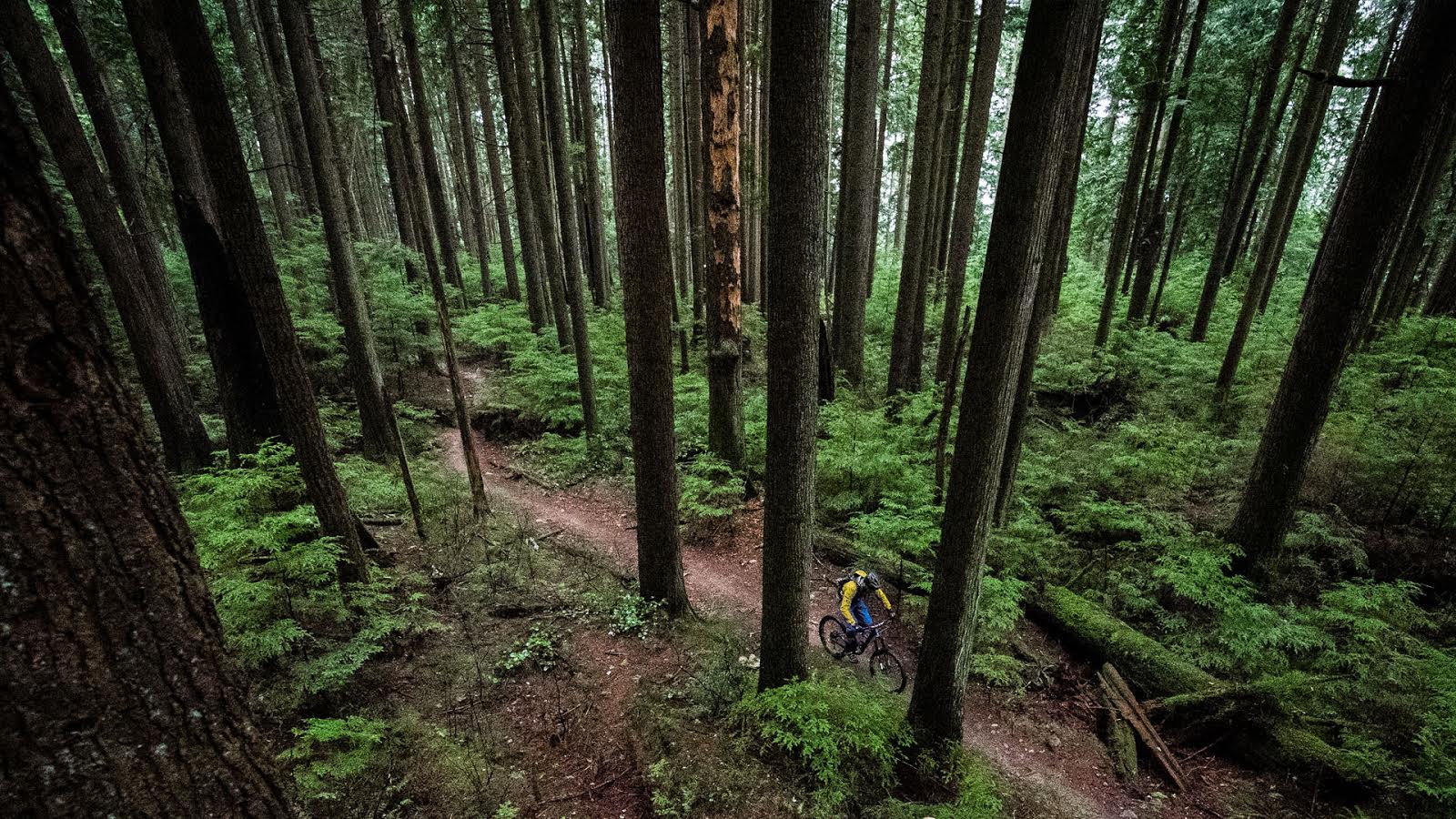 2015 Fox 36 RC2: Ridden in Moab and BC
When the Fox 36 first arrived smaller bikes began to be fun again. I say again because they were fun when there were no alternatives, but as longer travel machines arrived a large hole appeared in the middle. There were big bikes and small bikes. Particularly around here, you rode a monster truck (Gazzaloddi tires!) or a Vespa.
The original Fox 36 was light, strong, plush and precise. Confidence inspiring two-bolt clamps gripped the 20mm axle and the RC2 version was highly adjustable. I mainly rode a Van (sometimes a Float) and it worked great without much attention.
And then along came the 34. The 20mm axle was gone but the 160 mm version of the fork got spec'ed on burlier bikes because it was much lighter than the 36, had a shorter axle to crown and it was eventually available in every wheel size. The first generation CTD models weren't well-received by the public and while many found the Descend mode lacked damping support throughout the travel, Trail mode, while initially well damped, lacked support deeper in the stroke and tended to dive. On top of that many of us missed the robust precision of the 36 for long travel applications, particularly in larger wheel sizes.
RockShox filled the market gap with the Pike. With its low maintenance Charger Damper, excellent support and adjustability and 4 lb weight, the Pike was an instant hit. Silky small bump compliance and adequate rigidity put it over the top and product managers have slapped it on as many bikes as possible at the top end of the market. The Pike however is only available with a 15mm axle and, if you need a straight steerer you are shit out of luck.
For Fox this meant it was time for a an update of the 36 chassis which Mark Jordan from Fox told us was largely unchanged since 2005. Fox started from scratch, applied new casting techniques already used on the 34 and other models, and rebuilt the venerable 36 for all three wheel sizes using information collected from their RAD (Racing Applications Development) project. The fork was announced in April and many of the details of the new fork can be found here.
A big priority was reducing friction inside and out to produce better response throughout the travel and particularly for low speed impacts. Fox added an oil with a 'tactifier' that allows the lubrication to stick to the upper components of the fork rather than succumbing to gravity. When establishing chassis ride quality Fox considers three factors; torsional rigidity, fore and aft rigidity and trans sheer, an evaluation of independent leg movement. This last factor had engineers return to a bolt on thru-axle for the new 36 to ensure it was stiffer than the 34 despite being only slighly heavier. It takes a little longer to remove your front wheel, but for my money the added rigidity is worth it.
Fox tends to run things racer style even for the media. Each journalist brought a bike along and the idea was to roll a first lap down Moab's LPS trail with our existing rigs and then take a left back to Sand Flats road where the Fox tech crew would swap out our forks and shocks for lap two.
The beginning of LPS is fun, windy singletrack punctuated by interesting rock features. And then it gets fast and rocky. Ariel Lindsley described the lower section as curbs tilted towards you for maximum discomfort. On the first lap I was hanging on, getting re-accustomed to the terrain and figuring out a 2015 Santa Cruz Nomad.
After lunch and the shock swap we shuttled back to the top. Our fast group dropped in and immediately the Float X that had been installed on the Nomad failed with a loud crack. All damping was gone and the bike became difficult to handle. Fox doesn't yet have an off the shelf solution for the new Nomad so this was a shock that was tweaked by hand for the job without going through Fox's normal quality control procedure. Another rider on a Nomad rode the Float X without incident. Fox is in the process of working on a stock solution for the new Nomad.
My back to back comparison with the Pike was a write off so I didn't get the fork dialled in to my liking for lap three. I found it quite responsive off the top but I felt it stiffened deeper in the travel in response to the punishing high speed, square-edged bumps of Porcupine Rim trail.
I was riding the fork at the recommended pressure but with the damping backed off significantly. The FLOAT RC2 model we rode has 26 and 23 clicks of low and high speed adjustment, respectively, and I had about 7 clicks of each with the rebound toward the fast end of the scale as well.
On day two we rode a recently opened trail called Hymasa up to the midpoint of Captain Ahab. The descent was more rock than dirt and there were lots of fun technical features. I had lowered the pressure of the fork and while I was getting deeper into the travel at certain points it became less distinct. With such a fast crew of riders I didn't have much time to tinker so I never got the fork to feel the way I hoped.
After leaving Moab my impressions were that the fork is nice and stiff, both torsionally and fore and aft, but I never fell in love with its damping characteristics. More research was needed. Since I had stolen Pete Roggeman's test bike, and left the stock fork in Moab, he took over the testing once I got home.
Cam McRae
---
My first few outings with the new 36 weren't spectacular. It was robust and progressive, but so much so that I wasn't able to bottom it out, even in spots where a front fork should always retract like a poked slug. Sure, it rode high in its travel and in that sense matched what was happening in the back of the Nomad, but the fact that I wasn't able to use all of its travel, and what I did use wasn't feeling groovy meant we clearly hadn't unlocked the fork's setup secrets just yet. Traction wasn't great, either – so we didn't have it dialed for middle and deep stroke hits or for suppleness at the beginning through middle of the stroke.
However, beyond adding a bit of air on top of what Cam was running (I outweigh him by 15-20 lbs.) most tweaking had been restricted to backing off the compression (high and low speed) from the middle of the range down towards the open side. In short, I was using less than half of the available compression damping to try to overcome the damper's spring setting (which was between 68-70 lbs for my 185 lb body weight).
A conversation with Morgan Taylor, who has had a lot of time aboard the RC2-equipped Fox 40 revealed a slightly different take. He channeled Arthur Gaillot's expertise and explained how a fully closed compression damper in this case can be thought of as a closed door. Back it off one click, the door opens a crack, which is a significant change from fully closed. Remove one more click, and you've just doubled the amount of 'light' getting through the door (or for our purposes, the amount of oil allowed through the circuit).
Each successive click opens the circuit the same amount, but with diminishing returns in terms of the difference you will perceive on the bike. In other words, from fully closed, the differences are larger, whereas from the open side of the range, the differences are more minute. Since we'd been operating at the open side of the range, it's no surprise we weren't getting the amount of change we hoped for from a handful of clicks.
We removed air in 1-2 lb increments and already I knew we were on the right track. When we got down to 63 lbs., where it now sits, we had to add a bit of rebound damping and also got both high and low speed compression closer to the closed side. Final setup notes for me in North Shore conditions (I would run it with a bit more air in the spring for higher speed trails):
Rider weight: 185 lbs.
RC2 spring preload: 63 lbs.
Low speed compression: 9 from closed (of a total of 26 clicks)
High speed compression: 7 from closed (of a total of 23 clicks)
And with that, the 36 RC2 has come alive. It still rides high in its travel but is now happy to get down to work, moving predictably through its travel in the mid stroke, and only reaching deep or bottoming when really called upon. Higher speed rough sections are gobbled up like a six year old's Easter basket and I haven't yet had a big show-stopper of a hit that elicited a "holy shit this is it" situation where you blow through it all and are then forced into a heavy push-up to avoid putting your chest into your stem.
Cornering traction has improved, especially on the dampened dust on granite we get here in the Spring, so performance is matching the better perceived feel as well. The all-new chassis is stiff, of course (did you expect any less?) and can I take this opportunity to ask that we don't kill the 20mm axle just yet for AM use?
It's early days but with setup now feeling pretty close to dialed and a better understanding of how to work with this platform, it looks like the new RC2-equipped Fox 36 is poised to continue the tradition of performance set by earlier models, and, yes, challenge the Pike for the attention of product managers and consumers looking to bolt some performance boing on the front of their AM bike.
Pete Roggeman
Fox expects to start delivery of the 2015 36 in July and you'll be able to get it with a straight 1 1/8″ steerer if you desire. Pricing for all three wheel sizes starts at $1050 US for a FLOAT model and a Talas will set you back $1150.