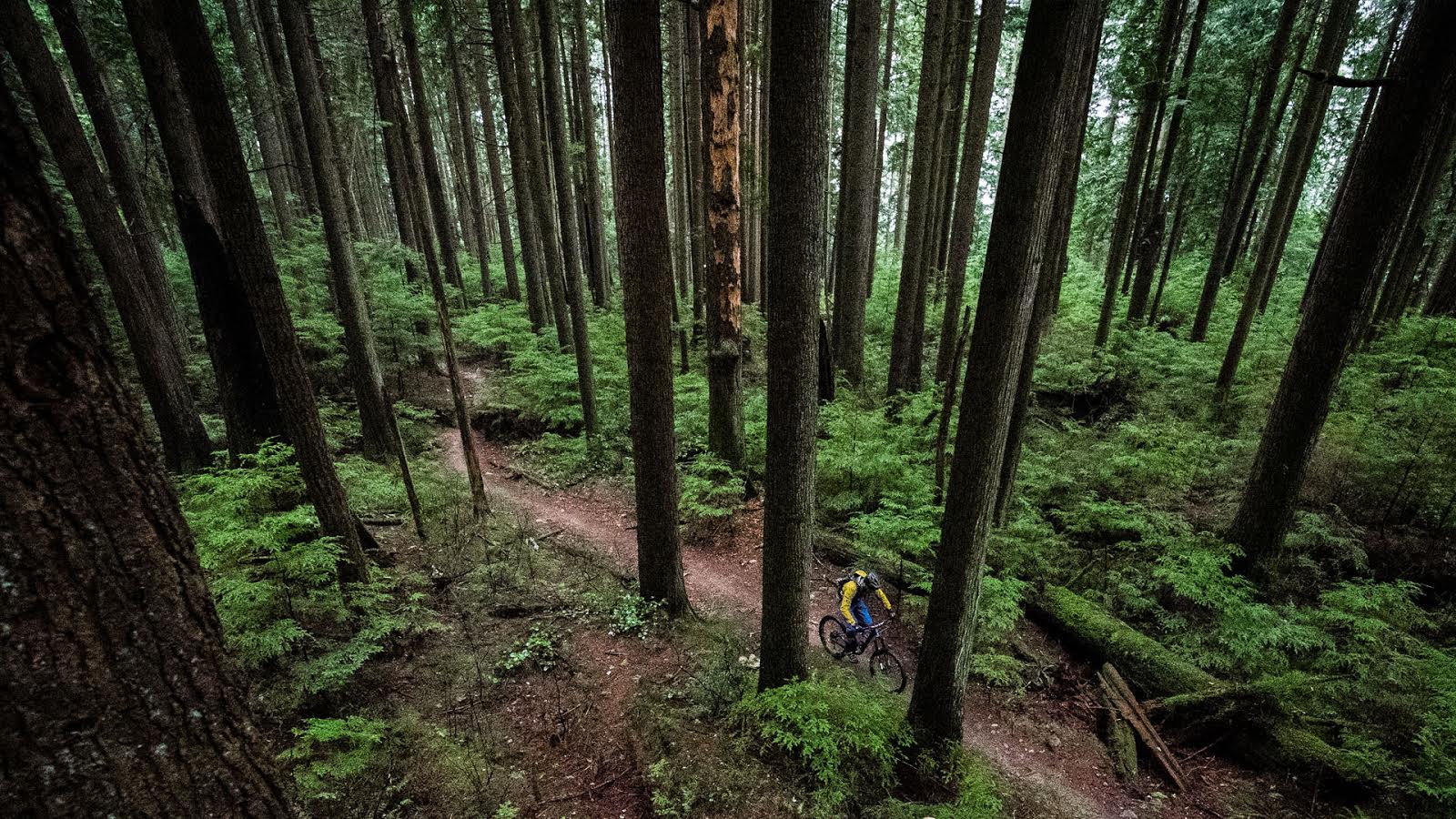 2014 Trek Fuel EX 9 29: Reviewed
Time was, I would have said a bike with 120mm of travel didn't belong on the Shore. Not enough suspension for one thing; and the kind of things a bike with less than five inches front and rear is designed to excel at wouldn't translate well to our local terrain.
But when Trek agreed to send us a mid travel 29er to review in the depths of winter, I wasn't worried. I envisioned fleeing from our snow-bound mountains to lower, tamer, southern riding locales, where the bike could be put through its paces in more, uh, appropriate terrain.
As it turned out, we weren't in for that kind of winter. And so the central question of my review inadvertently emerged to challenge my assumptions: does a bike like Trek's 120mm Fuel EX 29 have a place on the North Shore?
Riding styles they are a-changin' here on the North Shore. Smaller bikes are getting more capable and the rider's desire to cover distance is increasing.
Rep
Born in 2001, the versatile Fuel has long been Trek's best selling full suspension model. For 2014, the company broke with 13 years of tradition and made the Fuel a 29er only platform. Trek has a long track record with wagon wheels, first through its affiliation with mountain-bike-originator-come-29er-evangelist Gary Fisher, and more recently through its amalgamation of Fisher's brand and bikes into its core lineup. This year, Trek upped the ante on its investment, bringing wagon wheeled versions of its flagship Fuel and Remedy bikes into the young-but-thriving trail 29er market.
Tech
I haven't done a formal survey, but it wouldn't surprise me to learn that Trek leads the mountain bike industry in proprietary two-to-four letter tech-acronyms. The Fuel EX 29's rear suspension design boasts no fewer than three: the ABP (Active Braking Pivot) suspension design; the Trek-designed, Fox-built DRCV (Dual Rate Control Valve) variation on the standard float air spring; and the one-piece EVO rocker link. Not to be left out, the Fuel's front-end sports a monikered E2 tapered headtube, and the fork has a custom 51mm G2 offset. Other noteworthy technical features of the Fuel EX 29 include internal routing for derailleurs and a dropper post; ISCG mounts on a press-fit bottom bracket shell; and an integrated downtube guard on both aluminum and carbon frame models.
How many acronyms can you fit on a rear end linkage?
Fit
The first real mountain bike I ever bought was a Large/19.5" Rocky Mountain Hammer, and that's been my sweet spot, give or take half an inch, for twenty years. But the 19.5" Fuel EX 29 that Trek sent us looked small out of the box; and when I pulled it together and saddled up, it fit small, too. Out came the measuring tape and it seemed like the bike had lost an inch in seatpost length. We contacted Trek and they confirmed we had indeed been sent a 19.5" – but explained that their sizing was virtual, so the bike would in fact measure 18.5".
Huh? It seems that Trek's frame sizing system in stuck in the era when mountain bikes transitioned from horizontal to sloping top tubes: they base their measurement on virtual sizing, rather than actual numbers, in an effort to allow riders to "accurately compare sizes" given modern geometry. The good news is that Trek offers the Fuel Ex 29 in six different sizes, from 15.5" to 23", so any rider should be able to find a size that fits. The bad news is that you might well have to study the numbers carefully, and rethink your size and preferences, in order to get that fit; I relied on past experience and ended up having to run more seatpost and steerer tube than usual to get my saddle and cockpit at the right height, though the bike's reach was spot on.
Trek's virtual sizing means seat tube measurements don't line up with stated frame size; our size 19.5 tester measures out at 18.5″. Reach measurements, however, are in line with what you'd expect for the advertised size.
Spec
For review, Trek sent us a Fuel Ex 29 9 (see our preliminary review HERE), decked out with a mixed bag of high zoot goodies and Trek house-brand Bontrager stuff. Sitting at the top end of the aluminium framed Fuels, the bike's spec is solid and, for the most part, well thought out with no glaring weak links.
Brakes and drivetrain are full Shimano XT, a no-brainer spec on a high-end bike that paid off as well on the trail as I imagine it would on the showroom floor. Biting down on 180mm rotors on both wheels, the brakes offered consistent and effective stopping power. Both front and rear derailleurs provided quick, reliable shifting, with the Shadow+ unit keeping everything quiet and in-line over the course of the review period without the assistance of a chain retention device. My only gripe was with the 24/38 tooth rings on the 2X10 cranks: while it provides an excellent range of gears, I found the 14 tooth jump simply too extreme to be of much use while riding.
Full XT drive and brakes: just as good on the trail as on the showroom floor.
Out front the Fuel EX 9 gets the highroller treatment with a Factory Series 32 Float, which boasts pretty Kashima stanchions and an adjustable Trail compression damper setting. At the risk of engaging in small sample size theatre, the fork's performance suggests that Fox's updated CTD damper has indeed addressed the well-warranted complaints its first iteration drew: with the spring rate set, the compression damping in the trail settings provides a useful range of options to suit different conditions; I appreciate not having to choose between a plush-and-divey or supportive-and-teeth-rattling front end.
The Rockshox Reverb Stealth completes a trifecta of out-of-the-box spec home runs. While everyone has their personal favorite dropper post, it's unlikely there's a more welcome stock option on the market than the Reverb, and the stealth routing helps keep the Fuel EX 9's high polish finish shining. The Reverb lever's inability to play nice with Shimano brakes is well documented, but the awkward pairing didn't prove all that cumbersome.
While Reverb levers are not yet getting along with Shimano brakes, one can't really argue with SRAM's Stealth dropper being spec'd.
I have no problem with spec'ing house-brand saddle, bars, stems, etc. on stock bikes at any price range: there's little point in padding a bike's sticker price with high-zoot items that discerning riders are likely to replace based on their personal preferences. The Bontrager Race Lite stem (80mm) and bars (720mm) both tread the middle ground between grunt and gravity, as does the Evoke 2 saddle; fitting choices for a mid-travel bike.
The one piece of Bontrager spec that I found myself dwelling on was the round bits: wheels and tires. Bontrager may have updated its Rhythm Elite wheels this year, but it seems the 2014 Fuel EX 9 was tasked with clearing out old stock. Now there's nothing overtly wrong with the Fuel EX 9's wheels – they didn't blow up or even require maintenance over the course of the review, and their ample 28mm width played well with high-volume tires – but…
The Rhythm Elite 29 wheelset is on the heavy side for the bike's intentions – a wheel swap livens up the Fuel EX nicely.
In the beginning, 29ers were very much XC oriented; riders in BC looked upon them, and saw that they weren't designed for technical riding, and said "meh". Then the bike industry said, "Let them be burly," and adventurous riders pedalled them up to the top of mountains and smashed back down, and saw that it was good, if a bit sluggish and uninspired. So Stan said "Let us make 29 inch rims both wide AND light, that they may ascend like angels through the realms of heaven and descend like the wrath of a vengeful god," and it was very, very good.
Ahem.
If you've ridden a set you know this to be true: nothing puts zing into a wagon wheeler like a set of light, stiff hoops. While the Fuel EX 9 29's Bontrager Rhythm Elite wheels took everything the North Shore threw at them without flinching, they felt out of place on a bike this spry. The wheels required conspicuous effort to be brought up to speed, and their pronounced gyroscopic effect seemed to fight against my efforts to throw the bike around. As the wheel page on Trek's website notes, next to the bike frame itself, nothing has a bigger impact on your bike's performance that your wheels; if you're planning to invest more than $4000 in a bike, I feel like you want your on-trail experience to be all "whoa!" and "weeeee!", without any trace of "phew…"
If there's one place to upgrade the Fuel EX 9, it's the wheels.
(In the interest of thoroughness, I rode the Fuel EX with my personal wheelset, which dropped ~300 grams of rotational mass from the bike without sacrificing rim-width. As expected, it was very, very good.)
As for the stock rubber, I'll quote a fellow NSMB reviewer and say that while I'm sure Bontrager's XR3 Team Issue tires work great somewhere, that somewhere definitely wasn't where I was riding! The XR3s seemed to work fine on smooth, hardpacked dirt, but the merest hint of moisture, looseness or hard surfaces sent them skittering like ball bearings across a polished glass floor.
Up
Over the past few years I've spent most of my time riding bikes featuring a fair bit of anti-squat in their suspension design: put power to the pedals and you can feel the rear end go taught; it's become an efficient, comforting feeling. The ABP on Trek's Fuel EX seems to have little if any anti-squat built in, which initially felt disconcerting. But as soon as I started playing with the CTD switch on the rear damper, things quickly fell into place.
Trek's ABP suspension design is quite active, and takes some adjustment for riders used to bikes with anti-squat built in. Once you learn how to take advantage of this, the Fuel EX will motor up just about any technical climb you put in front of it.
In D(escend) the Fuel EX's back end was FSR-plush. Some people might appreciate that level of sensitivity, but to me it made the bike feel vague and disconnected from the trail. Switching to T(rail) mode brought the Fuel's back end to life: it felt snappy and pedalled efficiently while remaining responsive to trail input. Flip the switch to C(limb) for long fireroad grinds and you might as well be riding a hardtail.
Beyond its ability to make short work of long, grueling ascents, and despite its hefty wheels, the Fuel EX was a brilliant all around climber. In tight, stop-and-go sections, the bike was sure-footed and easy to maneuver. And when things got chunky, give the aforementioned wheels even a hint of momentum, and the bike would motor up and over just about anything in its path.
You may find yourself reaching for the switch on your shock to get maximum pedaling efficiency out of the Fuel.
Down
While its climbing chops were apparent from the get-go, it took me a bit longer to find the Fuel Ex's sweet spot as a descender. Given the bike's steep-ish head angle, long-ish chainstays and short-ish travel, that's probably to be expected. And again it begs the question, which is perhaps the crux of this review: does what amounts to a juiced up cross-country bike have a niche or fill a need on the North Shore?
The first step in getting comfortable with the bike was getting comfortable on it. Despite a stack-height comparable to many 6" all-mountain bikes common to the Shore, I found myself having to run several spacers below the stem and a wider, taller bar on the Fuel Ex to keep from feeling like I was going to lose the front end in corners or get launched over the bars on steep pitches. Once I had the bike feeling balanced fore-and-aft, and swapped on some high volume Maxxis rubber to improve its balance side-to-side, I started working out how to push the bike in order to carry speed and extract the maximum amount of fun from each ride.
With a few parts changes and fit adjustments, the Fuel really began to show its capabilities.
The secret to rallying the Trek Fuel EX 29 seems to be keeping a light touch up front while driving with and relying on the back-end to work the bike and terrain. The technique may be somewhat alien to riders who are used to riding the front end of a bike and letting the rear play catch-up. But I found it to play to the strengths of the bike while minimizing elements of its character that might otherwise prove liabilities:
Despite the damper improvements it brings to the table over last year's models, the 2014 Float 32 CTD is still a lightweight cross country fork that lacks torsional stiffness and doesn't exactly have oodles of travel. But keeping your weight balanced or biased rearward allows the fork to ride high and retain its composure even when the chunk comes hard and fast.
The Fuel's 69.5º head angle similarly seems to reward a rearward weight bias. Leaning forward on steep terrain or in fast corners with the intent of keeping the front wheel weighted and tracking induced unpleasant flashbacks to an era of outdated geometry. But thankfully, the Fuels' big wheels and sweet tracking fork allowed me to maintain all-important front wheel traction without having to overcommit out front.
Trying, unsuccessfully, to lose the indefatigable canine.
The Fuel EX's 450mm chainstays are pretty normal for bikes in this category, but longer than one generally finds on bikes in these parts. The long back end seemed to hang up and would miss lines when I was trying to ride the bike as I'm used to. But when I put more thought and effort into pushing the back end around, I found it provided a stable, almost carving feeling around the trail and through corners, even when things got chunky or loose. The DRCV shock probably deserves a lot of the credit here: as advertised, it was tight and responsive most of the time, but transitioned seamlessly into the second part of its stroke when needed, maintaining incredible composure and control under pressure and on bigger hits.
My time pushing the Fuel EX down through the teeth of the North Shore mountains suggests that yes, it can be done. But, as I alluded earlier, the more important question is perhaps not whether, but why: what's the point of riding a cross country bike in some of the most demanding terrain intended to be ridden on two wheels, when there are such capable, gravity-biased tools built for the job?
All Around
I ignored the question on my first few rides as I focused on dialing in the setup and fit. It began nagging me as I worked to learn how to push the bike faster and harder. But it was only when I became comfortable riding the Fuel EX up, down and all around that the answer began to emerge.
Going up for another is no problem with the Fuel EX.
I started noticing that I was wrapping up rides with more energy and less soreness than expected. Tagging along on Morgan's Garmin-induced death march to knock off the first 1000 meter day of 2014 left me gassed, but the next morning my legs were mercifully pain-free. I have a go to out-and-back ride across the base of Seymour mountain that I rely on to tire out my seemingly indefatigable dog; we hit it today and he's out cold as I type this, hunched over my computer pain-free as the clock ticks on past midnight.
"Spry" is the first word that jumps to mind when I try to describe the Fuel EX 29. The bike ate long climbs and crux moves on the way up, blew through technical trail with incredible agility and efficiency, and (with the right approach) rallied descents I would have thought out of its league, all without beating me up; it feels like the bike is doing more than its fair share of the work.
The bike excels in technical climbing, but rallies the descents as well.
Conclusion
Time was, most of us would haul a 35 lb bruiser of a bike up to the top of the hill in order to smash back down, and then call it a day. These days mountain bikes are getting lighter, more efficient AND more proficient – doing multiple laps or linking up different trails for a longer ride is becoming the norm.
Trek's Fuel EX 29 takes this shift to another level, allowing its rider to power up punch and grunt climbs and slice and dice technical trail with ruthless efficiency. And while its 120mm of suspension limit the size of the moves in the Fuel's wheelhouse, the bike's prowess on steep and fast lines belies its short travel suspension and XC geometry.
The Fuel EX 9 29 is too capable to be considered an XC bike, but not quite my definition of Trail… it deserves its own category.
It doesn't have the angles or travel to qualify as an all-mountain bike, and comes up a bit too short in both respects to be easily classified as a trail bike in my opinion. But to call the Fuel EX 29 a cross country rig and relegate it to smooth or moderate trails is to sell this bike well short: I had a blast riding it on the North Shore. Bikes like this just might be in need of their own category. Call it Super XC (with a tip of the hat to Wade Simmons): a bike that can go over, around and down pretty much anything you'd ride with a skid lid, all day long.
---
The so-called little bikes just keep getting more capable… what's your sweet spot for an all day ride?