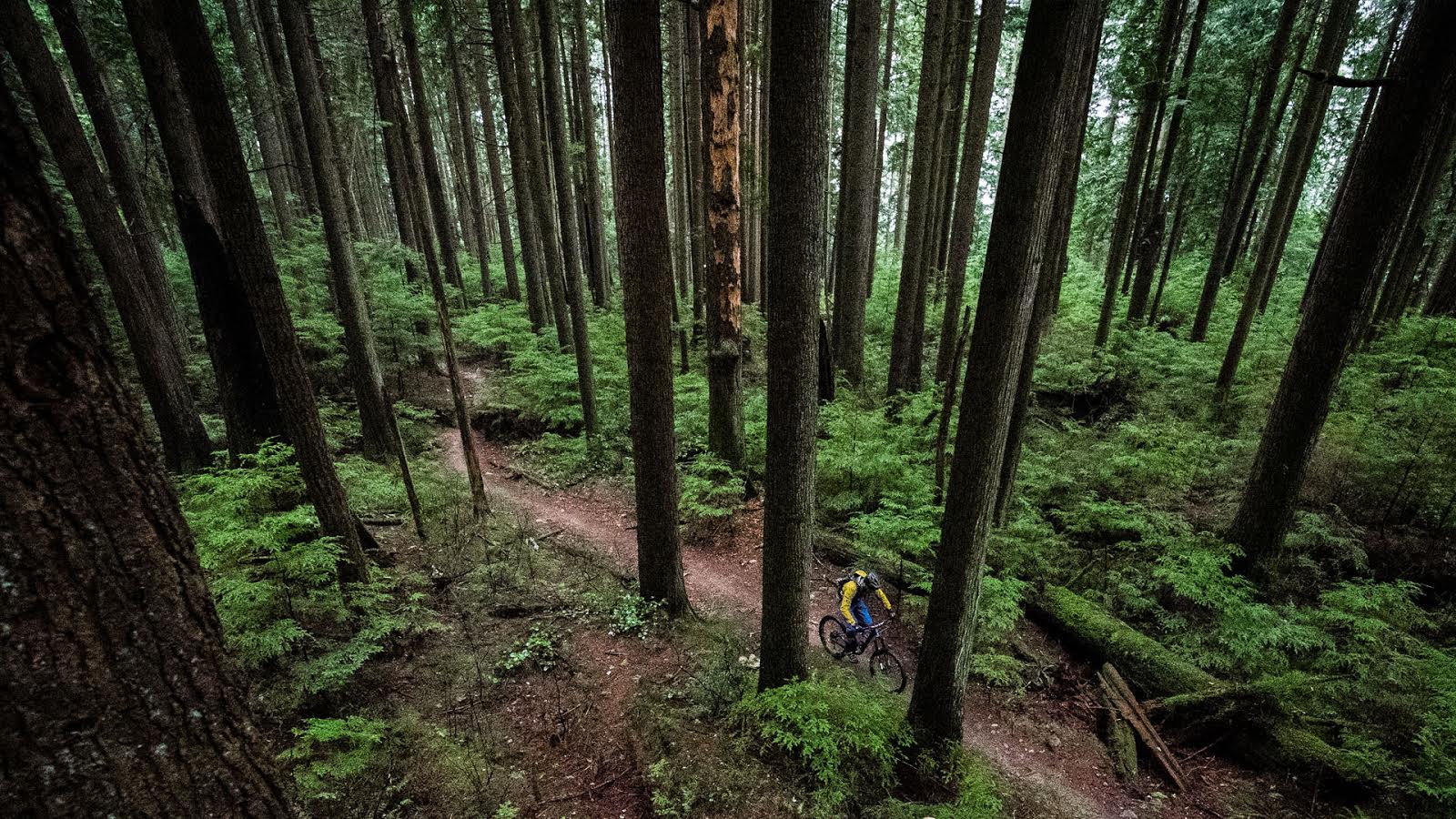 2014 Specialized Stumpjumper FSR Evo 29 Carbon: Reviewed
As the industry continues to bring ever lighter and more capable mountain bikes and components to market, the hard-hitting trail bike has become the apotheosis of the breed, expected to excel at all aspects of riding without conspicuous compromise. To reach such lofty heights, bikes are climbing to pre-owned import price-points and beyond, bringing components that ten years ago would have satisfied world class XC or DH riders together in packages designed to provide no-holds-barred thrills. A few months ago Specialized sent us a bike in this category, the Stumpjumper FSR 29 Evo Expert, for consideration.
Context
---
Launched in 1981, the Specialized Stumpjumper is famously the world's first mass-production mountain bike. It saw its first carbon iteration in 1990, gained rear suspension in 1994, and made the jump to twenty-nine inch wheels in 2008. In 2011, Specialized decided that their versatile trail bike needed a more aggressive treatment, and the Stumpjumper FSR Evo was born. Evo versions of Specialized's mountain bikes receive "ride-style-specific" tweaks that push them further down their evolutionary path; in the case of the Stumpjumper FSR, this meant an even more shred-tastic, gravity-oriented version of what was already a pretty ripping trail bike.
The heart of the Stumpjumper FSR Evo is the magical, eponymous link that connects its seat-stays to its main triangle and drives the shock. The Evo link adds 5mm of rear suspension to the stock Stumpjumper chassis, bringing the total to 135mm, while knocking around the same amount off the bottom bracket height. Some of this height is regained by virtue of a longer travel fork spec'd up front, which slackens both the head- and seat-tube angles by one degree. The result is a lower, slacker, longer version of the Stumpjumper, with a definite bias towards gravity and high-speed riding.
Back in 2011, a consistent theme emerged in reviews of the original Stumpjumper FSR Evo: while testers applauded the concept and direction, more than a few noted that the original Evo, with its mix of aggressive geometry and cross-country components, often lured them into conditions and speeds that overwhelmed the bike. In retrospect, the original Stumpjumper FSR Evo was ahead of its time, pushing the trail bike genre in a welcome direction. As the market and support for pedal-and-shred-able bike has grown, Specialized has been able to refine the spec on the Evo version of the Stumpjumper with parts that better complement the ideal – check out our first look at the bike for a detailed rundown.
Set up
---
At 6'2" I found the large Expert Evo 29 to be an almost perfect fit, both seated and out of the saddle. I ended up swapping in a slightly shorter stem to fine tune the handling, but would have been comfortable riding the bike bone stock.
In principle I have no problem with reviewing a previously ridden bike, as long as it arrives in my grubby little hands ready to ride. Unfortunately, the Expert Evo 29 in for review had previously seen time as a demo bike, and had a few issues that wouldn't have been found on a shiny new machine.
The stock Specialized Command Post IR wouldn't function properly from the get-go, repeatedly dropping from full height to the 30mm lower cruiser Position without input or warning. A quick inspection showed that the end of the cable housing inside the frame had shifted and started to shred,  impeding the free movement of the cable and, thus, the post. I'm all for the tidy profile internal routing provides, but I hope that the new stealth iteration of the Command Post hasn't sacrificed durability in the name of improved aesthetics.
While its AUTOSAG feature worked as advertised and helped with initial setup, it quickly became apparent that something was amiss with the rear shock: flipping the CTD switch had no discernable effect, and the back end seemed overly active under power.. I'm fairly certain the culprit was a faulty CTD switch, which left the shock stuck in Descend mode. I ended up running the shock on full open for the review.
Ride
---
Little niggles like those outlined above can spoil a ride, but once I got the Expert Evo 29 out on the trails, I have to admit it didn't take much effort for me to move beyond them. Up, down or across, this bike flat out crushes technical trail.
The Expert Evo 29 may not be a "fun" bike in the traditional sense: it's not "poppy" or "flicky" and it doesn't "dance".  Rather, it is a bike that makes challenging terrain fun to ride. Specialized has mixed aggressive angles, highly capable componentry, a light and stiff frame and 29" wheels and produced an alchemical mixture that seems to flatten terrain, smooth out corners and slow down time. Behind the bars of the Expert Evo 29, trail features start to look less daunting, allowing the rider (well, this rider) to push the limits of what they're willing to try with the confidence that, somehow, it will all work out okay.
Part of the secret sauce here is the bike's geometry, which, while not without compromise, admirably serves its intended purpose. Though the 68º HTA may give wagon-wheel skeptics pause, its pretty standard for an aggressive 29er, working in tandem with big wheels and refined fork offsets to provide optimal position and poise at tear-inducing speeds and on butt-puckering grades. The 13.2" high bottom bracket contributes to an very planted sensation in corners and at speed, though it contributed to a few pedal strikes in technical terrain over the course of the review. The 455mm chainstays, a full inch longer than those found on Specialized's 29" wheeled Enduro, may indeed rob the bike of a bit of playfulness. On the flip side, they provide the Expert Evo 29 uncanny composure at warp speeds, lending the rider what I like to call hammer goggles: every feature of the trail starts looking like something you want to hit – hard, fast, and with absolute certainty.
Those long-ish chainstays also seem to contribute to the bike's impressive climbing chops. The slack-ish front end requires a bit of extra attention and effort to guide through turns, and the bike's slack effective seat tube angle isn't optimal for in-saddle efforts. But when you get to the crux of a climb and give it gas, the Expert Evo 29 mobs up technical pitches like Godzilla rising out of Tokyo Bay. And having spent time on bikes with very similar suspension designs, I can confidently say that with a fully functioning shock, the Expert Evo 29 would be a pretty efficient climber.
Where those long-ish chainstays, and the overall slack, low and long demeanor of the bike don't shine, however, is slow, tight, technical trails. Think old-school, pre-dumbed down, twisting-fall-line-full-of-roots-and-holes North Shore goodness. But really, does any bike do particularly well in these conditions? Riding the Expert Evo 29 exclusively in such terrain would be like buying a Porsche for your stop and go commute.
Noteworthy Spec
---
The same adjectives I would reach for to describe the Expert Evo 29 can be applied to its stock fork: the new Rockshox Pike is black, light, stiff and incredibly capable; the two are a perfect match in both form and function. I set the spring rate and rebound right away, slowly dialed up the low speed compression over the course of a few rides, and never touched the adjustments after that.
Likewise, the stock Roval Traverse wheels were easy to bring up to speed, required no maintenance, and never gave me pause when slamming into corners or sending the bike. Though on the quiet side, the Roval rear hub's DT swiss internals make a rich purring sound at speed that is a lovely counterpoint to an otherwise silent ride.
True to form, the Avid Elixir 7 Trail brakes were consistently inconsistent. For the most part they provided plentiful, if a bit wooden-feeling, braking power and modulation. But occasionally, especially on wet days, I would apply the brakes only to find myself rewarded with a lot of noise and very little deceleration. Again, for the most part, they worked fine – but a lack of predictability is possibly the worst trait a brake can exhibit when it's strapped to a bike that lures you out of your comfort zone.
The 1×11 SRAM drivetrain worked as advertised: no dropped chains, no missed shifts, and no running out of gears. The lack of a bailout option meant I had to stay on the gas even on sustained climbs, which combined with an overactive rear shock left me drained at the end of longer days. The 32 tooth ring Specialized spec'd out front is probably larger than I would go with on my own bike, but suited the Expert Evo 29's capability, weight and spirit just fine.
While I've already mentioned the Fox Float CTD rear shock's issues, the lack of adjustability didn't impact the shock's ability to deal with, well, impacts. When called to duty, the Float and the bike's Horst-link suspension proved up to the task of handling trail input with alacrity, staying supple and controlled in the face of small repeated bumps and ramping up predictably on bigger hits. I wouldn't describe the back end of the Expert Evo 29 as poppy or playful – rather, like the rest of the bike, it handles on-trail features with unflappable poise and efficiency.
No complaints about the Specialized finishing kit. As mentioned in the preview, I swapped out the stem for something shorter and ended up having to replace the stock saddle because I broke it. But on the whole, everything worked satisfactorily and seemed well thought out.
One last nit to pick and then I'll stop: there's no denying the cable routing hardware is more elegant than nylon cables from Canadian Tire. But despite being prepped with loctite, the bolts on the 3-cable clamps under the downtube kept working their way loose over the course of a couple of rides, and required extra vigilance.
The Concept of Value
---
While I looked forward to every ride aboard the Expert Evo 29, the $6300 question begged to be considered every time I pulled it from the rack. Sure it ticks all the right boxes and has all the new shine-ies – but is it really worth more than the motorized vehicle that ferried it to the trailhead? Six grand is a lot of money, but while I've ridden a few bikes retailing for 2k less that didn't ride to justify their MSRPs, in this case, my feeling is that the Expert Evo 29 actually earns its sticker price. If you're happy with SRAM stoppers Expert Evo 29 can literally make you climb stronger, go bigger and charge harder, right off the showroom floor
So who's it for? Obviously this is not a dedicated DH or park bike, and it's not a cross country race machine. But for gravity-oriented riders who earn their turns and push their limits, this bike is something special. If you work hard for your money and feel that your downtime should taste like French vanilla ice cream, or if you live to ride and believe that life is short, then the words of Mr. Ferris Bueller should sum up my time and thoughts on Specialized's 2014 Stumpjumper FSR Expert Carbon EVO 29 for you:
---
Does this sound like your kind of machine? Omar clearly decided it was right for him.