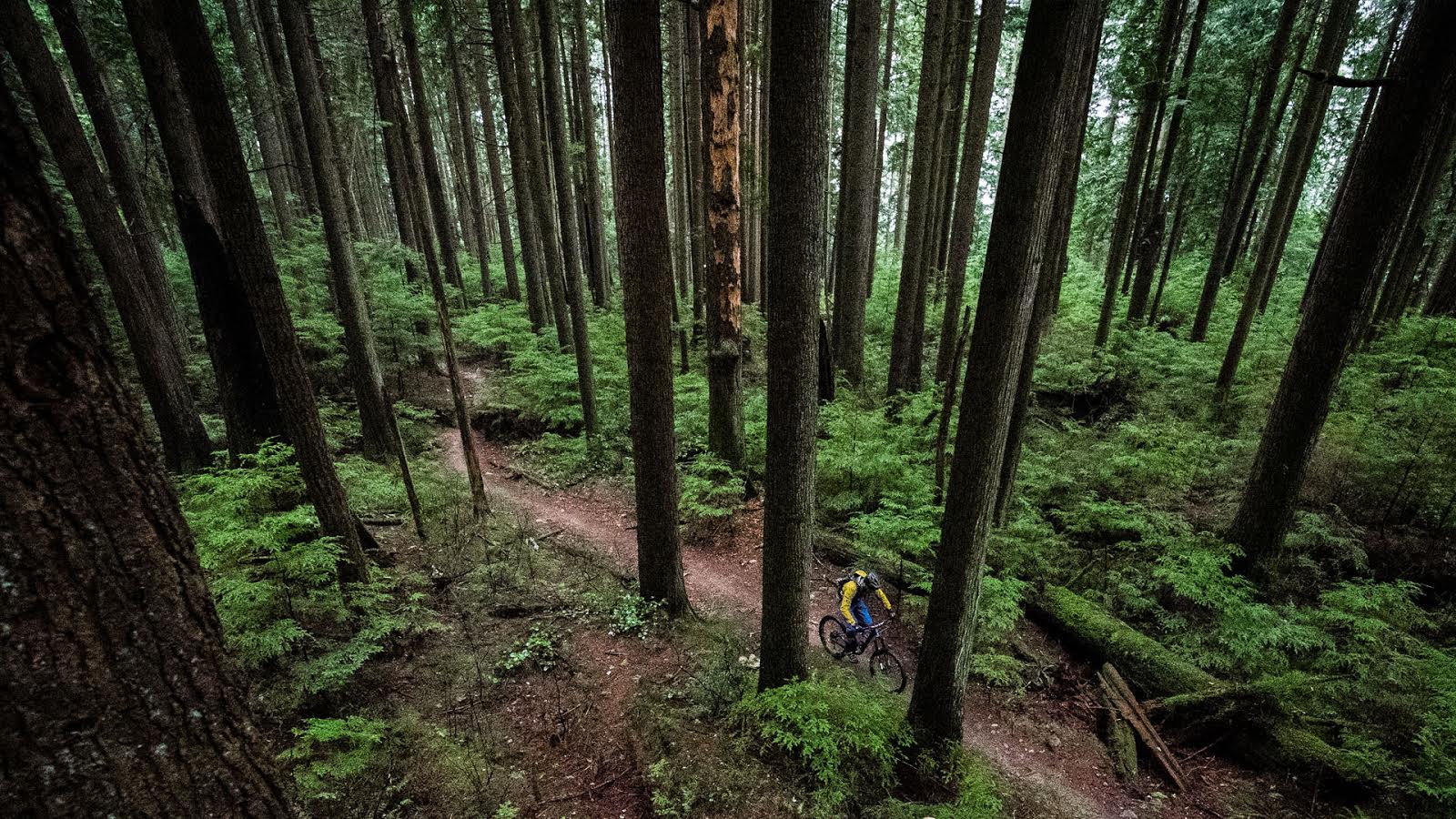 2014 Scott Genius 700 Tuned: Reviewed
One bike and two reviewers? We decided to give it a try. Arthur and I weigh about the same (165lbs) but he's a little taller than my six feet. I focused more on the spec and Arthur delved deeper into the suspension feel – an area of expertise for him. Arthur is a top level rider in terms of both skill and fitness. I am an adequate rider with flashes of above averageness. As you'll see we didn't agree on everything but hopefully you'll be able to wade through our findings and figure out if this might be a platform for you. If you missed my preview piece on the Genius 700 Tuned you can have a look at that here.
---
Cam's Take
I wasn't sure where it fit but I knew I wanted to try it. There it was at Interbike. As often happens in Vegas, it seemed to be looking at me and whispering 'I know you want me.' And I did.
I'd be all over this ad on Plenty Of Fish: I'm long and lean, only 23.35 lbs, but I punch above my weight. I bet you like 150mm of travel? I've got all that – and 650b wheels. People tell me I'm easy on the eyes and I'll try anything once. A complete package. Maybe you'd like to go for a ride?
Carbon rims, a full carbon frame, Syncros components that lived up to that name, a SRAM 1 by 11 drivetrain. Shimano XTR brakes, Fox suspension front and rear along with Scott's Twinlock remote adjustable suspension; the spec was impressive. The frame and rear shock weigh just 2.35 kg or 4.18 lbs. The only thing missing was a dropper post. Thankfully the bike was plumbed for a Reverb Stealth which was installed as soon as possible.
The Syncros carbon bar was a little narrow for my liking at 720mm but I liked the flat profile and 9 degree sweep. The stock stem was an 80mm and I swapped that out for a 50 to better meet my needs.
The light rubber was perfect for the showroom floor but it proved problematic in our conditions. The Schwalbe Racing Ralph rear was toothless on the steep and slimy and the Knobby Nic up front was adequate, but I found it a little squirrelly. I slapped on a pair of 2.3 Specialized Butchers and the bike started to hook up. After the tires were swapped and the post installed the size large Genius weighed just shy of 26 lbs.
Lately Avid brakes have taken a beating in public opinion, but the XTR race set on the Genius wasn't perfect. I liked the feel and action of the carbon levers and they had plenty of power. But on long descents they tended to pump out and with no tool-free adjust there was no quick fix. Because of the Twinlock remote the bike's bars were cluttered with 5 clamps after the dropper was added. A set of Avid XO Trails with Match Maker would have cut that to three – and, in a longer test cycle, I've had fewer problems with the Avids.
The XX1 Drivetrain on this bike killed it. Quiet and problem free, the 1 by 11 has set a new standard for mountain bike drivetrains.
The Fox 32 up front scared a lot of people. The 150mm version was a custom spec from Fox which isn't available as and after-market product. Of the three people who rode the bike, none of us felt it was the weak link. It could have been sturdier in some situations but for the most part it went where it was asked without any distracting deflection. Jon Harris, who also spent some time on the bike, thought the stiffness of the frame compensated for the skinny stanchions to make it all work. Jon was very impressed with the rigidity of the frame.
Scott's Twinloc bar-mounted suspension adjustment sets the company's bikes apart. One thumb-activated lever changes the behaviour of both the fork and shock at the same time. I came to like the lockout on the bars – accomplished with two clicks, locking front and rear (mostly), to tackle most non-technical climbs. I spend a lot of time out of the saddle so locking up the front end works well for me. I didn't use the middle setting as much, mostly because the bike climbed technical terrain so well without any damping adjustment.
I didn't completely get along with the Twinloc in descend mode. I felt the Fox Nude rear shock was valved to provide ample support in the upper third but that the feel was a little wooden in the meat of the travel. And yet it became even less responsive to rider input if the pressure was reduced. Why not allow the suspension to become active and responsive in one setting when you have the option to stiffen it, with two options, using your thumb? I was told that some riders had their rear shocks revalved to alleviate this problem, but I didn't go that route.
Another issue with the rear travel was how it responded to braking forces. After battling Specialized in court to the tune of millions of dollars, Scott abandoned their quest to bring their Horst Link bikes to North America, opting instead for a four bar system that behaves much like a single pivot. This Genius 700 gets hard to handle when you encounter impacts in succession at speed while applying the brakes. Their pivot location allows the rear caliper to mount to the chain stay, but this doesn't eliminate the stiffening under braking.
In the plus column, this is a bike made to climb. I was amazed at some of the technical ascents I conquered on the Genius 700, and I always got to the top in better shape than I expected – or deserved. I've ridden few bikes of any travel that get up as well as this one.
The Genius is a beautiful machine with amazing attention to detail. Fork, bars and stem match the frame's colour cues without making the bike look like it's wearing Troy Lee PJs. None of the Syncros components let me down and the rims and saddle were particularly good. The wheels were stiff and light and the carbon-railed saddle has become my current favourite.
The Rock Shox Reverb Stealth post brought things together. It's hard to imagine anyone shelling out for this bike without dropping another few C notes on a dropper, but Scott tells us these people exist. Possibly a coven of hermit gram counters living in the Black Forest.
I hadn't spent much time on a Reverb with internal routing before this and it's a little thing that makes a huge difference to the form and function of a bike. Clamping into a work stand becomes effortless and the absence of a line flopping around the seat tube junction allows the bike's lines to shine. If your bike is set up for it, and your wallet can take the hit, I highly recommend it. The post was note perfect for the duration of the test.
You may be wondering if this turned out to be the dream date it advertised itself to be.
If you are inclined toward a 150mm bike on a full time basis this bike may not be for you. Most of the time it rides more like a 140 – a very light and lively 140 at that. If your trails aren't too impolite and your climbs are long, whether technical or smooth, this might be your carbon-wrapped soul mate. If racing Enduro is your thing the LT version of this bike, with a Fox 34 up front and 170mm of travel front and rear, might be more your style, but this fish isn't likely for you..
While there was much to appreciate, for the technical trail riding I like to do, with occasional burlier descents, the Genius didn't win my affection for the long term.
---
Arthur's Take
The Genius 700 Tuned is a an eclectic mix of genres; 6" of travel combined with steeper angles, cross-country components, an adjustable travel feature, and other quirky odds and ends. It's a very euro bike, that seems to be based on this premise: why settle for less travel when you could have a 6" bike that's just as light and efficient? With a dropper post and tires that provide traction (not the stock ones), the Genius sits close in weight to my Blur TRc, around the 25-26 lbs mark. It's light, and the position is well suited to a comfortable and efficient riding position. The bike is roomy up front, with clean lines all-around, lots of breathing room around the bottle cage and nowhere for mud to collect. I think it looks great, with just the right amount of flash.
The Twinlock works almost as intended, and was the standout feature of this bike. It's one of the best remotes I've used from an ergonomic perspective and it operates both fork and shock simultaneously. The open setting yields full travel front and rear with Fox's equivalent of Descend mode. Fox forks used on Scott's Twinlock-driven Genius line use a firmer tune than a stock 32 or 34. Knowing that the remote entails loss of an independent fork damper adjustment (CTD Adjust), the Genius' 32 in Descend mode has more mid to end stroke support.
I set air pressure settings per Scott and Fox's spec, rebound as it should, and I never felt the need to tinker. One click of the remote to the Traction setting, and rear travel will be brought down to 120 mm (no change in damper settings) with fork's damper set to Trail.
In the Traction mode, the bike sits higher in its travel and maintains grip on technical climbs. I found this mode much more effective than the Trail setting on a standard Float CTD shock found on other bikes as it combines support in the travel and more favourable climbing angles (rear end stays higher in its travel under rider weight) with no negative effect on how well the rear tire will follow the ground.
On paper, the concept seems gimmicky yet intriguing; on the trail it really just works. Weight aside the bike climbs with minimal effort and few weight shifts are needed to maintain a line. You can claw your way up a lot on the Genius. I ended up trying to pick the sillier lines uphill just to see what I could get away with. The bike stayed in this mode on most rolling terrain, even the rougher bits. It was nice and quick but still decently compliant.
On the other hand the next click up, Climb mode, misses the mark. In Climb, the fork will be fully locked-out whereas the rear will stay quite active. The fork is locked at full height, weight shifts way back as a result and rider position is most upright. In this setting the bike feels awkward at best. I didn't find a single advantage to this setting, be it on road or gravel. Having a rear shock lock out would make this mode a great feature for getting to and from trails. Scott indicates Climb mode as full front and rear lock out, but in application this isn't the case. Riding the Genius, I went back and forth between Descend and Traction mode but would have used Climb if it had worked as advertised.
In Descend mode, although the bike provides a decently deep pocket of travel to glide through the chunk, it takes serious rider focus to maintain a line. On descents, I was distracted by the back end of the bike getting deflected. At speed, once the bike rises out of its mid stroke, the support in the corners and through sharper compressions was decent, but still not ultimately confidence inspiring.
The Fox 32 150 danced around quite a bit when things got hairy, but only felt excessively limiting when the bike was ridden outside of its intended purpose.  I am 165 lbs but aggressive enough to get some good give happening, so make of that what you will. A nicely centered rider position, with some good room up front and a long enough rear center lets you keep your weight forward without the rear pinging around.
The suspension action is good but not great. It's not the best tracking design, with a relatively primitive feel considering the technology packed into the bike. All the traits one associates to the single pivot design are prevalent. Without dwelling on stereotypes, because you are riding a bike, not solely a type of suspension, the Scott skips around braking, gives noticeable feedback through the pedals, and generally doesn't follow the contour of the trail the way I'd prefer. Compared to the bikes I like most that settle as speed increases, the Scott gets harder and harder to tame as the wind starts blowing through your hair. To tell you the truth, I'd really like to ride a Twinlock/Nude set-up on a more active design, specifically a Horstlink. The technology would really complement the feel of the Horstlink design (and improve on it's short comings), and I could see the package having a lot of potential.
The Scott is a lightweight, efficient trail bike that can survive the descents. Although the Descend mode provides a full 150 mm of travel and the most open of the three damper settings, the suspension design coupled with an unflattering shock tune does not provide the traction, control, and comfort expected from a capable trail bike. The Twinlock does a lot to bring together some of the positive attributes of a fun bike to pedal with those of a semi-capable descender, yet both the Descend and Traction mode suffer from the tune on the shock. I like a more planted feel overall, and the Genius in its current form does not provide that. All being said, I do believe the Genius has its place for some cross-country and less aggressive trail riders on less demanding terrain:  those who are more concerned with going up, around, and a little down, for many hours at a time, rather than smashing every corner and bombing through the rough. In these conditions the Genius would be in its element; shining in regards to aesthetics, weight, and rider position, with the long travel's sole purpose being taking the edge off.
The US MSRP is $7599. The Genius entry point is $4099 with an aluminum frame and a mix of XT/SLX componentry.
---
Could this be the bike for you? Let us know.
Related articles across the web