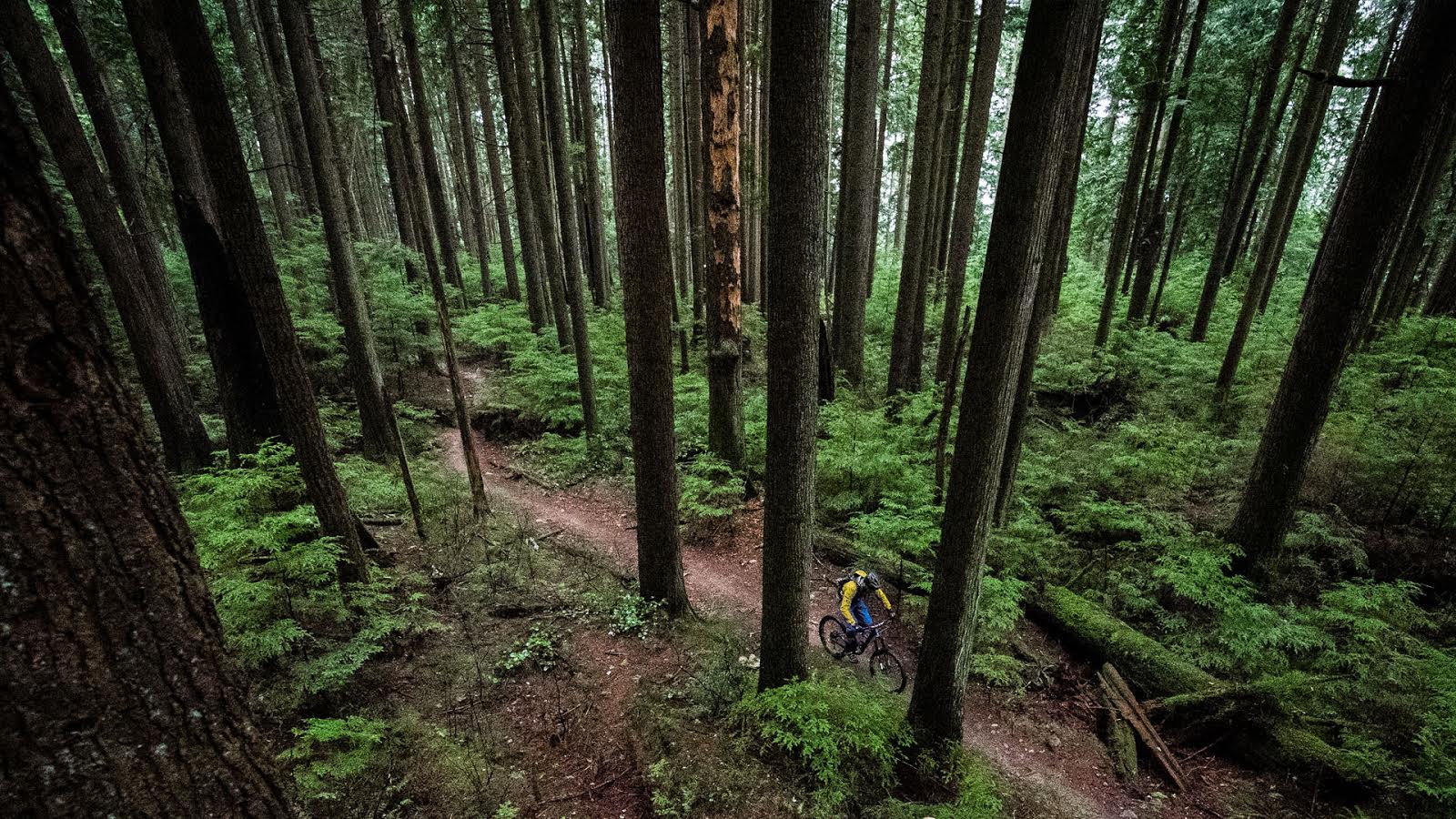 The New 2014 Santa Cruz Nomad
As we have come to expect on April 1st, Santa Cruz has announced a new bike. The new bike features a sleeker profile, 165mm of rear travel, 27.5″ wheels, 65º head angle, 74.2º seat angle, and a single ring only frame design. Product photos, geometry chart, video, and riding photos below…
The official blurb from Santa Cruz:
The new Nomad sends the all mountain category into Andean Mountain sized territory. Now in its third generation, the full carbon frame has been completely redesigned to stay ahead of enduro racing's ever-more DH trajectory.
An aggressive 65 degree head angle delivers V10 handling at Syndicate speeds. We've also added a V10-style upper link, increased VPP travel to 165mm and improved small bump performance.
The one-by only design also permits a neatly recessed and protected lower link, resulting in some seriously compact chainstays. Match that with an inch more reach in the cockpit, and you've got the ideal set-up for tearing down the side of Chilean stratovolcanoes.
The ground-up redesign incorporates a steeper seat tube angle, creating an efficient pedaling position for total liaison stage domination. And as ever with carbon technology, it's what's on the inside that counts. The internal cable routing is so trick it's a shame it never sees the light of day. Thin carbon fibre tubes molded into the frame from entry to exit, ensuring completely integrated hassle-free routing every time.
All wrapped up in stealth black or aqua/magenta colors with coordinated fork and wheel decals, the new Nomad shows just how rad things can get with some single-ring-minded focus.
Rippin it up with Dylan Wolsky:
KEY FACTS
• 165mm VPP suspension
• New compact lower link and V10-style upper link
• Full carbon frame and swingarm in S, M, L & XL sizes
• Single-chain-ring-only design
• Internal routing
• 27.5" wheels, with new carbon ENVE M70 option
• RockShox Pike RCT3 Solo Air160mm fork
• RockShox Monarch Plus Debonair or Vivid Air RC2 shock
• USA pricing from $6,599 complete for SRAM X01 build, inc. Reverb Stealth
• $2,999 frame only
• Frame weight from 6.2 lbs (2.8 kg)
• Complete from 27.1 lbs (12.3kg)
DETAILS
• Internal routing made from molded carbon tubes: ensures precise and hassle free feeding of rear derailleur and seat post cables.
• 31.6mm seat tube: accommodates 150mm Reverb Stealth seat posts.
• Bottle cage mounts within front triangle: works with piggyback shock
• Molded rubber swingarm and downtube protectors.
• Forged aluminum upper link and lower link.
• Single recessed grease port on lower link: feeds all for four bearings.
• Collet axle pivots: lock in place without pinch bolts.
• Angular contact bearings on collet pivot axles.
• Full carbon dropouts and disk mounts.
• Co-molded aluminum hardware on frame pivots.
• Carbon ISCG-05 tabs.
• 142 mm rear axle spacing.
• Threaded BB: creak-free riding and easy installation.
WARRANTY
• 5 year warranty.
• Lifetime bearings and crash replacement warranty.
AVAILABILITY
• Shipping April 1, 2014
---
The Nomad is through its gangly teenage years and into suave adulthood… ungh.