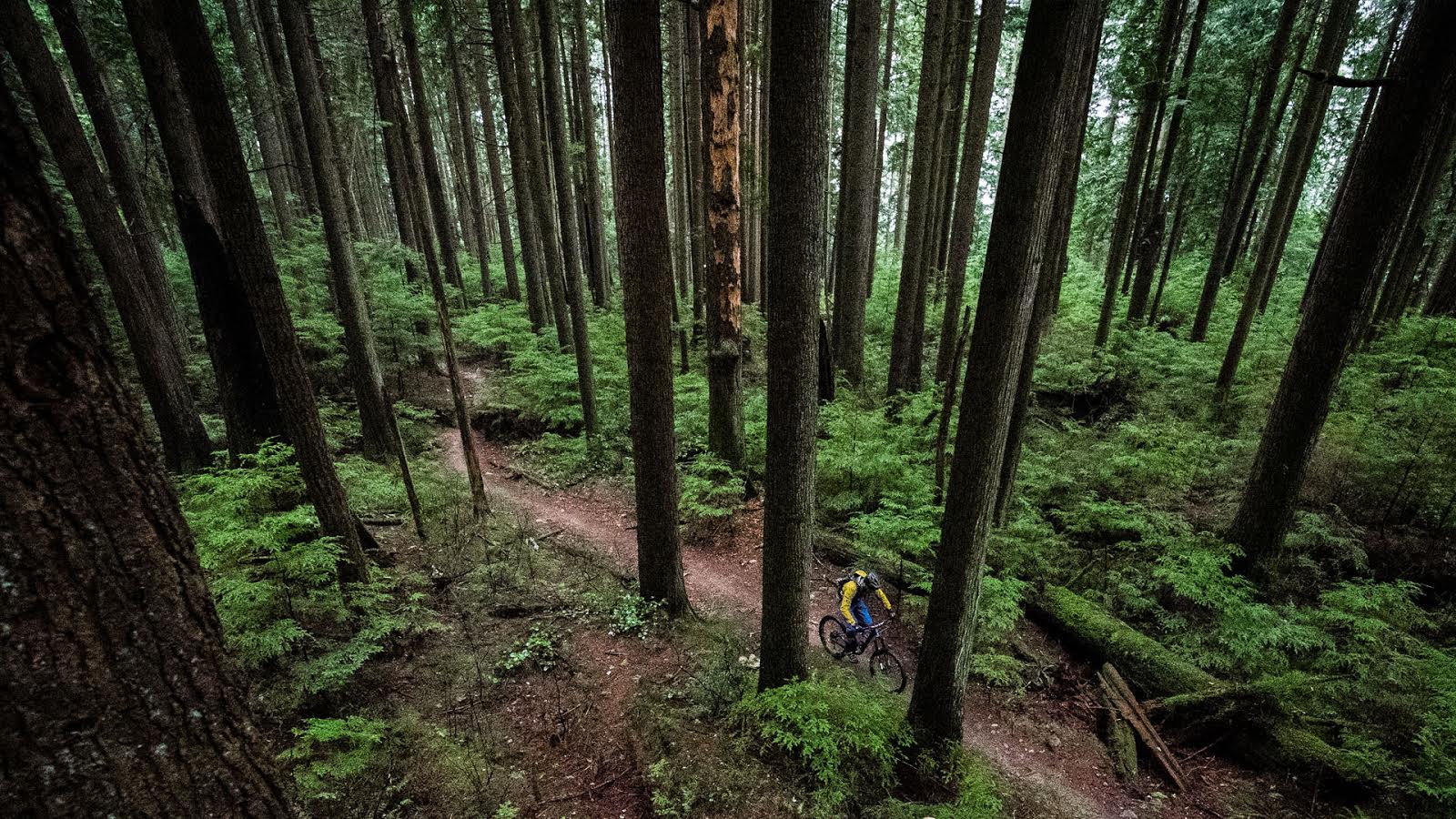 2014 Santa Cruz Bronson Carbon: Reviewed
I started my initial review of the 2014 Santa Cruz Bronson with a question: with two new(er) 650B trail bikes in Santa Cruz's lineup, what purpose does this bike serve? Does it still have a place with the newly announced Nomad getting all the attention? My answer to that question is a solid yes: the Bronson does fill its own niche and after a few months with the bike I was truly disappointed to send it packing.
Poppy, flickable, and pedalable, the 67º 150mm bike is in its own category even with the surge of bigger bikes on the market.
The Frame
A big part of the carbon Bronson's $7648 US price tag is the frame. You can get into an aluminum Bronson for as little as $3200 – and in the 2015 model year, a more affordable carbon frame for $3600 – but let this be said: Santa Cruz makes beautiful carbon bikes, and it goes beyond what's on the surface.
The Bronson is the quietest bike I've ridden in recent memory. While the clutched 1x drivetrain moved the whole industry to a new level of rattle-free riding, the Bronson stands out and this must in part be attributed to the full carbon frame. Rocks pinging off the downtube don't clang but satisfyingly clunk, the full bearing rear end is super stiff and makes no noise itself, and the carbon itself damps vibration in a way that aluminum just can't compare with.
It's worth noting that the dropper post is the only internally routed cable on this bike, and even that is only a few inches inside the seat tube. All three cables run down the top side of the downtube, and while that posed a bit of an inconvenience when swapping my bottle cage between bikes, it's part of the silent ride. The bike was so quiet, in fact, that I was able to start nitpicking things that usually become part of the white noise. I went as far as to zip tie the cables together as they crossed each other coming off the bar.
The Bronson's carbon frame is a highlight, and for the more budget conscious you can now get into a slightly heavier carbon model for just $400-500 more than an aluminum frame.
Fit
It's not really a secret that the Bronson fits on the small side. With the stock 70mm stem and 750mm Easton bar, I was reasonably comfortable at first. After a few rides I had to get rid of the WTB Volt saddle – my behind just doesn't jive with the hammock-like shape – and that's when I really started to dial things in. The saddle went up and I loaded the front wheel more when climbing, which meant adding air up front to balance the suspension.
With the suspension fine-tuning came the downhill speed, and I ended up needing a bit more space to keep things stable. I'm 6' even but I generally like a bike slightly longer and taller than other riders my height. In consulting Arthur Gaillot on his experience with this bike, I went to a 780mm bar and kept the 70mm stem. This required quite a bit more pressure in the fork than I had been running. I don't especially love the feeling of such a wide bar on a long stem, but in this case it needed to be done.
The Bronson's sizing is a touch on the small side, and I have a feeling I'd be happier on an XL rather than an L frame in the long term.
I started adding spring pressure both front and rear, and the bike only got faster. Using the excellent Fox digital shock pump, I was able to increase pressure by 2 psi at a time until things fell into place. I ended up with just over 190 in the Fox CTD shock, running it in the open setting except for extended climbs, and just under 155 in the 34 Talas, again running it in the open setting almost exclusively.
It's not too often that I'm truly between sizes when finding the right frame size. I can usually make a choice and that's usually the large and not the XL. With 20mm more reach, I am quite positive that the XL would be more suitable for me if I wanted to run a narrower bar. 780 and 70 is my outer limit for a bar/stem combo, and I'd rather be in the 760 range with either a 60 or a 70.
On Trail
I immediately felt at home with the Bronson's trail manners, even before the suspension and fit was completely dialed. Santa Cruz's VPP linkage has been refined over the years by engineering tweaks and has definitely responded well to the new range of better performing shock dampers. The 150mm VPP rear end has a poppy feel off the top which, when combined with the 67º head angle, makes for a nimble and playful trail bike. The 439mm chainstay doesn't actually 'feel' that long, which is an interesting trait that reminds me not to get too caught up in the numbers game.
As you can see, the Bronson and I got along just peachy.
The carbon frame's rear end is amazingly stiff. Whether pushing through a grippy berm or smashing through the rough stuff, the Bronson sticks on line. On steeper terrain the Bronson's rear end sits into its travel nicely, inspiring confidence without becoming too couch-like. I prefer a bike that quickly responds to rider input in technical terrain, and more 150mm bikes exhibit this trait than the 160mm+ single crown bikes that are so popular these days.
With a balanced fork and shock setup, the Bronson's uphill trail manners are excellent. I found the platform tended to squat under power, which required some adjustment when climbing sustained steeps. While I like a platform that can be pedaled in all conditions without additional damping added, the Bronson sits up nicely with the CTD switched to Trail for road climbing.
Conversely, the VPP system tracks the ground admirably under power, and as a result I was pleasantly surprised by how neutrally the bike climbed in technical terrain. Going back to that point about preference for a bike that climbs well with the damper wide open, the Bronson does meet that criteria in technical up-down terrain. It really does like to climb, especially in comparison to the range of 160mm bikes out there this year. The 160 bike (The new Nomad for instance) may be the hot ticket but the 150 bike is the better all rounder in my opinion.
Up or down, the 150mm VPP platform felt a bit like Goldilocks' "just right" porridge.
Thoughts About Forks
Once you spend enough time with a bike you come to know its strengths and limitations. Unfortunately, I often find myself outriding the forks that are spec'd on shorter travel bikes. While my initial experience with the 2014 Fox Talas was good – and there's no denying this fork is a major improvement both in spring and damper over its predecessor – I ended up wanting more out of the front end. I wanted better small bump sensitivity for the amount of mid-stroke support, and the 2014 CTD damper still isn't quite up to that task.
This is still the same issue that's been a complaint about Fox 32 and 34 forks for the past couple of years. There are two things to be said in response to this: first, the new 36 sits as low or lower than the 34, so if you're looking for a better damped and more adjustable Fox, you've got it; second, I really wish I had a 160mm Pike on this bike. With a slightly higher axle-crown but better mid-stroke support at a higher sag percentage, the Bronson's enjoyable geometry would be preserved with a fork that I feel better pushing hard.
And it seems like I get my wish… somewhat. Santa Cruz recently announced their 2015 models (now with two levels of carbon), and the mid and high spec bikes get a Pike. It's a 150mm version and just the RC model on the lower spec bikes, but it's still a good move in my mind.
The Talas may not have been my first choice, but it was still a solid performer and a big upgrade over its predecessor.
Spec
At $7500, the spec on a bike had better be damn close to perfect. Santa Cruz has the advantage of being able to respond to spec choices a bit quicker than the major manufacturers, and is often one step ahead as a result. They've been speccing Maxxis EXO casing tires for years, and mixing and matching Shimano brakes and SRAM drivetrains as they see fit.
SRAM's X01 group proliferated in the 2014 OEM spec market and for good reason. Quiet, reliable, and really good looking. I've got the same group on my personal bike and have been very happy with it, save for the tendency for the chain to jump down a couple cogs when you rally a particularly bumpy section. This rights itself as soon as you pedal, and I've not had a problem (read: damaged/broken chain) with it.
The 34 tooth chainring is perhaps one or two notches bigger than I would personally choose on a 650B bike for everyday use. I run a 30T on my 29" bike and find that to have just enough gear for extended steeps when I'm in good fitness. This equates to a 32 on a small wheeled bike, and I could see many riders liking a 30 on the Bronson. The argument that most riders live in flat terrain is being disproven by companies speccing smaller chainrings now that 1x has been around a couple years.
The carbon Bronson X01 is solidly in the category of "bikes people complain about the price of". Rest assured, those who can afford it will be satisfied with the parts spec.
The 1x setup has two side benefits. The first is that, without a chain retention device or derailleur, the drivetrain is dead quiet. With no drivetrain noise whatsoever, you really notice how absolutely silent this bike is when smashing down trail. The second benefit is the option to run your dropper post lever under the bar on the left hand side. I don't love the Reverb lever but I like it more when it's underneath the bar. Unfortunately this bike is still spec'd with a 30.9 diameter seat tube, so there will be no 6" Reverb.
As evidenced by my recent review, I am just not stoked on the High Roller II as a front tire. I think it's great that Santa Cruz has put proper tires on this bike, but the first thing I'd do (and did) is swap out the front tire for a DHR2 or a DHF. I can, however, report that the WTB Frequency i23 Team rims are an excellent match for these tires and I never had a problem once the tire was seated. I did have to re-tension the rear wheel after initial settling but the rims were plenty stiff. I wouldn't mind if these were a touch wider, but there's more than a bit of a grams game being played with a carbon bike at this spec, and a 25mm rim is quite a bit heavier.
Just havin' a time with Kaz Yamamura in the forest.
The End Result
As noted above I would love to see a Pike, even at 160mm, on this bike. I know that sounds like it's pushing into competition with the Nomad by running the same fork, but in my mind these are still very different bikes. The Nomad's 165mm rear end is noticeably more plush, and the 65º head angle and lower bb height make it a different beast to climb. The horizontal top tube lengths are the same, but due to differences in seat tube the Nomad's reach and front centre measurements are significantly longer and that also sways the bike toward running a shorter stem.
My problem is I don't want to pedal around a descending-biased race bike. My ideal trail bike is one that pedals well enough not to suck the life out of you on a full day's ride, but still descends in a fun and confident way. With the split between a long travel trail bike and an enduro race bike finally becoming clear, we no longer have to beat around the bush about what the Bronson's true merits are. Definitely capable in stock garb, I see it as a solid platform for a fork upgrade to bring the bike into the trail-plus category.
The only race I sought out this year was an odd one. Red Bull's Divide and Conquer is a multi-sport relay, with a 28km descending-primary XC mountain bike course. While the fastest guys were, as usual, on 29" XC rigs, I was happy to choose the Bronson for this purpose.
An efficient pedaler that still holds its own on the downs, the Bronson is a fun everyday bike that's more versatile than either an XC or enduro race bike. In my stable the Nomad would take the place of a full on DH bike while the Bronson is a dialed down AM bike that also plays a pumped up XC bike. For my money, I'd choose the Bronson.
---
Morgan puts forth a solid case for the Bronson in a post-Nomad world. Your thoughts?