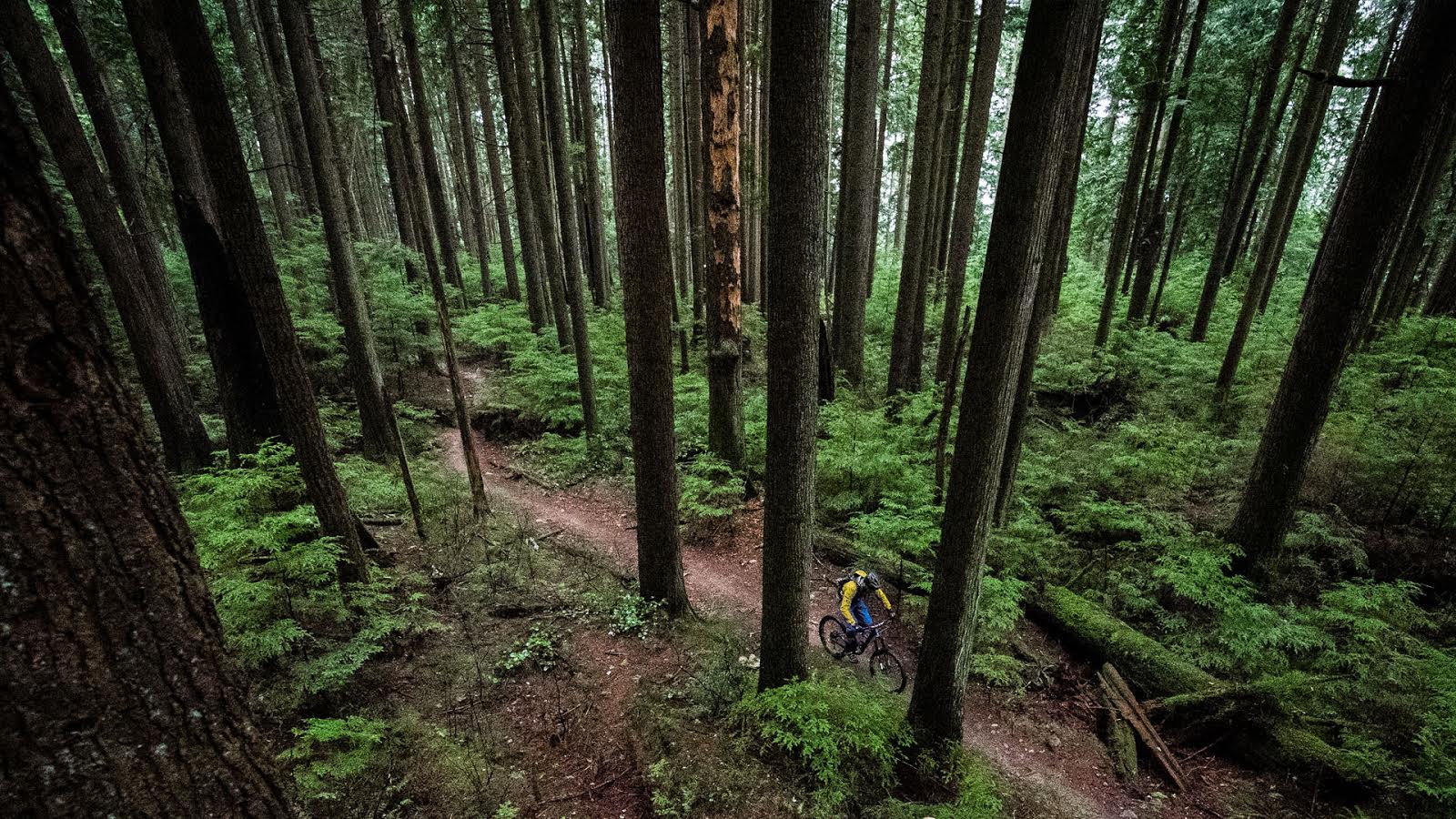 2014 Intense Tracer T275 Carbon: Reviewed
6" bikes are a hot market right now; you'd be hard pressed to find a company that isn't pushing a new bike and claiming it's the ideal Enduro machine. With so many options out there, the range of capabilities is equally broad. There are bikes that ride "small" and compromise descending for uphill efficiency, and there are bikes that ride "big" but punish you on the climbs.
Travel numbers don't necessarily correlate to specific ride characteristics; some 140mm bikes ride big and some 170mm bikes ride small. The bottom line is that the efficient ones are far more efficient than their predecessors and the capable ones are far more capable than what came before. More and more we're seeing 650B as the wheel size of choice.
Along with the evolution in suspension platforms over the past few years has come an equally big development in parts for this category. Single ring drivetrains have swept the mountain bike world by storm and plush-yet-light damper options are available for both ends of the bike. Great small bump compliance travel with good mid stroke damping support? You can get that. Climbing platforms that actually work for squishy bikes? You can get that too.
With this discussion as a backdrop, Intense has just introduced an all new 160mm travel, 27.5" wheel carbon bike. The Tracer T275C is not just a carbon version of the existing 27.5" Tracer, but an updated version of the 160mm platform. With product manager Chad Petersen doing spec and the company selling mostly-assembled completes rather than frame-plus-kits, Intense's most recent model exemplifies what can happen when every single piece is hand picked and no corners are cut.
We received the Intense T275 at the NSMB offices in mid January with the chance to put some miles on it on our local loops before the official release date in mid March. While we usually approach long term tests as a two-part operation starting with a spec overview and product photos and following up with a platform review, but the couple months before pulling the curtain has allowed us to wrap those together in one piece.
Myself and Arthur Gaillot have both spent extensive time on the T275 since it arrived (read: we've been fighting over it and rejoicing when the other feels under the weather). With Arthur's extensive knowledge of suspension setup through his Suspension Therapy business we felt confident we'd put the new Intense platform through the proper scrutiny. This article will be split into two parts: first, the product photos with frame details and spec overview, and following, our ride impressions.
T275 Frame Details
While Intense's carbon frames are not made in the USA, all of the aluminum pieces (links etc) are still machined at Intense's Temecula, California factory and, naturally, the bikes are assembled there as well. Intense's aluminum frames have a very unique aesthetic which is not as much present in the carbon bikes. With no welds or custom tube shapes to show off, the T275 comes off as a well-polished carbon bike as nice as any other out there.
The Spec
It's rare that a bike comes out of the box with a build spec that we're happy to ride here on the Shore. Tires, bar, and stem often get swapped out before we even put rubber to dirt. Other parts become question marks and sometimes we have to live with parts that don't quite meet our expectations.
Our tester was Intense's $6599 Pro build, the middle of three models between the $9999 Factory build with XX1 and RockShox and the $5999 Expert build with XT and Fox. With a SRAM X01 drivetrain, RockShox Pike, Stan's wheels, Maxxis EXO TR tires, Shimano XT brakes and a RockShox Reverb, the Pro build leaves little to be desired.
The Ride
As stated above, we took the opportunity to have both myself and Arthur Gaillot of Suspension Therapy ride the T275. It should be noted that in its stock configuration the cockpit was too small for both of us. I decided to keep the 50mm Renthal stem and swap the 740mm bar for a 780, while Arthur went to a 60mm stem and 780mm bar. Intense's spec sheets don't show a change to bar width for production models, and we would both prefer to see a wider bar and/or longer stem spec'd on the large bike – as well as an XL frame size?
Arthur's Thoughts
I have not been impressed with Intense's trail bikes of the past few years. Although aesthetically pleasing the Carbine does not provide the ride quality I expect from this type of bike. Having not ridden, or taken interest in the aluminum Tracer 275 as a result (a 30+ lb six inch bike), I quickly jumped to conclusions and assumed that this carbon iteration was a mildly fresh take on the Carbine platform: same 6 inches of travel, designed around 27.5" wheels, and more important than ever it seems, Enduro added to the list of intended uses. Pretty much the same bike, still not impressed.
The mere few first feet of trail on the T275 had me questioning every preconception above. This bike rides differently than any Intense trail bike, from as far back as I can remember. First ride, and every one from there on was an attempt at making this bike feel unsettled. It became a personal challenge: what can I do to make this bike flinch, feel overwhelmed, or simply lose momentum without the use of brakes?
The Tracer just goes. It snaps forward under power with no help needed from the Monarch's compression adjustment. This trait contributes to the Tracer's ability to not get bogged down. It is constantly generating speed on the trail: out of corners, in rocky square-edged mayhem, through compressions littered with roots, through short punchy rises, the list goes on. The bike uses every little piece of slope, smooth or rough, to gain momentum. Actually most features on the trail create an opportunity for the Tracer to speed up.
I'm quite certain the bike scoffed at the occasional excessive braking, sensing obvious rider weakness and unfounded lack of commitment. What at first was a challenge to slow the bike down, quickly turned into the most fun I've had on a bike in a while. There's something addictive about carrying more speed and being more comfortable on every trail you usually ride, at any skill level.
My holds with the bike are few. Between fit, suspension, angles, finish, and overall how the darn thing rides, few bikes check all of my boxes, yet this one comes close. Having such minor complaints with a bike is very rare. The hardware store cable guides for the Reverb line are offensive to look at, especially considering most of the lines and housing are tucked away. At the very least, I'm hoping black bolts will be used for production.
My other complaint is one spoken from a rider over 6ft tall: we need an XL version of this bike. It's almost scandalous making a bike this good in only three sizes. A longer stem and wider bar was a band-aid that helped me test the bike, but fit is not a compromise to make, ever, and especially not on a bike this good.
The Tracer is quiet and collected, settled, very hard to phase, while being completely in-tune with rider input. A bike that feels this quick, yet is this difficult to knock off line is rare. Intense has created a bike that is quite special, exceptional even. There used to be a time when few, if any bikes rode like an Intense. In the form of the Tracer, Intense has once again met the standard of bike upon which their reputation was built years ago. The new 2014 Tracer T275 is on a very short list of exceptional riding bikes.
Morgan's Thoughts
My experience on the T275 was not as peachy as Arthur's. While Arthur is very calculated about setting bikes up with particular sag numbers, I tend to take a more on-trail, experience based approach to setup. Since the same forks can be found on more than one bike, I start there. I set the fork close to my preferences from experience, adjust the rear end to feel balanced, and then make minor adjustments from there.
While the folks at Intense had suggested putting around 200 psi in the rear shock for my weight, I found the bike felt sluggish like this. I felt like I was blowing through the rear travel and not weighting the front end adequately, and it was a dog going uphill.The bike would sit deep enough into the travel to negate the relatively short rear end length,  205 psi still didn't solve the issue. A bit more… and 210 ended up being my magic number. All of a sudden the bike came to life.
5 psi with the T275 was the difference between a bike I didn't really like and one I was really jiving with. More lively, more poppy, quicker turning, ready to smash drops and gaps, and at the same time more efficient uphill (more on that below). The confidence that Arthur describes above was certainly there. When set up properly the T275 achieves a good balance of high speed stability and snappy handling.
I can't say that I had as much of a love affair in my time with the T275 as Arthur did. While I got on nicely with its descending characteristics, I can't say I loved it as a climber. I have come to really appreciate a bike that can be left in a single rear shock damper position for both climbing and descending (with exception of bikes that have a bar mounted remote shock lever).
My reasoning for this, and it's especially important on a race bike, is that at some point I inevitably forget to switch the shock for a descent. On an average ride this isn't really an issue. You notice the rear end isn't acting as it should, so you stop and switch the shock. If this was part of an Enduro segment, you're either throwing away precious seconds by stopping or dealing with descending with the platform damper on. I rode the bike as was necessary, and that involved switching the shock between its three settings many times on rides.
This isn't to say the bike won't climb at all. When you're on the pedals, chain tension induced anti-squat helps to keep the rear end taught. Like many long travel bikes, it does well on technical climb sections. Speed is your friend: stay on the power and the T275 will motor up just about anything.
However, the "big" feel of the bike is constantly there. Our large tester weighed in at 29 pounds which is not unreasonable, but over a day's pedaling I just felt like the T275's descending bias was obvious when it was going uphill, and the result was feeling more physically drained than if I was riding a more efficient climber.
I have to conclude by saying that for a race bike that needs to be pedaled between segments, I prefer one that is not quite as descending-biased as the T275 – but that is most definitely a personal preference. As a pedalable All Mountain bike, it does its job very well, and I could see this bike being popular with the average pedal-for-descent rider here on the Shore.
Last but not least, let Chris Kovarik's signature drifts speak for themselves:
---
Check out the other T275 models on Intense's new website HERE, and have a look at Morgan's photo story from the Intense factory HERE.